Valken Tactical: The US Airsoft Brand
Valken Tactical is a US-based airsoft brand supported by Valken Sports, a company that produces gear, equipment, and accessories for both paintball and airsoft.
Their airsoft offer is quite generous and you can find everything from body armor, protection gear, BBs, optics, grenades, and more. As you can imagine, the brand is quite popular among airsofters, especially considering that most of their products are both affordable and reliable.
Short History
Valken Sports is a rather new company, but the team behind started with a paintball company called National Sports, which had a rich and long history. After they sold it, they put the bases of Valken Sports, which was a chance to start over with the lessons they learned from the previous business experience.
As such, Valken Sports is now extending over borders (Canada for now) and works with dealers all over the country.
Features that Made Them Famous
Valken Tactical products feature good quality, regardless of the fact that we're talking about airsoft guns, accessories, or protective gear. Speaking of guns, the internals are well-designed and most of their products are powerful and reliable in an airsoft battle. Want to check out more airsoft brands? Click here.
Key Features
The brand is well-known for durability, reliability, and good design of their airsoft and paintball guns. Also, all their accessories and equipment are built with quality and durability in mind.
Specialties
In terms of airsoft guns, they are mostly known for their pistols and AEG rifles, but you'll also find GBBs, sniper rifles, and shotguns in their offer.
Pricing Point
Valken Tactical products cover a wide range of prices so that anyone can find something to fit their budget.
Trending Valken Tactical Products
Since they commercialize a wide range of airsoft products, I decided to go through the ones that matter the most on the field. As such, I'll start with their most iconic weapons, and move to protective gear.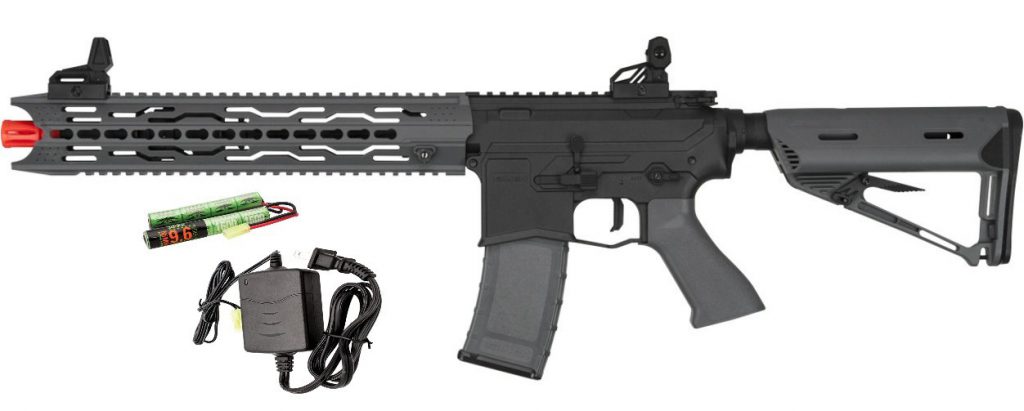 As one of the newest additions to the Valken ASL series, the TRG AEG rifle is the perfect high-grade CQB weapon. The rifle sports a nylon fiber body, with a 16" MLOK rail that offers plenty of space for all sorts of accessories.
However, the rifle feels closer to the real deal, due to the Billet style receiver and bolt catch. Also, I like the adjustable Crane stock (6 positions), which allows you to use it in tight spaces or for long range shooting. Also, the mag release and fire selectors can be easily accessed by both right and left-handed players.
The rifle is accurate in any situation, due to the flip-up High Visibility front and rear iron sights and adjustable hop-up unit. However, you can install a wide array of optics, since it is quite powerful (350 FPS).
On the inside, you'll find a full metal Version 2 Gearbox, with 6mm bearing and busing combination, that supports decreased levels of wear and tear.
Overall, the TRG design from Valken is ready for battle from the box, due to the 9.6v 1600mAh NiMH Nunchuck battery.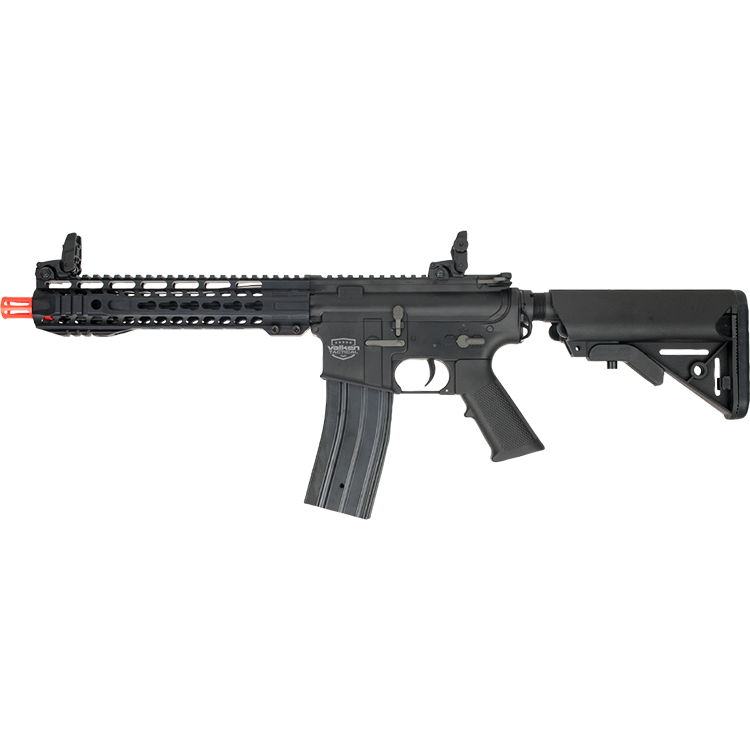 With a combination of polymer, aluminum alloy, and metal elements, the MKII rifle is one of the most durable and well-balanced designs from Valken. I also love the free-floating modular rail system that can be used for both grip and accessories.
The multi-positional Crane stock, flip-up front & rear iron sights with hop-up assembly, and the 300 rounds hi-cap metallic magazine make this an accurate rifle, with lots of power (380 FPS), and good resistance.
On the inside, the rifle hides an 8mm Version 2 gearbox, a quick-change spring system, and a high-speed motor that allows you to shoot in both semi and full-auto modes.
This is another Valken rifle from the ASL series and comes with a polymer body and solid construction. The rifle features a rail system and a 16-inch MLOK rail for accessories and comes with low resistance wiring, an upgraded torque motor, and a metallic version 2 gearbox.
The long barrel (20-inch outer barrel) and adjustable crane stock make it great for both CQB and long-range shooting, especially considering the fact that it registers 330 FPS muzzle velocity. The rifle is powered by an upgraded torque motor and a Version 2 metallic gearbox, which is fueled by a 9.6v Nunchuck battery.
Finally, the accuracy of this AEG can be adjusted due to the adjustable iron sights and hop-up unit. Also, it can be used by both right and left-handed players due to the ambidextrous mag release and fire selector.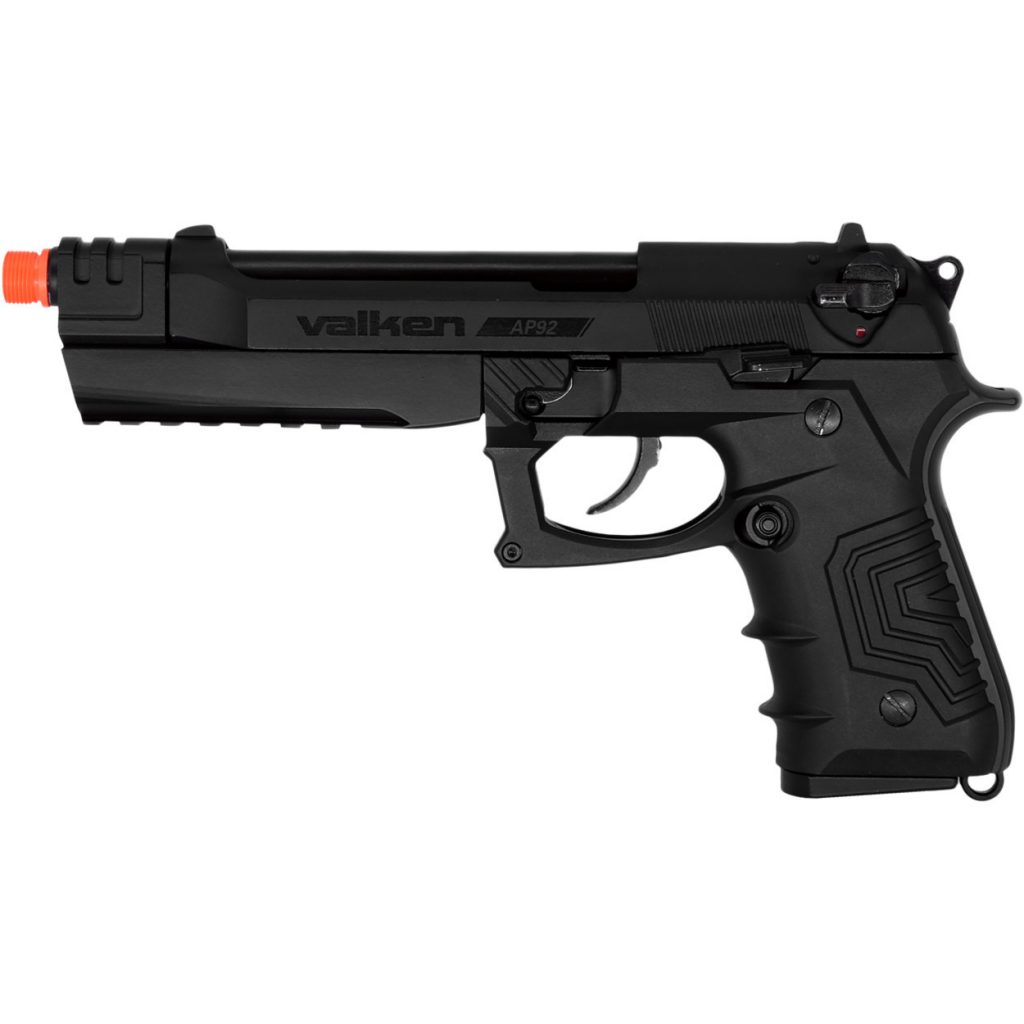 The pistol makes for a great sidearm due to its solid build that features a metallic frame, slide, and barrel assembly. Furthermore, the polymer grip is specially designed for increased comfort while holding it. Moreover, the pistol has forward-leaning serrations at the front and rear of the slide to provide a better grip when cocking back the slide.
You get a RIS rail under the barrel, for accessories such as lasers or flashlights. On the top, you'll find front and rear iron sights to accurately zero in on your target, but there's also an adjustable hop-up unit that can be accessed by cocking back the slide.
This is a semi-auto airsoft pistol, so you can shoot as fast as you can pull the trigger. Of course, you also need to pay attention to your fuel, which is one 12g CO2 cartridge, and the magazine, which can hold 23 BBs. The AP92 pistol is quite powerful (350 FPS), which is why I like it for CQB situations.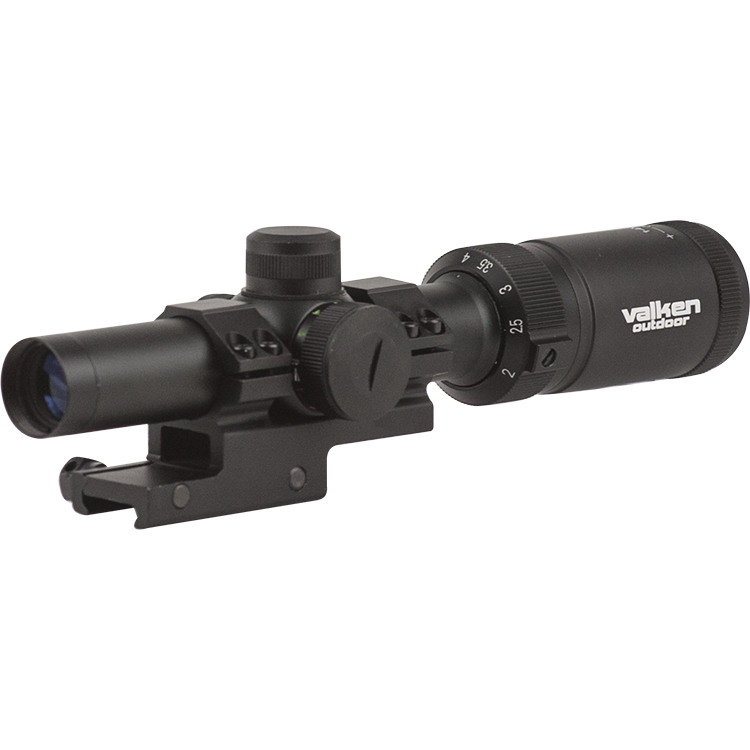 This scope is one of the best accessories an airsofter can have, especially if you're shooting long-distance! It fits on Picatinny and Weaver rails, and it has 1.4x variable zoom for zeroing on your target.
Furthermore, it has red/green illumination which allows you to see the MIL-DOT reticle even in low-light condition. Also, the windage and elevation can be adjusted on the fly, and the eye relief is at 4.5 – 5 inches. Because it works with both elevated and offset mounts, you can use the scope with different face protections, such as a mesh mask.
Finally, the scope is fog-proof and nitrogen charged, so you can use it in any type of weather.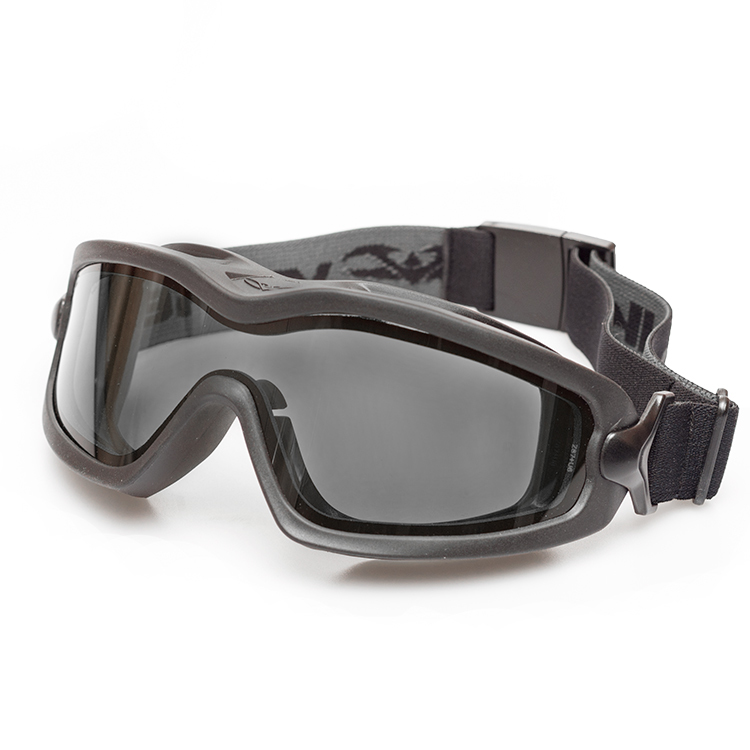 Eye protection is mandatory on the field, but I strongly recommend wearing goggles each time you play with your airsoft guns. BBs may not be fatal, but they can cause damage, especially to your eye, teeth, and ears!
So, if you're not wearing a full-face mask, at least make sure to get a good pair of goggles.
The V-TAC Sierra model features a TPU frame that's resistant to temperature variations and creates a perfect seal with your face due to the elastic strap. The goggles are designed to allow the air to move in order to provide some sort of ventilation.
Overall, the goggles are durable and easy to wear!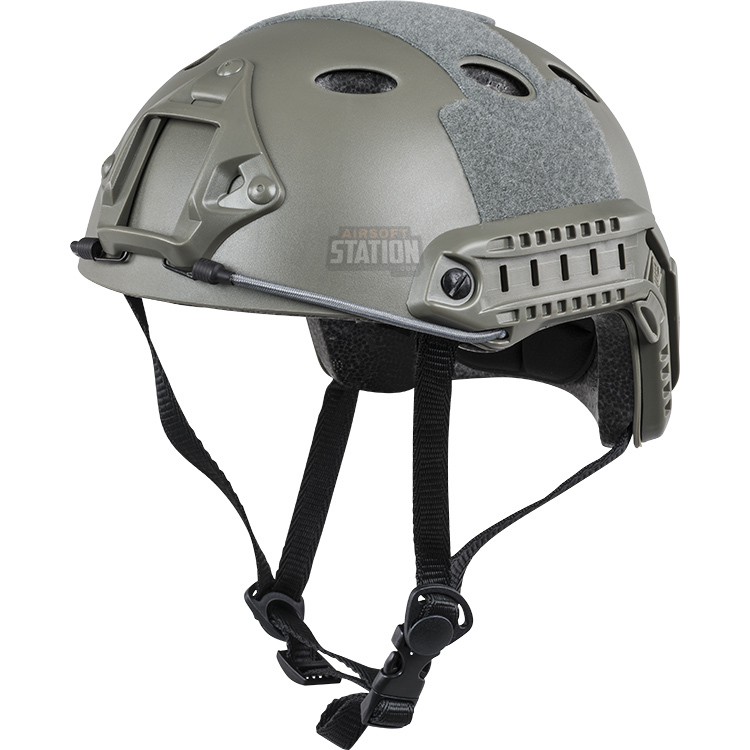 A helmet provides an extra layer of protection and makes you a bit bolder on the field. This one is made of polymer, so it will be lightweight, it allows ventilation, and has room for mounted accessories such as POV cameras, lights, or IFF markers.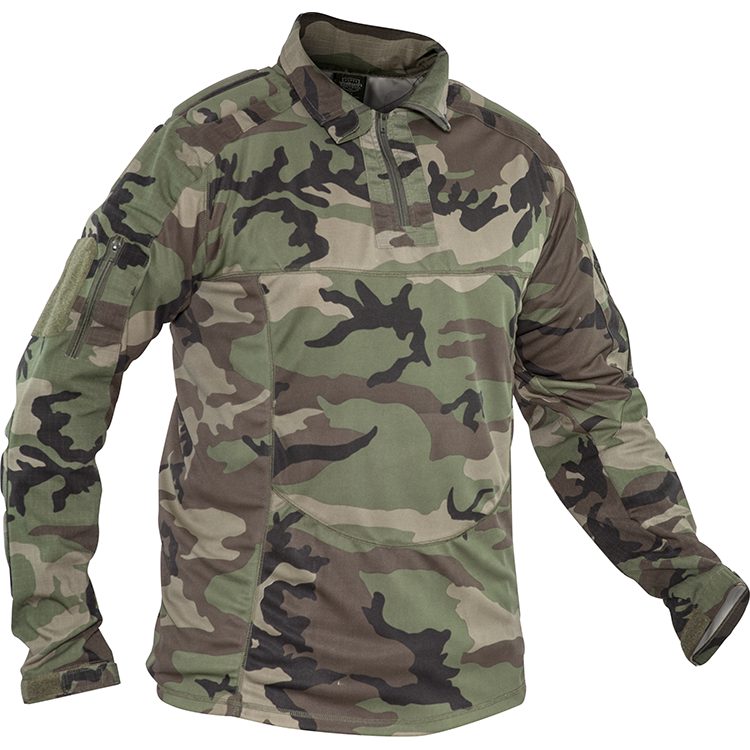 Besides cool guns and protection gear, Valken also sells apparel, so you won't have to destroy your regular clothes.
For instance, this combat shirt is perfect for the abuse and high-intensity of an airsoft game! It has ripstop reinforced sleeves and shoulders (where most of the wear and tear happens), elbow padding (for when you need to crawl), shoulder padding (to make carrying rifles and backpacks easier), and pockets that are easily accessible.