12 Best Airsoft Guns Of 2023 Reviewed [+Bonus]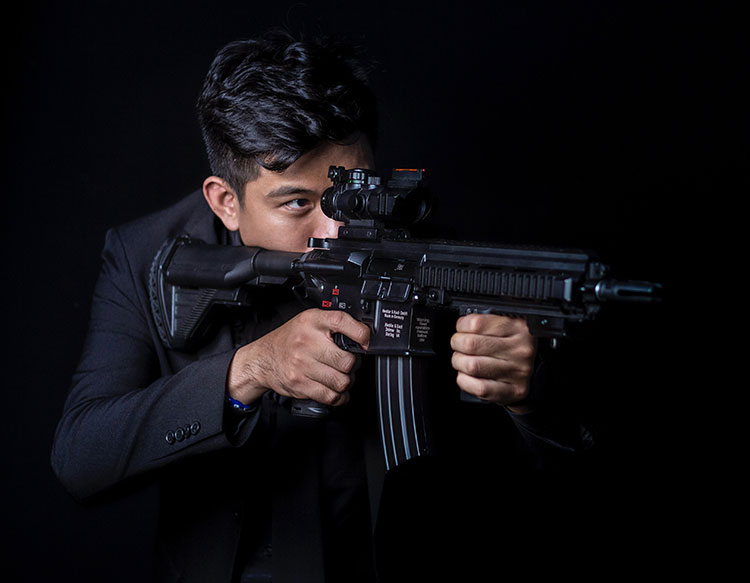 Already know what you're looking for? Click on the links above to jump to a specific airsoft gun review.
---
Why do the best airsoft guns change every year?
Well, the really good ones stay at the top, but there are dozens of airsoft gun manufacturers and hundreds of gun platforms. Plus, manufacturers are always looking to create new designs and configurations to impress the players and make you buy more amazing toys for your collection. As a result, each year comes with new airsoft guns worthy of your attention.
Why You Should Trust Me
I know choosing from a wide range of platforms, designs, and configurations can be confusing and frustrating (especially if you're just starting with airsoft).
But don't fret! Liam (that's me!) has got you covered.
I used my decade of airsoft experience (playing, strategizing, and collaborating with various sellers and manufacturers) to create a comprehensive and accurate guide to the best airsoft guns on the market.
Plus, I am deeply connected with the online airsoft community. This allows me to be among the first to hear about new designs and configurations while also being part of the discussion.
How I Selected and Tested the Airsoft Guns
When I selected the airsoft guns that made my list, I used the following criteria:
Design – I know airsoft is a game where you take pride in your gear
Realistic feel – Airsoft guns that feel closer to reality help enhance the experience
Power – Whether you're a beginner or not, you'll need a decent gun that can hit the target
Ease of use – I looked for easy-to-understand and maintain platforms
Accuracy – Unless you're looking for a challenge, your airsoft weapon should be easy to aim with
Durability – Who likes a rifle or pistol that breaks down mid-game?
Compatible accessories – You should be able to use your old accessories with your new airsoft gun.
Lastly, I wrote this guide with both beginners and experienced players in mind. Therefore, anyone can find something to their liking in the products I listed below.
Best Airsoft Rifles
Below you'll find some of the best airsoft rifles that make airsoft an extremely fun game to play. For each airsoft gun listed, I did a quick review and a short list of their main pros and cons. Please note that all of these guns are shipped from the USA, so if you're reading this from another country, I'd recommend finding a local store.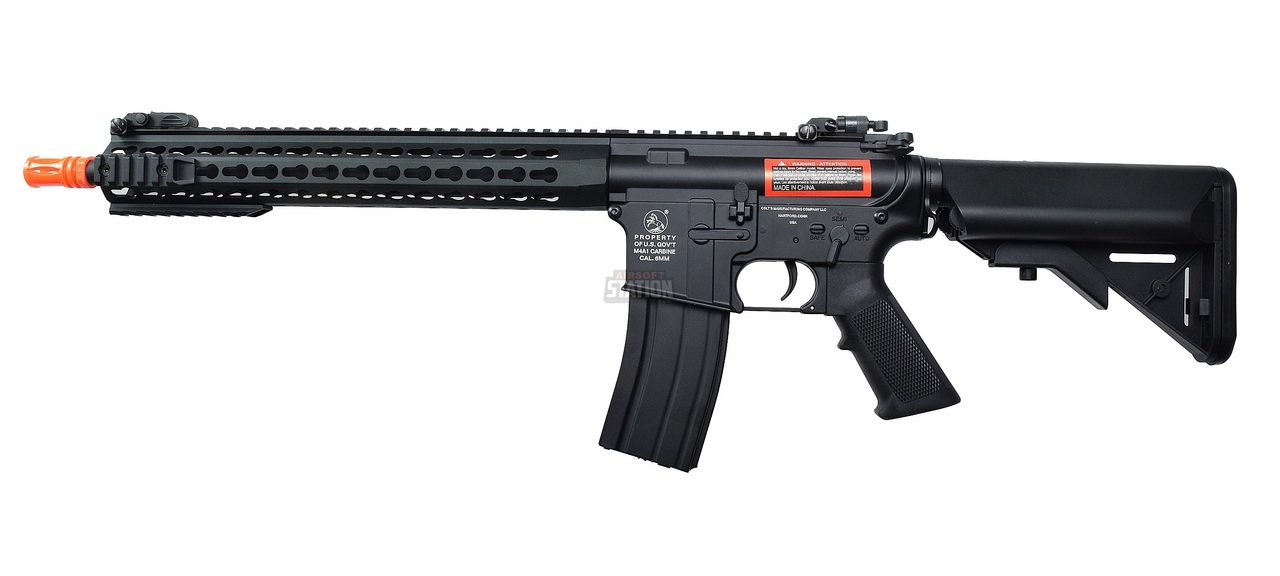 With a modern spin on a classic gun, this M4 version with a 13-inches Keymod rail system features impressive internals. The rifle has a fully metallic Version 2 gearbox (rear-wired), adjustable BAXS system hop-up, and can fire at up to 350 FPS. It's also one of the easiest close-quarters combat airsoft rifles to upgrade because the gearbox is compatible with Tokyo Marui, and there are plenty of aftermarket parts for both the internals and the externals.
The externals feature a full metallic build for the lower and upper receivers. The Keymod rail RIS system is fully equipped for all types of accessories and helps improve the grip and general weight of the gun. It comes equipped with two 350 BB Metal High Capacity magazines, an adjustable Hop-Up, and supports two firing modes: Semi-Auto and Full Auto.
I also like the flip-up iron sights (adjustable for both windage and elevation) that allow for the installation of other optics using the Picatinny rail on top (easy to install on most airsoft guns). Also, the stock houses the nunchuck battery (9.6V, NiMH) and can be lengthened or compressed as needed. To get to the battery, you'll have to remove the butt plate (which is rubber) by pressing two small hooks that keep it attached to the body.
---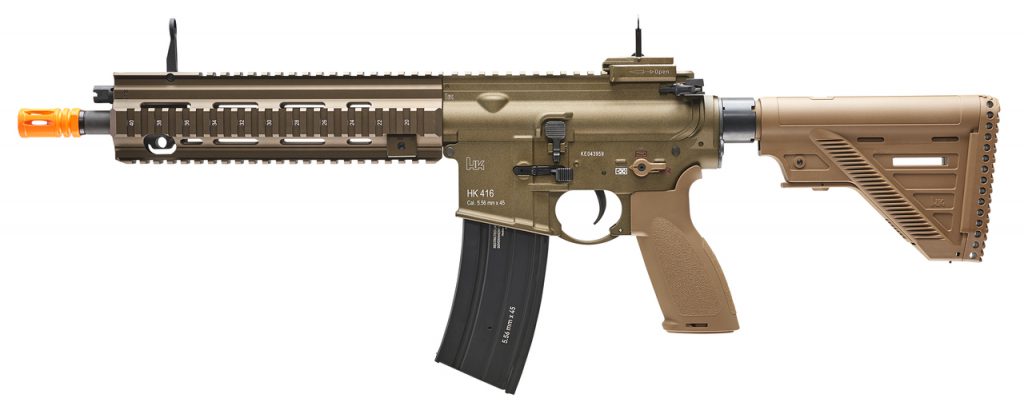 This is one of those airsoft guns you can use straight from the box without any updates necessary. At a closer inspection, you will be pleased to notice the full-metal body that features amazing licenses and the overall solid build of the gun. Even more, the airsoft rifle is realistically heavy, and it feels amazing as the metal quad rail Picatinny handguard fits perfectly in your hands! To be even more impressive, this is one of those airsoft rifles equipped with front and rear flip-up sights and a retractable crane stock which makes it incredibly versatile on the airsoft field!
The H&K 416A5 comes with a 320-round high-capacity magazine and has several cool features that make it a good fit for both beginners and advanced airsoft players. For instance, the front sight can be locked in place and can be adjusted for elevation, while the rear sight can be adjusted for windage.
Overall, the H&K 416A5 is an impressive piece of weaponry, with a clean but solid build and tremendous power (over 390 FPS).  The airsoft rifle is designed to serve players in CQB situations, and it has a pretty good rate of fire (which can be customized due to the quick spring change system).
---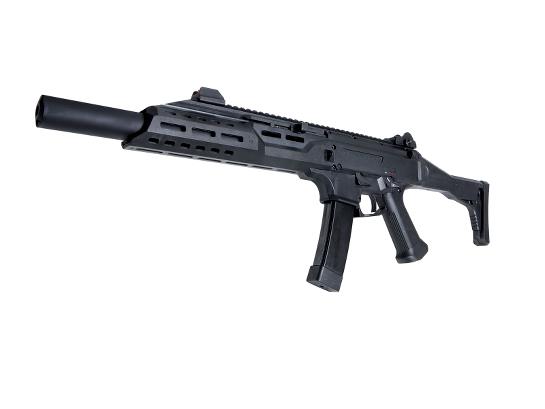 With a beautiful build and solid body, the EVO 3 BET carbine is about the same length as an M4. While not a completely new model (the BET carbine is built on the A1 design), it comes with great improvements, such as the longer outer barrel and MLOK handguard (for better grip and more cool accessories).
The cool thing with this EVO Carbine is that it features a full-metal internal system (not that common in medium-level airsoft guns). This is why everything sounds and feels so good and why the weight is just right. The electronically controlled metal gearbox is designed to deliver advanced functions and send the BBs flying out at high speed (about 425 FPS). The EVO 3 BET is highly accurate (with the right Hop Up adjustments, of course), and it shoots well from over 50m.
Other cool features are the Actual 3-Round Burst (which is not new but now works flawlessly) and the Automated Internal Failure Detection (so you don't continue shooting when your airsoft gun has an internal problem). Even more, for ease of use, this EVO carbine comes with front and rear sights (which can be removed) and ambidextrous controls.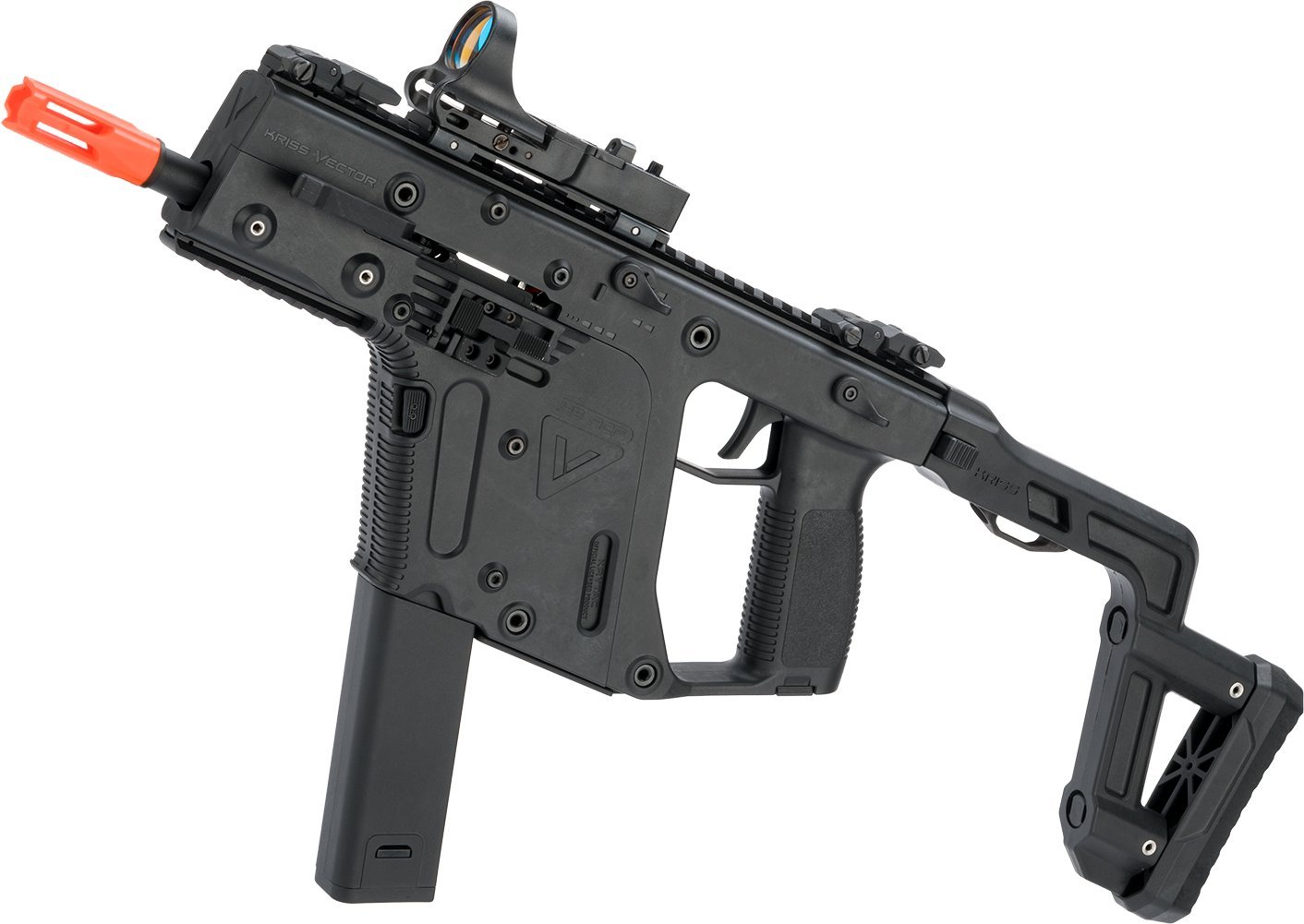 The Krytac Kriss Vector is back with a fresh, futuristic look and innovative internal design! 
This is the GENII version of this airsoft gun and comes with a total change of power source (the GENI is a GBB). It's also a fully-licensed Kriss Vector gun and comes equipped with the GEN II folding stock and housing with low-profile flip-up iron sights (DEFIANCE licensed). The front sight is for height adjustment, and the rear sight (with two after-settings and adjustment) is for windage.
Other amazing controls I have to mention are the ambidextrous fire selector and safety and the MIL-STD 1913 Picatinny top and bottom rail systems (ideal for adding accessories to airsoft rifles). According to tests, the Krytac Kriss Vector AEG shoots at about 350 FPS, and it is impressively accurate. It does this using a 155mm long inner barrel with a 6.05mm diameter and an 8mm VECTOR gearbox. 
Most of the gearbox elements are compatible with the Version 2 gearbox, except for the cylinder head and the two-part tappet plate.
Lastly, the airsoft gun is equipped with an electronic trigger that shoots as fast as you can (trigger response is smooth). Even more, you have three fire modes: semi, two-round burst, and full auto to satisfy your spraying needs.
---

As the perfect replica of the real-steel M44 used in WW2, the version that fits the best airsoft guns list comes with an ABS body that imitates wood color and texture extremely well and steel and aluminum parts. 
This is a battle rifle with realistic dimensions, so you can't expect it to be lightweight. The airsoft gun weighs about 8.2 pounds, and it doesn't have a foldable stock. It also features two adjustable sights on top of the barrel, meaning you can use them in both lowered and raised positions.
The 12-round metallic magazine is small, and the mag release button is right above the trigger. This way, you can't hit it by mistake, but it's also not too difficult to reach. There is an adjustable Hop-Up that comes in handy when you need to account for variations in wind conditions or target range.
The airsoft rifle shoots at about 480 FPS, with high-precision accuracy (at 40m+), but there is some heavy bolt action, especially if the gun is new. You can use the sights for aiming, but for long distances, I recommend getting a decent scope.
Overall, the WinGun managed to replicate a wonderfully beautiful battle rifle, and they did a fantastic job with both the internal and the exterior! This is one of those airsoft guns you buy for its looks and power, but it's best to keep in mind it may not work on regular missions, where close-quarters combat is the norm.
---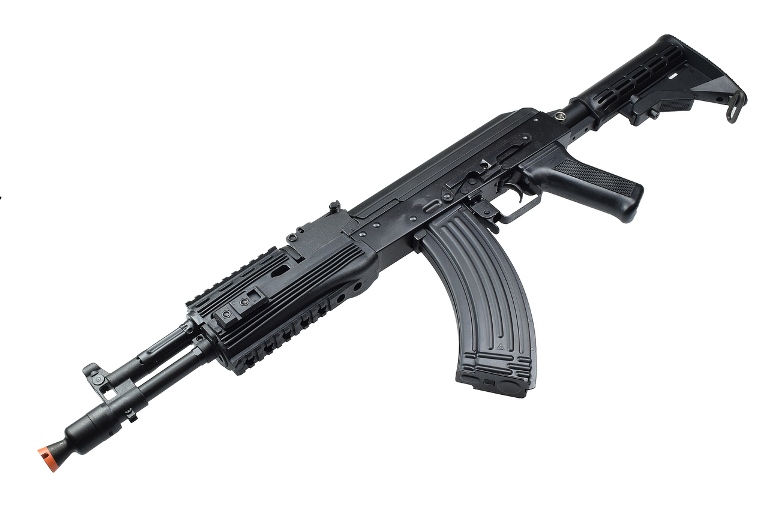 There's no way I can make a list of the best airsoft guns and not mention at least one version of the legendary AK47! This is one of the most realistic AKs on the market right now. It comes with a nylon fiber handguard, pistol grip, and stock (just like the real-steel version), and the rest of the body is all steel. As you can imagine, such materials aren't lightweight, so the final airsoft rifle is quite heavy in your hands. However, if you know what you're doing, this is a wonderful, durable weapon.
Since it's part of the electric airsoft guns category, the rifle has an easy-to-reach battery (just remove the top side of the receiver, and you can easily fit one 8.4 or 9.6 NIMH stick-style in there). The gun comes equipped with a multi-position LE style stock, the internal gearbox is high-quality with good wiring, and there is a metal 130 mid-cap AK-style magazine.  
Overall, the LCT AK-104 AEG is powerful (about 450 FPS) and accurate.
---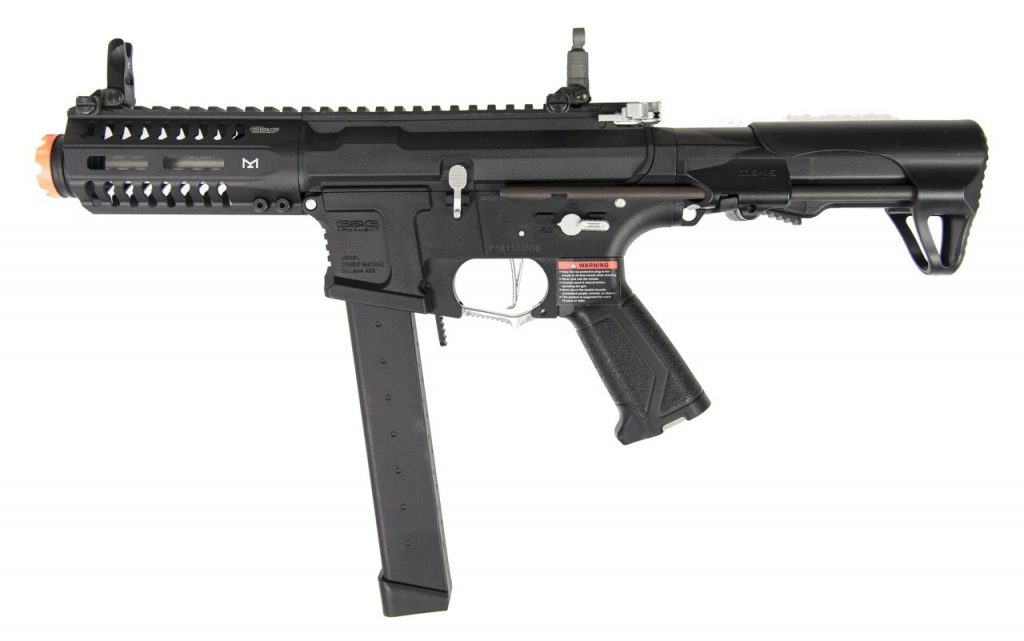 This is a rather unique configuration in the world of airsoft guns as it features a super-compact style. The short quad rail foregrip makes a fantastic fit for close-quarters battle situations, and the impressive features make it a must-have on the airsoft field. While the pistol grip is not wide (it is comfortable though), it is a good fit for young and inexperienced players. The 6-position adjustable LE stock and polymer body make it easy to handle, and the flippable front and rear sights help with your aim.
With this super-compact airsoft rifle, you have the possibility to choose between semi and full auto fire modes, and you can get to 330-340 FPS due to the high torque motor.
---

Airsoft guns tend to look similar after a while, so if you're looking for a unique-looking design that also performs amazingly, the VFC Avalon Saber AEG is perfect for you. The uniqueness of the design stands in the M-LOK style front rail, which gives the airsoft rifle a bad-ass look in the field. I also like the Picatinny rail that goes up to the metal receiver, increasing the space available for accessories. The rail also has flip-up iron ears (the front and rear sights) and an ambidextrous rear sling mount.
Finally, a design feature worth mentioning is the trigger. It has a small hook at the end that allows you to shoot faster, and there is a small serration all along the front side that gives you more control. Not to mention that it is shaped like a lightning bolt – how much more badass can you get? Airsoft rifles with this type of attention to detail always perform extremely well in the field.
---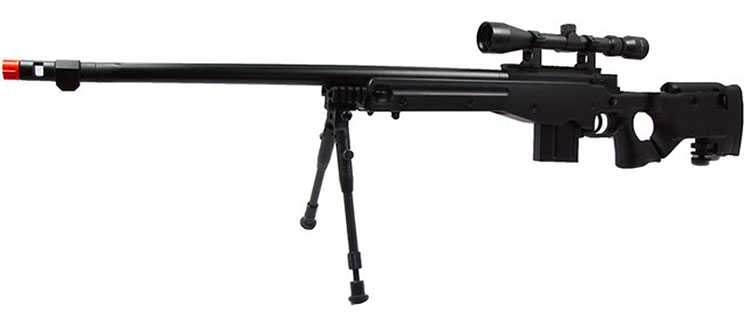 The WELL L96 bolt action spring-powered sniper rifle features a durable polymer body and comes with a full metal inner and outer barrel assembly. The airsoft rifle weighs on the heavy side (around 8lbs/4kg) and comes out of the box with a scope, a folding bipod, a stock monopod, and an adjustable stock (unlike most airsoft guns). Also, the upper receiver houses a 20mm full metal accessory rail. The long inner barrel is just over 520mm in length, and the magazine holds up to 35 BBs (additional magazines are widely available). Therefore, it's easy to see why so many players consider it one of the best airsoft rifles for sniping on the market.
The WELL L96 fires at 440 FPS with 0.20g BBs right out of the box. Pair the long barrel and the power output with a heavyweight BB (something like 0.36g or 0.40g), and you will be picking off targets far downrange.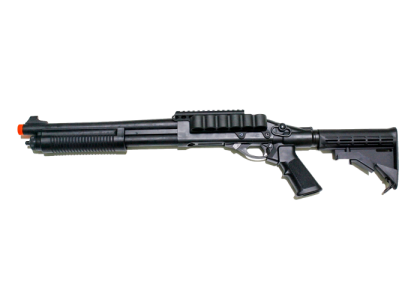 I couldn't have ended a list of best airsoft guns without bringing up at least one shotgun, could I? If you want more, take a look at the best airsoft shotgun guide.
I chose the JAG ARMS SCATTERGUN TSS gas-powered LE shotgun with a side-saddle because it packs quite a punch (330 FPS) and has three inner barrels for when you want to lay waste on your enemies. The design is standard in the airsoft world, with a metallic build and plastic pump, and the top is equipped with a Picatinny/Weaver rail with default sights.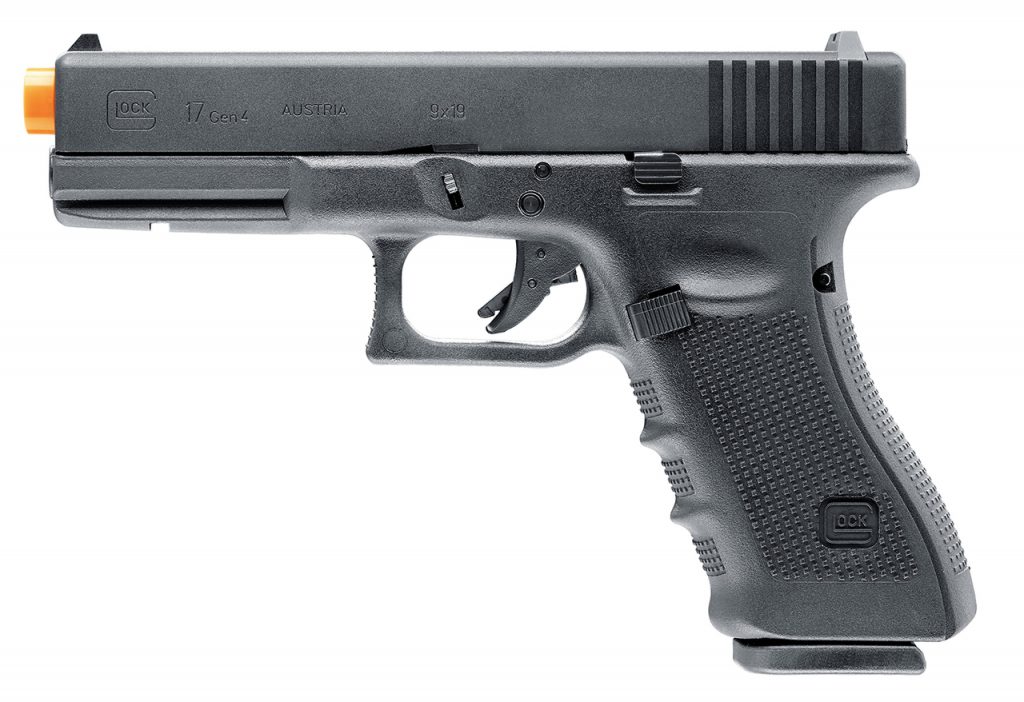 ---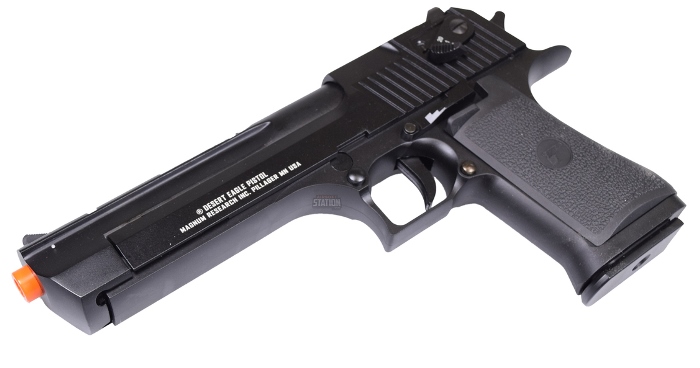 Airsoft guns that look and feel realistic are the best! With kick-ass recoil, realistic disassembly, and a historic appearance in The Matrix, this pistol will blow your mind! While it may look like the biggest handgun on the airsoft field (and it actually is), the Desert Eagle follows a real-steel design designed by Magnum Research. The airsoft version is powered by CO2, and it's not created for the faint of heart (or small hands)! Because of the fully traveling slide, the airsoft gun packs a huge kick, and you risk dropping it if the grip isn't right.
The pistol is equipped with a 21-round drop-free CO2 magazine that's easy to remove and reload. However, you will notice that the adjustable Hop Up is quite difficult to reach. It shoots at about 390 FPS, and it is accurate. You can use the iron sights placed on top of the barrel to aim, but you must also be prepared for a huge-size grip and a heavy pistol.
---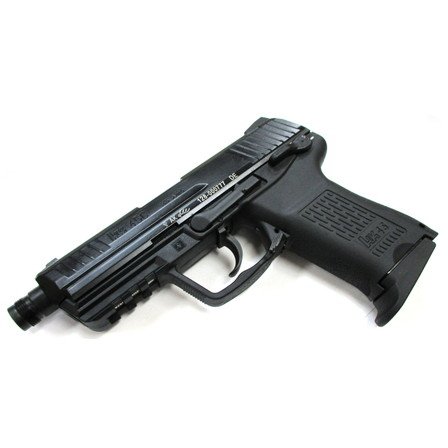 Small, beefy, and angry – these are the first adjectives that come to mind when you first lay your eyes on the HK 45CT from Umarex. This tiny but heavy beast works with Green and/or Top gas and shoots at about 320 FPS, using a 21-round magazine. The upper receiver is full-metal (the lower frame is high-end polymer), and the body is fully licensed to make it look as realistic as possible. The Tri Dot sights are very useful, but you can add a pointer laser using the short front rail. There's also the possibility to adjust the Hop-Up using just a key (no disassembly required).
Finally, the pistol features ambidextrous controls, which is a really nice touch. This pistol can easily be part of any backup airsoft guns collection.
Looking for Cheap Airsoft guns?
Photo credit: Photo by Ivandrei Pretorius from Pexels
Lead photo by Thang Cao from Pexels.