What is the best airsoft gun? With dozens of rifle manufacturers, hundreds of gun platforms and classifications that will make your head spin, making the right choice is anything but easy.
Not to fret! Liam (that's me!) has got you covered. Let me give you access to my decade of airsoft experience and guide you along as you make your most important airsoft purchase!
Neutral Reviews: We are in no way affiliated with any of the guns on this list, and we do not earn any money by recommending these products.
What to Look for in an Airsoft Gun
Whether you're a beginner who is just buying his very first weapon or an experienced collector, you should know the information I listed below before making a purchase. It helps in finding the best airsoft gun that's right for your needs and it allows you to understand why some are more expensive than others.
The Different Types of Guns
These guns come in a wide range of shapes and sizes, but there are only three types when it comes to the engine that powers the gun:
AEGs or Automatic Electronic Guns (these work with batteries)

Gas Powered Guns

Spring Powered Guns
Different Airsoft Brands
There's literally hundreds of different manufacturers. Also of the ones in this guide come highly recommended by us, but if you'd like to do some more reading then checking out our airsoft gun brands guide.
Electric powered airsoft guns (AEGs)
Tip: AEG stands for 'Automatic Electric Gun' – The most important thing to remember is that these will need to be re-charged periodically and batteries may need to be replaced over time. They do however have a high level of performance.
These are amazing for rapid fire situations! They are equipped with a gearbox system that allows the gun to shoot continuously, as long as you pull the trigger. Of course, you some AEGs also have the option to set the gun on single fire or burst, so you won't empty your mag in 2 seconds. But it's not just about rapid fire with these guns; they are also powerful and reliable (if you have a good battery).
Gas powered guns (AKA C02 guns)
Tip: Gas powered guns are often the go-to weapon of choice for experienced Airsoft players who want the most realistic milsim experience.
Powerful and quite fun, these airsoft guns can create the idea of recoil (like a real gun). Most gas operated guns are pistols, and if you want to feel the recoil, make sure they have the blowback feature. Gas guns tend to have a small gas container in their stock that needs to be refueled, but some offer the option to simply switch containers.
They are also quite sensitive to cold and their performance decreases in cold environments.
Spring powered guns
Tip: Spring powered guns are the most common type of Airsoft weapon, more suitable for beginners and casual players
Some of the most common airsoft weapons out there, they are the best fit for a beginner and are both affordable and extremely common. This type of weapon uses a spring to propel the BB out of the barrel, and the player must reset it after every shot (so no automatic fire). Usually, spring powered guns are cheap and lack the power of an AEG or a Gas pistol. This is why they are the best choice for a beginner.
Assuming you're a serious player, here's a cool comparison video between Gas (c02) and Electric (AEG) guns:
Price vs Quality
The airsoft guns market is so diverse that anyone can find something. You can even find a gun for $20 if this is what you're looking for! However, if you actually want to use the gun in a game, I recommend choosing something with a higher price tag.
Important: Although it's possible to buy some pretty solid weapons for $80-150, the airsoft guns in this list are all high quality, and will set you back between $150-$800
Airsoft weapons that are very cheap are also flimsy and don't have cool features. So if you really want to try your chance at airsoft, make sure to get one that won't fall apart in your hands after the first few shots.
Plastic or Metal
When you first start browsing for an airsoft weapon you'll notice that some producers praise their guns as being the real deal because they feature an all-metal body. While metal is nice and gives a bit more weight to the gun, one that features an ABS plastic body is just as good (even better in some case).
Metal is great for the barrel, the trigger, the safety, and the internal mechanism, but the body is just as great when it's plastic. Even more, a gun with a plastic body is lighter, so it's easier to use it for longer periods of time (especially for a beginner).
So, when you are in doubt, and you want to save money, go with durable ABS plastic – you won't regret it!
FPS and Accuracy
Now that we have price, type, and quality out of the way, we can talk about the gun's performance. FPS comes from Feet Per Second and is used to show your gun's speed. The faster the gun, the more chances you get to shoot your opponent. However, if you play in an airsoft field, make sure to check their FPS policy – most fields cap the FPS to a certain limit to avoid any permanent injuries to players.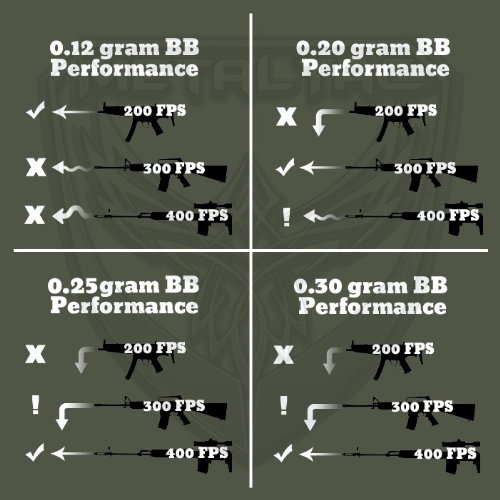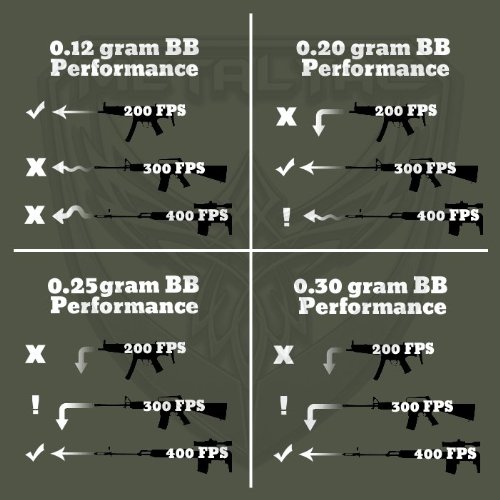 Image Courtesy of MetalTac
The accuracy of your weapon is directly connected with the FPS, but it's also dependent on other variables such as windage, distance, your position, or sights. It's also important to know if you will be shooting long or short-range, but the very first thing to check is the adjustable sights.
Besides the sights, high-quality airsoft weapons have a Hop Up mechanism (adjustable on high-end guns) that allows the player to improve accuracy. This system puts a backspin on the BB as it leaves the barrel and makes it fly relatively straight. It also helps with the distance the BB travels.
Of course, no weapon, regardless how advanced, will be able to hit the target if you don't know how to take aim and shoot. So make sure to practice before you engage in a game!
Types of BBs
The projectile used by airsoft guns is the BB – this is a round plastic (usually) projectile that's 6mm in diameter. BBs come in sets of 100 or more and can be bought online or in any airsoft store. However, you'll notice that there are several types of BBs on the market even though you can't tell the difference by just looking at them. That's because they are all of the same size – it's the weight that makes them different.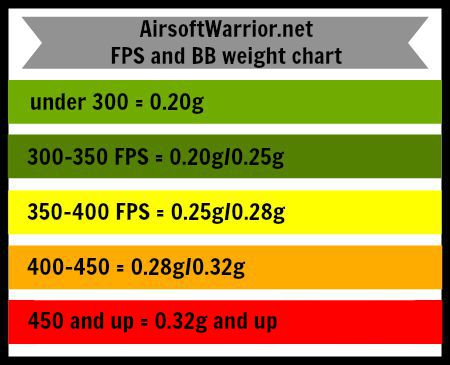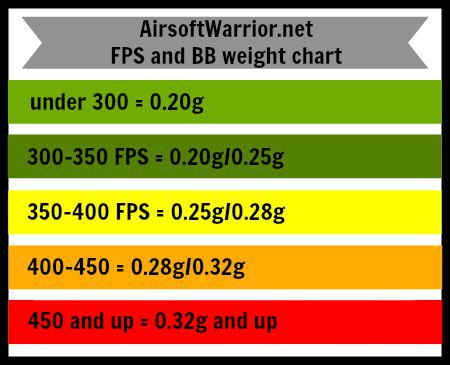 Image courtesy of Airsoftwarrior.net. 
The lightest BBs are the 0.12 grams and they are used with the cheapest weapons. Because they're so light, they don't travel too much of a distance and are easily blown away. Still, if you want to practice, the .12 BBs are great!
The most used BBs are the 0.20 grams and the 0.25 grams because they travel long distances and make for great ammunition. However, if you want something more challenging, the wright goes up so you can have your pick.
I recommend checking your gun's specification when you buy a new set of BBs – usually the producer lets you know which to choose.
Accessories
Once you get your first airsoft gun, you will definitely want to improve your gear and this is where accessories come into place. The market is filled with cool accessories, but the best ones to get are a scope and a laser pointer (especially if you're a beginner).
Still, in order to mount these on your weapon, you have to make sure your gun has rails on top and at the bottom. A good rail system will allow you to add a whole bunch of accessories!  
Shooting Style & Role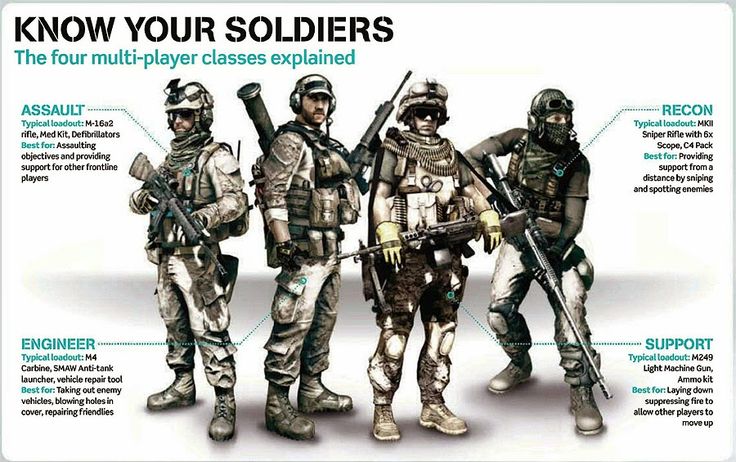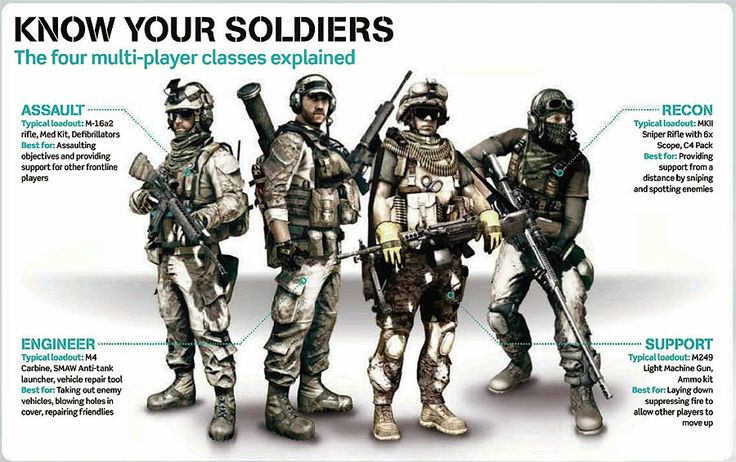 Any airsoft player knows each member of the team gets to play a role (sniper, rifleman, support gunner, and so on). This is usually assigned according to your skills and shooting style, but you have to get the right weapon for the role.
Before going for a certain position, it's important to consider the type of shooting you want to do. For instance, if you like shooting targets from afar, you are a sniper. On the other hand, if you like bringing down your target in close range, you are great for CQB situations and you need a rifle with a short barrel or a pistol.
Once you decide on the style, you also have to consider the magazine capacity. This feature decides how much you'll have to load during one mission and how easy the process will be. If you decide to play in a CQB position, it's best to get a gun with additional ammo capacity, but if you are a sniper, you can work with reduce ammo capacity, since there's no need for rapid fire.
The Best Airsoft Guns
Hopefully, by now you have an idea of what you want from your airsoft gun, as it's time to check out some pretty nice models! Below I listed some of the best guns on the market right now and their main pros and cons.
VFC Forged M4 RAS

Are you looking to blow back the hats of everyone on the airsoft field? If so, the VFC Forged M4 RAS is right up your alley! The gun looks amazing, but the main feature I love is the power – this is a bad-ass GBBR featuring tremendous power.
Replica of a real-steel weapon (great for an impression kit)
It doesn't get more realistic than this! This airsoft gun is the spitting image of its real-steel counterpart used by MARSOC raiders or rangers. At a closer inspection, you will be pleased to notice the body features Colt lower receivers and licenses (not available for every airsoft gun). Even more, the rifle is realistically heavy, and it feels amazing as the Daniel defense rail system fits perfectly in your hands!
I also like that they are setup out of the box – no assembly is required. To be even more impressive, the rifle is equipped with a birdcage flash hider and the inner-barrel is 14.5-inch in length
Forged upper and lower receivers
The cool thing about this is that VFC uses the same technique to make the upper and lower receiver as the real-steel gun producers. Of course, for airsoft guns they are aluminum, but this doesn't take away from the awesomeness of this fact.
The lower receiver is host to the fire selector, trigger, and the bolt release. There is also an A-2 style pistol grip, which is acceptable (they could've done a better job here) and the adjustable stock is convenient.
Full-metal Internals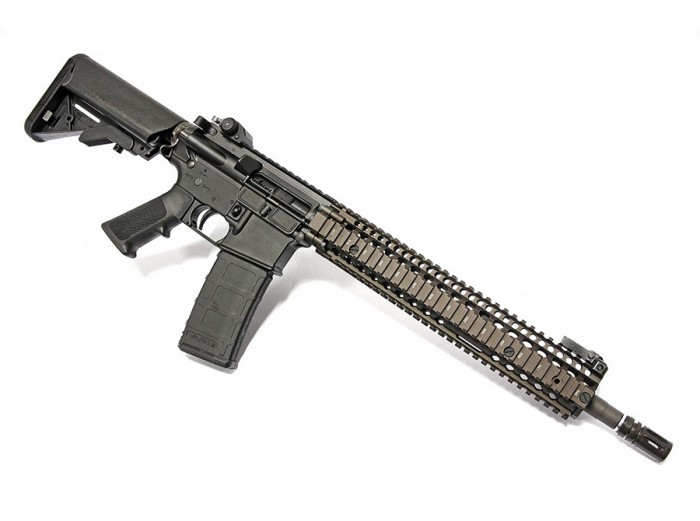 The reason why this gun is so wonderfully heavy, is the full-metal interior. The rifle is easy to take apart, but I don't recommend you do so too often (if you don't want any scratches). Still, you should know the Hop Up adjuster is situated under the bottom rail, so it is difficult to reach (the one design flaw on this gun!).
Loud & Powerful
Because of the full-travel bolt carrier, the VFC Forged M4 RAS has wonderful recoil that you can actually feel in your shoulder. Of course, the sound is deafening and all those metal internals sound fantastic!
The gun is equipped with a 30-round magazine and can shoot at up to 400+ FPS, but the cool thing is that there is a "Fun Mode" where you can shoot rapid fire. The gun is pretty accurate and the flip-up sights are helpful when you want to aim.
Pros:
Very loud and powerful

Great recoil

All-metal internals

Great defense rail system

Forged aluminum upper and lower receiver

Nice and heavy in your hands
Cons:
Hop Up difficult to reach

You can scratch the body trying to pull the gun apart

Not recommended to beginners
Price & Where to buy?
ASG Scorpion EVO 3 BET Carbine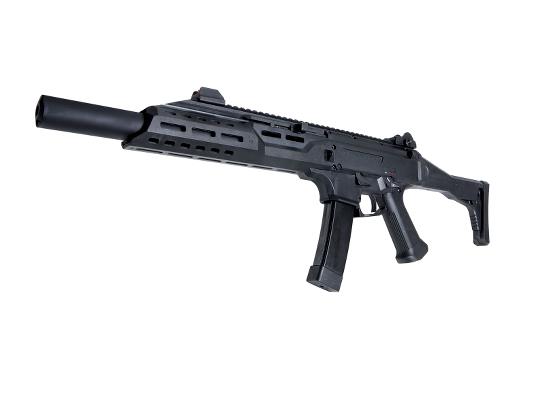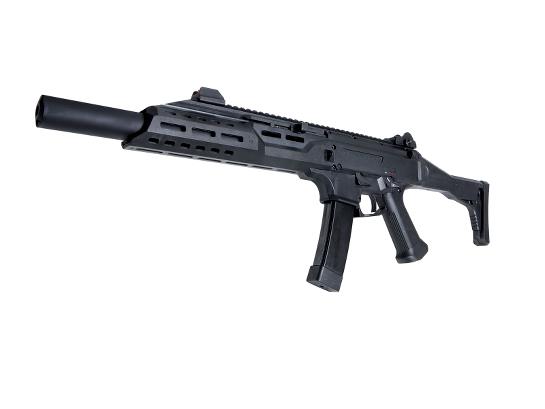 With a beautiful build and solid body, the EVO 3 BET carbine is about the same length as an M4. While not a completely new model (the BET carbine is built on the A1 design) it comes with great improvements such as the longer outer barrel and MLOK handguard (for better grip and more cool accessories).
High-quality Internals
The cool thing with this EVO Carbine is that it features a full-metal internal system. This is why everything sounds and feels so good, and why the weight is just right. The electronically controlled metal gearbox is designed to deliver advanced functions and send the BBs flying out at high-speed (about 425 FPS). The EVO 3 BET is highly accurate (with the right Hop Up adjustments, of course) and it shoots well from over 50m.
Of course, I have to name other cool features such as the Actual 3 Round Burst (which is not new, but now works flawlessly) and Automated Internal Failure Detection (so you don't continue shooting when your gun has an internal problem).
Easy to use
For ease of use, this EVO carbine comes with front and rear sights (which can be removed) and ambidextrous fire selector.
I love the fact that the BET version comes with a mock barrel suppressor from the box, which makes it look more aggressive. However, if you don't need a longer barrel, you can easily replace it with a standard outer barrel as the base is a 16mm CW thread.
The carbine uses a 75-round mid-cap magazine, but for a serious spray, you have the possibility to use a high-cap, 375-round winding magazine (now you're talking!). You'll know when you run out of BBs because the Smart Control Unit cuts the trigger off until you reload. For the trigger to work again, you have to press the bolt release.
Trigger response is quick and crisp due to the MOSFET system which allows you to pull the trigger as fast as you want.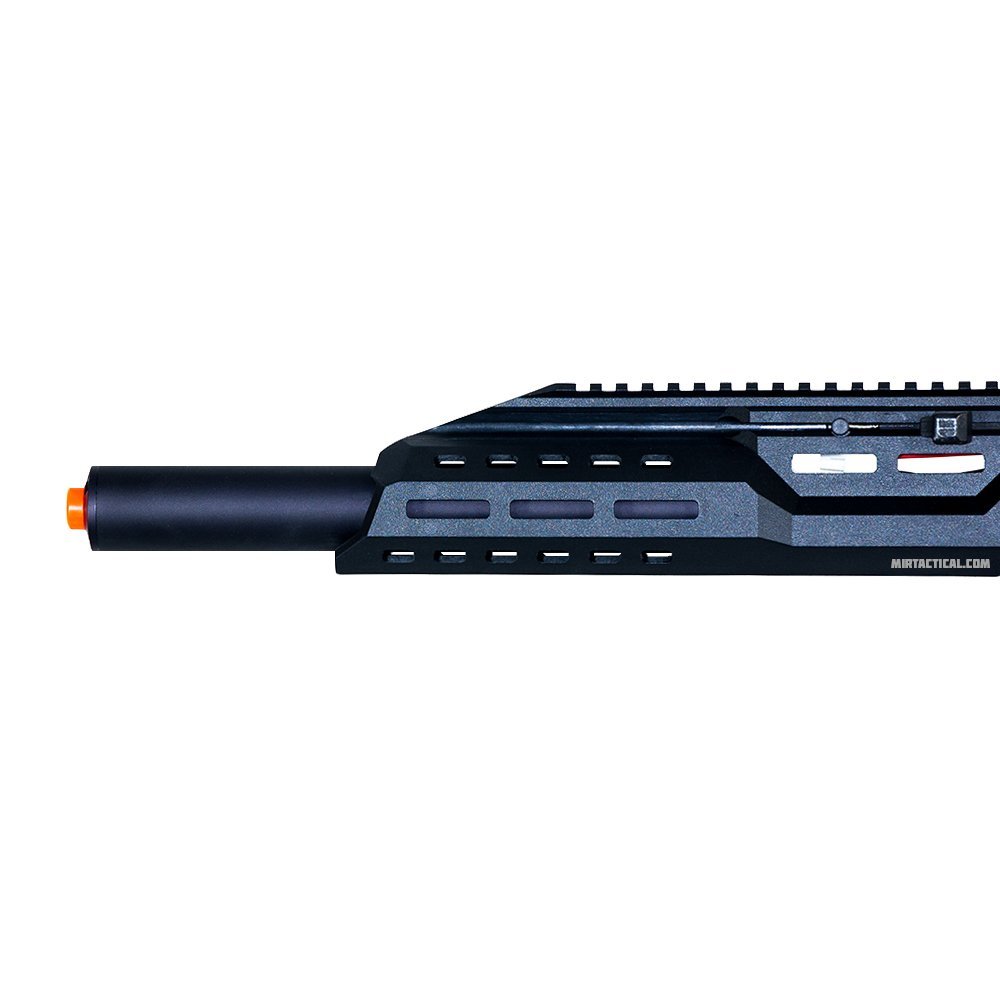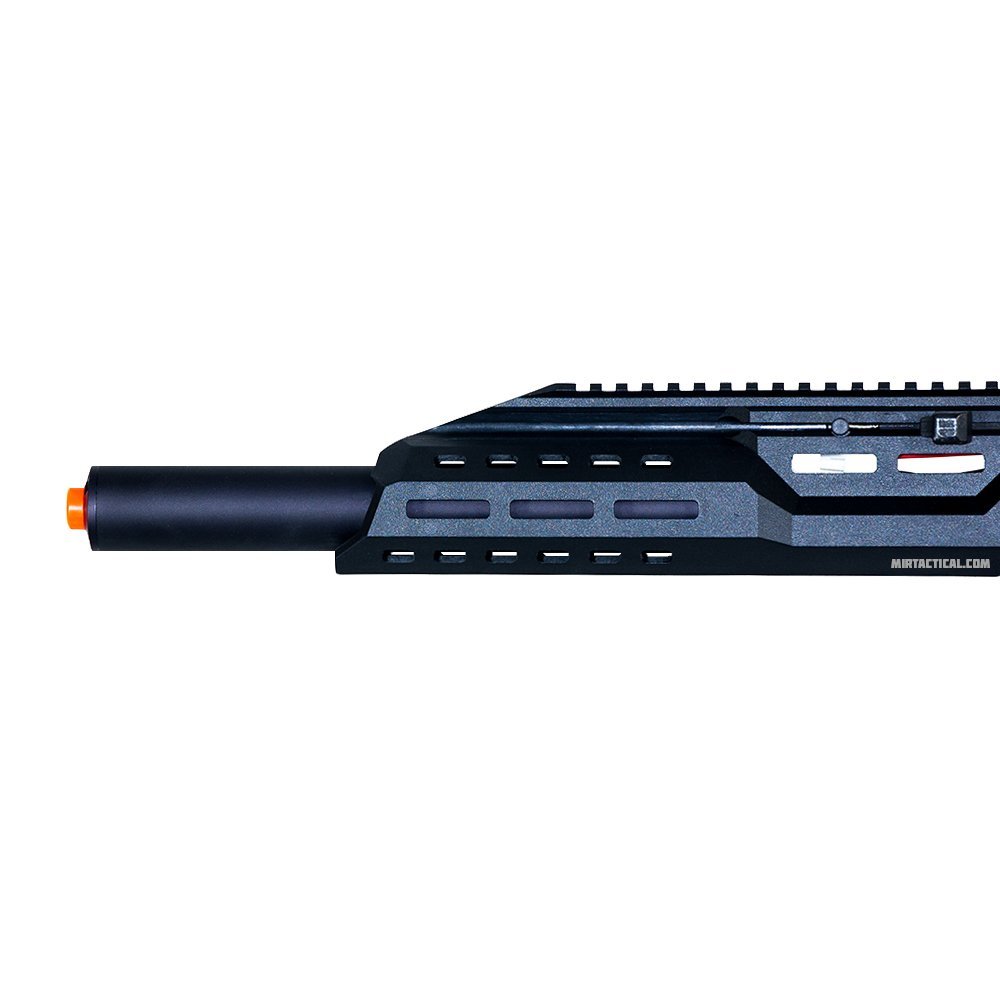 Easy to Customize
Honestly, I love this feature on the EVO carbine! First, you can adjust the kick of the collapsible stock by changing the spring with a weaker one (the stock folds away and gives you quick access). This feature is called the Quick Change Spring and gives you the chance to play in two different positions: CQB or marksman.
Second, you have lots of space on the foregrip for a bigger battery – small battery compartment was the main problem of the previous versions.
Overall, the EVO 3 BET Carbine is an amazing AEG that deserves your attention! It is powerful, fast, and accurate.
Pros:
Powerful & accurate

Solid build

Amazing feel in your hands

Easy to customize

Handguard allows many accessories

You can attach a bigger mag

Compartment for a bigger battery
Cons:
A bit heavy (for beginners)
Price & Where to Buy?
Krytac Kriss Vector AEG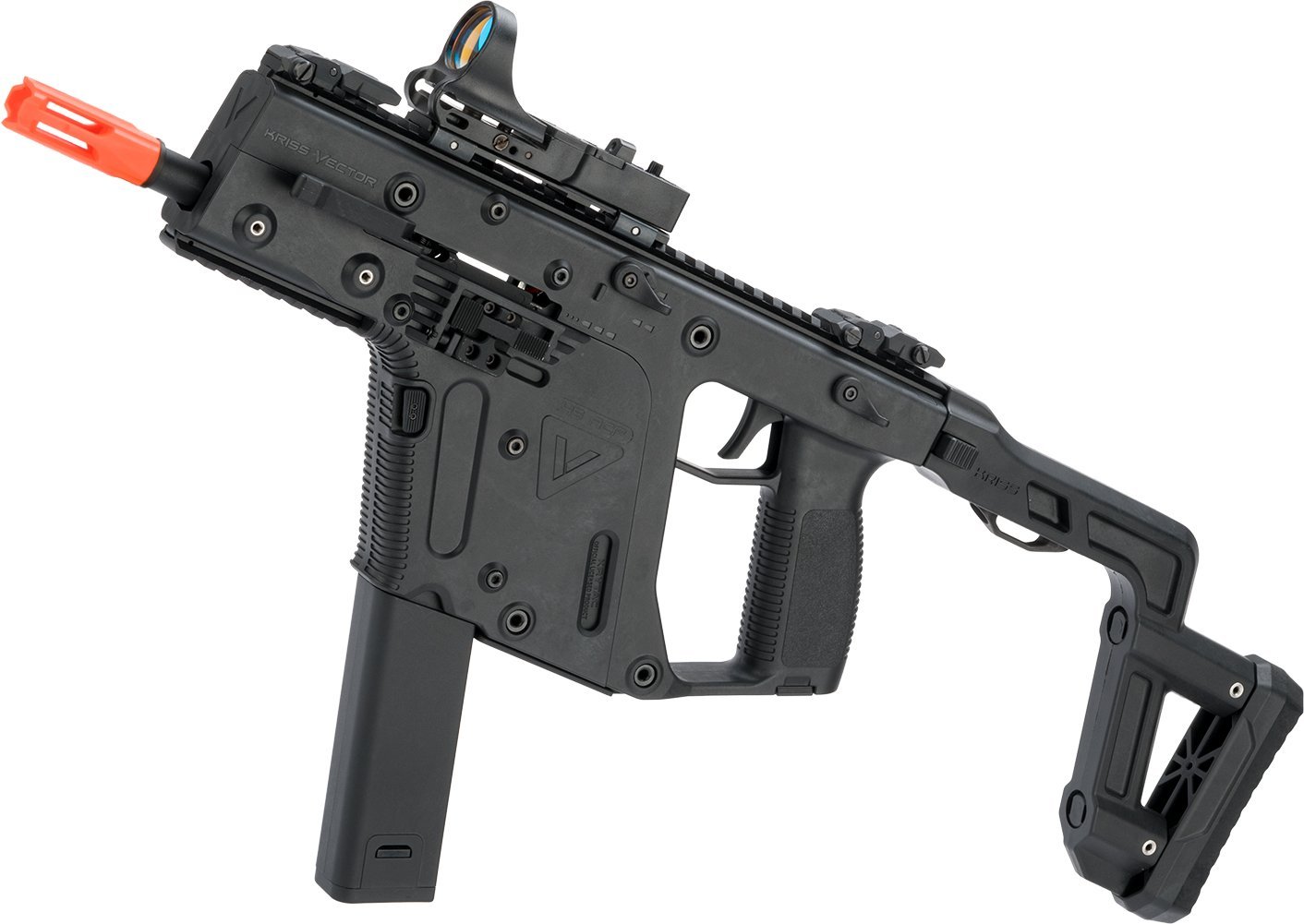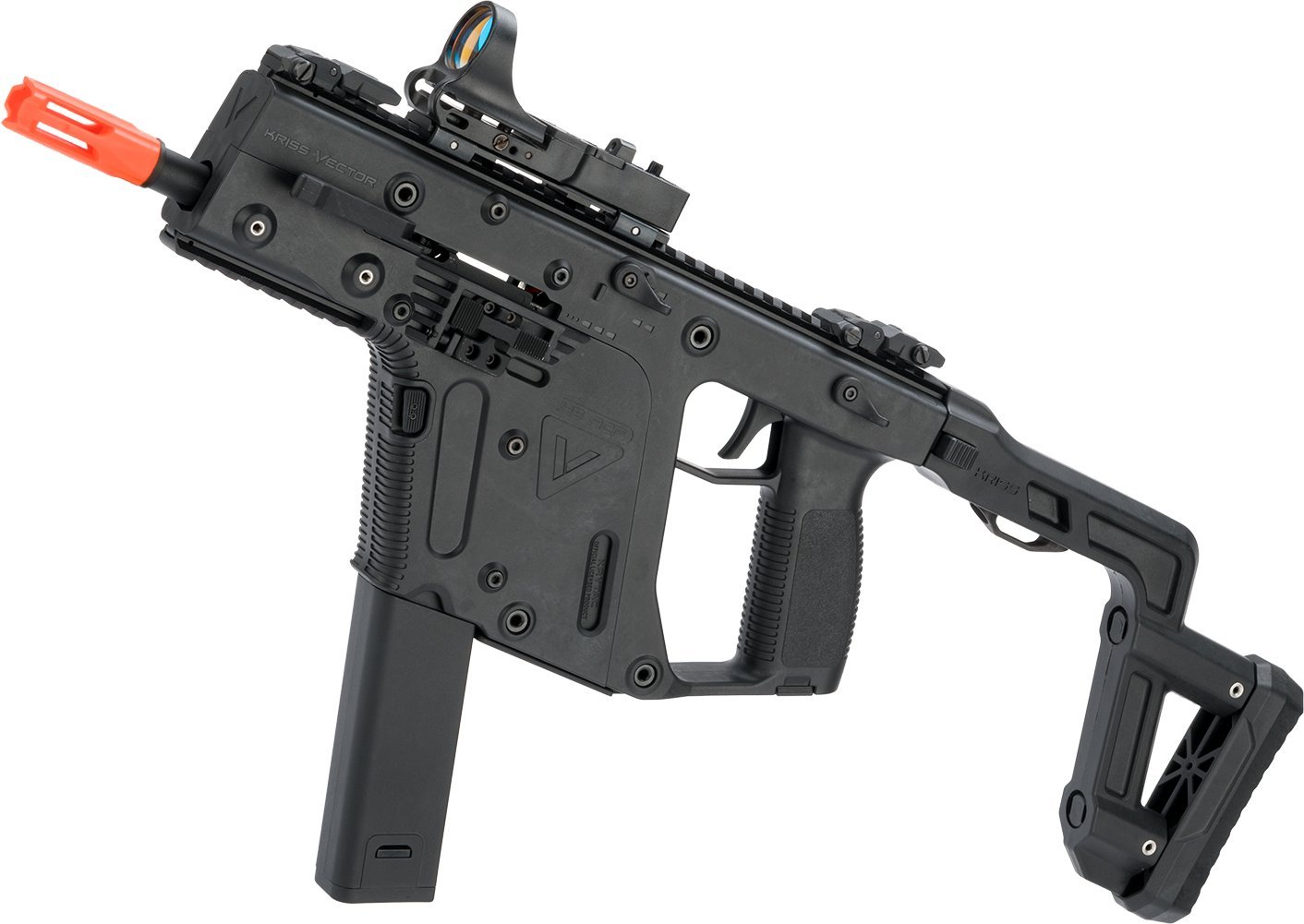 The Krytac Kriss Vector is back with a fresh, futuristic look and innovative internal design, which makes it one of the most interesting AEGs on the market! This is the GENII version of this gun, and comes with hot improvements, and a total change of power source (the GENI is a GBB).
Bad-Ass Design
The AEG is a fully-licensed Kriss Vector gun, which means you'll see the markings on both the body and the front of the gun. It is also equipped with the GEN II folding stock and housing and low-profile flip-up iron sights (DEFIANCE licensed) with the front sight for height adjustment and the rear sight with two after-settings and adjustment for windage.
The cool thing is that you can make it look more aggressive by replacing the DEFIANCE flash hider with a suppressor as long as it fits the 14mm CCW thread! Other amazing controls I have to mention are the ambidextrous fire selector and safety, and the MIL-STD 1913 Picatinny top and bottom rail systems.
KRISS Vector GEN II pivoting trigger
The gun is equipped with an electronic trigger that shoots as fast as you can. Even more, you have three fire modes: semi, two-round burst, and full auto to satisfy your spraying needs.
I also like the numbered rotary style adjustable Hop Up that clicks when you change the settings, thus allowing for precise adjustments. It's easy to reach and it doesn't require you to be a rocket scientist in order to use it.  
High-quality Internals, Power, and Accuracy


According to tests, the Krytac Kriss Vector AEG shoots at about 350 FPS and it is impressively accurate. It does this using a 155mm long inner barrel, with a 6.05mm diameter and an 8mm VECTOR gearbox. I think you should also know that most of the gearbox elements are compatible with the Version 2 gearbox, except for the cylinder head and the two-part tappet plate.
A cool feature is that, after you finish shooting, if you pull the safety, the gun will release the spring tension, adding to the longevity of the gun. Of course, if something happens with the spring, there is a Quick Change Spring System that allows you to change the spring, by simply removing two pins.
The gun accepts 11.1v 1400mAh or lower LiPo battery, but the length cannot exceed 116mm. This limitation is valid because the battery is housed in the pistol grip (you can easily access it by removing the bottom cap of the grip). The battery powers up a Krytac 30K high torque, short type motor with neodymium magnets, which is what makes the Vector AEG so great.
Finally, the Vector AEG is equipped with two 95-round mid-cap magazines and temperature and wear-resistant bucking. This last feature makes it amazing for any winter gear! Overall, the Vector AEG is a cool gun to have in your kit and does an amazing job in any CQB situation.
Pros:
Futuristic look and bad-ass design

Power and accurate enough for CQB

Cool features

Designed for durability

Solid build

Can be improved with handguards or suppressors
Cons:
Battery can't be longer than 116mm

Quite pricey for a beginner
Price & Where to Buy?
Cybergun SIG MCX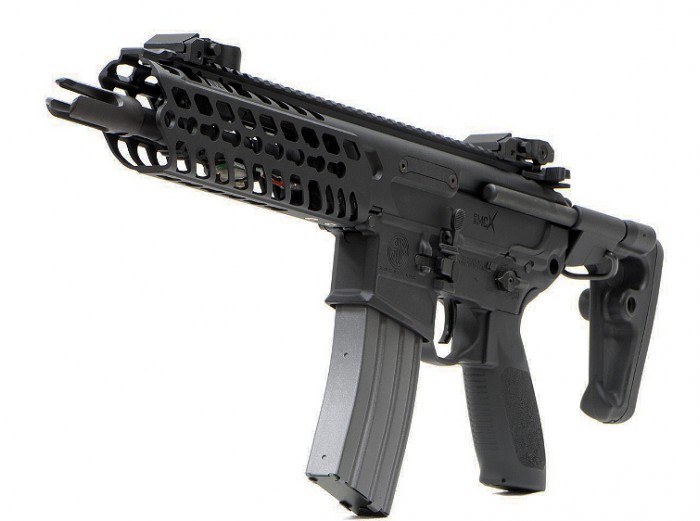 The airsoft version of this gun is designed based on one of the most popular platforms with law enforcement, military and counter-terrorism units all around the world. Even more, I heard law enforcement units are looking to get the airsoft version for training. How cool is this?
In my opinion, the SIG MCX AEG is one of the best compact AEGs on the market and here's why. It features a full-metal barrel (6mm diameter) and it feels extremely comfortable in your hands. The aluminum handguard allows for many accessories, but it is also a great fit for any hand size.
The three-prong flash hider looks pretty cool and the metal flip-up front and rear sights are extremely useful. The design is enhanced by the stylish markings on the body (this is a fully-licensed AEG) and the gun features ambidextrous controls.
Telescoping/Removable Stock
The stock is easy to access (by pressing a button on top) and easy to extend and retract, as you need it. The cool thing with the SIG MCX is that the stock can be changed! All you have to do is remove the current stock and buy a Picatinny Buffer Tube Adapter. Once you have the adapter on, you can mount a regular butt stock on the gun.
Modern AEG Features
Quick Spring Change and MOSFET systems (for a fast trigger) are the two modern features that make this gun quite amazing. Now, to remove the spring, you have to remove the stock first, but the operation is easy and doesn't take more than a few minutes.
You may have a bit of a trouble finding the right battery for this gun because it is compact and it doesn't accept big batteries. The battery is housed in front, under the keymod rail system handguard, and you need to completely remove the handguard in order to install it.
Video tutorial on how to choose an install the battery: 
Impressive Performance
The SIC MCX is equipped with one 120-round magazine and shoots at about 320+FPS. Of course, there is an adjustable Hop Up that's located in the chamber, and the gun is accurate for a CQB situation. Even more, there are two firing modes: Semi Auto and Full Auto.
Overall, the SIG MCX is a breath of fresh air in the airsoft world as it comes with a compact and light design, it performs amazingly well, and it is quite bad-ass on the field.
Pros:
Sturdy build

Powerful and accurate

Collapsible stock that can be removed

Quick Spring Change

Full-metal body except for the stock and the grip

Feels comfortable in your hands
Cons:
The battery compartment is crowded

Difficult to find the right type of battery
Price & Where to Buy?
RWA Lee Enfield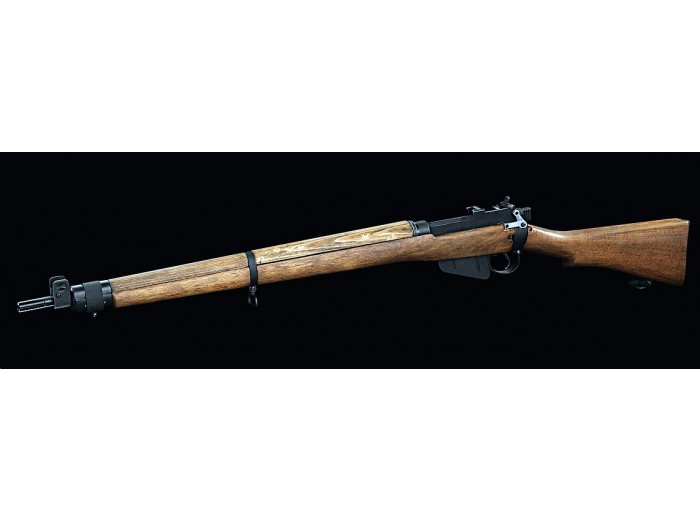 As the perfect replica of the real-steel Lee Enfield Short Mag No.4, the RWA airsoft version comes with real wood furniture, steel and aluminum parts, and it features a stunning, fresh look on the airsoft field. I am sure you know the design from war-oriented movies and so many video games, but it's a whole new experience to actually hold it in your hands. To make the experience more realistic, you can attach a sling to it, as it comes equipped with two sling points. We love this classic, and that's why it gets our nod as one of the best airsoft guns on the market.
A spring bolt action battle rifle with a relatively stiff pull and push
Because it is a battle rifle, with metallic and wooden parts, you can't expect it to be lightweight. The gun weighs over 6.6 pounds and it measures 1,100mm in length! It also features two iron sights on top of the barrel: the front one is regular and the rear one is a flip-up ladder aperture sight. This means that you can use the sight in both lowered and raised positions (when it's raised, the sight can be adjusted).
The 30-round metallic magazine is small and cute (unlike most of the modern airsoft weapons) and the mag release button is right above the trigger. This way, you can't hit it by mistake and it's not too difficult to reach. There is an adjustable Hop Up, but it's right under the top wooden panel and you risk damaging the panel if you don't know what you're doing.
Video tutorial on how to adjust the Hop Up:
Impressive Performance on the Field
No, it won't spray the BBs, but it does shoot them at about 400+ FPS, with high-precision accuracy (at 40m+).  However, you have to be prepared for some heavy bolt action, especially if the gun is new. You can use the sights for aiming, but for long distances, I recommend getting a decent scope.
Overall, the RWA managed to replicate a wonderfully beautiful battle rifle and they did a fantastic job with both the internal and the exterior!
Pros:
Beautiful design

Impressive power and accuracy

Adjustable Hop Up

Perfect replica of the real-steel Lee Enfield No. 4
Cons:
Stiff bolt action

Heavy and long for a beginner

Difficult to reach and adjust the Hop Up
Price & Where to Buy?
LCT G3A3 AEG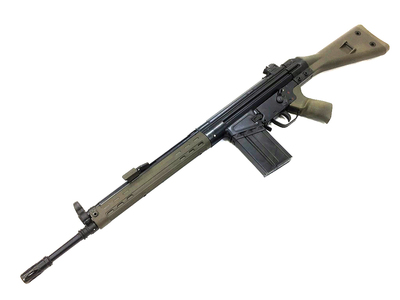 LCT boasts with one of the most realistic G3s on the market, right now. To make the experience as real as possible, they kept the nylon fiber handguard, pistol grip, and stock (just like with the real-steel version) and the rest of the body is all steel. As you can imagine, such materials aren't lightweight so the final rifle is about 9.7 pounds (4.4Kg). However, if you know what you're doing, this is a wonderfully heavy weapon as it feels amazing in your hands.
Solid build, designed to take quite a beating
Now, if you didn't know there's a battery inside the stock powering this gun, you may be inclined to believe this is the real deal. The body is beautifully designed to be rugged and stiff, giving it a manly appearance.
The battery is easy to reach, by simply removing the butt stock plate, and you can easily fit one 11.1V small Tamiya in there. The G3A3 AEG from LCT comes with an LC High Torque Motor which gives the gun its kick.
Finally, the gun comes equipped with a nice-looking flash hider that can be removed and replaced with any other type that respects the 14mm CCW thread specs.
Impressive Features
I like the fact that LCT decided to keep the real-steel receiver specs, which means you can add a G3 top rail and scope. Also, I love the 4-positions rotary rear sight, even though it can be a bit stiff at first.
There are two different types of mag release controls: the AK style which can be activated with your thumb, and a button-style on the right side. The gun comes with one 140-round, mid-cap magazine but there is a 500-round magazine that fits this gun if you want (you'll have to buy it separately, though).
Good Performance and Value
The LCT G3A3 AEG is heavy so you may want to invest in a tripod, but it is also powerful (about 440 FPS) and accurate. Overall, it is a nice sniper AEG that will definitely improve your collection!
Pros:
Close to its real-steel version

Beautiful in design

Solid build

Accurate and powerful

Rotary rear sight
Cons:
Price & Where to Buy?
Cybergun WE Desert Eagle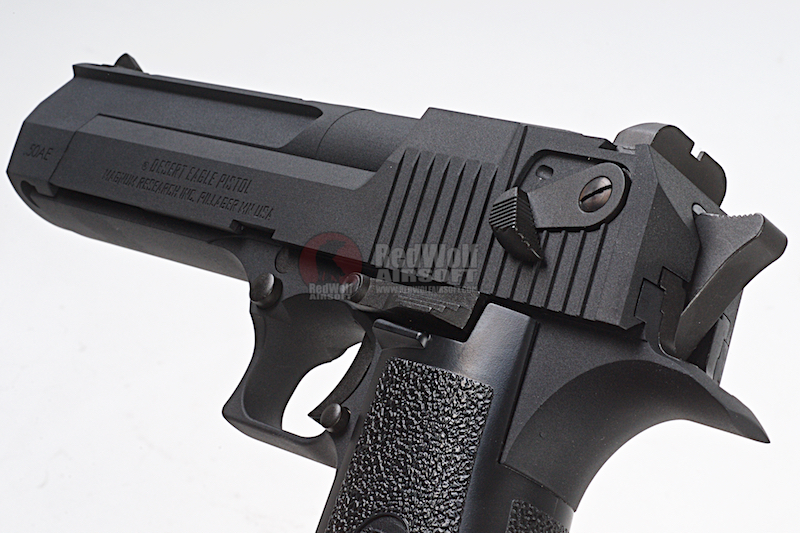 Are you looking for an amazing backup airsoft gun? The WE Desert Eagle GBB pistol may be just the one for you! With kick-ass recoil, realistic disassembly, and a historic appearance in The Matrix, this pistol will blow your mind!
The hand cannon – a bulky, brute-like design
While it may look like the biggest handgun on the airsoft field (and it actually is), the WE Desert Eagle follows a real-steel design, designed by Magnum Research. So there is a real handgun out there that is just as big and loud! Now, because Cybergun re-created the pistol for airsoft players, you can be sure it will have all the necessary markings, which makes it really appealing.
The airsoft version is powered by Green gas and it's not created for the faint of heart (or small hands). Because of the fully-traveling slide, the gun packs a huge kick and you risk dropping it if the grip isn't right.
A full-metal body & a fantastic audio presence
The all-metal body is the reason why this is one of the best airsoft pistols around (except the plastic side panels on the grip). Of course, all that metal produces a wonderful sound when you release the slide and cock it; almost like a real weapon. The even cooler thing is that the slide goes back as much as the real-steel version does – this happens because the pistol needs all that power to create that core-shaking recoil.
The pistol is equipped with a 21-round gas magazine that's easy to remove and reload. However, you will notice that the adjustable Hop Up is quite difficult to reach.
Great Performance
Yes, it is a beast! The pistol shoots at about 350 FPS and it is accurate. You can use the iron sights placed on top of the barrel to aim, but you must also be prepared for a huge-size grip and a heavy pistol. So, if you're not used to handling such heavy weaponry, it may take some adjustment.
Overall, this is a big gun, with lots of power and sound and I wouldn't recommend it in an airsoft game. It's great for plinking, target practice, or just some good old fun, and it does offer a fantastic experience to anyone who can grip it.
Pros:
Bad-ass design

Impressive performance

Amazing recoil

Heavy and fun to hold
Cons:
Very loud

Big gas consumer

Big grip (not for small hands)

Hop Up is difficult to reach
Price & Where to Buy?
G&G ARP9 AEG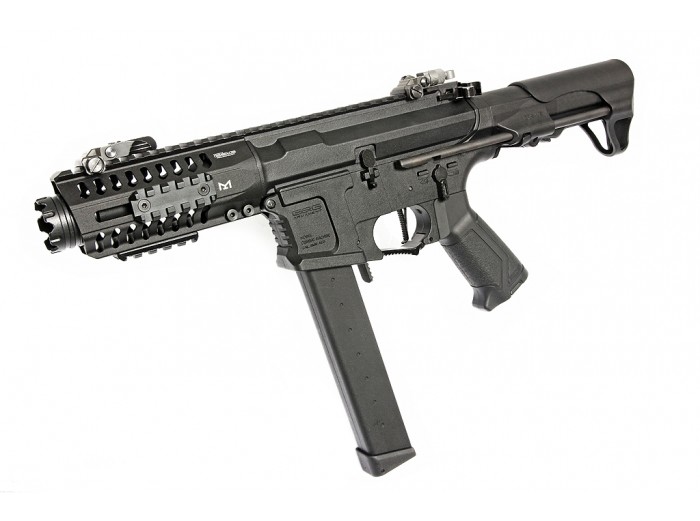 This is a unique configuration in the airsoft world as it is based on the G&G CM16 and features a 9mm carbine style. The compact design makes a fantastic fit for CQB situations and the impressive features make it a must-have on the airsoft field.
Pretty cool design
While it may be compact, the gun is still designed with taste and elegance. The MLOK foregrip and monolithic style upper rail give it a rugged, mean look but they also improve the level of comfort and number of accessories you can mount.
The pistol grip is not wide (it is comfortable though), which makes the ARP9 a good fit for young and inexperienced players. The overall length of the gun is 500mm, with a 128mm inner barrel and a total weight of about 5.1 pounds (2.35Kg).
The tip of the barrel is equipped with an amplifier to make the ARP9 obnoxiously loud. You also get flip-up iron sights (front and rear) and a lightweight upper and lower receiver (designed with high-grade polymer).
Easy-to-use controls and impressive internals
The ARP9 features a solid, full-metal G&G gearbox and inline MOSFET that gives you great trigger response. I also like the fire selector because it's crisp and snaps into place nicely (it's not ambidextrous though) and the rotary style Hop Up unit, which allows for very precise adjustments.
With the ARP9, you have the possibility to choose between semi and full auto fire modes, but you can also program the MOSFET to shoot in three-round bursts.
Collapsible stock with two different positions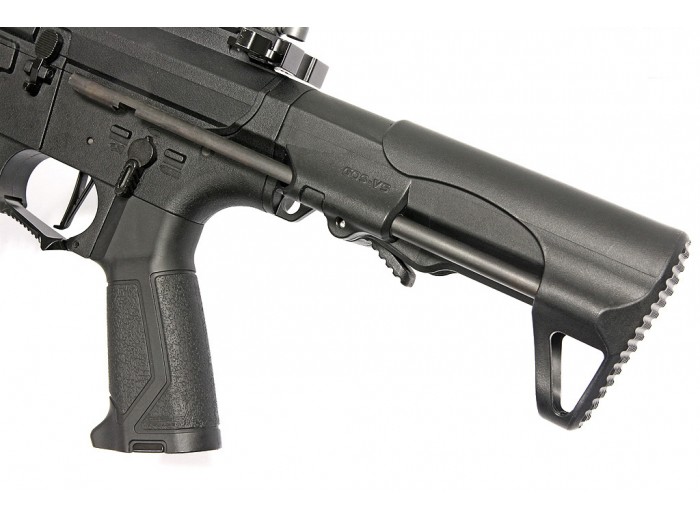 The stock deserves a mention of its own and I'll start by saying that the two positions are: fully collapsed and fully extended. In the extended position, the ARP9 gives a decent length of pull and the possibility to rest your cheek on the gun.  
The stock can be easily removed in order to get to the battery compartment which is a bit crowded (with the inline MOSFET). The ARP9 usually takes a 7.4v battery with Small Tamiya that powers a 25000 RPM G&G Motor.
Overall, the ARP9 is lightweight, loud, powerful (370 FPS) and capable of shredding any enemy that dears stand in your way.
Pros:
Very loud

Powerful & great of full auto

Lightweight and easy to grip by people with small hands

Interesting design

300-round high-cap magazine

Programmable inline MOSFET

Rotary adjustable Hop Up
Cons:
9mm mag is quite unique

Battery compartment is a bit crowded
Price & Where to Buy?
VFC Avalon Leopard AEG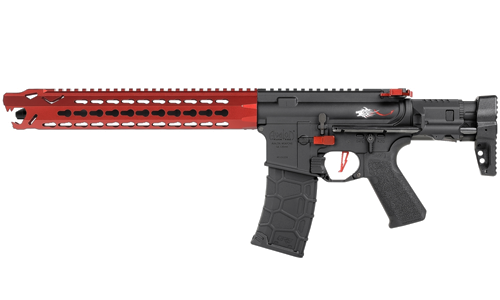 If you're looking for a unique-looking weapon with an interesting design that also performs amazingly the VFC Avalon Leopard AEG is perfect for you.
Unique Design
The uniqueness of the design stands in the shape (and color) of the front rail, which looks like the head of a leopard (hence the name). The rail is red, which may be a bit of an inconvenience when you're trying to hide your position from your enemy. But the resemblance with a wild animal doesn't stop here!
The rail also has flip-up ears (the front sight) and a tongue, represented by the muzzle break. The rail allows you to install all sorts of accessories and all controls are ambidextrous (except for the bolt release). The release mag button is easy to access on the right side, but the left side is equipped with a sort of level, which can be difficult to access.
Finally, another design feature worth mentioning is the trigger. It has a small hook in the end that allows you to shoot faster, and there is small serration all along the front side that gives you more control. Not to mention that it is shaped like a light bolt – how much more badass can you get?      
Still, I also have to let you know that the trigger guard is small and someone with big hands, wearing gloves, may have problems with this aspect.
Spring-loaded collapsible stock
The stock is sturdy and easy to use, and the spring is a fantastic feature! You'll also find the battery compartment stashed away in the stock and it can accommodate a small to medium battery. This is also a bit of a downfall for this gun because the battery compartment is very small, meaning not every battery would fit in there.
Powerful & Accurate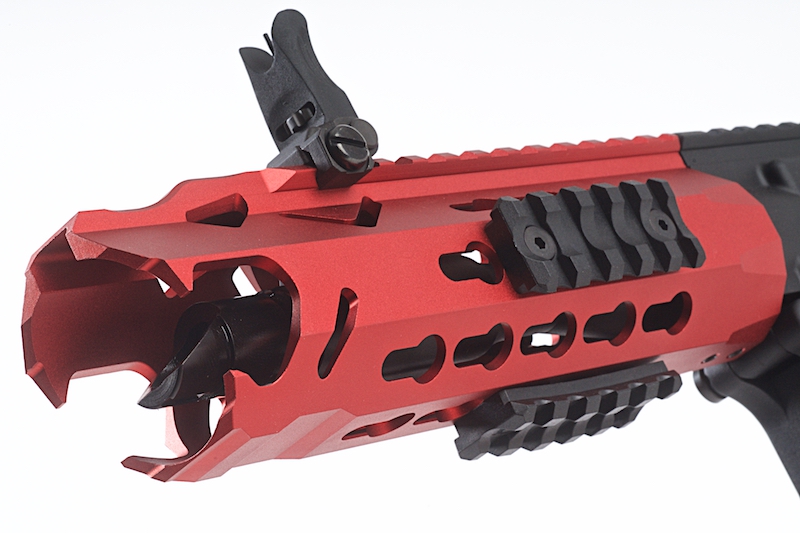 The VFC Avalon Leopard shoots at around 400FPS, which is impressive enough. This is an advanced airsoft weapon so you'll also find an adjustable Hop Up that's easy to reach and adjust. The gun is nice to hold when you're shooting, due to the front rail, and it performs well out of the box.
Finally, if you're not sold by the design, you should know that it's just a rail system that can be easily swapped. Overall, this is an impressive performer, with good grip, lots of power, and it's easy to use even by beginners.   
Pros:
Powerful

Good accuracy

Great sight system

Easy to hold and use

Collapsible stock

Nice trigger

Lots of room for accessories
Cons:
Battery compartment too small

The design is not too serious
Price & Where to Buy?
Tokyo Marui SGR-12 Shotgun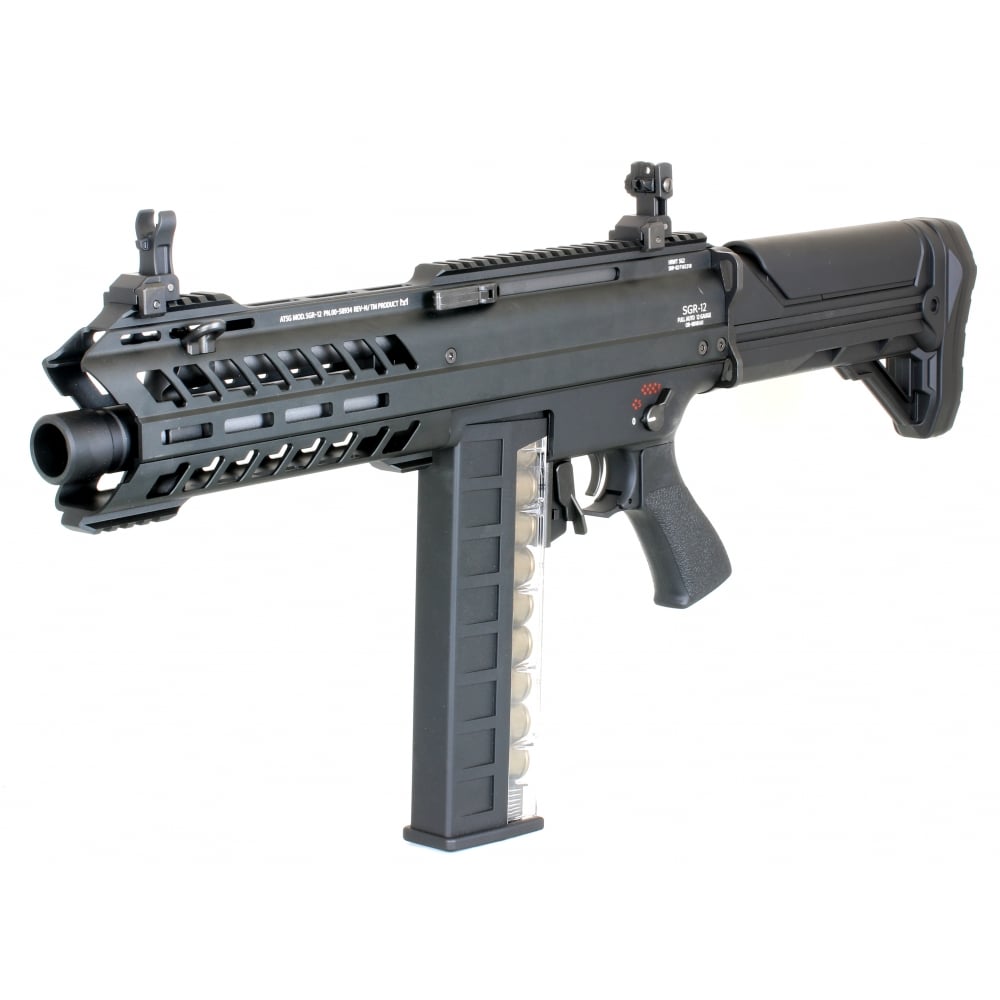 This is a monster airsoft gun built for rapid fire, with a multi-round magazine and three inner-barrels, each with individual adjustable Hop Ups. As you can imagine, this bad ass shotgun is designed for spreading, not for finesse.
Cool Design
The SGR-12 shotgun looks bad-ass with a nice-looking stock (that is not retractable) and an M4-style pistol grip.  The fire selector is placed right above the pistol grip, which makes the gun very easy to use, and the AK-style mag release is ambidextrous. The standard magazine has a transparent side that allows you to see the cartridges, but you can always fit this shotgun with a drum magazine that holds up to 3,000 rounds.  
The top of the shotgun is equipped with a metal M-Lok rail and has default sights, but they are kind of low which makes them more or less useless. This is why you have to add your own sights to the top rail (actually, the gun is somehow already designed for this).
Picatinny Rails from the Box
To improve your accessory placement, the SGR-12 comes with three different length Picatinny rails that go on the M-Lok rail.
Great for Cover Fire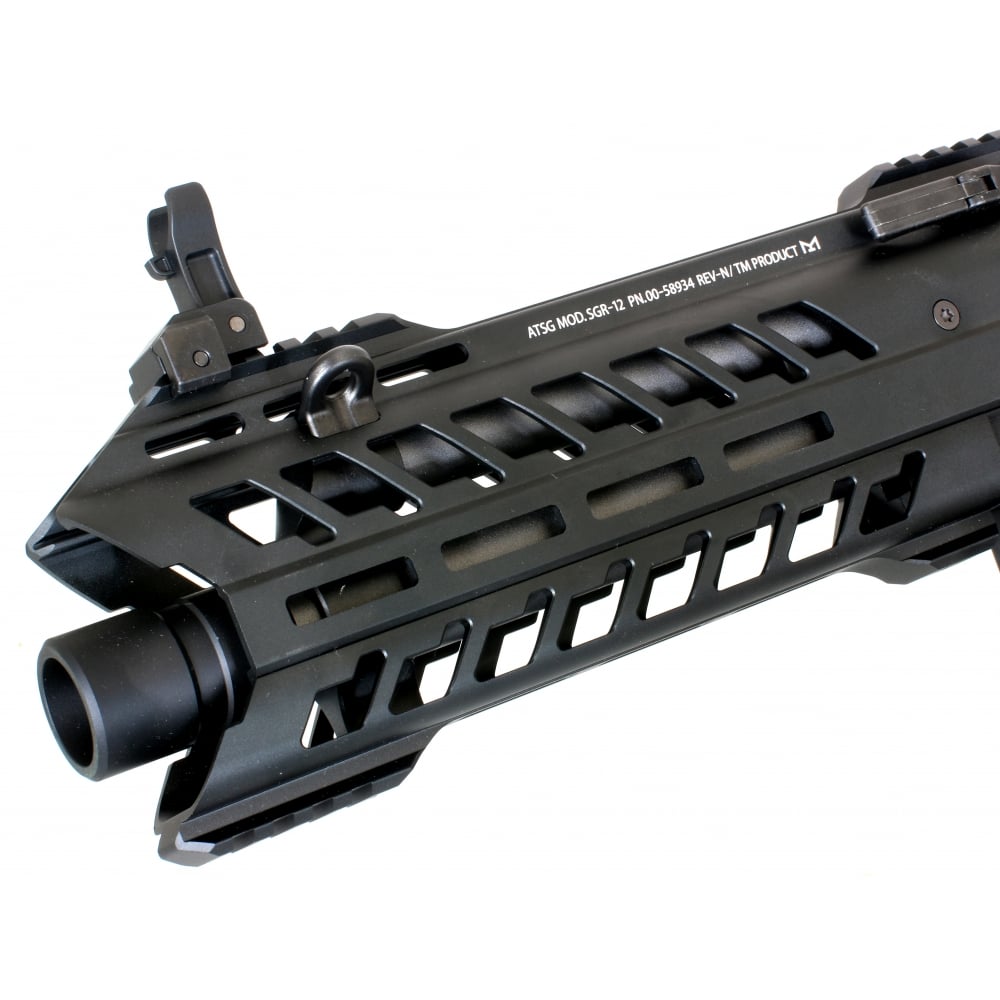 Given the fact that you can fit the SGR-12 with a huge magazine and that there are three barrels that shoot simultaneously, you can only imagine the spread it is capable of. The shotgun can shoot at about 230FPS, can shoot 30 BBs per second, and can hold a consistent spread for about two minutes (with the drum mag). Still, because of the huge drum magazine and the metal rail system, the SGR-12 is quite heavy and it's difficult to keep a constant spread.
Overall, the SGR-12 from Tokyo Marui comes with the same specs as the AA-12 but with a better, more appealing body. It is powerful and inflicts a lot of damage, so make sure you use it responsibly!
Pros:
Impressive design

Easy to use

Can be fitted with a 3,000 rounds magazine

It's amazing for cover fire

It can hold a spread for about two minutes

It is powerful and fast
Cons:
Stock is not retractable

Cheek rest is not adjustable

Sights are very low

It is heavy
Price & Where to Buy?
Umarex HK45CT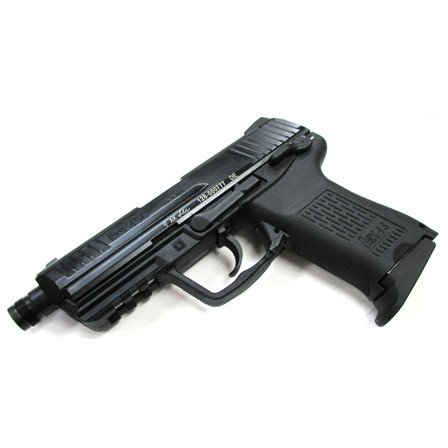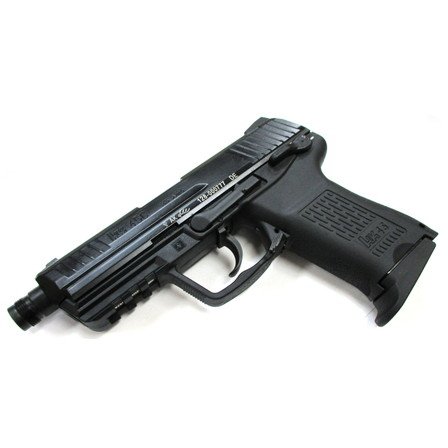 Small, beefy, and angry – these are the first adjectives that come to mind when you first lay your eyes on the HK 45CT from Umarex. This tiny but heavy beast works with Green and/or Top gas and shoots at about 320 FPS, using a 21-round magazine.
Kick-ass features that perfectly fit the reputation
The HK 45CT already has a reputation in the field, and if you take a look at its features, you'll know why. First, the upper receiver is full-metal (the lower frame is high-end polymer) and the body is fully licensed to make it look as realistic as possible.
The Tri Dot sights are very useful, but you can add a pointer laser using the short front rail. There's also the possibility to adjust the Hop Up using just a key (no disassembly required). Finally, all the controls are ambidextrous, which is a really nice touch.
I like that you can add a 14mm CCW suppressor to make it look more aggressive (if you feel the need). But, I also think you should know the grip is not as textured as I'd want it to be; but with a pair of gloves this won't be a problem. The same goes for the serrations on the aluminium slide (they are quite shallow and don't offer too much grip).
Good ergonomics, smooth action, impressive recoil
Overall, the HK 45CT is an impressive airsoft pistol. It fits just right in your hands, the parts move amazingly smooth, and it kicks a very nice blowback action. However, it has a weak point: the trigger. It travels long and it feels squishy which may trip your firing routine. But don't let this trample you! If you want this gun, it takes a bit of practice with the trigger, but it still fires fast and accurately at over 320 FPS.
Pros:
Great as a backup gun

Impressive recoil

Powerful and good accuracy

You can add accessories

Feels good in your hands
Cons:
Grip is not fantastic

Sights are a bit low profile

Trigger action needs some getting used to
Price & Where to Buy?
So there you have it! Our master list of the best airsoft guns for 2018. Please let us know if you have any alternative suggestions or weapons you've found superior to those on this list and we'll gladly take them into consideration.
Looking for cheap Airsoft guns?
We realize this list is full of high-end equipment at a very expensive price. If you're working with a lower budget, then check out guide out
our guide on cheap airsoft guns
– you'll be sure to find something in there at a lower cost that's still going to be a quality product.
Rating