What is the best airsoft gun? With dozens of rifle manufacturers, hundreds of gun platforms and classifications that will make your head spin, making the right choice is anything but easy.
Not to fret! Liam (that's me!) has got you covered. Let me give you access to my decade of airsoft experience and guide you along as you make your most important airsoft purchase!
Verdict:
The
Colt M4 CQB
is the best airsoft gun! With 400FPS of raw power, extreme accuracy and CQB adaptability, the Colt M4 is the perfect airsoft rifle for most players!
Whether you're a teenager looking to get into airsoft, an AWESOME parent looking to buy your kid's first airsoft gun or a hobbyist looking to expand his or her horizon; you just found the #1 airsoft gun guide on the internet!
Ready to dominate the fields of airsoft! Let's dive in!
Best Airsoft Gun
In a Hurry? Check out my top 3 airsoft guns in the table below. Continue reading if you're looking for in-depth reviews and springer rifles !
G&G
M4

COLT
M4 CQB

KALASHNIKOV Tactical
AK47

Runner up
Best Airsoft Gun
Best Budget Option
380FPS
400 FPS
400FPS
180ft Range
180ft Range
150ft Range
All Plastic w/ Metal Parts
Mainly Metal
All Plastic w/ Metal Parts
6.2 lbs
8.0 lbs
5.1 lbs
Ni-MH Nunchuck/Butterfly Type Battery
Ni-MH Nunchuck/Butterfly Type Battery
Ni-MH Small Type Battery

Buy Now

Buy Now

Buy Now
COLT M4 CQB Review

Colt don't license airsoft guns lightly. The weapons they do license need to be of extremely high quality and perform to similar standards to those made by the world's leading weapons manufacturer, and this Airsoft assault rifle made the grade.
The Colt M4 CQB's build quality is the first thing to note. Primarily of plastics, it is very light for the battle scene in question yet is hard wearing and has the look and feel of a similar cap fired weapon. This was the first reason that Colt allowed their name to be stamped on the this M4.
The next reason the famous arms manufacturer allowed their name to be stamped on it was the performance. It has a full metal electric motor powered gearing system that can enable it to fire at a power of up to 400 Feet Per Second (FPS) smoothly and accurately.
With its power, the Soft Air Colt M4 has an accurate range of 190 feet, meaning that the CQB abbreviation (for Close Quarters Battle) isn't strictly necessary. Those in CQB using this M4 will have the very best weapon in the situation!
The battery for the Colt M4 CQB sits in the retractable stock. While powering this weapon, it can be adjusted to one of six settings to match your exacting needs. The forward rail system is fully integrated, and allows you to customise the gun to whatever situations you face, whether a flashlight for night fighting or in a dark room, or a laser pointer for extremely accurate shooting. You even can fit a grenade launcher or optics – it truly can be set up in whatever way you wish.
While the standard configuration comes with a metal sight, you may wish to look for the optional red dot scope for heightened accuracy – this could make the difference between winning and losing in a high pressure game situation.
Another important addition to consider for the M4 would be a smart charger that will both dramatically increase battery life and speed up charging by up to 800%. This will be a wise investment for those who don't want to keep on buying new batteries or running into the unfortunate situation of the gun ceasing to fire in the midst of your game play – leading to almost certainly being 'killed' by the opposition!
Overall this is the best airsoft gun you can hope for and really is the answer for those seeking a good all round weapon that can be modified in a variety of ways. It will last the user a long time, ensuring that it won't be left in the cupboard while other weapons are selected…
Runner Up
G&G M4 Review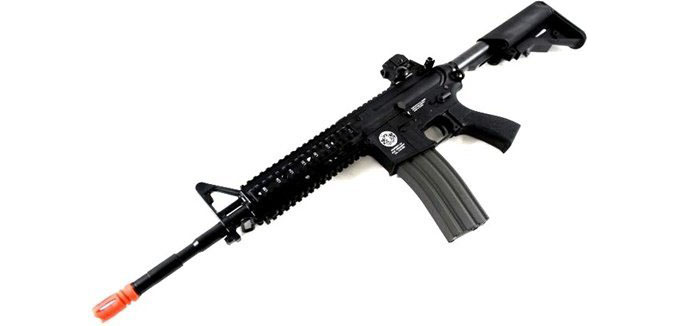 This is G&G's take on the famous M4 RIS rifle and has the flexibility to be used both indoors for Close Quarters Battle (CQB) as well as for outdoors fun. It has many of the features available on much more expensive weapons, and both looks and feels like an excellent rifle. It has the barrel length of a full sized M4, that adds range to accurate shooting – unlike many similar weapons for CQB this has not been cut down for the scenario. It is directly comparable with the $300 Tokyo Marui Automatic Electric Gun (AEG) so may well be the gun of choice for those who want high quality yet don't want to completely break the bank.
The G&G airsoft combat machine M4 raider has nunchuk battery storage in its six point retractable stock. The stock can be arranged for different game situations, allowing it to be used both indoors and for outdoor fun with the big boys.
The full metal gearbox can manage 380-400 Feet Per Second (FPS), a super strong contender. G&G haven't compromised on the quality of the gearbox, which is extremely similar to their more expensive range of guns. Using a 9.4 volt battery it can manage a rate of fire of up to 1000 rounds a minute, ensuring that those using it will be able to lay down a heavy rate of fire as they desire.
Another great thing about the G&G M4 is that it has been designed to be compatible with a number of Tokyo Marui upgrades, allowing the user to improve it as their game play abilities improve – in short it will grow with the user from the time they start playing in Airsoft fields and potentially right through their careers.
The gun comes with a 450 hi-capacity magazine and smart charger.
Overall? For those who are entering Airsoft games this won't do you wrong. It has the flexibility and is upgradeable to last you until you are a good intermediate. You won't be disappointed at the build quality, accuracy and flexibility of this excellent airsoft gun.
Best Budget AEG
KALASHNIKOV AK-47 Review

With consistently good reviews among users and experts alike the KALASHNIKOV AK-47 Airsoft Automatic Electric Gun (AEG) is an extremely good entry level weapon for those who don't want to be shamed when they enter the world of Airsoft gaming. The KALASHNIKOV AK-47 is a great gun both for those who are fans of AK-47s and those who like a great pistol grip and its added control. Those who seek the Russian look will not be disappointed with this lightweight, powerful and accurate Airsoft gun.
The weapon has an impressive 400 Foot Per Second (FPS) of power and with its full metal gearbox it has a reliable and fast firing rate.
Some people prefer to use all metal weapons but this adds to the weight. A lighter weapon has improved accuracy as your arms won't tire in the battlefield. This is why the durable polymer construction of most of the weapon is a real strong point.
There are three settings – safety for situations when a negligent discharge isn't permitted, semi-auto for accurate shooting and full auto for when you need to put down covering fire for your buddies. The magazine has the capacity for a whopping 500 rounds, meaning that you shouldn't run out of shots when things get critical.
The KALASHNIKOV AK-47 is designed to be upgraded in a wide variety of ways so will last a long time as you improve your battlefield and Close Quarters Battle (CQB) skills. While the 5lb gun is good for a range of scenarios it has a full length barrel that is better used outdoors and for longer range games, though the control afforded by the excellent pistol grip does allow for the control necessary for indoors Airsoft games. It has top and side rails for upgrades and attachments so you can accessorise to your heart's desire.
The basic set up includes iron sight. You should definitely buy an optic sight to improve accuracy as you put fire down – points come for kills, not just pellets in the air. Additionally you should buy a decent smart charger to prolong the battery life and speed up the charging. If you do, this will be a nice addition to your Airsoft armory and will serve you well in the Airsoft arena.
Best Spring Airsoft Gun
When you enter a sport you don't want to spend $$$ and have the best super-duper equipment in the field. If nothing else your fellows may accuse you of 'having all the gear but no idea' and this could be counterproductive socially. Equally, you may find it fun, but not enough fun that you will come back / do it every single weekend you have to spare. That's why you should really go for a reasonably priced Airsoft weapon that won't let you down while gaming (spoiling the fun in its own right) but won't be a two hundred buck addition to your garage full of unused sports equipment…
Crosman SR01 Review

At one quarter of the Colt M4 price, Crosman's SR01 spring powered rifle won't break the bank, yet looks good and performs well. There are over 300 Amazon user reviews and these average 4 stars. While not electric as the other four weapons we touch on above, you won't be disappointed by the accuracy, power and realism of this rifle.
Made of steel the Crosman Airsoft SR01 is reassuringly heavy without leaving your arms too tired to shoot accurately in the field. It has flip up iron sights that are very good and can be adjusted so you can shoot straight and true.
Another good point is that it has rails for fixing an optical sight to the weapon should you want to spend another $20 or so for improved shooting accuracy. Finally, it has a high capacity magazine carrying up to 18 pellets and a reservoir that can take up to 350 more so you won't run out of ammo during your gaming.
As indicated above, this is an accurate shot too. With an accurate range of up to 75 feet before the pellet falls from its straight trajectory this isn't just for close quarters battle. It has a muzzle velocity of 325 feet per second so those on the receiving end will sting!
The Airsoft SR01 is not an automatic weapon as the others are in this article. That means you will have to cock the weapon every time you shoot – no burst firing here. Even so the mechanism is really well made so you will get many hours of good use out of it while gaming.
Overall? A fine weapon to test out if airsoft is for you. Perfect for backyard playing and plain old fun. Would I recommend you to carry this weapon to a competitive skirmish? Heck no. Is it perfect for beginners and fooling around – definitely!
If after several weekends of using it and you find this is the sport for you, go ahead and upgrade to one of the more serious weapons above.