13 Best Air Rifles & Pellet Guns: Guidelines and Top Reviews
Whether you're a beginner or an experienced shooter you can still get confused by the plethora of air rifles on the market. As such, many throw caution to the wind and just buy on impulse, going for the better-looking or most powerful rifle. Make sure to read our guide before making your decision.
---
However, when push comes to shove, the model you chose may not have the right features for your needs. As such, to help an air gun aficionado select the best product for their money and needs, we've put together a detailed guide on how to choose your next rifle or pellet gun.
Even more, we've been through some of the most popular choices and reviewed their features. This way, you can make an informed decision.
| Most expensive | Lowest cost | Best Reviews |
| --- | --- | --- |
| | | |
| FX Impact X | Gamo Whisper Silent Cat | Benjamin Marauder |
| 920 FPS | 1000 – 1200 FPS | 1100 FPS |
| Easy to switch between calibers | Two types of ammo (PBA & lead pellets) | Different caliber pellets |
| PCP with Sidelever action | Single-shot & spring piston system | Bolt-action |
| Hunting/Target Shooting | Small game hunting & pest control | Small & medium game hunting |
| Very quiet (2-Low-Medium) | Skeletonized stock | Very quiet (2-low-medium level) |
| Buy Now | Buy Now | Buy Now |
Different Types of Air Rifles / Pellet Guns
Based on the powerhouse, there are several types of rifles such as:
Spring Piston
One of the most popular design, spring piston air rifles use a powerful spring and air piston to shoot the BB or the pellet at high speeds. One a shot is fired the user must manually retract the spring for the next pellet to be loaded.
These rifles are usually affordable, accurate and reliable. Still, they are limited in caliber and can only put down small game.
CO2
These are semi-automatic designs and use CO2 cartridges to power up the mechanism. The user doesn't need to pull the spring or pump the air, but the CO2 cartridges are not consistent in delivering air pressure. As such, most users only consider these types of rifles for recreational shooting or plinking.
Pneumatic (or Pump)
These rifles don't need any external power source (except for the air they use to propel the pellet). However, in order to work, the user must manually pump the air into the rifle until it reaches the ideal pressure point. As you can imagine, this action is noisy and time-consuming, which is why pneumatic rifles are not recommended for hunting.
Pre-charged Pneumatic (PCP)
The only difference between a PCP and a good old-fashioned pneumatic rifle is the fact that the air reservoir is pre-charged using an air compressor (no need for pumping of any kind). Once the reservoir is charged, the rifle can shoot several rounds without any other efforts.
Since these rifles are more powerful and silent, they are favored when it comes to small and medium game hunting.
However, PCP rifles are also more expensive and require a charging system.
Features to Consider
Depending on the way you want to use the rifle, here are the main features you should consider:
Level of power
Air rifles can shoot from 600 FPS to 1200+ FPS. The lower end rifles are used for plinking and target practice, while the high-speed ones are usually involved in hunting and pest control;
Caliber
Most people only think of air rifles as being small caliber, toy guns. However, these rifles are available in a wide range of calibers starting with the popular .177 for games and target practice, moving to the calibers for small game hunting (.20, .22, and .25), and ending with calibers for medium and large game hunting (.357, 45, .50, .58). The larger caliber versions are only available in PCP designs.
Mechanism
This feature makes reference to the type of mechanism used for loading and cocking the rifle. As such, there are four popular mechanisms:
Break barrel – the barrel is mounted on a downward hinge to cock the spring. Also, to load a pellet, you'd need to open the barrel and load it directly. These rifles are reliable and accurate, but also easy to maintain.
Underlever – the lever used to cock the spring is right under the barrel. To cock the rifle, a user would need to grab the level and pull towards the rear.
Sidelever – the lever is mounted on the side, so the cocking movement is to the side and towards the rear. These rifles are considered to be more durable and resistant to rough handling, but they are not ambidextrous.
Semi-auto – there is no need for manual cocking as the rifle feeds from a magazine and shots one round per pulled trigger.
Top 10+ Best Air Rifles
---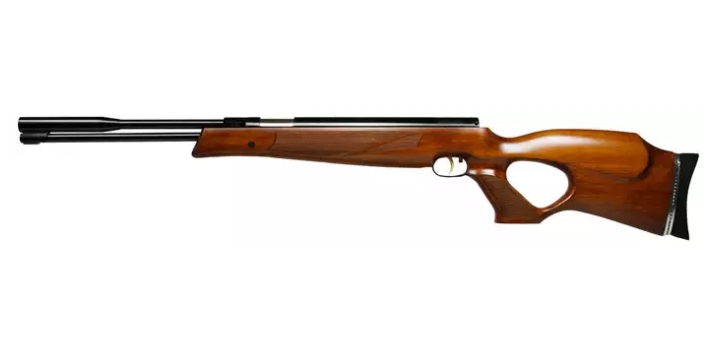 Pros
Gorgeous design
Impressive accuracy
Lightweight and easy to maneuver by a beginner
Related to a well-established high-end design
Pretty quiet compared to similar designs
Great for plinking or small game hunting
Cons
Not very powerful
Lightweight and only good for small game hunting
The Beeman HW97K is one of the most accurate air rifles on the market due to high-quality internals and an impressive build. In fact, the rifle is related to one of the finest air rifles in history developed and built in the Weihrauch plant in Germany!
In terms of specs, the HW97K is a 0.177/.20/.22 caliber pellet rifle that can shoot at max 930 FPS and produces a 3-medium sound level (which is pretty quiet). It features an 11.81" barrel and it doesn't have any integrated sights. However, this doesn't stop users from mounting an air rifle scope using the 11mm dovetail.
This is a single shot spring-piston underlever field rifle which is why most people use it for target practice, plinking, metallic silhouettes, shooting spinners, and small game hunting. Since it's lighter than most similar models (9.2 pounds) and extremely easy to maneuver, it's highly recommended for beginners.
Finally, since it has a fully open breech, the rifle is easy and fast to reload. Not to mention, the design is elegant due to the bluing on the steel, slim silhouette, and gold Rekord trigger which adjusts as you want.
Overall, the Beeman HW97K is a beautiful air rifle, with deep roots in the history of air guns, and an impressive behavior on the field!
---

Pros
Beautiful design
Impressive accuracy
Sidelever action
Pre-charged pneumatic rifle
Easy to use & quiet
Great for small game hunting
Cons
Not too powerful
A bit on the expensive side
Equipped with a checkered forearm and pistol grip, this air rifle is one of the easiest to hold and carry in the field. Also, the shrouded barrel helps in reducing the noise to it being almost quiet, and the dual raised cheekpieces make it perfect for ambidextrous shooting.
Now, besides being easy to use, the pre-charged pneumatic Beeman HW 100 T FSB is also gorgeous! The Monte Carlo Stock and the elegant overall silhouette combine into a beautiful piece of weaponry that can be used to hunt small game without giving away your position.
Of course, the rifle can also be used for plinking and other similar fun activities. And since it's so quiet, you can do this wherever you want, without disturbing anyone around.
Overall, the 0.22 caliber, sidelever HW 100 T FSB air rifle is accurate, lightweight (8.6 pounds), powerful (886 FPS), and silent – a deadly combination!
---

Pros
Quite powerful
Noise level is low
Great for small game hunting and pests
A beautiful combination of wood and metal
Insanely accurate
Very little recoil
Cons
Trigger and cocking are a bit tight at first
It is a bit large and heavy for younger beginners
This is a spring-piston air rifle and is considered one of the most popular designs ever sold by RWS. It comes in both 0.177 and 0.22 caliber, so you can use it for plinking and spinners and hunting small game and pests (the 0.22 works best for this).
The rifle is equipped with fiber optic sights, with the rear one being fully-adjustable, so you don't need to buy a scope if you don't feel like it. The sights are well lit, and you won't have problems bringing them to eye-level. However, if you want to add a scope, there is an 11mm rail just for this purpose.
Diana RWS 34 is a single-shot rifle, works with pellets and can shoot at about 1000 FPS muzzle velocity! It's also quiet (only 3-medium sound level) and well-built (this is a German-built model) while delivering the pellets with incredible accuracy.
The trigger requires 30 pounds of force and cocking may seem a bit tight for the first 100 and so times. However, in time, you'll get used to this aspect or the rifle will loosen a little bit (whichever happens faster).
Still, keep in mind that the model 34 is a lightweight rifle (7.5 pounds) with break barrel action that is powerful enough to make do with a rodent from the first shot (regardless of where you hit). It may look elegant and slim, but this is a powerful air rifle and shouldn't be used as a toy!
---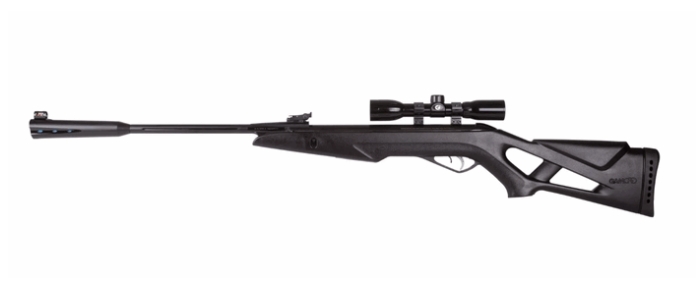 Pros
Powerful & easy to use
Modern design
Lightweight & easy to handle
One of the quietest air rifles
Perfect for pest control
Rubber butt plate to absorb recoil
Great for younger beginners
Fiber optic sights
Cons
It's a single shot model
It comes with a plastic trigger
Since it's in the name, it's not that difficult to understand that the Gamo Whisper Silent Cat is famous for its low level of noise. However, if you're thinking that a silent air rifle is not that powerful, you're wrong! This model develops a power of 1000 – 1200 FPS, depending on the type of ammo.
The reason behind its silence is that this single-shot, spring piston rifle was designed for dealing with pests; an action which requires a quiet approach. So, in other to keep the noise down without reducing the speed of the shot, the barrel is equipped with a noise dampener.
Whisper Silent Cat can be used with two types of ammunition: PBA (1200 FPS) and lead shots (1000 FPS). Moreover, the butt plate is fitted with a ventilated rubber pad to protect the user from the recoil and allow them to continue shooting at fast-moving targets without losing the line of sight.
Overall, the rifle is lightweight (about 7 pounds), easy to use (the skeletonized stock is a nice feature) and comes with a smooth-action trigger. All these features make it ideal for both beginner and advanced shooters.
---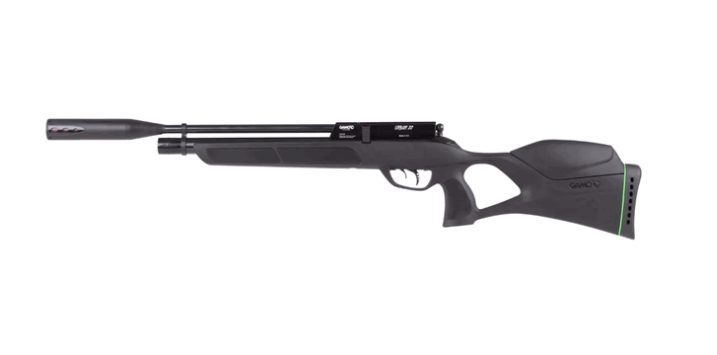 Pros
Lightweight and easy to maneuver
Can be fitted with a scope
High-end features
Ideal for small game hunting
Silent shot
Works with both pellets and lead hunting pellets
Cons
Not too powerful
The trigger may be too sensitive for some
An entry-level rifle
Usually seen as an entry-level pre-charged pneumatic rifle, the 0.22 caliber Gamo Urban impresses both beginners and advanced users with its high-end features.
First, the design is modern and slim, with an ambidextrous synthetic stock and hammer-forged steel barrel. Also, the rubberized butt plate is fitted with air vents and can absorb part of the recoil. Second, the 2-stage CAT (Custom Action Trigger) is adjustable, and while the rifle doesn't feature open sights, there are 11mm dovetail grooves to install a scope. The trigger only requires 3 lbs. of force – a reason why so many beginners enjoy using this rifle.
Gamo Urban is not insanely powerful (700 – 800 FPS), but it is silent (due to the integrated Whisper Maxxim technology). It comes with a removable 10-rounds rotary magazine and has a built-in pressure gauge. Moreover, the rifle is a multi-shot model that can be used with both pellets (800 FPS) and lead hunting pellets (700 FPS).
Finally, the Gamo Urban model is a bolt-action system that supports 232 bars (3365 PSI) of air pressure and lets you shoot about 30 rounds per fill. And, since it's silent and the recoil is 70% absorbed by the butt plate, this is the ideal rifle for hunting small game and pests (especially for beginners).
---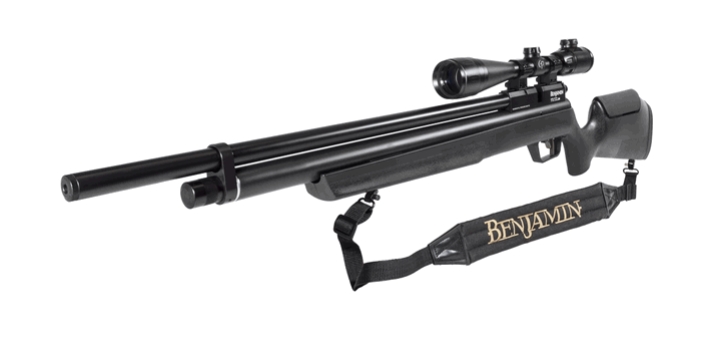 Pros
Elegant design
Comes with a wide sling that makes it easier to carry
Can come with scope or mounts
Packs 1100 FPS with .177 caliber pellets
Works with 0.22 and 0.25 calibers as well
It's very quiet
Fantastic value for the money
Cons
No sights attached
It is a bit heavy for some shooters
The bolt can be a bit stiff
The Benjamin Marauder is an impressive air rifle that delivers good value for the money. First, it can handle air pressure of up to 3000 PSI (which is highly impressive) and second, it is highly accurate even though it doesn't have attached sights (it comes with dovetail mounts or a scope, depending on the version you buy).
The rifle is equipped with a 10-shot repeater with auto-indexing feature and, due to the raised aluminum breech, it's easier to stack the rotary magazine up. In terms of ammo, the rifle is mostly used with .177 caliber pellets (which gives it an 1100 FPS firing speed), but it can also be used with 0.25 caliber pellets, in which case it acts as an 8-shot repeater.
The metallic trigger can be adjusted in two stages and the fact that its position is slightly backed-up it lets the user get a better grip and stability. Moreover, the stock is equipped with an adjustable comb that puts you at eye level with the scope in any situation.
Benjamin Marauder is a bolt-action rifle with a rifled barrel that's been internally shrouded. This makes it very quiet (2-low-medium level) but, if you're using higher caliber pellets, it will get louder. As such, it can be used for plinking, shooting metallic silhouettes, or small game hunting.
Considering the level of power it pumps, the rifle is not just for small game hunting as you can inflict some damage on foxes and even coyotes. So, make sure to treat it with the respect of a powerful gun!
---

Pros
Gorgeous design
Highly accurate
Works with three caliber sizes
Can be used for small game hunting and plinking
Real wood stock
Cons
The price is a bit high
Manual safety button
The trigger can be difficult to unlock
Air Arms is known in the market for the beauty of their products and the S510 Xtra FAC doesn't make an exception. The elegant wood stock (walnut or beech) compliments the sleek lines of the Lothar Walther barrel, creating an ensemble that every shooter would be proud to own.
However, this rifle is not just gorgeous; it also packs an incredible performance. Available in three caliber sizes, the S510 Xtra FAC delivers different firing power depending on the caliber diameter you're using. For instance, with .177 pellets, the rifle shoots at 1050 FPS, with .22 it shoots at 920 FPS, and with .25 it shoots at 780 FPS.
It also comes with a 231cc air tank and a 10-shots per clip capacity. The S510 Xtra FAC supports up to 200 bars air pressure, there's a two-stage adjustable trigger, and the action happens via a sidelever (as it happens for most repeaters).
One feature that may be a bit off-putting for some shooters is the manual safety button that's installed in the trigger blade. The position and the fact that it can be activated manually make it easier to put the rifle in safety by accident.
---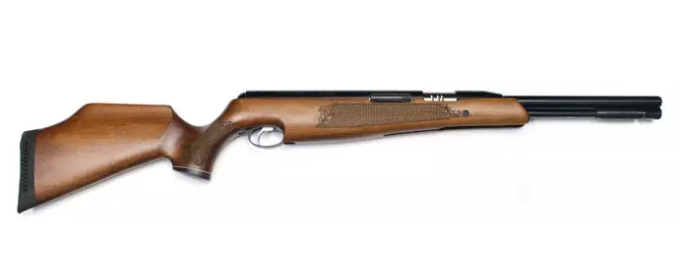 Pros
Beautiful design
Solid build
Impressive accuracy
Great for both hunting and competitions
Large loading port
Well balanced body
Cons
A bit heavy
Cocking can feel stiff
Long scopes cover the loading port
The TX200 Hunter Carbine from Air Arms is a spring-piston under lever action rifle, with automatic safety, and a two-stage adjustable trigger. At a first look, the rifle takes the eye with its beautiful wood stock and slick lines, but many shooters consider it to be a bit on the heavy side (it can get up to 10¼ lbs. when fitted with a scope and mounts!).
However, since it's a spring-piston rifle, the solid build acts in its favor, making it easier to use. You may also find the cocking action a bit stiff, but after the first 100 shots it will get easier and you'll get more used to it.
Now, despite it being sturdier than most air rifles with a synthetic body, the TX200 is one of the models that had the honor to win the world springer HFT World Champion! So, you can tell it is highly accurate and powerful (about 773 FPS with .177 caliber pellets).
Moreover, the loading port is on the side and rather large, which makes the loading faster and easier. However, if you choose to install a long scope, this may interfere with charging, so make sure to choose wisely.
Overall, the rifle is well balanced, and the stock is designed to provide support to the shooter. As such, even though it's a bit heavy, the rifle remains one of the favorites among advanced shooters.
---

Pros
Bullpup design
Works with three caliber sizes
Powerful enough for small game hunting
Adjustable comb for improved accuracy
Picatinny rail for accessories
Smooth sidelever cocking
Long range
Cons
A bit heavy
Trigger action is a bit off
The coating is not very durable
The Hatsan BullBoss is a bullpup PCP rifle that can be used in three caliber sizes (.177, .22, and .25). As such, the muzzle velocity will differ according to the type of pellets used (1170 FPS with .177 caliber pellets, 1070 with .22 caliber, and 970 with the .25 caliber).
As you can see, the rifle is powerful enough to be used for small game hunting (it may even put down foxes or coyotes!). But it's also quiet due to the Quiet Energy suppressed barrel.
Due to the bullpup design, which displaces the weight (8.6 lbs.) to balance the rifle, the Hassan BullBoss is easy to use and lets you keep the target in the crosshairs after each shot. Since it's quiet, it doesn't give away your position during the hunt, meaning that you can follow-up with additional shots, if necessary.
Moreover, the two-stage match trigger is fully adjustable and the side lever is smooth and easy to cock. The ambidextrous synthetic stock is equipped with an adjustable comb and the rotary magazine (which holds 10 rounds with .177 and .22 caliber pellets, and 9 rounds with .25) is easy to load.
Overall, the Hatsan BullBoss is an easy to use rifle with impressive features, a Picatinny rail for accessories, and an incredible price!
---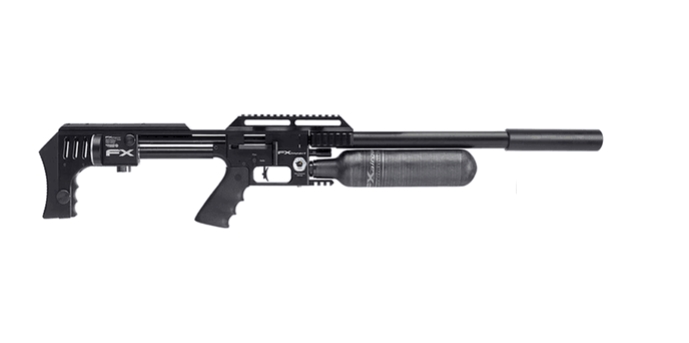 Pros
Minimalistic design that's easy to maintain
Lots of impressive features
Extremely versatile
Plenty of room for accessories
Impressive trigger action
Excellent accuracy
Powerful
Cons
It needs some getting used to
The magazine could be better
Not designed for left-handed shooters
With good value for the money and impressive speed and accuracy, the FX Impact X PCP rifle is an outstanding piece of weaponry!
First of all, it is extremely versatile since it can be easily switched from a .177 caliber rifle, to a .22/.25/.30 caliber rifle. All you need to do for this to happen is change swap the bolt and barrel. You also have access to various controls that set the level of power, the hammer spring, and the regulator pressure.
Second, the rifle has plenty of room for a scope (on the long rail at the top) and other accessories (on the three additional rails available).
The FX Impact X can be found in two sound suppression configurations. As such, you can choose between the telescoping barrel option and the fixed moderator option. The latter offers more sound suppression, especially for the higher calibers.
The design is ultra-modern, with a minimalistic approach and a high-grade CNC machined aircraft aluminum body. As a result, the rifle is lightweight and easy to maintain.
Finally, the side lever offers smooth action and is easy to reach (positioned right above the trigger) and the rotary self-indexing magazine is large, so it allows for multiple shots before it requires a reload.
---

Pros
Impressive features
Smooth action with little effort required
Adjustable trigger
Side lever cocking system
Fantastic accuracy
The Wolverine R is a step forward from the already-proven Wolverine 2 and, besides improved features, it also comes with a dramatic grey laminate or a walnut ambidextrous thumbhole stock. The rifle is available in .22, .25, and .177 calibers and can shoot at about 560 FPS depending on the type of pellets used.
With the Wolverine R model, Daystate decided to give up o the cocking bolt in favor of the more modern side lever cocking system. As a result, the multi-shot PCP rifle feels smoother and it's a lot more fun to use by both beginners and advanced shooters.
To make things even better, the side lever can be switched on the right or on the left, according to your specific needs. Daystate also used a new regulator, which helps improve accuracy and delivers more shots per fill. With a 10-shot magazine, this is definitely good news!
Among other novelties, we'd like to mention the Lothar Walther barrel (fully-shrouded), a threaded muzzle, and a 2-stage fully adjustable mechanical trigger.
---
BSA SuperTen

Pros
Impressive build
Available in .177 and .22 calibers
Steel bottle air container
Extremely accurate
Consistent velocity for each shot
Fully adjustable trigger
Available in three different barrel versions
Cons
Risk of loading two pellets at once
You need a specific charger
The SuperTen model from BSA is what air gun owners call a bottle rifle. This means that the air reservoir is a steel bottle screwed in at the end of the forestock. Now, to change it, you need to unscrew the steel bottle and charge it with a SCUBA tank or pump (it holds up to 3336 PSI/230 bars).
Moreover, this is a regulated air gun, meaning that there is a mechanism in place that regulates just how much air the rifle can use for each shot. As a result, each shot gets the same treatment and delivers the same velocity until the air pressure drops too low.
The SuperTen can be found in both .177 and .22 calibers and comes in three versions: without a silencer, with a non-removable silencer, or a full bull barrel. All three versions are equipped with an adjustable match trigger and have a 10-shot rotary magazine.
To make it incredibly easy to use, BSA included an adjustable butt plate (on the vertical), a cheekpiece, and a checkered pistol grip for improved handling. Moreover, the trigger is a pleasure, but you have to make sure the bolt is pulled all the way back towards the rear slot before you cycle it forward. Otherwise, it won't cock and you run the risk of loading two pellets into the barrel.
---
Weihrauch HW 77 & HW100

The Weihrauch HW 77 & HW100 models are well-known among air gun users and are considered to be the most successful underlever air rifles ever made.
As high-power sporting rifles, these bad boys are incredibly accurate and represent the best choice for shooters who enjoy a long-range session. The design is impressive, they deliver minimum recoil (so it won't affect your shooting performance) and they are the go-to inspiration model for manufacturers everywhere.
The HW 77 features a fixed barrel system, automatic safety, front and rear sights, Rekord adjustable trigger, and a beautiful hardwood stock. It's also ambidextrous and easy to hold and use (rubber butt plate, checkered pistol grip, and forearm).

The HW100 is a PCP air rifle (the first from Weihrauch) that delivers excellent accuracy and features a 14-shot magazine. It comes with integral pressure gauge, quick-fill, and can be found in calibers .177, .22, .20. This time the safety is manual and included in the adjustable match trigger.
Final Words
At the end of the day, when you choose your next air rifle, it's important to keep your goal in mind. Think about the actions you want to perform with the rifle and the budge you want to invest.
The needs of a hunter will always differ from the needs of a competitive shooter or someone who just like to practice their aim. So, the type of activity will help you identify the features that matter the most and adapt your search accordingly.