5 Most Powerful Airsoft Guns: In Depth Reviews
What's the first thing that comes to mind when you think about a powerful airsoft gun? Most players think about the high FPS (feet per second), and they wouldn't be mistaken. The velocity of the BB when it leaves the barrel says a lot about the gun, but I also like to consider a few other features. 
Why You Should Trust Me
Let me start by saying that powerful airsoft guns are not a good fit for absolute beginners! I know this because, in my 10+ years of playing airsoft, I saw and learned a lot about all kinds of rifles and pistols. Also, I got to play with a wide range of airsoft weapons, from the ones you can tell from a mile away they're for airsoft to the ones that look and feel extremely realistic (except for the orange tip).
From experience in the field, I know that the FPS is not the only feature that matters when choosing your airsoft gun (as a beginner or a seasoned player). So, before you jump at the first 400FPS rifle you can find, have a look at the designs below.
How I Selected and Tested the Airsoft Guns
 In my view, a powerful airsoft weapon is one that's also durable, accurate, easy to use, user-friendly, and affordable. As such, here's a summary of the features I used to select the best five airsoft guns for this article:
350+ FPS
Solid build – a body that's made of ABS plastic or a combination between ABS and metallic parts
Metallic gearbox
Good range
High accuracy
Compatible with accessories – rail systems, scopes, red dots, and so on
Cost – powerful airsoft guns can range from a few hundred dollars to several thousand dollars
5 Most Powerful Airsoft Guns
Due to producers always trying to overcome each other, there is no shortage of powerful airsoft guns on the market. Still, it's important to know what type of gun you need according to where you'll be playing.
For outdoor games –  you should consider a sniper rifle or a DMR. These types of airsoft guns are more accurate at long range and can be enhanced by a high-quality scope.
For indoor games –  I recommend compact rifles with a short barrel and folding stock (like a CQB rifle or an SMG). These are amazing in close combat and have a better rate of fire than sniper rifles and DMRs. However, you'll see they're not as accurate at long-range.
For a combination of power and range – I would recommend a carbine. This type of airsoft gun is great in a wide range of situations.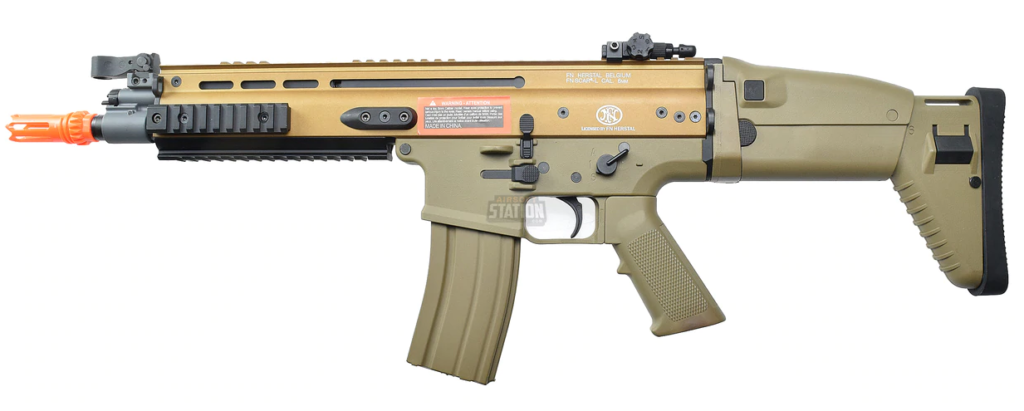 What I Like the Most:
It's perfect for CQB scenarios

It has plenty of RIS space for accessories

It's easy to maintain and improve using aftermarket pieces

It shoots at 375 FPS with .20g BBs

100+ feet range

It is lightweight & durable
As you can see, this is a short-barrel, compact rifle. It's also durable (due to the ABS body) and easy to use (due to the adjustable stock). In addition, it is a fully licensed SCAR-L AEG that is delivered with an additional magazine, a battery, and a charger. 
To increase its durability, the upper receiver is metallic and compliments the nylon-reinforced polymer lower receiver nicely. I also like the built-in fixed front sight and the flip-up rear sight (removable) – they work well with the adjustable stock (6 positions). Speaking of which, the stock is also the battery housing and has a rugged butt plate that lets you push the rifle against your shoulder when you take aim. Not to mention that you can fold it to the side and turn this rifle into a uber-compact war machine!
Now, you may wonder what happens to the wiring when you fold the stock, and this is a very legitimate concern. But this is a high-quality rifle, so the wires are sheathed in pinch-proof flexible metal coiled tubing to avoid any damage.
You'll find the SCAR-L is equipped with a full metal Version 2 Gearbox that is compatible with aftermarket parts (for upgrades, maintenance, and repairs). It's also accurate due to the adjustable hop-up unit (100+ feet range at 375 FPS using .20g BBs). 
The rifle works with a metal 350 BB high-capacity magazine and supports both full and semi-auto shooting modes. It is also fitted for both left and right-handed people due to the ambidextrous fire selector, charging handle, and mag release.
Lastly, you can add optics (red dots or scopes) and other accessories due to the integrated 20mm Picatinny/Weaver rails. In addition to that, if the two included mags are not enough, you can also use standard mags from M4/M16 rifles. 
---

What I Like the Most:
It has an overall simple and highly efficient design 

The long barrel and internal settings are designed for powerful shots

It is easy to accessorize 

The stock is very comfortable 

It's a spring-powered rifle, so you don't have to worry about batteries or gas.

The single-shot action is very realistic
The L96 AWP bolt action airsoft sniper rifle was designed for long-range shooting (impressive precision at 200+ feet). In fact, this airsoft model is inspired by the L96 sniper rifles used by the British Army, so you should have high expectations. 
While it is a bit heavier (8.5 lbs) than other sniper rifles, the L96 AWP is beginner-friendly. This means it's easy to load, aim, and use in general. So, as long as you have the strength to carry it on the field, you're going to have a blast!
The housing is made from durable ABS polymer, which helps with overall maneuverability but also keeps the rifle in tip-top condition for a long time. I also like that you can shorten it by folding the stock to the side (perfect for transportation). It's also easy to mount and use due to fine details like an adjustable cheek weld, a 20mm Picatinny rail along the top, and a folding bipod and rear monopod.
On the inside, this beast is fitted with a heavy-duty bolt assembly and a high-power spring that sends the BBs out at 480 FPS (.20g BBs). In addition, the extended barrel assembly is fully metallic and the adjustable hop-up unit helps with accuracy in long-range situations.
---

What I Like the Most:
It is lightweight & durable 

It is easy to use, even for beginners

You can add a wide range of accessories

The M4 platform and the Version 2 gearbox are easily upgradeable

It supports both semi and full-auto firing modes
The Interceptor SPR is built on an M4 body and comes with all the impressive features this platform has to offer!
First, it's an ABS AEG with a full metal Version 2 gearbox and a full-length M-LOK rail unit with Picatinny rails at the end. I love the adjustable crane stock, which houses the 8.4v Nunchuck battery and the large M4 magazine (300 rounds). 
Right out of the box, the rifle is capable of 400 FPS, but it has a quick-change spring system that allows users to adjust the velocity. This means that you can use it even if the airsoft field doesn't accept very powerful rifles – you just change the spring with a less powerful one. 
While it may not be as accurate as a sniper rifle, the Interceptor SPR is quite accurate even at long range. This is due to the 6.04mm tight bore barrel and easily adjustable rotary dial hop-up unit. 
This rifle was built for endurance! The gearbox is fitted with 8mm ball bearing rings to reduce friction and wear and tear. It also has low-resistance wiring so the power from the battery is smoothly transmitted to the rifle's systems.
---

What I Like the Most:
Classic M4 platform

Perfect for CQB scenarios (indoors and outdoors)

Quick-change spring guide

Rotary-style adjustable hop-up unit

High-capacity metallic magazine

Quick-change spring system

Plenty of room for accessories
I love the M4 platform because it's very practical, durable, and easy to use. For instance, this MK18 comes with the iconic adjustable crane stock (that also houses the battery), a solid ABS body (to keep the rifle lightweight), and a foregrip with a Picatinny/Weaver quad rail system for accessories (at the top and bottom of the barrel). 
The pistol grip and large metallic magazine (300BBs) add to the greatness of this rifle, and so does the Version 2 metallic gearbox with 8mm bearings. The barrel is 11 inches long, metallic, and features a 6.03mm tight bore for increased accuracy. There's also a rotary-style adjustable hop-up unit and a quick-change spring guide to adjust the velocity as needed. 
Out of the box, the rifle is equipped with a fixed front triangle sight and a flip-up rear sight. Also, it can shoot at 370-390 FPS with 0.20g BBs. 
---

What I Like the Most:
Compact design with lots of room for accessories

The foldable stock can be removed

The magazine holds up to 75 BBs

It is incredibly powerful & accurate for its size

Advanced internals with high-quality elements
For those players who want a powerful airsoft gun but don't want a sniper rifle, I recommend the Scorpion EVO 3 A1 carbine. 
It is compact (with a folding, adjustable stock, and a rubberized butt plate) and powerful (shoots at 446 FPS with 0.20g BBs, but it also has a quick-change spring system). But it also has a special feature where you can shoot in 3-round bursts, which compliments the standard full and semi-auto firing modes. 
To improve accuracy and usability, the carabine has an extended handguard and an outer barrel assembly. It also has an integrated mock suppressor (nested inside of the handguard) and an adjustable hop-up unit.
The body is made from durable ABS polymer in combination with metallic elements, which provide a healthy weight and make it easy to maneuver. As you'll notice, there are Picatinny/Weaver rails (on the front, sides, and bottom of the barrel), so you can add plenty of accessories (if you feel the need).
The carbine comes with a MOSFET fire control unit, which sets it apart from the crowd due to improved trigger response and gearbox longevity. Furthermore, it features a high-torque motor and a quick-change spring system. 
---
A Few Points of Concern
Before I end this article, I want to raise a few points of concern I know most players have when using a powerful airsoft gun:
Does it Hurt?
If you've never been hit by a BB, congratulations! However, as an experienced player, I can tell you that, yes, a well-placed BB, sent at an impressive speed, does hurt! This way, you can be prepared and well-equipped for a game of airsoft with powerful guns. 
However, with the right gear and experience (powerful airsoft guns are not for beginners!), you can avoid any serious injuries. And even if you get hit, you'll probably get away with some minor bruising. 
Can I Play Wherever I Want?
Most airsoft fields don't accept guns that go over a specific FPS. So, no, you won't be able to use your super weapon wherever you want. Still, if you know what you're doing (can't stress this enough!), you can organize a game with your friends in a remote location. 
Keep in mind that these airsoft guns can shoot at long range, so you don't want to use them in the backyard or close to people's homes. 
Protection Gear is Mandatory
In regular games, I like to wear goggles and a half-face mask to protect my teeth. Still, when it comes to more powerful airsoft guns, I like to wear a full-head mask (and gloves to protect the skin of my hands.
Furthermore, I recommend a vest or a shirt from a more rigid material. These repel BBs and take away their power while keeping your skin safe. 
Wrap Up
While I don't recommend powerful airsoft guns to absolute beginners, I truly enjoy the excitement they bring to the game! This usually happens because these are high-quality models with impressive features. And, if you ask me, it is worth it to invest a few extra bucks in quality and power.