Best Airsoft Pistol: 2023's Deep Dive into Sidearms
Green Gas or CO2? Full metal or Plastic? Are $200 guns really that much better than $80 ones? I answer all these questions and more in this detailed best airsoft pistol guide.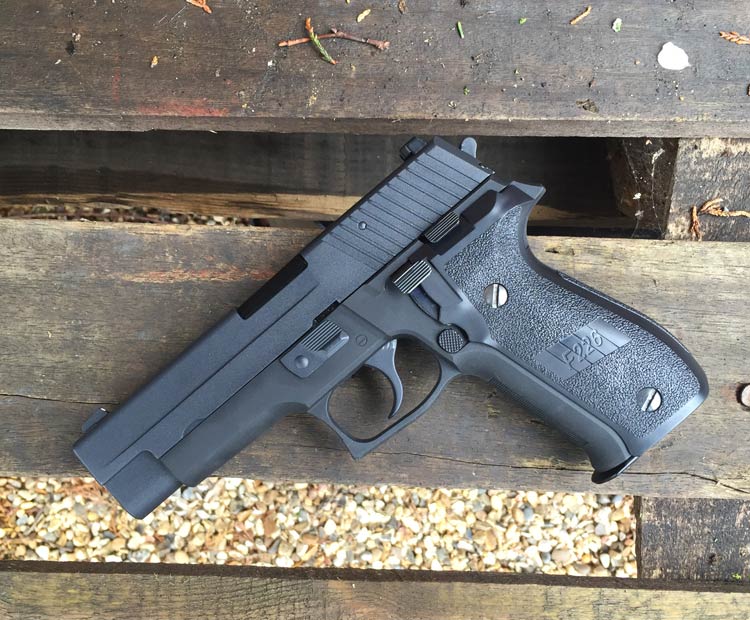 Already know what you're looking for? Click on the links above to jump to a specific review.
---
In a Hurry? Check out my top 3 airsoft Pistols in the table below. Continue reading if you're looking for in-depth reviews, budget options, or target-practice springers!

GLOCK
G17

Elite Force
1911 TAC

KWA
ATP

Top Pick
Top Pick
Top Pick
300 FPS
370 FPS
340 FPS
Full Metal Slide
Metal Body & Internals
ABS
24 BBs/magazine
14 BBs/magazine
23 BBs/magazine
Blowback
Blowback
Blowback

Buy Now

Buy Now

Buy Now
Verdict:
The
KJW M9
is considered one of the best airsoft pistols by many players. Extremely affordable, laser-accurate, and impeccable craftsmanship; the pinnacle of airsoft handguns!
Why You Should Trust Me
Hiya! I'm Liam, and YOU just found the very best airsoft pistol guide on the internet. I have 10+ years of airsoft experience (playing, strategizing, and collaborating with various sellers and manufacturers), and I'm always ready to learn about new designs and features.
When you play as much as I do, you learn to appreciate the usefulness of a reliable sidearm. Believe me, my airsoft pistols have gotten me out of some sticky situations, and some even helped me win the game for my team. So, I know what makes an airsoft pistol worth the money!
No matter if you're a resourceful beginner to the game searching for a trusty sidearm or a smart parent looking to buy a wicked birthday present for your kid, I'll guide you along.
How I Selected and Tested the Airsoft Pistols
When I put together this guide, I used the following criteria:
Trigger sensitivity – Y

ou need a pistol that's easy to get out of the holster and shoot

Design

– A bad-ass-looking pistol can uplift your morals

Accuracy

– You can usually attach accessories to a pistol barrel, so innate accuracy is important

Realistic feel

-It helps enhance the experience

Durability

– Pistols take a lot of beating during the game, so you need a piece that will stay with you
---
Best Airsoft Pistols Reviewed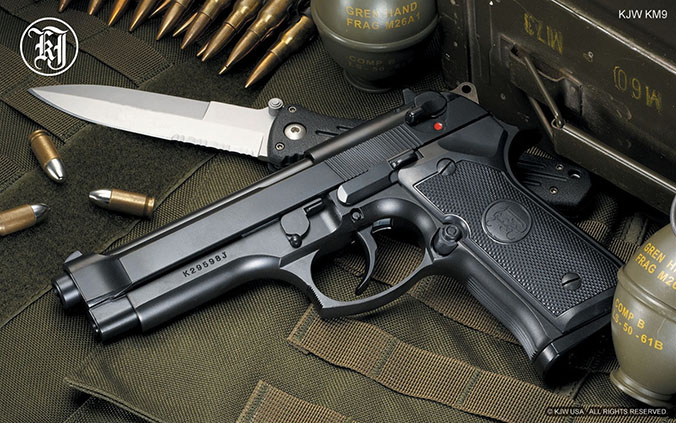 The KJW M9 is my #1 choice and the best airsoft pistol I can recommend for beginner airsoft players.
The pistol features a highly realistic feel and is manufactured to perfection with impeccable performance in both indoor CQB and outdoor field scenarios. Compatible with both green gas and CO2 and with many many readily available upgrade parts and customization options, the M9 proudly heads my ranking of the best airsoft pistols in the world!
Manufactured by one of my favorite companies (the 31-year-old Taiwanese airsoft legend Kuan Ju Works), this M9 is an all-black, full metal, double-action gas blowback pistol. Dimensions are 8.5″ long by 5.25″ tall with a barrel length of 5″ and a real-gun-feel weight of 1.9 lbs. Depending on outside conditions, with green gas, the M9 shoots at around 320FPS. If used with a CO2 mag, expect both FPS and recoil to increase.
The KJW M9 features an ambidextrous on-frame safety (perfect for lefties), a non-ambidextrous magazine release, serrated metal white dot iron sights, and an adjustable hop-up. The only plastic part on the pistol is the checkered grip which fits your hand as if it was custom-made for you. For increased durability, the pistol also comes with reinforced steel parts. The design is not cluttered by trademarks other than a personalized serial number and two KJW logos on the grip. I know it's a bit disappointing for some MilSim enthusiasts, but its performance will quickly make you forget about it.
When it comes to build quality, this GBB impresses effortlessly. The full metal body and a high degree of manufacturing proficiency by KJW have given the gun an incredibly realistic feel and intuitive handling. The blowback and recoil echo this as well.
Fitting perfectly in your hand, the M9 offers a very responsive trigger and a smooth double-action mechanism. The slide, hammer, and slide catch operate smoothly and without issues or signs of early wear and tear. When it comes to construction and craftsmanship, KJW has excelled in all aspects. The ultra-realistic feel mimics that of a real-world M9 as perfectly as physically possible. An impressive and very satisfying achievement.
The only incy wincy drawback many (me included) have noted with the gun is the non-threaded spray on the orange tip that KJW adds to the US version of the pistol. This means you can neither use a silencer nor remove the orange tip for MilSim purposes. Fortunately, you can easily mitigate this issue by buying an all-black threaded aftermarket barrel.
Did you know? With sprayed-on orange barrel tips, an easy workaround for increased realism is to wrap black tape around the tip, concealing it. An easy, cheap, and quick fix!
Field stripping the gun is easy and straightforward. Remove the magazine, hold down a button, flip a switch, and remove the slide. From there, you have full access to all your parts as well as the hop-up. The hop-up itself is accessed on your slide via an Allen wrench that comes with your gun. Detailed instructions are provided in your gun manual.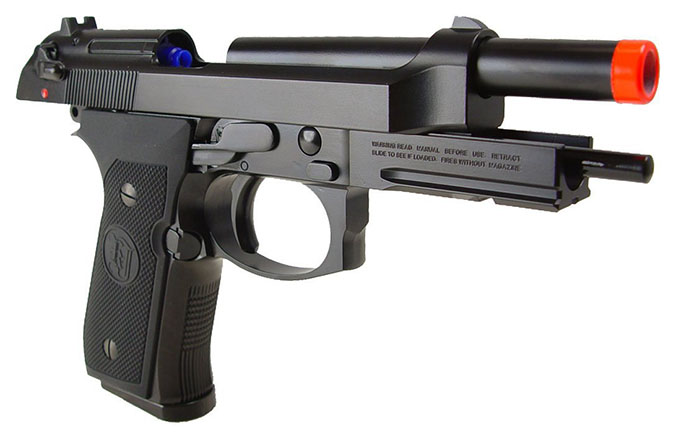 Moving on to functionality and performance, the M9 fares extremely well at both CQB and outdoor fields. Achieving FPS measurements of 320FPS and up to 370FPS with CO2, the M9's effective range is up to 130 feet (in good condition, with upgraded parts and perfectly adjusted hop-up). It's an incredibly accurate pistol and achieves as great a range as you'll ever need from a secondary. The recoil and blowback provide a very loud (as BB pistols go), snappy, and satisfying kick when shooting.
---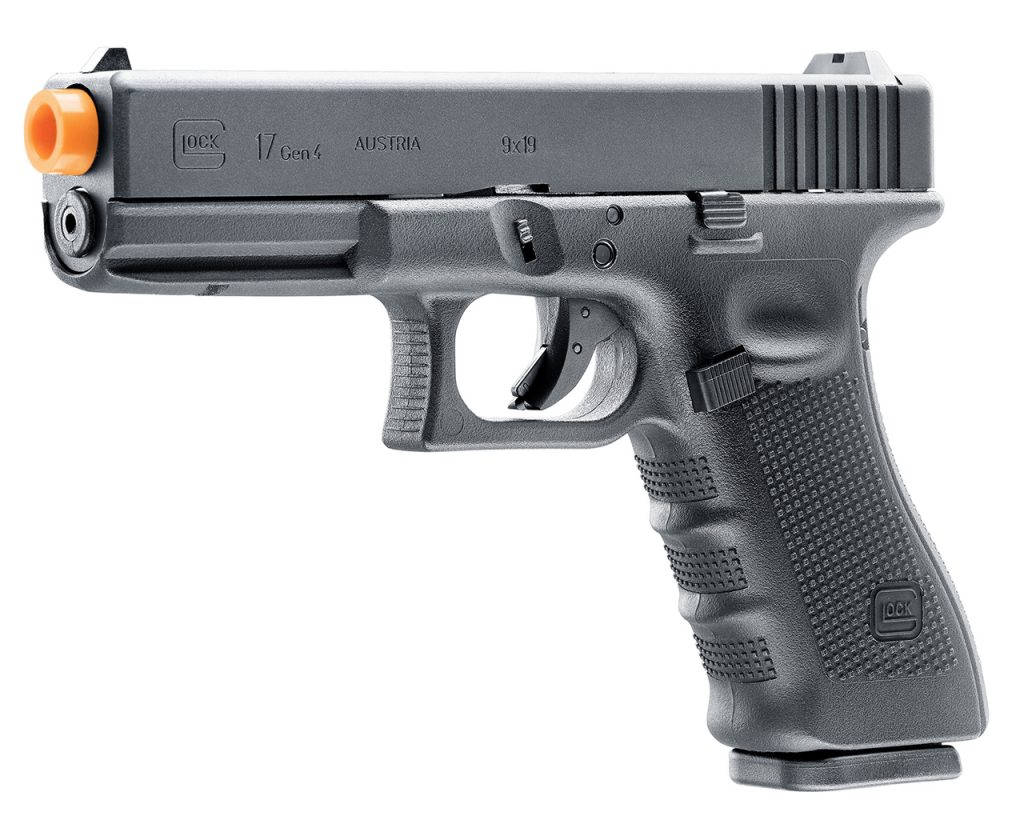 If you want a reliable sidearm that looks and feels highly realistic but doesn't blow your budget, I recommend taking a look at this Glock Gen 4 G17. 
First, it looks amazing! Stamped with authentic trademarks (by Glock) and featuring a metallic slide and comfortable grip, this is one gorgeous piece of airsoft weaponry! The frame is made from a durable high-quality polymer to maintain the weight to a minimum and reduce player fatigue. 
This G17 is powered by Green Gas or propane and features realistic blowback action (so beware if you're new to this). It's also a full-size replica, so it will fit in holsters designed for the real-steel design, thus increasing the authenticity of the experience.  
The grip is customizable, and there is a small accessories rail under the barrel or a flashlight or laser. Under the slider, you'll find the adjustable hop-up unit, and at the top, there are fixed iron sights that help with your aim.   
Lastly, the pistol is powerful (300 FPS with 0.20g BBs) and comes with a metallic magazine that can hold up to 24 rounds. Keep in mind that this is a semi-automatic design, so it will fire as quickly as you can pull the trigger (no need to cock it manually). 
---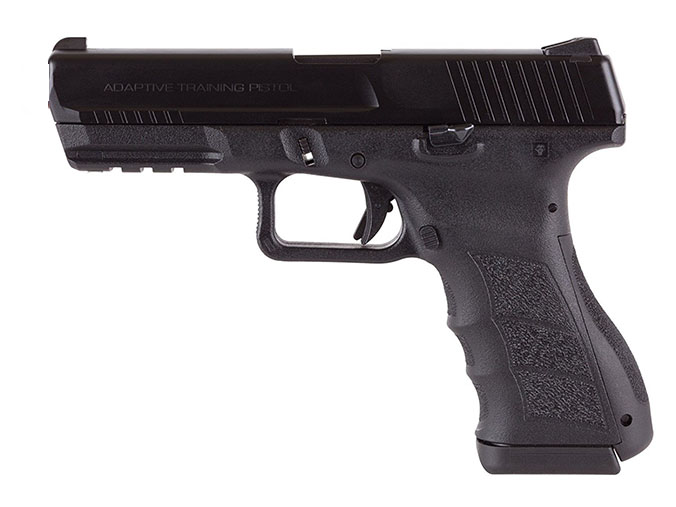 Modeled after the Glock series, the KWA ATP is a great runner-up for the best airsoft handgun. Sleek, minimalist, and beautiful. Manufactured extremely well, making effective use of both the look and versatility of a metal-plastic combination. Showing off impressive range and accuracy readings, the pistol is perfectly suited for CQB and conventional outdoor field play.
The KWA ATP is an all-black, single-action gas blowback pistol with a metal slide and plastic body. Dimensions are 8″ long by 5.75″ tall with a barrel length of 4″ weighing in at a light 1.6lbs. The KWA ATP is built to use green gas only and can achieve, depending on weather conditions, performance readings of up to 340 FPS.
Manufactured by KWA USA, a California-based company, the ATP has been a longtime favorite among airsoft players. The minimalist pistol does not boast many features, but it does have a clean design and awesome performance. The few features it does include are an interchangeable backstrap on the grip, trigger safety, and the ability to fit into all Glock holsters, as you would expect from a pistol based on the Glock series.
Though you may need to put in some elbow grease if you'd like to switch your grip backstrap, the added benefit of fitting any shooter's hand size and the high-quality well-textured polymer is an appreciated benefit. Definitely one of the comfiest grips (Tokyo Marui can learn from KWA!)
The ATP (Adaptive Training Pistol) is fitted with the standard 3-dot sight, which appears crisp and aligns well. Depending on the specific gun you purchase, your ATP may or may not have a threaded orange or black tip.  Unfortunately, airsofters have reported that very few mock suppressors are able to be installed on this pistol.
Players who enjoy the appearance and feel of a full metal pistol yet appreciate the versatility and light weight of a polymer body will find the perfect compromise with the ATP. The strong and durable yet lightweight character of KWA's pistol gives you the best of both worlds: realism and performance.
Due to legal restrictions from Glock, the ATP bears no replica markings whatsoever. While MilSim-ers may be disappointed, this adds to the clean and polished look of the gun. The only marking you'll find is a faint "Adaptive Training Pistol" imprinted into the metal slide as well as a serial number.
Right out of the box, the ATP may feel "dusty" and in need of a good cleaning and generous lubrication. This is not entirely uncommon, however.
The ATP uses the famous drop-in Glock trigger, a safety lever integrated right into the middle of the plastic trigger. This inhibits any and all incidental discharges from happening by requiring your whole finger to exert force on both the trigger and the safety fin at the same time. As for the trigger mechanism itself, the pull is light and intuitive.
Moving on to performance, let's take a look at accuracy, range, and FPS. As mentioned above, the pistol shoots at around 330-340 FPS. One interesting and unusual observation I have is that the deviation from shot to shot seems larger than usual with this gun. While normal GBB may deviate +-5 FPS, when chronoghraphed, the ATP had deviations of up to 20 FPS.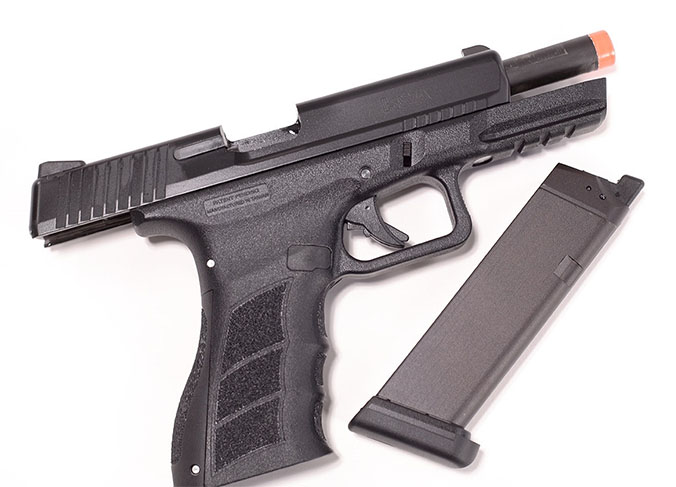 Deviation in terms of FPS isn't that big of a deal with a pistol, so let's look at accuracy. The ATP performs very well here. Both in my opinion and those of my airsoft buddies, the ATP is among the top 5% in terms of accuracy.
There have, however, been accuracy issues due to the misbehaving sights. They are not screwed in and are only held in place by friction. This is obviously sub-optimal as it will throw off your aim during heated combat. Fortunately, this issue is easily fixable with some adhesive.
When it comes to range, the pistol performs much like the KJW M9. Ranges of up to 110 feet are no problems for this little dude, with 130 being the max effective range in perfect conditions. The hop-up does a marvelous job at providing a stable flight trajectory and thus enabling such impressive ranges.
No need to mince words with the propellant – green gas and green gas only. Anything else will void the warranty, including pure propane.
ATP's magazine is metal and designed to look similar to one a real Glock would use. It comes with a sliding rubber bumper at its bottom to protect it from drops and falls. The loading process is very easy due to the magazine's locking future.
The ATP is a beautiful, sleek, well-performing, and well-built airsoft pistol, worthy to be in any player's arsenal. If you're a fan of Glock, the ATP is the perfect sidearm for you!
---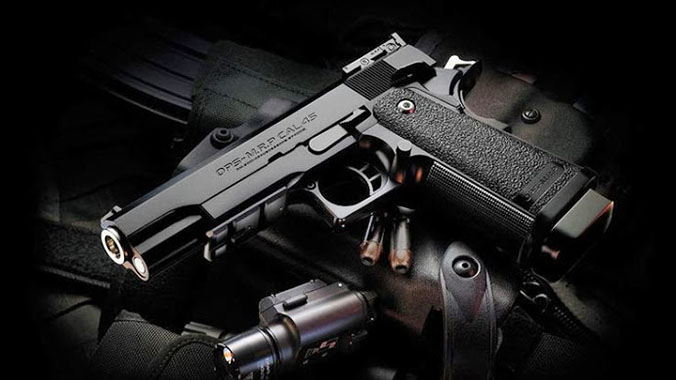 The Tokyo Marui Hi-CAPA (High CAPAcity) 5.1 is an all-black, plastic, single-action blowback pistol. Dimensions are 8.75″ in length with an inner barrel length of 4.7″ and weighing in at about 1.9 lbs with an empty mag. You can expect the pistol to shoot at approximately 280 FPS, up to 290 – the mileage may vary. The TM Hi Capa runs on green gas only.
Built by one of the first-ever and most respected airsoft manufacturers, the 5.1's body is all plastic with some metal parts (the hammer, safeties, mag and slide releases, sights, hop-up). As the name suggests, the magazine carries a full 30% more BBs than standard GBB pistols. As such, the magazine protrudes about an inch from the bottom.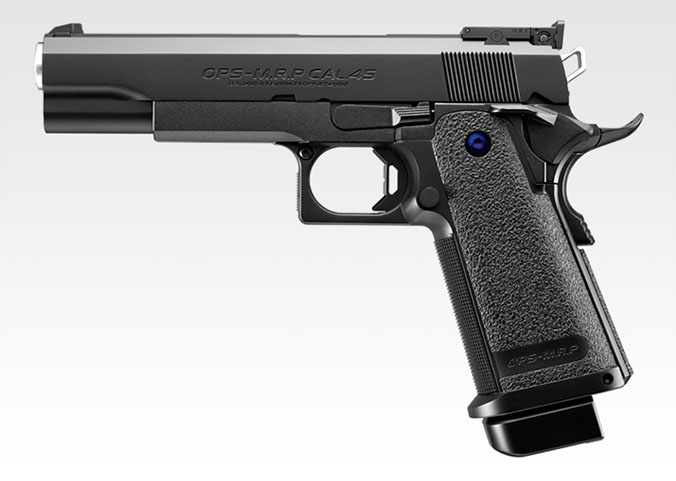 The 5.1 has both an ambidextrous on-frame safety and a beavertail safety. The gun is covered in Tokyo Marui trademarks, logos, and other tidbits in an effort to make it looks more realistic. When it comes to craftsmanship, there is room for improvement, but then again, you don't buy a TM 5.1 for MilSim purposes. You don't buy a TM if you're all about metal. You don't buy a TM if you're on a budget. You buy it because it's the single best blowback airsoft pistol for your buck.
The trigger pull is really short, aiding in a quick unload. The recoil is crisp and satisfying. But the true MVP is the famous Tokyo Marui hop-up. The Japanese manufacturer has a proprietary hop-up mechanism that is as close to "set and forget" as it gets.  After some initial adjustments, the hop-up performs like a well-oiled machine and provides consistent flight trajectories. In fact, putting on the perfect amount of spin to the pellet is the main reason for TM's phenomenal range and accuracy measurements.
And when I say phenomenal, I mean it! TM 5.1's effective range can be twice that of other GBBs. People have reported effective ranges of up to 200 feet! Imagine that – a pistol, shooting accurately at 200 feet!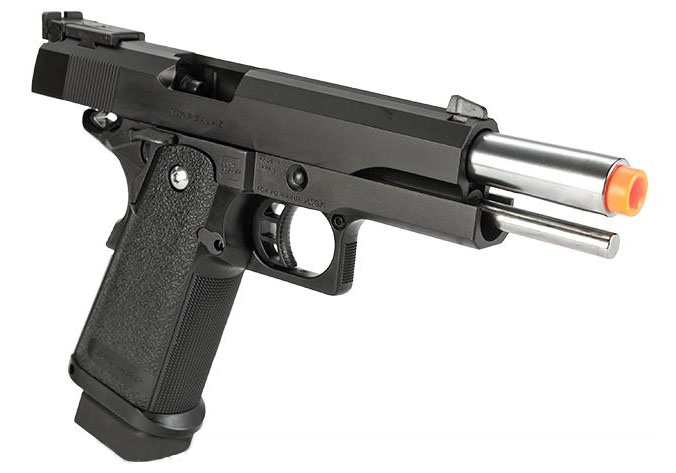 The two main reasons that Tokyo Marui's 5.1 isn't my #1 recommendation are the price and the eventual necessity to upgrade and replace parts of the gun. Sure, the over-the-top grip texture that digs into your hand and leaves callouses after a day of play can be overlooked. The back iron sights without dots, though cumbersome, aren't deal-breakers. Finding a holster that fits is an ordeal.
Another major problem is the plastic slide. With heavy use, you will have to be replaced sooner or later. And replacing it, my dear friend, is expensive. Once the plastic slide cracks with heavy use, at around the 6-month mark, you will have to shell out around $80 for an all-new metal slide. If you're out of luck, you'll further need to purchase and adapt parts to fit your new slide. With a stock price of $150, we are at $230 after 6 months of use. That is twice as much as the KJW M9!
Lastly, due to utilizing green/duster gas exclusively and CO2 not being a possibility, Tokyo Marui has only one type of Hi Capa magazine they offer at a similar price as any other. As usual, I will recommend you purchase at least one more magazine in addition to your stock purchase. With that additional magazine, the duster gas, and its adapter, we have reached a price tag of $300 for a pistol. Perhaps the best pistol ever made, but only a pistol nonetheless.
While this is an amazing purchase for most advanced airsoft players, beginners would be well advised to go with a more forgiving gun. One that's easier to handle and won't set your wallet on fire. Still, remember the name Tokyo Marui and once you feel confident in your airsoft game and are looking to step it up – the 5.1 Hi Capa is the only viable option for you.
---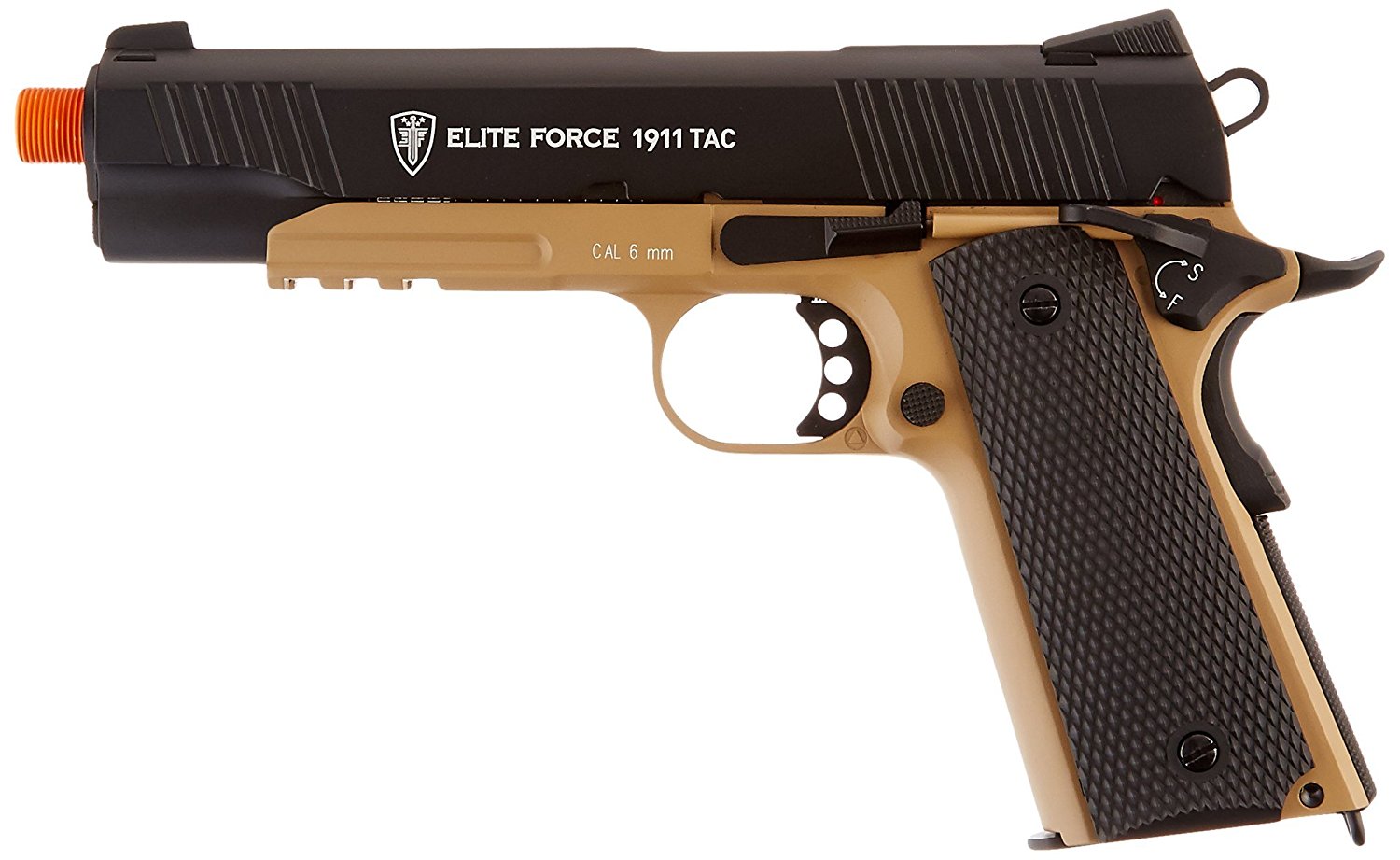 The new Umarex Elite Force 1911 TAC (Gen3) is a solid mid-level gas blowback airsoft pistol. This gun is based on the tactical version of the classic 1911A1 design. This 1911 is powered by C02 and offers high power levels and consistent performance. The price point on the gun places it just under the $130 mark.
Umarex offers full trademarks for this pistol and it appears to be OEM'd by KWC. The full metal construction makes this a solid, rattle-free sidearm while the tactical grips, front and rear sights, ambidextrous safety, skeleton trigger, skeleton hammer, slide serrations, and the 20mm Picatinny underside rail make this 1911 stand out from the classic design.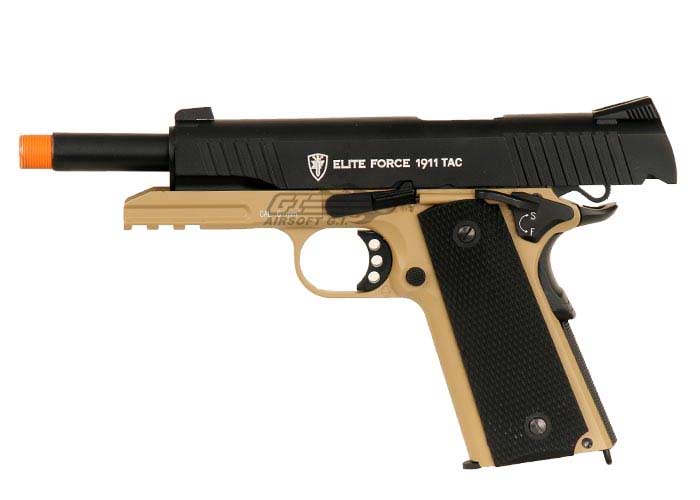 The Elite Force 1911 is powered by CO2 which means a reduced loading capacity for BB ammunition. The magazine holds 14 BB's (+1 in the chamber) and a single CO2 bulb.
FPS output is around the 345 FPS mark using 0.2g BB's but the gun has a solid range and good accuracy due to the hop-up and barrel design. Still, due to the threaded barrel tip, players can install aftermarket silencers for increased barrel length (improved power and performance) and tactical feel.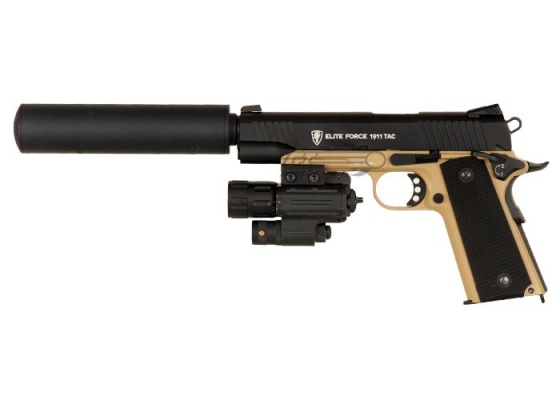 Overall, shooting this pistol feels fantastic due to the heavy metal slide slamming back and forth that sends positive shocks down your arms. The recoil is so intense good pistol shooting discipline is required to stay on target during rapid fire. This is a great-looking airsoft pistol with high-quality build materials and excellent ergonomics. The only markdowns I can think of are the limited ammunition capacity, the Umarex warning marks, and the slightly squishy trigger feel. Otherwise, this is a great candidate for your pistol collection!
---
Best Low-Cost Airsoft Pistols
With so many airsoft pistols to choose from and such a wide variety of real-world guns to replicate, I'd like to offer you some additional options that don't put your budget at risk. While they may not perform as flawlessly as my other choices or may lack in other departments, the following guns are a good, solid choice for your airsoft handgun needs!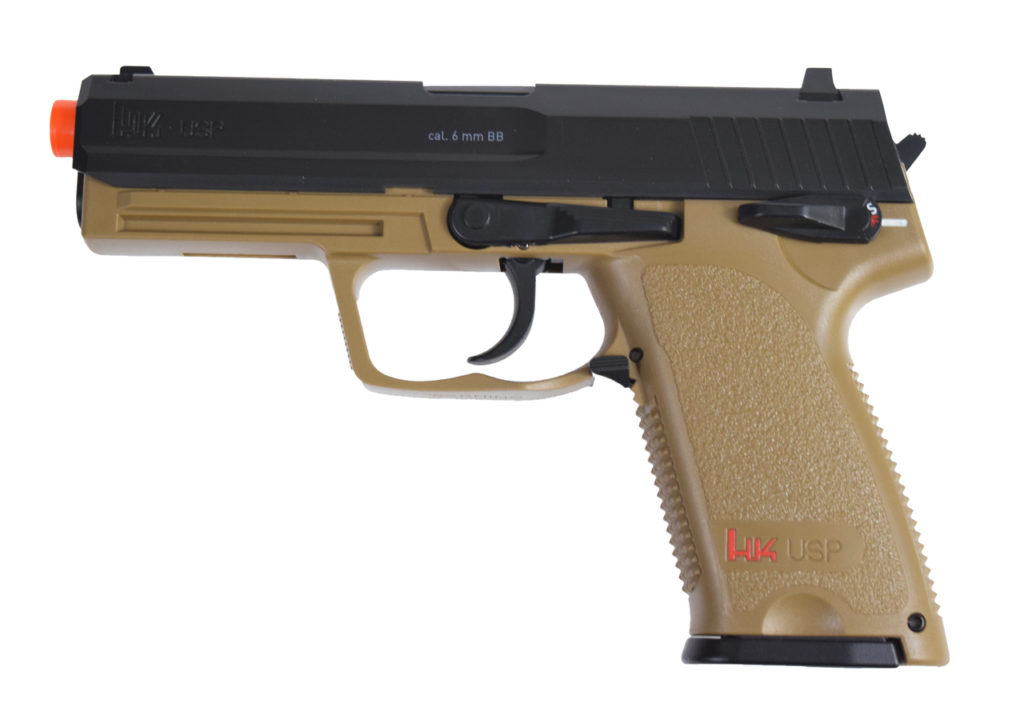 Lightweight and with a large trigger guard, this fully licensed CO2 airsoft pistol is the perfect sidearm for both beginners and experienced players. It comes with one CO2 cartridge that lasts multiple magazine reloads (depending on how you're using it). The BB magazine holds 16 rounds and has a drop-free design, so it won't pose any problems on the field. You can also order extra magazines, so you'll have at least one at the ready.
The ABS body and serrated grip make it easy to hold (even with gloves), and the black/tan combination fits most rifles out there (to use as part of a set).  In terms of performance, the pistol can shoot at 360 FPS with 0.20g BBs and has a fixed hop-up unit with a railed lower receiver (for small accessories). Lastly, to keep your aim true, the slide is equipped with white dot sights for improved visibility.
---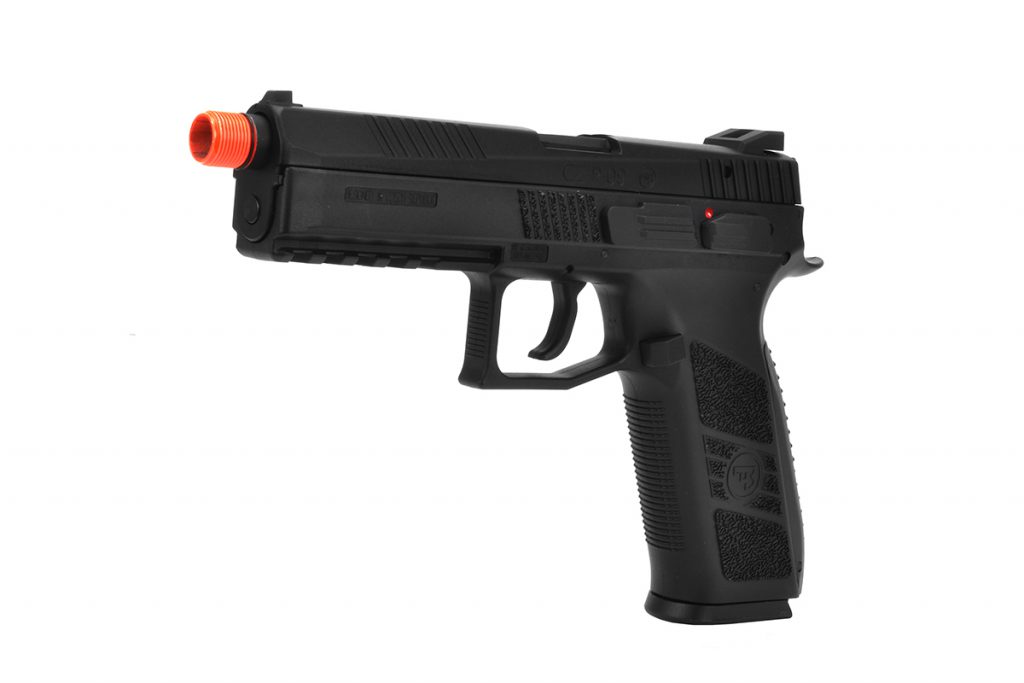 The ASG CZ P-09 is a BIG double-action gas blowback pistol with a metal slide and polymer plastic frame manufactured by KJW under full license and after the original technical drawings by CZ and sold by ASG. The dimensions are as follows: 8.5" in length by 5.8" in height with a weight of 2.0 lbs flat. Due to being compatible with both green gas and CO2 magazines, the P-09 will shoot anywhere from 320 to 380 FPS.
The CZ P-09 comes with a spacious integrated mountable rail, 3-dot sight system, authentic CZ marking, ambidextrous on-frame safeties, as well as aggressive (perhaps overly) texturing on the frame and grip. Due to being designed by the original drawings, it achieves an incredibly realistic look.
Though a big handgun, the ergonomics and grip are superb, and the pistol feels perfect in my medium-sized hands. The polymer frame matches and blends well with the metal slide, adding to the amazing look of the pistol. The back strap can be switched out as well, although you'll have to purchase one separately.
Moving on to performance, the ASG CZ P-09 provides a very crisp blowback and recoil and a consistent shot at a range of up to 120ft. Below 100 feet, you can expect to hit your target all day, shot for shot. The trigger pull is incredibly intuitive, smooth, and light, even if a bit longer than usual.
When utilized with the included green gas magazines, you should expect your gun to put out around 320-340 FPS. Of course, if you decide to buy an aftermarket CO2 magazine, you will be able to boost these readings to up to 380. Both the CO2 and green gas magazines are metal and hold 25 rounds each. Both are, just like the P-09, fully licensed by CZ and have the appropriate trademarks. In general, expect the green gas magazine to provide around 1.5 magazines worth of shots per fillup and the CO2 mag about twice as much.
The P-09 is a big, bold, and beautiful piece of weaponry. Crafted very well and performing like a top 5 pistol, offering both GBB and CO2 compatibility, it will fit might fine into any hobbyists armory!
---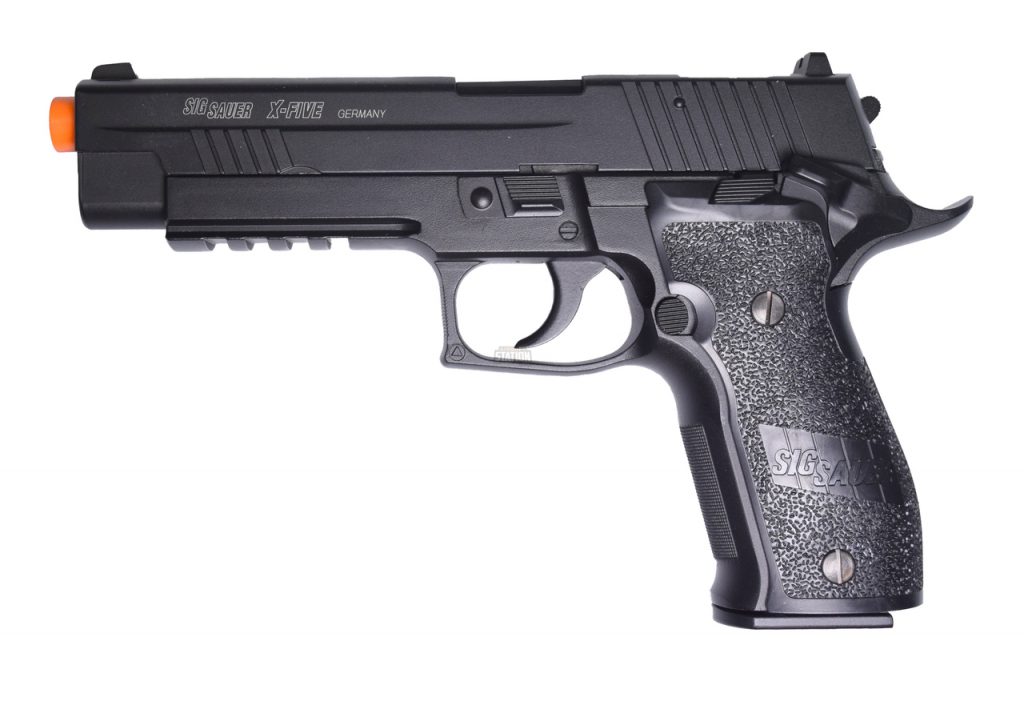 My first ever airsoft pistol, the KJW Sig Sauer P226, is a double-action gas, full metal gas blowback pistol manufactured by KJW and licensed by Sig Sauer. The dimensions read 7.8″ in length, 5.75″ in height, and a weight of around 2.1 lbs. The KJW P226 runs on green grass and achieves an FPS output of around 300.
The P226 is a brutishly big, solid airsoft gun that features fully licensed Sig Sauer engraved markings, a 20mm frame accessory rail, a rear adjustable 3 dot sight system, a decocker, a nicely textured grip, rear slide serrations, and an incredible fit and finishing. It also comes in a visually pleasing silver and wood model.
While the trigger pull can be a bit long and cumbersome, the gun is one of the most solid pistols I have ever used – it feels heavy, durable, and intimidating. The grip does a very good job of giving you control over this beast, though it may be just a smidge too thick for some shooters. There is a decocker placed about an inch above the mag release, though manual decocking is possible as well.
If you're looking for an awesomely built CQB gun, the Sig Sauer will be a very good choice. For anything outdoor-related/longer-distance shooting, I can't honestly recommend this pistol. When it comes to performance, there is something to be said. It simply can't compete with KJW's M9 or Tokyo Marui. While ranges of up to 100 are doable with a well-adjusted hop-up, targets at longer ranges will be difficult to hit.
Additionally, contrary to first impressions, the P226 is a fairly tame beast. Shooting at an average of 300 FPS, it certainly isn't a powerhouse in terms of power output.
The green gas magazine included is metal and holds 26BBs. You can expect to get around 35-40 shots per fill-up. I've had issues with my original magazine where it started leaking about a week or two after use. Make SURE not to overfill it to avoid this issue. As soon as you feel resistance – stop.
The KJW Sig Sauer P226 is an incredibly good-looking GBB pistol. It will hold its own on any CQB skirmish, backyard playing session, or collector's item. Still, one of the best-crafted and most durable airsoft pistols you're likely to find.
---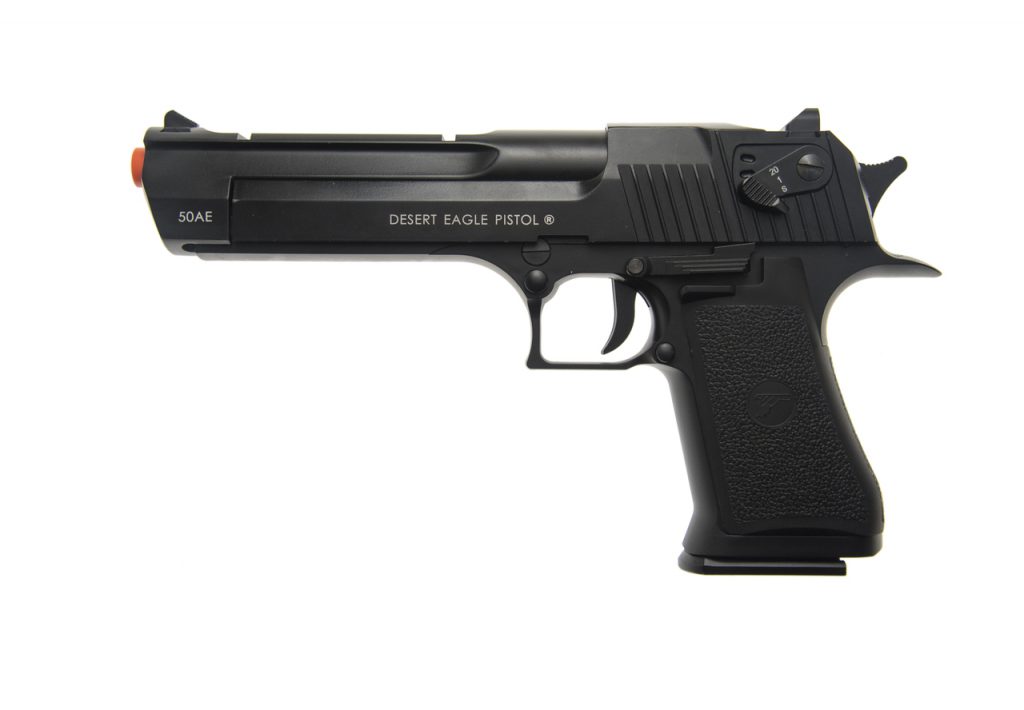 One thing you can say about the Magnum Research Desert Eagle .50AE pistol, at first sight, is that there is nothing subtle about it! Everything is tailored to show it off: its size, its power, and its realistic GBB action. 
This is a full metallic replica of the real Magnum Research Desert Eagle, with injection-molded polymer grip panels and a functioning slide that kicks back with every shot. Furthermore, the body is embellished with fully licensed trademarks and markings.
But there's a lot more about it than just being a big pistol that can be used as a club when the ammunition runs out! This bad boy shoots in semi-auto and full-auto mode, which means it is as fast as many rifles out there. If you add the 21 rounds magazine to the equation, you get a reliable and solid sidearm that looks incredibly realistic. 
The .50AE features a high-quality gas system that allows users to work with high-pressure cartridges. As a result, the pistol is quite powerful (390 FPS with .20g BBs), and it only uses a single 12g CO2 cartridge!
Now, the pistol may be big, but it's also accurate due to the adjustable hop-up unit, which helps account for various target ranges and wind conditions, and iron sights mounted at the top. 
---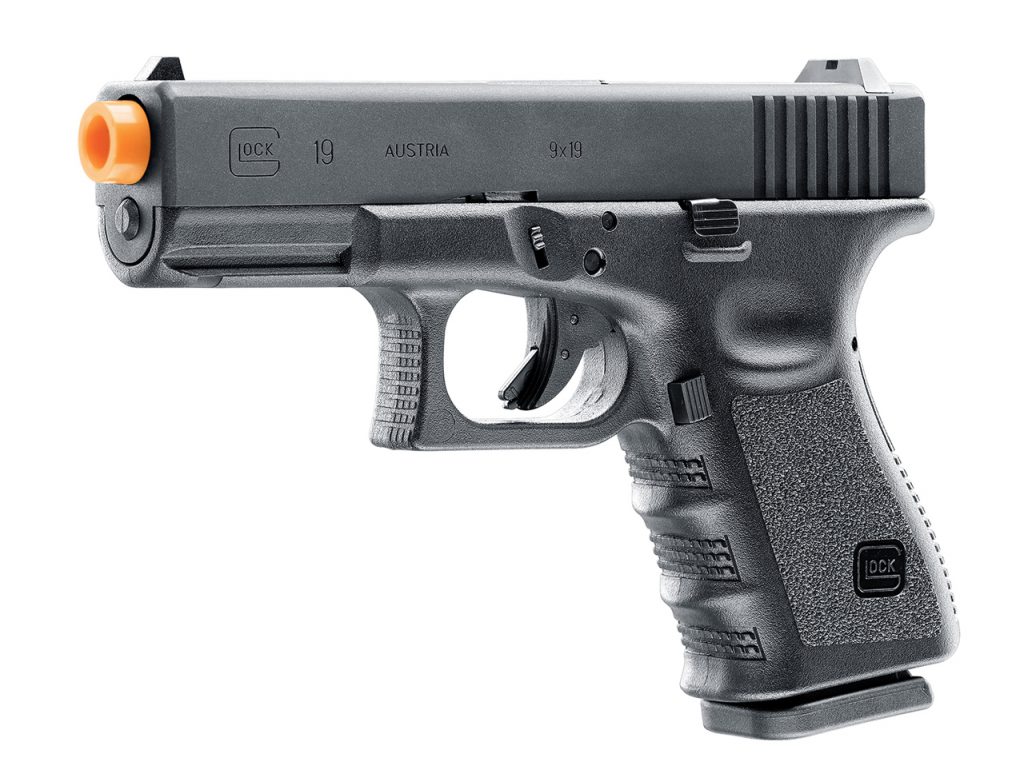 The Gen3 G19 Glock puts the real into reality. With a polymer body frame and functional metallic slide (just like the real steel design!), this gas-powered airsoft pistol can pack quite a punch. 
Since it is a full-size replica, it is easy to use it with a holster created for the G19. Also, the authentic Colt trademarks and licensing look amazing on the field, and you can customize the grip by changing the panels.
The good news is that you get a lot of great features at a pretty reasonable price. The pistol is comfortable and can be used as a sidearm even during long airsoft sessions. You also get a small rail for accessories (placed under the barrel) to add a flashlight or a laser. Furthermore, it works with Green Gas or propane, fuels that behave well in various weather conditions. 
In terms of performance, the G19 can shoot at 300 FPS (with 0.20g BBs) in semi-auto mode and comes equipped with an adjustable hop-up unit and iron sights. The magazine holds 20 rounds and is easy to switch or reload on the field due to the enlarged catch.
Lastly, the G19 features a realistic blowback action, so beginners should first get used to it before going into battle. 
---
KWA M226-LE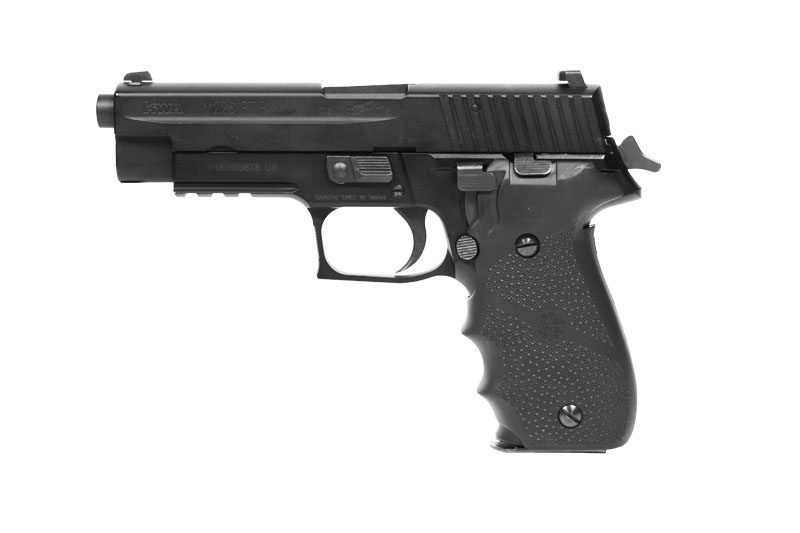 This pistol model is quite popular among law-enforcement agencies worldwide, which is one of the reasons so many airsoft players love having it as a sidearm. First, in spite of its full metallic build, this is a comfortable sidearm that's easy to grab and use due to its ergonomic hold. 
Second, the design brings forth an efficient gas system (the NS2 developed by KWA) that keeps track of the consumption while delivering a satisfying blowback action. Users are free to choose between Green Gas and Black Gas propellant, but you need to keep in mind that the muzzle velocity will be different. As a rule, the pistol can shoot at 340+ FPS with 0.20g BBs in both scenarios. 
Lastly, elements like the safety, slide catch, hammer, de-cocker, and magazine release are functional and improve the overall shooting experience. Not to mention that the high-capacity 26 BB double-stack magazine is enough to help you repel any surprise attacks.   
Overall, the M226-LE pistol can be the ideal sidearm for both beginners and experienced players alike. 
---
Wrap Up
Your airsoft pistol is a reliable companion on the field. While you'll most likely use a rifle as the main weapon, the pistol can save your hide when you're caught off-guard (your rifle jams or you're discovered in between loads). So, make sure to think your decision through. It's also a good idea to rent different pistols (airsoft fields usually have this kind of service) to see how they feel in your hand and how easy it is to use them. This way, you'll know for sure if a pistol is a good fit for you.