10 Best Airsoft Sniper Rifles for 2023
Whether you're an airsoft newbie, a mom or dad looking to buy the best airsoft sniper rifle for your kid, or a veteran trying to learn more about snipers; you've found the #1 best airsoft sniper rifle buyers guide on the web!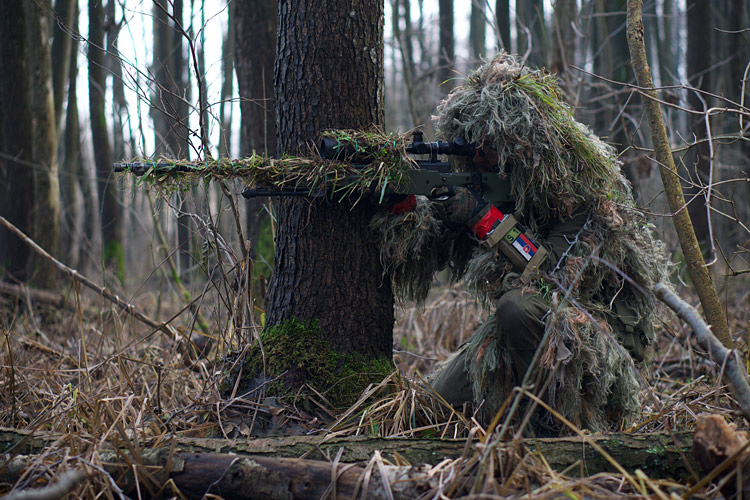 ---
Verdict:
The best all-round airsoft sniper is the
Well L96
. By a whisker, it delivers the best performance and has the best build quality and accuracy.
My name is Liam & I've been playing airsoft for over a decade. Let me share my expertise and save you hundreds of dollars, many headaches and hours of your time! Check out my recommendations below and join the ranks of an airsoft expert!
Best Airsoft Sniper
In a Hurry?
Check out my top 3 airsoft snipers in the table below. Continue reading if you're looking for in-depth reviews, or
check out our wide selection
of airsoft sniper rifles in store.
Well
MB4410

JG
BAR-10

Tokyo Marui
L96 AWS

Top Pick
Top Pick
Top Pick
430 FPS with 0.20g BB's
470 FPS with 0.20g BB's
300 FPS with 0.20g BB's
All ABS Plastic w/ Metal Parts
All Plastic w/ Metal Parts
All ABS Plastic w/ Metal Parts
30rds Magazine Capacity
30rds Magazine Capacity
40rds Magazine Capacity

Buy Now

Buy Now

Buy Now
---

The MB4410 from WellFire has the potential to live up to the performance of a much more expensive sniper rifle. It is a full-powered bolt action airsoft gun, that can fire at up to 430 FPS, with an aluminum outer barrel, four Picatinny rails, and the perfect combination of power, accuracy, and quality. 
After set-up, the rifle fires cleanly and accurately due to the adjustable cheek rest and 4-16x50mm illuminated variable zoom scope. There's certainly potential for a skilled sniper to hit some crack shots over 250 feet, with 0.20g or 0.28g BBs.
The rifle comes in two colors, OD green & black, and features a metallic bolt and foldable bipod (for increased stability).
The body is constructed from weatherproof ABS (a composite plastic) but all the important parts are metal, including the barrel, trigger, bolt handle, magazine release, bipod and sling mounts. A one-piece precision aluminum barrel is not just more durable, but will also improve the accuracy of your marksmanship. The included stock hop-up is sturdy and adjustable. This is a big help in increasing the precision of your shots with different weights of BB (check our guide for the best airsoft BBs). 
The large, tactical frame also minimizes recoil. At around 7.4lbs, this sniper is heavy enough to feel extremely solid and sturdy in your hands but not too heavy for teenagers and young adults.
A bolt action spring powered ('springer') rifle comes with several advantages. Springers react better to different weather conditions and are quieter, perfect if you're laying low in the rough. They also better mimic the feeling of a real steel effect. So, if you believe that you might be playing airsoft in sub-optimal conditions, a springer will be a reliable choice. Springers don't suffer adverse effects in the same way that an electrical might freeze up or a gas piston may start leaking. You also won't have to worry about charging batteries or bringing spare batteries to the field.
The downside is that the bolt-action cocking mechanism means that you must manually cock your gun each and every time you want to fire a shot but, as a sniper, this is a limited downside. The first few shots will be pretty loud but this sniper really begins to quieten after the first dozen shots.
The package includes a sling, speed loader, scope, bipod, and cleaning rod, so you can start using it the moment you get it out of the box. 
Also, due to the four Picatinny mounting rail systems, the rifle has a strong level of customizability for attaching your choice of optics. We'd recommend that you may want to upgrade the scope as you start to polish your sniping skills, but it's perfectly fine as a starter option. The same goes for the bipod; perfectly fine as a starting option but easily upgradeable. Some people have reported minor issues with the mount, but this is a pretty basic fix with inventive use of tape.
There are a couple of very minor problems with this sniper rifle, but the positives far outweigh the negatives. For instance, the barrel has a black matte finish that is prone to scratching. This may not bother you or you may want to pick up a sleek camo wrap to protect it.
If you're in the market for a sniper rifle, the WELL MB4410 is my number one choice! The rifle looks and feels fantastic and you're not going to get a much better combination of quality, looks, and performance under the $200 mark. Most importantly, the MB4410 will consistently deliver clean, accurate shots.
Verdict: This is a sniper rifle that offers pro performance for a SUPER reasonable price.
---

The JG BAR-10 Bolt Action Airsoft Gun is a great starter for those looking to get into sniping. It has a lightweight feel, which is down to a durable polymer construction. Still, the inner workings and the barrel assembly do feature some metallic parts for increased durability and good performance.
Now, the BAR-10 looks and feels like any regular entry-level airsoft rifle, but it has a secret that propels it among the most popular on the market. And that secret is its upgradeability. This rifle is very similar to the Tokyo Marui VSR-10, a high-performance rifle with many aftermarket parts that can be used on the JG BAR-10. This means that you can use this rifle as a bare platform and improve upon it as you get more pieces (springs, bolt assembly, and more) and accessories.
However, the rifle is great right out of the box as it can shoot at about 470 FPS (feet per second) with .20g BBs and has a 30 round magazine. It also has an adjustable hop-up that lets the shooter adjust the accuracy and can be installed on a bipod.
Overall, the JG BAR-10 is one of the better options out there right now in terms of quality and price. It comes with an attached rear sight which can be easily removed and a scope, which you can replace with a better one (if you have it).
---

This sportline edition of the ASG McMillan M40A3 spring-powered bolt action sniper rifle has a rugged design and well-defined edges that speak of power and durability. The rifle can shoot at around 450 FPS (using 0.20g BBs) and the polymer body makes it lightweight and reliable regardless of conditions on the field.
The fixed stock helps with maneuverability and there is even an adjustable cheek riser that lets you use the scope without having to adjust your shooting position too much. Furthermore, the rifle features an adjustable hop-up to customize for range and accuracy, and there is a Picatinny rail for all sorts of tactical accessories.
Finally, the rifle features a metallic bolt and barrel assembly and, due to its spring construction, it doesn't pose any power issues on the field. This means that, as long as the 27 rounds magazine is loaded, the rifle will work regardless of weather or temperature.
---

This spring-powered sniper rifle is a full-size replica of the iconic M82 Barrett 50-caliber, which was used by the US forces in recent armed conflicts. This provides the rifle with an extra touch of authenticity and makes the experience a bit more interesting. 
The frame is made from a durable polymer material, which keeps the rifle light and easy to maneuver. On the other hand, the barrel assembly is metallic, providing a healthy weight and ruggedness to the entire model. The rifle also features three sling mount rings, that come in handy during transport since this is quite a massive airsoft weapon (55.1 inches in length). 
The spring that powers the shooting mechanism is strong and manages to impress a muzzle velocity of around 430 FPS on the BBs. The high speed and the long barrel are supported by an extensive Picatinny rail and an integrated bipod, thus making the rifle accurate even for long-range targets. 
Overall, this M82 is comfortable and doesn't cause player fatigue, in spite of its massive design. This is due to the well-designed pistol grip and ergonomic fixed stock that allows players to rest the rifle against the shoulder. Furthermore, loading/reloading is done quickly and smoothly due to the drop-free mid-capacity magazine (25 rounds) and speed loader. 
Lastly, the rifle is easy to customize to your needs due to the adjustable hop-up unit and impressive rail system. 
---
The M700 rifle from KJW is a gas-powered platform that can develop up to 500 FPS using .20g BBs. The magazine holds 10 rounds and the combination of a more advanced gas system and a full-length inner barrel (555mm) results in amazing power, range, accuracy, and consistency. 
As such, with the right scope and accessories, the M700 can be a fantastic sniper rifle. It has a bit more kick than usual springers and it looks and behaves like its real steel counterpart. The full metal body and barrel, the smooth bolt action, and the ultra-light wide metal trigger are all features that increase the realistic experience. 
For instance, you can only remove the magazine if the bolt is pulled back and the hammer only resets when the hammer is pulled up. In addition, you get an adjustable rear sight (for wind and elevation) and an adjustable hop-up unit. Lastly, both iron sights can be removed to make room for a scope and other optical accessories.  
Overall, the M700 is a gas-powered sniper rifle (works with Green Gas & Propane) that looks and feels like the real tactical sniper rifles used by SWAT and police forces all over the world!
---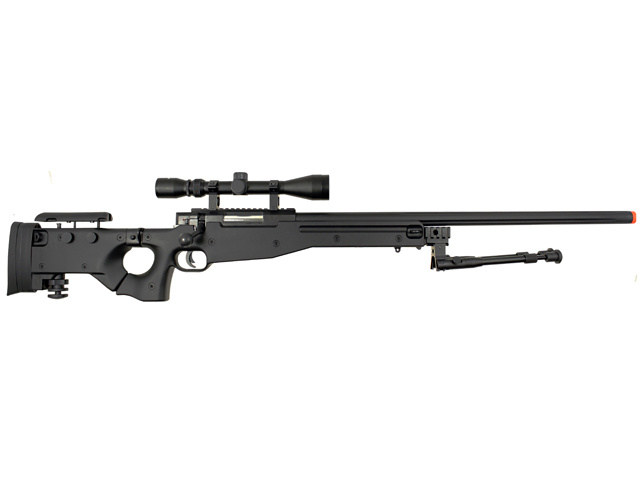 The MB08 rifle features a solid design with a body made from durable ABS plastic that holds its own in time (it doesn't get scratched or damaged easily). While it is rather long, the side-folding stock with thumbhole makes it easier to maneuver on the field. 
The rifle also comes with a bipod and a built-in rear monopod for increased accuracy and stability while taking aim. Of course, the adjustable hop-up unit and included 3-9×40 scope also help with hitting the target just right. 
If you use 0.20g BBs, then you'll be shooting at an approximate muzzle velocity of 480 FPS, which suggests a pretty powerful bolt action. Lastly, the MB08 is designed with comfort in mind, so it also features a cheek raiser and rubberized butt plate for a more comfortable fit. 
---

The Ameoba AS-01 Striker charms airsoft players everywhere with a sleek and elegant design. The rifle has a fixed stock (made from reinforced nylon polymer), features an aluminum CNC machined barrel assembly, and promotes a fluted metal outer barrel. But underneath these beautiful lines and materials, you'll find a reliable platform that promotes power and accuracy. 
While many players would stay away from a simple spring-powered design, the AS-01 Striker makes it look attractive. It does so by promoting a quick spring change system that lets you adjust the FPS as needed. Also, the 45BBs magazine comes with a loaded chamber indicator, which is unique on the market. 
Furthermore, the easy to adjust hop-up dial lets you zero in every shot while the Picatinny/Weaver RIS rail system lets you install optics and other useful accessories. Overall, this is a gorgeous bolt action sniper rifle that can be customized per each player's preferences. 
---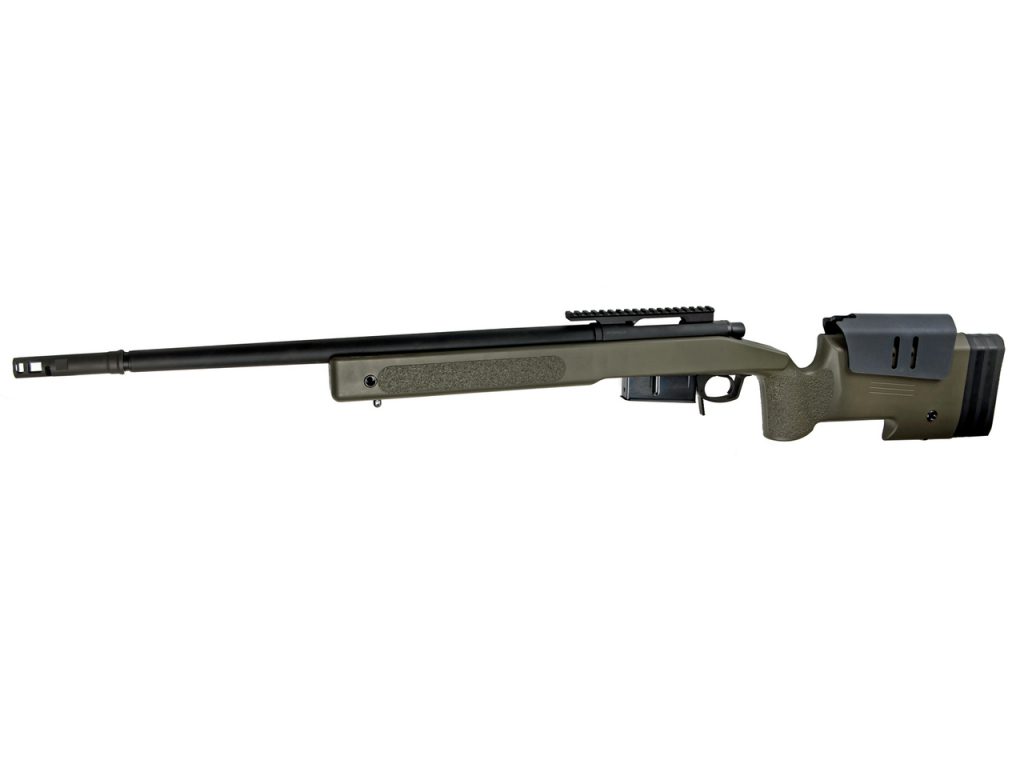 If you're looking for a classic design that is both powerful and reliable, the M40A5 is an ideal candidate. Designed according to the standard sniper platform used by the US Marine Corps, this 1:1 replica is fully licensed and looks very realistic.
The body is made from a durable and textured polymer but the barrel assembly with all its components (bolt, trigger, barrel, and more) are metallic. The stock is fixed and features an adjustable cheek rest and rubberized butt plate to help improve your aim. On the same note, there is also a Picatinny rail that lets players add the optics of their choice (works with most mounting systems). 
The rifle is powerful (shoots at 443 FPS with 0.20g BBs) and uses Green Gas as the main propellent (it needs to be at room temperature). Moreover, each shot can be right on target due to the adjustable hop-up unit and the 15 round metallic magazine.
---

ThisTokyo Marui design is a full- size L96 bolt action rifle made from a rugged polymer material and supported by a metal receiver and barrel assembly. Moreover, the polymer grip is comfortable and helps provide players with optimal rifle maneuverability, while the fixed stock has an adjustable cheek riser and rubberized butt pad for maximum comfort.
Since this is a replica of the real-steel counterpart, it comes with the same loading system and 40 round metal magazine as the real-steel version. This makes the entire experience a bit more authentic, and the rifle more reliable. 
In terms of performance, this L96 version can shoot at around 300 FPS and features an adjustable hop-up unit and a full-length precision bore inner barrel for excellent range and accuracy. Lastly, the 20mm Picatinny rail on the top of the rifle is perfect for your favorite scope or dot sight! 
If you don't have a scope yet, make sure to check our guide for the best scopes for airsoft guns. 
---
Best All-rounder Sniper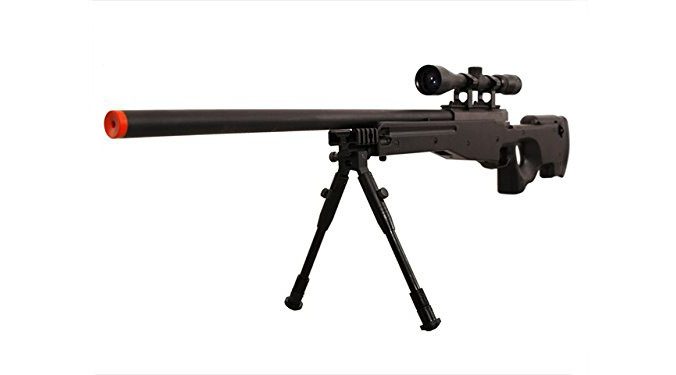 Ultimately, if we had to choose the best airsoft sniper rifle, this would be the winner. The Well L96 is an extremely solid sniper rifle and it's also on the lower end of the pricing spectrum, which makes it perfect for beginners.
Furthermore, this L96 airsoft replica is based on the real-steel design of the L96 Arctic Warfare Police Sniper, created by Accuracy International (a British company). The real rifle was created for snipers who work in the harsh Arctic conditions, so it's important to withstand difficult weather conditions and temperatures. Even more, the real-steel version is still in use by the British and the German military so there is a chance you can see your airsoft sniper in action in real life.
Now, the airsoft version combines a sturdy ABS body with a powerful, precise metal barrel, which manages to mimic the weight (about 5.5 lbs.) and feel of the real gun.
In terms of build, you'll notice that the ABS body is solid, but slightly shiny, lacking the matte-black finish of its competitors. Another thing I would change is having a metal trigger unit, not a plastic one. However, the shape and actual feel of the sniper in your hands trumps any disappointment with the slightly "meh" finish. It's also a great sniper for beginners because of the lightweight and design that promotes a set of basic features you want to get accustomed to before you spend more money on an advanced model. First, the body has slingshots on both sides so you can mount the sling as you need it (on the right or on the left). Next, you can mount two different types of bipods on this gun: a hairstyle bipod mounted on the back or a frontal one (the gun has a detach button that can be used).
The L96 comes with all the bells and whistles you would expect from any good quality sniper rifle. The cheek rest and butt plates are fully adjustable (although you will need a special key to adjust the butt plate). It also features an adjustable hop-up on the bottom of the body. This allows you to look down the sight while adjusting the hop-up, which is a nice feature for beginners. The pistol grip is comfortable and a good fit for lefties and the rubberized butt plates are also noticeably secure. Finally, the Well L96 is equipped with a rail that allows you to attach scopes and sights for better aim (a great feature for beginners). 
The impressive metal magazine holds 25 rounds, and feeding issues are rare. The package also includes a speed loader, which is slightly flimsy but ultimately effective.
In terms of performance, this is a very good sniper with an effective 430 FPS rate. The brass barrel is nice and tight, improving accuracy. The bolt action pull is nice and smooth and the MB01 fires cleanly and consistently. The sniper also comes with a starter scope and bipod. These are in a similar vein to competitors; fine for a stock unit but ripe for an upgrade.  
A sniper rifle is an awesome opportunity to try a different role in your airsoft team! Make sure you check out our detailed sniper section of our comprehensive airsoft guide for more information about airsoft snipers. We've also just launched a new guide on sniping for those of you interested in taking up this stealthy role.
Further Readings