6 Best Airsoft DMRs for 2023
Also known as a Designated Marksman's Rifle (DMR), this is the airsoft weapon that can make the difference between winning or losing the game!
But what exactly are DMRs, and how can you find the right one for your needs?
I will be talking about all of this and more (+ reviews) in today's guide, so make sure to keep reading.
You don't have time to go through all the reviews? Don't worry! I've made it easier for you to find the best DMR by listing my top 3 choices below.
| Best Overall | Most Expensive | Runner Up |
| --- | --- | --- |
| | | |
| KRYTAC TRIDENT SPR MK2 | G&G GC7A1 | CYMA M14 EBR |
| 350 rounds mag | compatible with most M4 mags | 400 rounds mag |
| durable aluminum alloy body | Full metal build | Full metal body |
| 420 FPS | 380 FPS | 400 FPS |
| Keymod rail for accessories | solid handguard | Rail space for optics |
| Adjustable crane stock | Fixed stock | Long barrel |
| Buy Now | Buy Now | Buy Now |
What Is A DMR?
A DMR is a type of airsoft gun that is designed to provide accurate long-range fire support for a team of airsoft players. DMRs are typically semi-automatic rifles that are based on the design of traditional sniper rifles but with modifications that make them better suited for mid-range engagements.
DMRs are typically built on a rifle platform, such as an AR-15 or AK-47, and are designed to be more lightweight and maneuverable than traditional sniper rifles. They typically feature longer barrels, upgraded hop-up units, and precision inner barrels to help improve accuracy and range. These rifles usually have a semi-automatic mode (they fire one BB per trigger pull) and have a higher rate of fire compared to bolt-action sniper rifles.
DMRs can be used in a variety of airsoft scenarios, including long-range engagements, defending a position, and providing overwatch for advancing teammates. However, it's important to note that the rules and regulations around DMRs can vary depending on the airsoft field or event. Some airsoft fields may require DMRs to shoot within a certain FPS range and have specific restrictions on modifications.
Why You Should Trust Me
As an airsoft gamer with over a decade of experience, I am excited to share my expertise and experience in the airsoft community with you!
During my lengthy airsoft playing career, I played various roles and had the chance to use a wide range of airsoft replicas (some amazing, some not so much). But whenever I played as a designated marksman, I always enjoyed the game because the rifle always felt more high-end than any others I had tried before. This is why I got curious and started learning about the features and specifications necessary for a top-performing DMR airsoft rifle.
Plus, I'm a bit of a nerd and I love staying up-to-date on the latest developments and trends in the airsoft world.
Most importantly, I take pride in providing honest and informative reviews to help fellow airsoft enthusiasts make informed decisions when purchasing airsoft gear. Trust my expertise and experience to guide you in finding the perfect DMR airsoft rifle for your playstyle and needs.
How I Selected and Tested the DMRs
The features that matter the most for a DMR are power and accuracy. When you combine them, you get an effective range, which is translated into the maximum distance you can shoot at a human-size target without missing. You also have to choose a semi-automatic platform that is capable of shooting at about 440 FPs with 20g BBs.
Other features that make a rifle a DMR are trigger response, magazine capacity (higher than 250 BBs), and hop-up functionality. This is why I've added rifles with a longer barrel length and adjustable hop-up systems that allow you to fine-tune the trajectory of your BBs.
Moreover, optics are essential for long-range shooting, so a DMR must either come with a scope or it must have a Picatinny rail system that allows you to mount your own optics. Lastly, DMR airsoft rifles must be sturdy and durable. This means that your rifle needs to be made from high-quality materials, such as metal or reinforced polymer, and that have solid construction.
All in all, the features I mentioned above (and the ones required by your airsoft field) pinpoint to a rifle that's a bit more expensive than the standard. However, since the role of Designated Marksman should never be afforded to a beginner, I am sure that a veteran player has all the means to come up with such a rifle.
Top 6 Guns for DMR

Pros
Full-metallic body build
Polymer handguard
Metallic inner workings
Sounds and feels like a real steel weapon
400 FPS
High-cap magazine (400 rounds)
Lots of rail space for accessories
Cons
It is heavy and big
Difficult to maneuver in tight spaces
The handle tends to loosen up
With a fully metallic body, a long barrel, a full-size RIS rail, and adjustable crane stock, this is an absolute beast of a gun! It's also heavy, which is why I recommend adding a sling to it, so you won't have to carry it by hand all the time.
Besides its massive look, the one thing that will attract you the most is the sound! Because it is all metal, the charging handle sounds extremely realistic. Even more, the mag release action produces the same beautiful sound of metal-on-metal. Speaking of the mag, it is a high-capacity design that holds up to 400 rounds, which goes well with the full and semi-auto fire modes.
In terms of accuracy, the gun is equipped with an adjustable hop-up and there are sights (the rear one is a flip-up design, and the front is fixed), but there is plenty of space on the rail to install some high-capacity optics.
Finally, due to the extensive barrel length, the M14 EBR shoots at 380 FPS and has a pretty good range.
---

Pros
A great rate of fire
High-quality internals
Impressive design and body
Powerful
Gearbox designed for smooth running
Adjustable crane stock
Cons
May be considered too powerful for some fields
Supports both auto and semi-firing modes
The KRYTAC TRIDENT SPR features a durable aluminum alloy body, and each piece was specially machined to ensure a smooth function. Overall, this rifle has a modern look that makes you think about real steel rifles.
This KRYTAC's design is focused on accuracy, with a special rotary style hop-up that locks in place. This way, you can be sure your aim won't shift as you move the rifle. As a quick note, the rotary wheel on this rifle has 15 settings! Speaking of accuracy, the rifle has detachable and adjustable front and rear iron sights unless you want to use the five-slot keymod rail to add optics and other accessories.
Next, KRYTAC worked on the stock, which they completely redesigned to hold storage batteries. A player can opt for various configurations, but with so much extra power at your disposal, there should be hardly any downtime on the field.
Finally, they worked hard on the gearbox, using 8mm ball bearings for decreased friction and introducing an anti-corrosion coating that increases the resistance to wear and tear. Furthermore, the rifle features a quick spring change system that comes in handy when you want to swap springs.
With a magazine capacity of 350 rounds and a maximum power of 420FPS, this bad boy can be a fantastic DMR out of the box!
---

Pros
Looks and feels like the real steel counterpart
300rd magazine
7.4lbs weight
Flat trigger and large trigger guard
Upper rail for optics
Powerful and reliable
Cons
It is rather big
It can be quite an arm workout
The CXP-MMR DMR rifle from the ProLine series features a fully-metallic internal build for increased durability and accuracy. Also, the body is a combination of metal and durable polymer, which makes the rifle feel like a real-steel gun. You gotta love the metallic handguard that allows for standard MLOK accessories. This way, the profile of the rifle remains low but shooters have the option to attach additional Picatinny rail sections for all sorts of accessories.
The fully upgradable Version 2 split gearbox and the ICS POM reinforced piston with steel teeth make the CXP-MMR a powerful rifle (440 FPS) while the long inner barrel (458mm) and adjustable hop-up vouch for its accuracy. Furthermore, the roomy stock and the 300-round high-capacity magazine make this a DMR that's tough to beat in an outdoor environment.
---
CYMA Full Size M14 AEG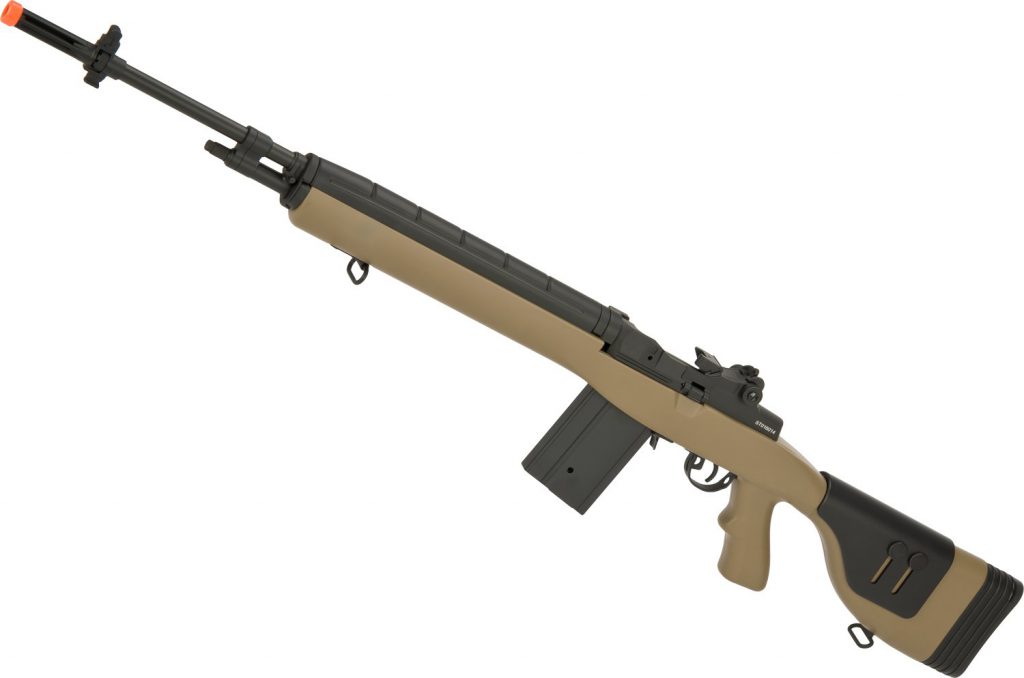 Pros
Version 7 gearbox that can be upgraded
High-cap magazine (470 rounds)
Heavy duty build
Fully equipped, DMR style
Cons
It is quite big
The magazine may feel a bit loose
Plastic and metallic parts
Heavier than recommended
CYMA is one of the brands that seized the opportunity to create a niche-specific series (more on other airsoft brands you can read in my best airsoft gun brands guide). And this beautifully accessorized M14 is one of their best products. Even more, unlike most airsoft M14 DMRs out there that require you to buy the rifle and the conversion kit, this one is ready to use from the box.
This means that the rifle will have a polymer DMR chassis and an adjustable stock ready to use. Besides this, you'll also enjoy the pistol grip and adjustable cheek rest, which help in creating a stable platform for long-range shooting.
The rifle is highly accurate (adjustable hop-up) and powerful (380 to 400 FPS); it features a barrel length of 500mm and weighs about 5.5kg without a scope. It is equipped with sling swivels, so you don't always have to carry it in your hands, but I must warn you, this is a pretty big rifle (1127mm long)!
The entire platform is built around an upgradeable Tokyo Marui spec version 7 gearbox, so you can add components if you still want improvements. Also, the barrel assembly and receiver are fully metallic.
---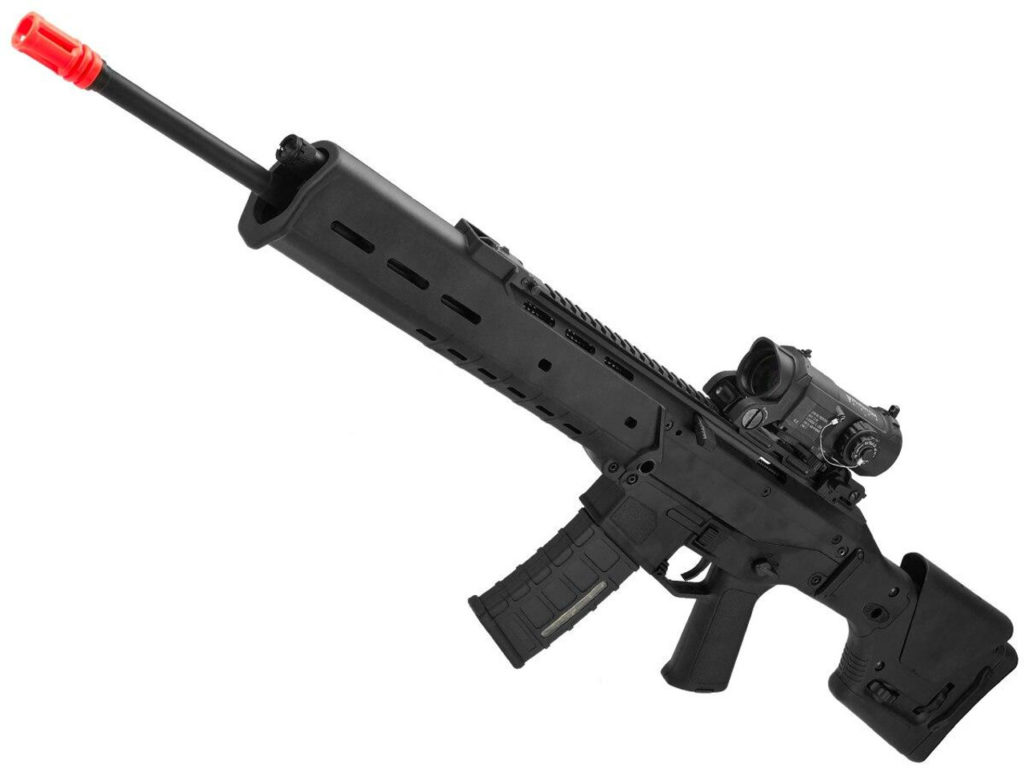 Pros
Impressive design
Good weight
Ambidextrous bolt release, magazine release, and selector switch
Heavy-duty handguard and receiver
Highly accurate and packed DMR style
Cons
The magazine is rather small
A bit on the heavy side
The A&K Adaptive Combat AEG is a great AEG for any marksman. It features a QD barrel system, a high-torque motor, a metal gearbox, and a host of other features to help you get the most out of your rifle. The stock is comfortable and precise, and the flip-up sights do a great job of helping you line up your shots. It's also got an ambidextrous bolt release, magazine release, and selector switch, making it easy to use for left and right-handed shooters.
The rifle has a flat-top receiver that can accommodate most optics, so you can choose the one that fits your needs. The hop-up can easily be adjusted, and the rifle comes with three fire modes: safety, semi-auto, and full-auto. Overall, this is a powerful (it shoots at 400-410 FPS) and accurate rifle with a great design and feel.
---

Pros
Good weight balance
Long barrel (total rifle length is 996mm – 1143mm)
QD sling mount & standard attachment points
JG Blue High Torque Motor
Flip up front & rear iron sights
Cons
It can be difficult to handle
This JG SR-25 AEG from Golden Eagle is a solid long-range airsoft rifle made with durable metal components and a lightweight reinforced polymer. It comes with a standard battery and charger and features flip-up front and rear iron sights, plus a Picatinny/Weaver quad rail system.
The full stock has multiple sling points and can house a variety of battery sizes and types. The rifle is also equipped with an ergonomic pistol/motor grip and a 470-round high-capacity SR25 style magazine. It even includes a stick-style foregrip and mock suppressor.
This SR-25 AEG fires at 390 FPS with 0.20g BBs, making it ideal for long-range field play. With its size and FPS, this rifle is a great option for airsoft enthusiasts looking for a reliable DMR rifle.
Wrap Up
While it's true that standard rifles don't have what it takes to be DMRs, most top brands have a special set of designs that fit the requirements. So, before you start building your very own bad-ass rifle, I recommend checking up on the models mentioned above. You may end up with a better deal!