Best Air Rifles for Hunting: Reviews & Recommendations for Every Budget
While air rifles are not as powerful and deadliest as real steel guns, they are still powerful and dangerous when used improperly.
---
Even though you're not using bullets, a well-shot pellet, at the right speed, can put down large game. So, if you want to go hunting but you can't afford the added cost of a real rifle (or you simply don't want one), air rifles are the next best thing.
Of course, not all air rifles are designed for hunting large game, which is why I created a top 3 air rifles for all game categories (large, medium, and small).
| Large Game | Medium Game | Small Game |
| --- | --- | --- |
| | | |
| Hatsan Hercules Bully | Hatsan Mod 135 Vortex QE | Hatsan Mod 95 Vortex |
| Available in calibers 0.177, 0.22, 0.25, 0.30, 0.357, and 0.45 | Available in 0.177, 0.22, 0.25, 0.30, and the .30 cal Carnivore | Available in calibers 0.177, 0.22, and 0.25 |
| 1450 FPS with 0.177 | 550 FPS with 0.30 | 1000 FPS with 0.177 |
| Bullpup design with Sidelever action | Single-shot break barrel | Single-shot break barrel |
| Precision rifled & chocked barrel | QuietEnergy barrel technology | Hatsan Vortex gas piston technology |
| Stock can hold 2 spare batteries | Wooden stock & rubber butt pad | Turkish Walnut stock |
| Buy Now | Buy Now | Buy Now |
Rifles for Large Game
---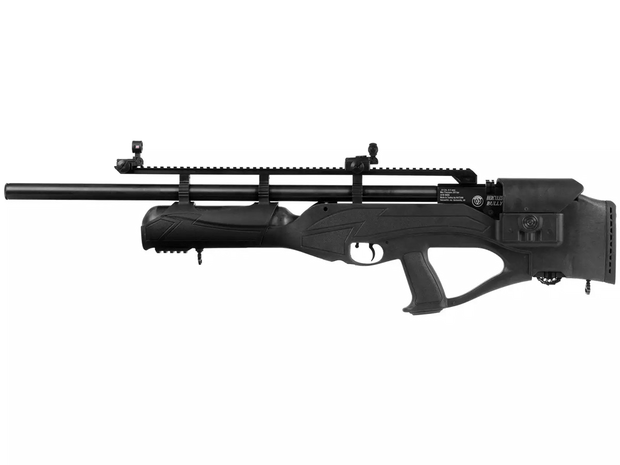 Pros
Powerful action (1450 FPS for 0.177 caliber)
Bullpup design
Lots of storage room for spare magazines
Easy to use and maneuver
Sidelever action
Multiple adjustments
Feels very comfortable
Cons
Not recommended to beginners
Sling quality is low
Price is a bit steep
This is a bullpup design available in calibers 0.177, 0.22, 0.25, 0.30, 0.357, and 0.45.
The Hatsan Bully is an air rifle with lots of attitude and an amazing performance on the field. Also, due to the synthetic bullpup stock, the rifle is lightweight and easily manageable, which makes it the better version out of the series.
Depending on the caliber you prefer, the muzzle energy varies from 50 to 290 FPE. Moreover, the barrel is precision rifled and chocked, to make sure the pellets start their journey towards the target with extreme accuracy. While the rifle doesn't come with a scope, there is a Weaver mount that works with just about any optics you have around (if you don't have one, have a look at our air gun scope reviews).
The design features sidelever action and includes three magazines, out of which two can be stored in the stock. So, you can be sure you won't run out of rounds while on the hunt.
---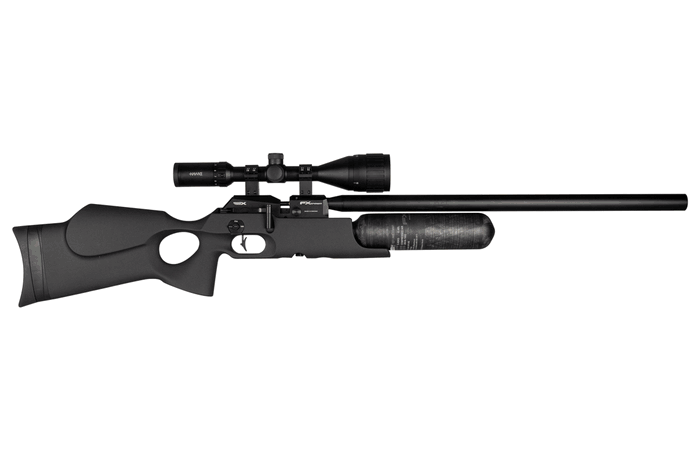 Pros
Powerful rifle (1000 FPS for 0.177 caliber)
Synthetic stock
Lots of adjustability options
Side cocking lever action
Dovetail scope rail
Highly accurate
Impressive design
Cons
A bit complicated to pull apart and back together
The magazine is not very user-friendly
An improved version of the FX Impact, available in calibers 0.177, 0.22, 0.25 and 0.30.
One of the main advantage points of the Crown is the all-weather ambidextrous thumbhole synthetic stock, which makes it easier to maneuver and provides better protection for the high-end internals featured by the rifle.
The Crown is any shooter's dream because it can be adjusted to match the accuracy of almost any air rifle on the market. Moreover, the new FX Smooth Twist X barrel system allows users to change the caliber and the liner! This way, you have the chance to customize the twist rate and choke, to fit any pellet you want.
If you're worried that such a badass rifle may disturb your hunting fellows with noise, you should know that this is an ultra-quiet rifle. This is due to the fully shrouded barrel that keeps the noise at a low level.
---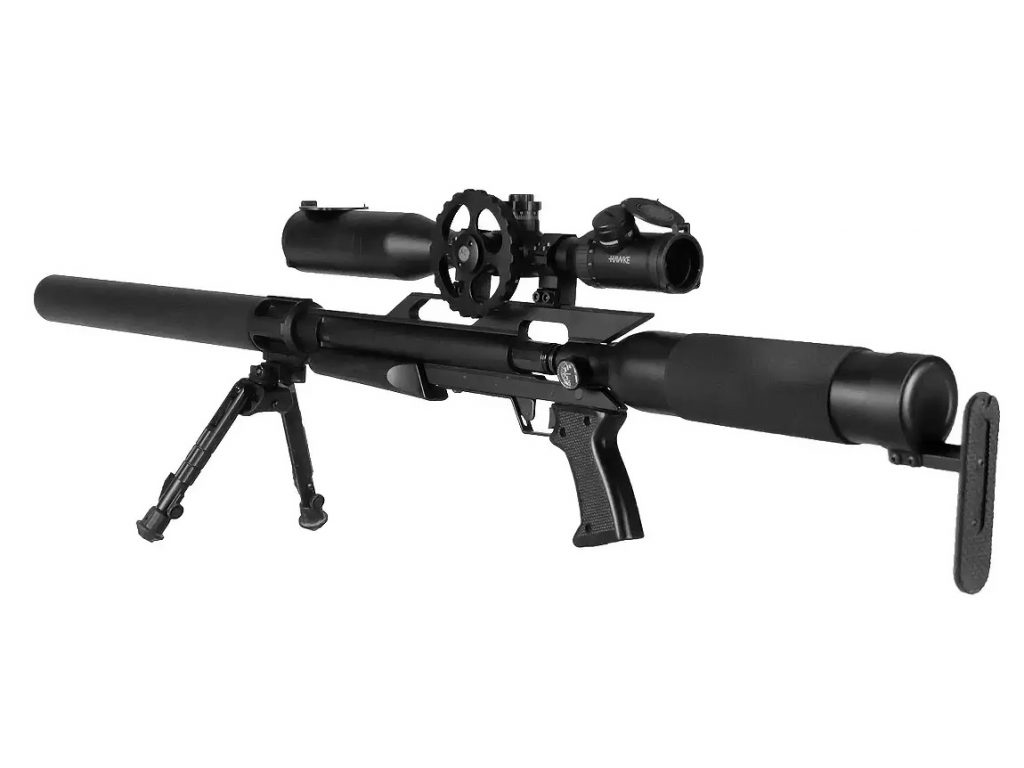 Pros
Compact size
Powerful and accurate
Several adjustability options
Single-shot action
Tank supports 3000 PSI
Available in calibers 0.30, 0.357 and 0.45.
On release, this is the rifle that was billed the world's most powerful production air rifle! And given that it can produce up to 400 FPE and still keep a compact size, there's no wonder people turn their heads for it even today.
Besides the compact size, you also get a fully shrouded barrel with Sound-Loc System technology, so it keeps quiet (4-Medium-High). It also features a textured grip, to improve maneuverability and the 490cc tank that supports up to 3000 PSI.
The Texan SS is a PCP single-shot rifle with sidelever and a 2-stage trigger. You also get an extended optics rail and a butt plate that can be rotated to the right or left, as needed. Overall, the rifle is a beast in a compact design, and if you can afford the price, it may be the only hunting air rifle you'll ever need.
Rifles for Medium Game
---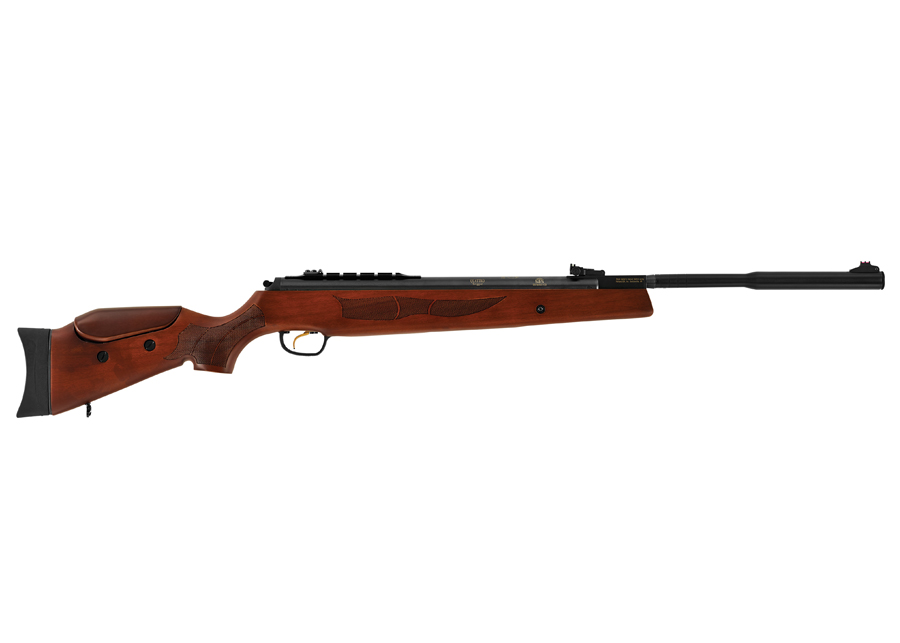 Pros
Impressive power (550 FPS with 0.30)
Single-shot system
Trigger is adjustable
Break barrel system
The wooden stock and rubber butt pad
Easy to use
Cons
A bit heavy for beginners
Cocking is a bit difficult
Cheekpiece could be better
Available in 0.177, 0.22, 0.25, 0.30, and the .30 cal Carnivore, which is considered the world's first big bore break barrel.
The Mod 135 features a beautiful break barrel design complimented by a gorgeous right-hand Turkish walnut Monte Carlo stock with adjustable cheek piece.
Equipped with the Vortex gas-piston powerplant, the rifle is smoother to cock and shoot because it doesn't develop spring torque or fatigue. Moreover, due to the Vortex system, the Mod 135 can be used in cold weather without any drops in performance.
Other features hunters will love are the QuietEnergy barrel technology, the 11mm and Weaver optics rail with scope stop, fiber optic sights (only the rear one is adjustable), the anti-beartrap mechanism, and the rubber recoil pad with SAS that reduces the vibrations sent to your shoulder.
Overall, the Mod 135 is a beast that will not disappoint during medium game hunting trips!
---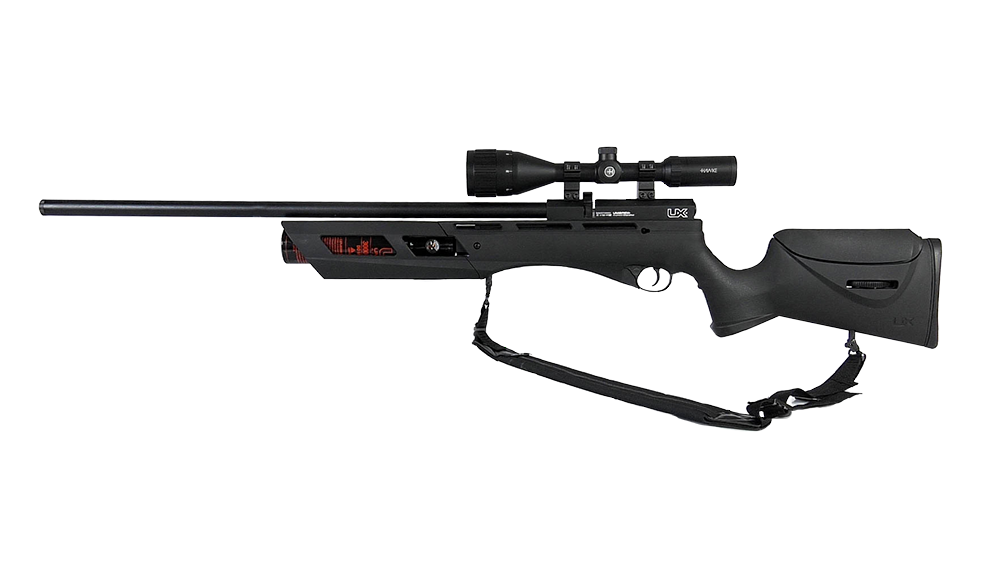 Pros
Lightweight and powerful
Easy to maneuver during hunting
Incredibly accurate
10-shot repeater
60+ shots per fill
Several adjustable options
11mm dovetail rail for optics and accessories
Cons
Quite on the heavy side
The bolt is difficult to pull back the first few times
The trigger needs to be adjusted
Available in calibers 0.177 and 0.22, the Umarex Gauntlet is a fantastic choice for both backyard plinking and hunting for small game. It is powerful (1000 FPS with the 0.177 caliber) and you can shoot 60+ pallets with one tank fill (to maintain this rate, you need to fill the tank to 200 bars).
I like the fact that the rifle is lightweight, due to the all-weather ambidextrous synthetic stock, but also delivers a good punch. And, with built-in sling swivels, it's easy to carry it through the woods. Not to mention that it is incredibly quiet for the damage it inflicts on medium to small game.
The rifle is also accurate, and the adjustable comb on the stock helps you get that perfect shooting position regardless of conditions.
---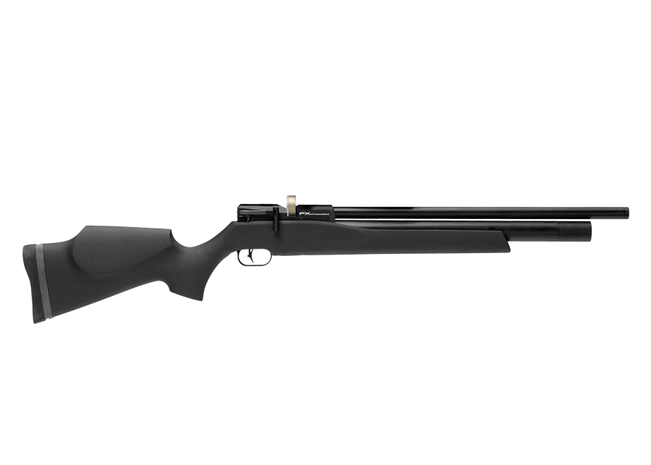 Pros
Lightweight and easy to maneuver
Incredibly accurate
Sidelever action
Quick fill port with integrated dust cover
FX Smooth Twist Barrel for increased velocity and accuracy
Great value for the money
Cons
Magazines are expensive
A bit loud
Available in calibers 0.177, 0.22 and 0.25, with a synthetic stock and aluminum build.
FX is well-known in the air guns industry for their high-end products that maintain their accuracy and performance for their entire functional period. So, when they released the FX Streamline air rifle, airgunners jumped at the occasion, because this model is both affordable and packs all the features that made FX so popular.
The synthetic stock is robust and has an all-weather build, while the body is made of high-grade aluminum to keep the lightweight (5.75 lbs. without a scope) but also make it as durable as possible.
Among the features that make this an amazing sidelever air gun, we'd like to mention the FX two-stage match trigger, the 11-shot rotary mag, the 3-step adjustable power selector, and the fully shrouded barrel.
Overall, this is an accurate and powerful air gun that can shoot up to 925 FPS, in the 0.22 caliber version.
Rifles for Small Game
---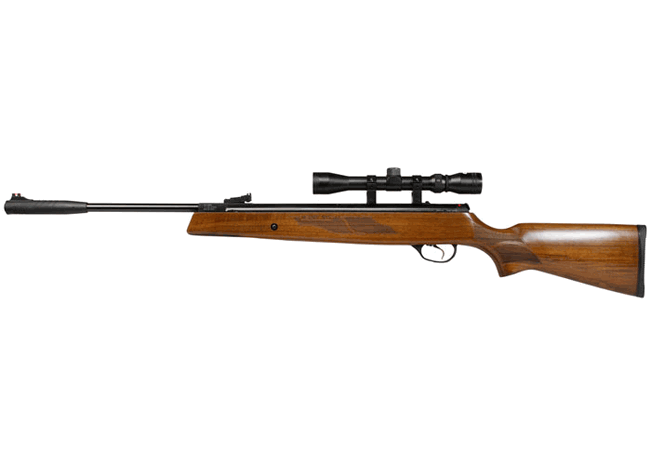 Pros
Incredible quality
Highly accurate even at long range
Hatsan Vortex gas piston technology
Feels solid in your hands
Versatile in use
Great value for the money
Cons
Customer service is not very good
Some models have production flaws
Available in three caliber choices: 0.177, 0.22, and 0.25.
The Mod 95 Vortex from Hatsan is a break barrel design with a gorgeous Turkish Walnut stock. The rifle uses the Hatsan Vortex Gas Piston, which works with air (no other gases needed) and produces consistent power in between shots. Moreover, because this is not spring-powered, you have fewer moving parts and vibrations, leading to better accuracy and more power.
In fact, the Model 95 Vortex can produce a true 1000 FPS with lead pellets and caliber 0.177!
To make a shooter's job easier, this single-shot air gun is equipped with TruGlo Fiber Optics (only the rear sight is adjustable for windage and elevation), a Quattro trigger system, SAS (Shock Absorber System), and a checkered grip and forearm. Overall, the Mod 95 Vortex is fantastic for getting rid of pests, small game hunting, and/or plinking.
---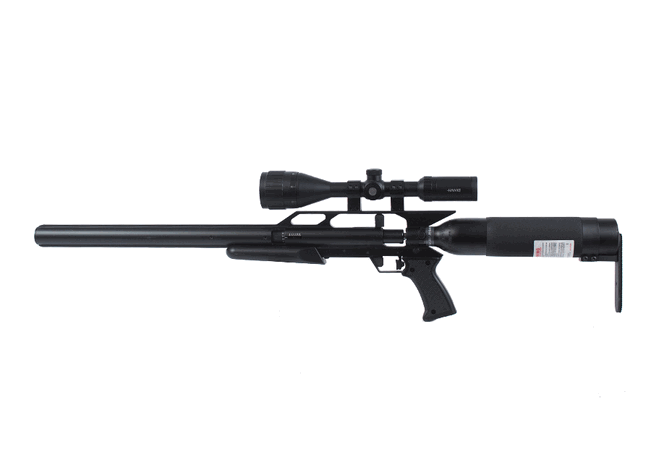 Pros
Easy to change in between calibers
Several adjustable options
No recoil
Shrouded barrel for sound suppression
Extended 11mm dovetail
Great for small game hunting and plinking
Cons
The grip could be better
The safety is a bit stiff
Available in four caliber choices: 0.177, 0.20, 0.22, and 0.25.
Equipped with an adjustable power meter and sound suppression system (the SS in the name), this air gun is great for both small game hunting and plinking in the backyard. Furthermore, if you want to change the caliber, all you need is a different caliber barrel designed for the Condor SS. Swapping barrels is quite easy and doesn't require any tools.
This is a bolt action single-shot PCP rifle that can develop between 600 and 1300 FPS, depending on the caliber. It's versatile, easy to use and doesn't have recoil, which makes it great for beginners.
---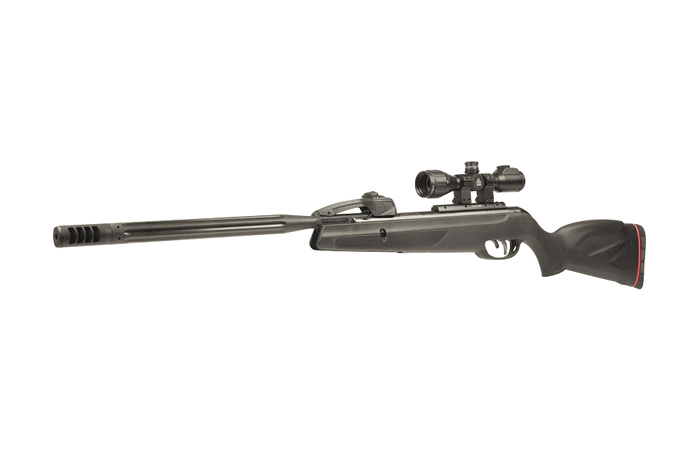 Pros
Multi-shot break barrel design
All-weather ambidextrous stock
3-Medium loudness
Some options are adjustable
Rotary-style magazine
Accurate and powerful
Cons
Recoil can be strong for beginners
Available in two caliber choices 0.177 and 0.22.
The Swarm Maxxim is yet another break barrel (airgunners just seem to love them) that offers power and accuracy.
Like most Gamo rifles, the Swarm Maxxim comes with an IGT (Inert Gas Technology) gas piston, which gives you the chance to shoot at 1300 FPS with only 30 lbs. of cocking effort. Moreover, the rifle comes with a beautiful 10 round Quick Shot rotary-style magazine that makes both plinking and hunting a lot of fun.
If you're going hunting for small game, you can count on the Whisper Maxxim Sound Suppression technology and the Recoil Reducing Rail (RRR) to keep the activity quiet and protect the optics you're using from vibrations. Your shoulder will also be protected due to the SWA (Shock Wave Absorber) recoil pad which reduces felt recoil by up to 74%.
Finally, the one feature that makes the Swarm Maxxim quite a special rifle is the multi-shot system – most break barrels out there can only load one shot at a time.
Wrap Up
As you can see, there are plenty of options for everyone and every budget! All it's left now is to decide which air rifle works best for your needs, make the purchase, and enjoy your time with it. Just make sure to follow local and national laws regarding air gun hunting!