5 Best Air Rifle Scopes: Our Top Picks
In this article you'll find our picks for the best air rifle scopes, and what you should look for when making your choice such as fixed vs variable and the size of the crosshair.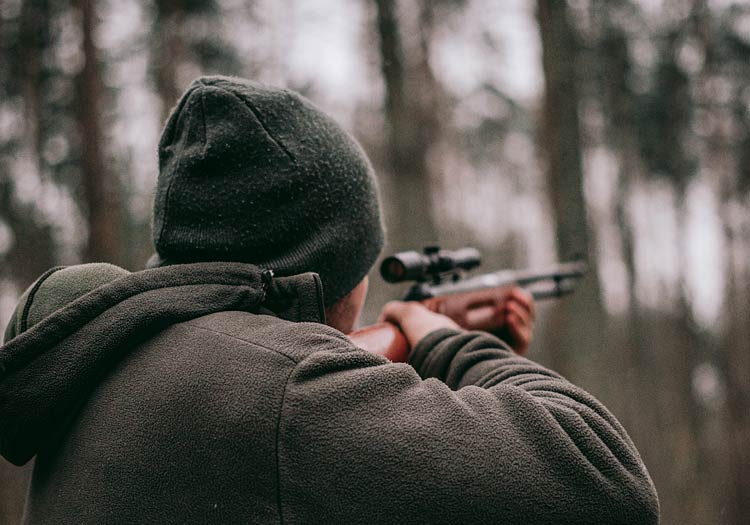 ---
Top 3 Air Rifle Scopes
| Best Overall | Runner Up | Most Expensive |
| --- | --- | --- |
| | | |
| UTG 3-9X32 1" BugBuster | UTG 3-12X44 30mm | Hawke Airmax 3-9x40 AO |
| 3-9X magnification | 3-12X magnification | 3-9X magnification |
| Shock, fog, and rain proof | Shock, fog, and rain proof | Shock, fog, and water proof |
| TRE Mil-dot reticle | EZ-TAP IE multi-color reticle | AMX Mil-dot reticle |
| True Strength Platform | True Strength Platform | Solid build |
| 32 mm objective diameter | 44 mm objective diameter | 40 mm objective diameter |
| Buy Now | Buy Now | Buy Now |
How to Find the Best Air Rifle Scope
First of all, we're going to have a quick look at how to choose a scope that works best for your air rifle. While the features for selecting a scope are similar for all weapons, we do recommend selecting a product designed for airguns.
Because an air rifle develops more muzzle energy, the scope will have to be more durable than the ones designed for airsoft. Also, while there are some fantastic airsoft scopes out there, they are not designed for hunting.
Fixed vs. Variable
To understand the difference between a fixed and a variable scope you'd have to look at magnification. A fixed scope will have clear instructions on the magnification (4x) while a variable one will have a range (3-9×).
So, with the fixed scope you have one magnification setting which you cannot change. You also have the advantage of a brighter and clearer view because it doesn't have a series of lenses that can change. On the other hand, a variable scope will allow you to change magnification within the limits mentioned by the producer. This makes it more versatile and easy to use in a broad range of situations.
Size of the Objective
We're talking about the objective's lens diameter here and, just like you would use a camera, the objective's size shows how much light it can get inside. The size varies from 32 to 50 mm and, as a rule of thumb, a big objective lets a lot more light in, creating a better image.
However, the downside is that big objectives mean heavier scopes, which can be difficult to manage.
Parallax Adjustment
If you've ever looked through a scope, you are familiar with the parallax effect. Basically, this tends to happen at distances greater than woo yards, when a fixed object seems to move as you move your head. In reality, the object doesn't move, but it seems that way due to what we call the parallax effect.
So, to deal with this situation, you should get an adjustable objective. This is a ring placed around the objective which you can use the adjust the focus as needed.
The Crosshairs (or Reticle)
This is a feature that differs from brand to brand, which is why it can be difficult to offer guidance on which to choose.
The main purpose of the crosshairs is to help find a centralized aiming point. Still, each shooter is free to choose their own style, based on their preferences and shooting activity. For instance, fine crosshairs are mostly recommended for fixed targets that provide higher contrast while duplex crosshairs (thick lines on the outside and thin lines in the center) work best for an air rifle.
Also, you can use the adjustable objective to keep the reticles on target, which is quite a nice feature.
As you know, there are other features to consider such as build and mounting system, but these are usually easy to asses. Given that we are talking about air rifles, it's important to choose a scope with a solid build that will not be easily messed up by the energy developed by each shot. Also, the mounting must fit with your rifle's rail system, so make sure they are compatible before purchase.
Top 5 Best Air Rifle Scopes
---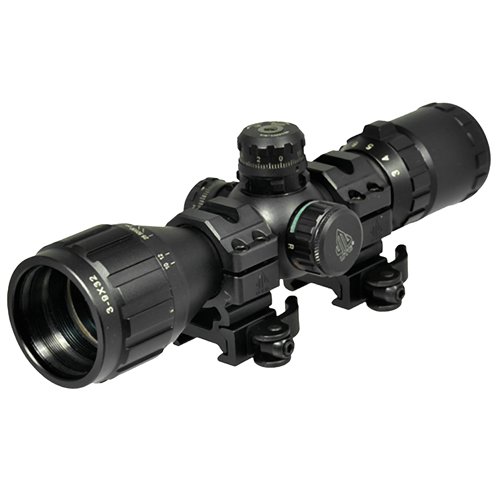 Pros
Solid build
Good illumination and light transfer
Holds zero well
Amazing price for the quality
Easy to mount on most rifles
Cons
It takes a bit of work to get a clear image
The adjustment objective yardage isn't exact
Included mounting rings are no good
The thing I like more about this scope is that you can use it for air rifles, real steel guns, and airsoft rifles. The build is solid (designed on True Strength Platform), and the price makes it available for any type of shooting you plan on doing.
The scope is filled with nitrogen to avoid any humidity getting in, it is rain and fog proof and has dual red and green illumination. This means you'll be able to use it in bright and low light conditions. Furthermore, the accommodating eye relief and the sunshade are great accessories for shooters who tend to go out in any weather conditions.
The tube is coated with emerald, for maximum light transmission and turrets have ¼ MOA per click adjustment. You also get an adjustable objective (with parallax free view from 3 yards to infinity), a large field of view, and Tactical Range Estimating Reticle Mil-dot reticle. UTG is one of the main producers to have perfected the Mil-dot reticle for increased accuracy on long range shooting, so you won't be surprised to learn that the BugBuster comes with 19 aiming points (as opposed to the 9 aiming points provided by the standard Mil-dot reticle).
---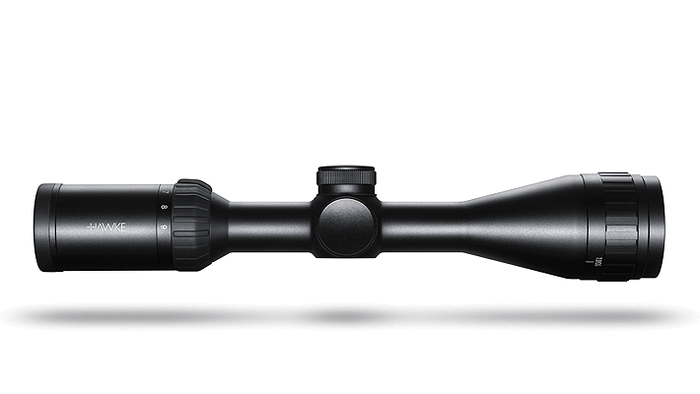 Pros
Holds its settings well
Very clear and wide picture
Easy to adjust
Lightweight and easy to mount
Cons
Very thin cross hairs
The adjustable objective is a bit stiff
This scope can be used by both advanced shooters and professionals to improve accuracy and extend the field of view (it gives an extra 20%).
Boasting an AMX reticle, the scope will work with almost any rifle trajectory due to the multiple aim points and the mildot cross hair system. Not to mention, the adjustable objective (40mm lens) and 3-9x magnification are useful features in the field!
Hawke designed this scope with a 1″ mono-tube chassis for superior strength, which means it will withstand even the double recoil of a high-power spring piston air rifle! Not to mention, the product is water-, fog-, and shockproof!
---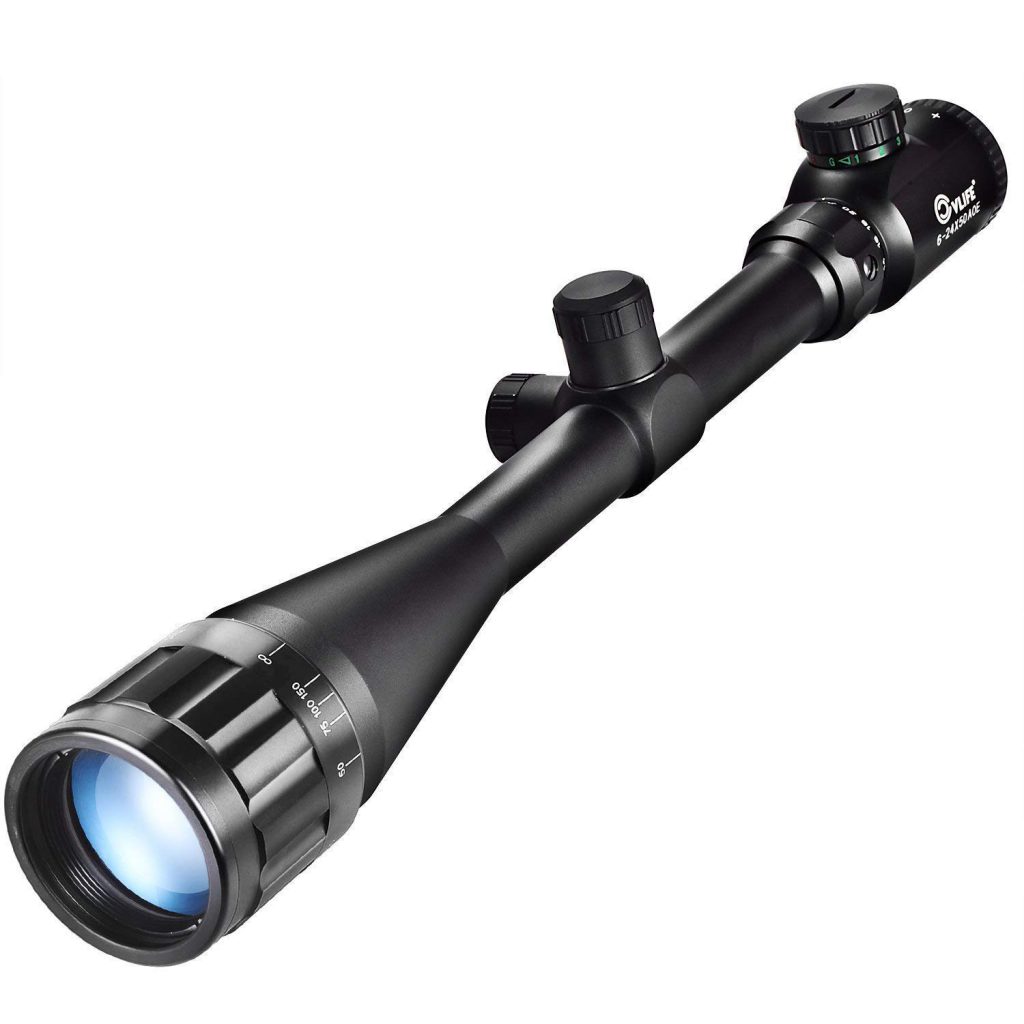 Pros
Solid build
Good illumination and light transfer
Holds zero well
Amazing price for the quality
Easy to mount on most rifles
Cons
It takes a bit of work to get a clear image
The adjustment objective yardage isn't exact
Included mounting rings are no good
This is a slim, lightweight, beautiful scope that will help you hit some of the farthest targets. It takes a bit of play between the zoom adjustment and focus (so it may get blurry), but once you hit the sweet spot of clarity, the image is perfect.
The diameter of the objective is 50mm, so it allows a lot of light inside, and the field of view is rather large. It supports both red and green illumination and there are two knobs dedicated to focusing the image after zooming in or out. Even more, if it happens and the battery dies, you can still use the scope.
The build is solid, and the crosshairs don't move around even when mounted on a rifle with a strong recoil. Furthermore, it keeps zero really well, regardless of the punishment it is subjected to.
---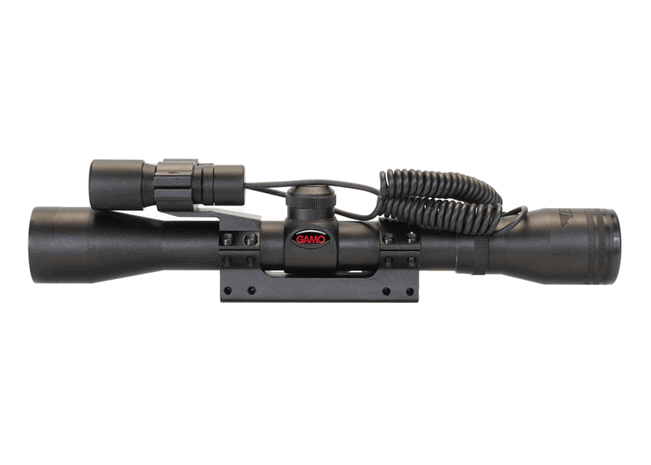 Pros
Good basic features
Impressive clarity
Holds zero well
The laser is useful in improving accuracy
Good price/quality ratio
Cons
Flashlight is low-quality
Not very durable
An entry-level scope that comes with laser and flashlight to help improve accuracy even in low-light conditions. The laser and flashlight are connected with pressure cables, and the product comes with mounting hardware (standard 3/8" dovetail mount). As such, it is ready to use right from the box.
With fixed magnification and a 1" tube, the scope is perfect for shooting varmint within 30 yards. Overall, it holds zero well and offers a clear image, However, the build is not extremely solid so it will not withhold the recoil from a powerful rifle.
---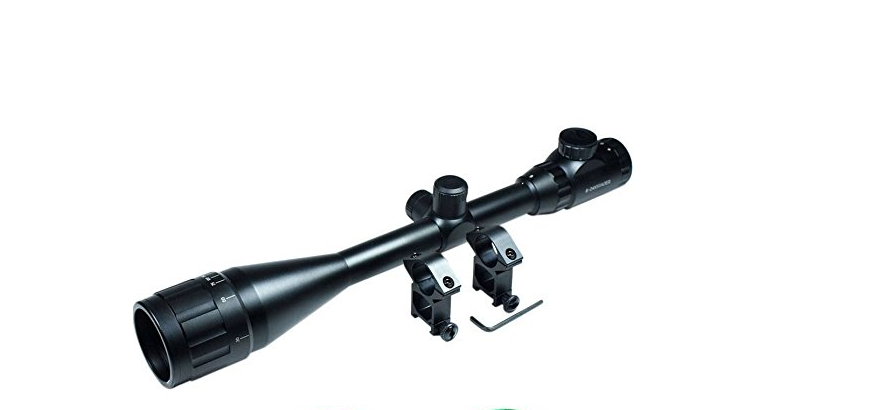 Pros
Great build
Impressive quality for the money
Accurate once you make all the settings
Holds zero well
Clear image with crisp details
Cons
It's a large scope
Included rings are not of high quality
With a big objective (50mm in diameter) and a large field of view, this scope is a dream came true for any beginner hunter! It features red and green illumination and it has a front focus eyepiece adjustment for long range shooting.
The lenses are multi-coated to protect them from scratches and the scope is water and fog proof. The image is clear, and it keeps zero well. Also, it has different levels of illumination which allow you to shoot in all sorts of lighting conditions.
As a nice touch, especially for the price, the scope has flip-up lens covers and a sunshade.
---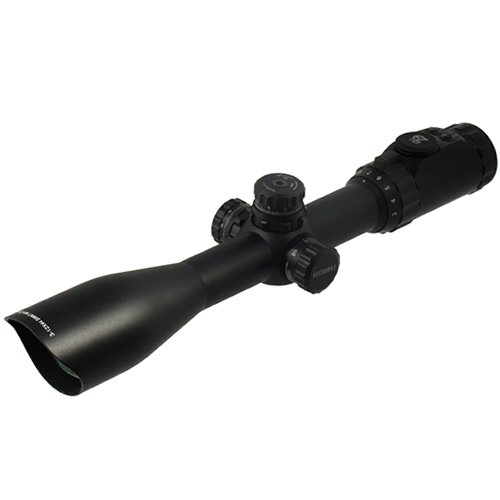 Pros
Solid build
Amazing multi-colored reticle
Easy to set-up
Special illumination enhancing for low-light conditions
Holds zero even on rifles with heavy recoil
Great accuracy
Cons
Quite heavy due to the solid build
The image gets blurry as you approach max and min limits
Pretty big
And we're back to UTG! There's a reason why this company is well-known among airsofters and other shooters – they make amazing accessories!
This scope also comes with emerald coated lenses and True Strength platform build, which means it is shock, rain, and fog proof. Unlike the one we discussed first, this one has EZ-TAP illumination enhancing and a multi-color reticle (36 colors to be exact) for all-weather conditions.
It keeps its zero even under heavy recoil and it's easy to use and set. The objective diameter is 40 mm and the field of view is acceptable for such a scope.
---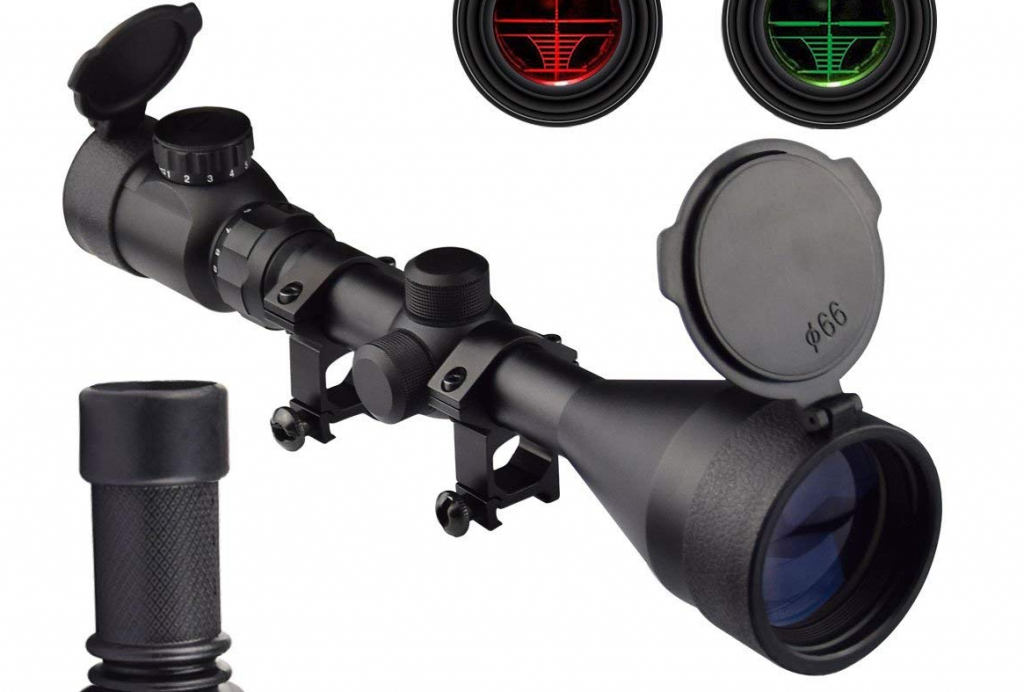 Pros
Good build
Accurate for long-range targets
Quick to set up
Holds its zero
Cons
Small eye relief
It becomes blurry as you approach the maximum zoom out
No focus adjustment
The last product on our list comes with 5 different levels of intensity in both red and green reticles and a clear image. The scope is fog and shockproof and has an adjustable eyepiece that allows you to find a crisp image for different magnifications.
The build is solid, and it holds its zero well, even on a rifle with some kick to it! Overall, for the price, this is one of the best scopes to try on both air and airsoft guns.
---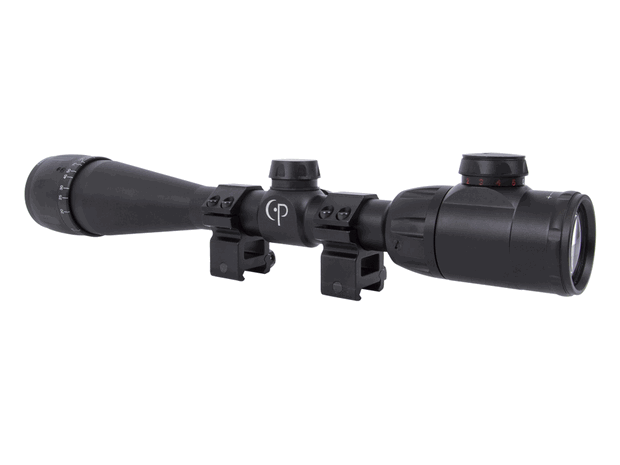 Pros
Illuminated reticle
4-16x magnification
Adjustable objective with 40mm lens
Clear at all magnifications
Cons
Illumination could be better
Not super durable
A beautiful 1" tube air rifle scope that supports 4-16x magnification with a 40mm objective lens. The TAG-style reticle is red-green and illuminated, making zeroing the target a lot easier, even for inexperienced shooters.
The scope is delivered with a CR2032 battery so you can use it right out of the box. Also, the objective is adjustable, and the scope supports adjustable parallax settings which help improve accuracy.
To mount it, you'll need an available Picatinny or Weaver rail on your rifle (the product is delivered with the necessary mounting gear). Overall, the CenterPoint scope is ideal for beginners as it packs all the right features and comes at an amazing price!
Wrap Up
It's important that the scopes mentioned above are amazing for their price, but they don't compare with the quality and accuracy of a high-end product. Still, some are sturdy enough to be used on a real steel weapon and all can be used on airsoft sniper rifles.
So, if you're looking for great optics for an air rifle or for an airsoft one, the products mentioned above are amazing!