5 Best Airsoft Shotguns: The 2020 Close Combat Guide
Looking for the best airsoft shotgun? You've come to the right place. We list and review some of 2020's best airsoft shotguns in our ultimate shotgun guide.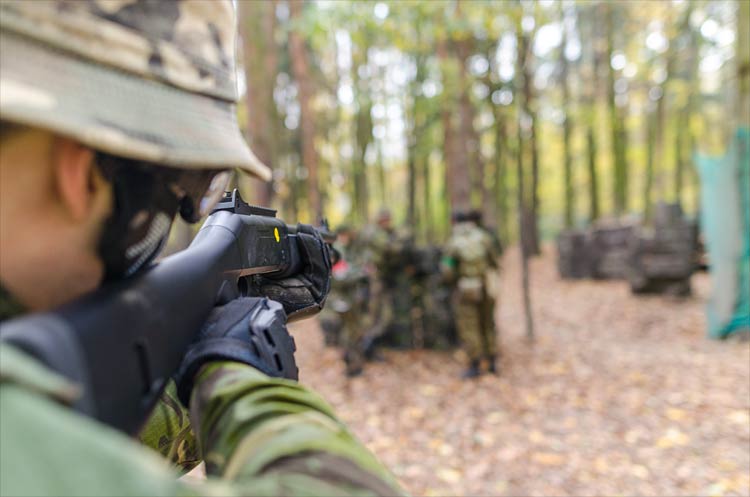 The versions below are fast, powerful, and would satisfy just about anybody regardless of whether you're looking for a gas powered or spring powered weapon.
Best Airsoft Shotguns Reviewed
If you're looking for a very quick overview, we've created a chart below with our 3 featured Airsoft shotguns:
| M56A Double Eagle | JAG Arms Scattergun | M4 AEG: 2 in 1 |
| --- | --- | --- |
| | | |
| Best Overall | More Expensive | 2 in 1 Shotgun |
| 290-310 FPS | 370 FPS | 320 FPS |
| Plastic & metal | Metal based | Plastic & metal |
| 3 separate barrels | 3 and 6 burst fire modes | Rifle & Shotgun Combo |
| Multi-shot spring shotgun | Green gas propellant | Spring pump action |
| Buy Now | Buy Now | Buy Now |
There are plenty of airsoft shotgun options on the market. You need to carefully consider the weight, material and power for your own game. Take a look at our top picks below.
The M56A Double Eagle is a multi-shot spring shotgun which is fed by a replica shell. It loads 3 BB's into 3 separate barrels with each action. The 3 barrel design is effective as it the most accurate way to simultaneously shoot multiple BB's.
With a shell capacity of 30 rounds and velocity of 290-310 feet per second (FPS) this is a sturdy shotgun which is also surprisingly lightweight. A great option for the modest price.
The JAG Arms Scattergun uses green gas propellant, which makes this pump-action shotgun feel like the real deal. The green gas storage tank holds 120+ rounds and you're able to switch between 6-shot firing and 3-shot firing modes.
The gun is metal based with a shot velocity of 300-330 FPS in burst fire mode and 370 FPS in single fire mode.
The Double Eagle M4 is a 2 in 1 M4 Airsoft Rifle with an adjustable underbarrel shotgun, making it a unique and fun combination.
The rifle aspect has both semi-auto and fully automatic firing modes, a magazine capacity of 280 BB's and space to add accessories such as optics. Firing velocity is 320 FPS.
The pump-action shotgun has a detachable magazine and adjustable hop up. Also firing at 320 FPS, this spring powered shotgun gives you plenty of options on the battlefield.
The CYMA P799A is a pump-action riot style shotgun, making it a cool addition to your airsoft weapon collection. BB's can be added directly into a reservoir in the shotgun receiver instead of individual shotgun shells.
When a BB is loaded into the shotgun, it can be fired at roughly 300 FPS. 50 BB's can be loaded at a time.
A functional laser pointer and scope are also included if you'd like the option to use them.
CYMA CM351 Review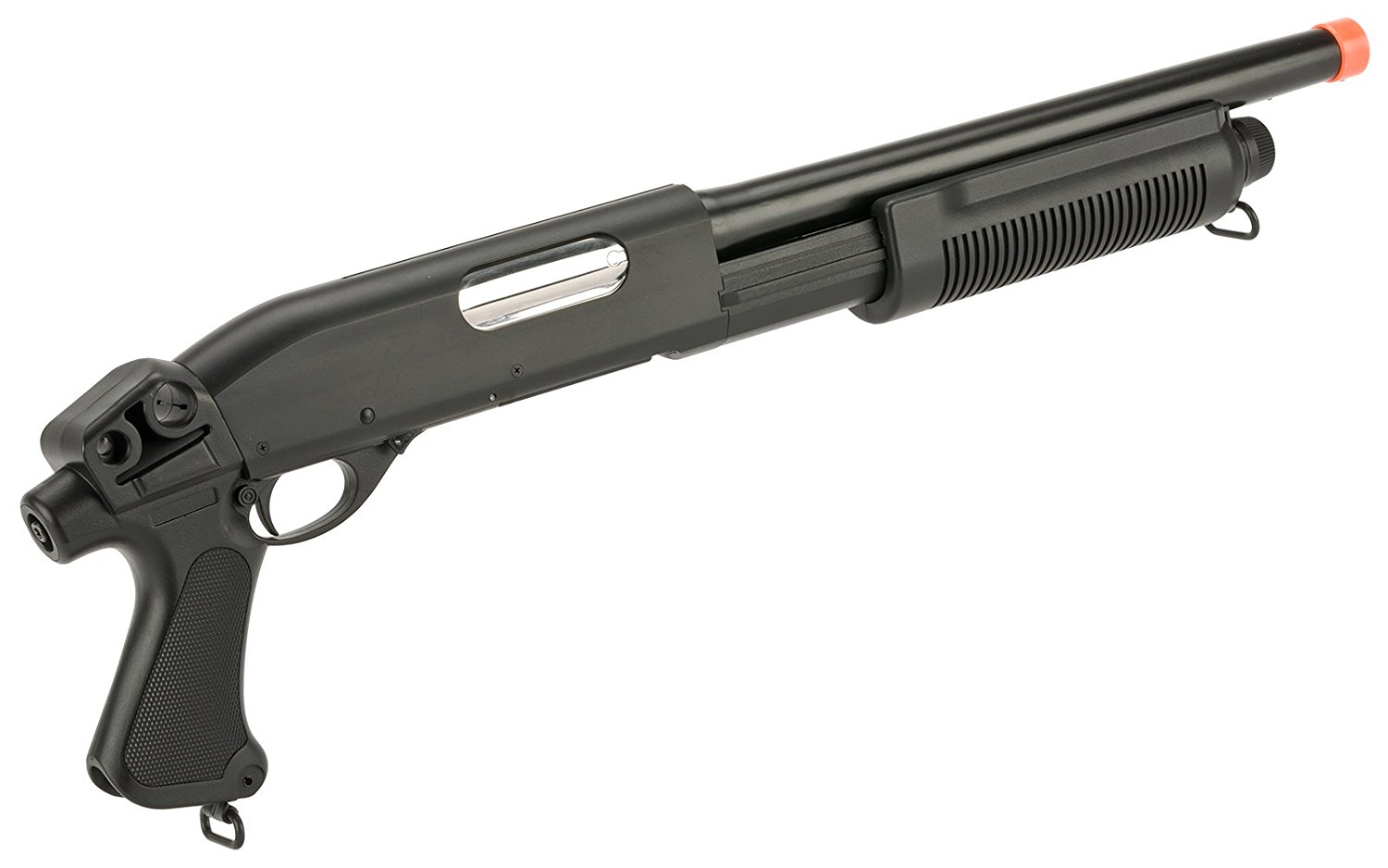 The CM351 is quite a scary shotgun (if you're not holding it) because it's easy to use, it fires at high speed, and it has three inner barrels (in translation, it can shoot BBs in bursts of three). It's also featuring a realistic look, and feels heavy in your hands – just like a real shotgun would feel.    
The body is designed with ABS plastic and metal parts (the outer barrel, trigger, safety, and sling mounts) to give it a realistic feel and make it more durable, and the spring pump action is just perfect for such an airsoft gun. You'll feel like a true member of the Special Forces each time you cock it (and the sound is amazing)!
The CM351 is the type of shotgun you'll love at first sight because the build quality is solid and the general design is simple but tough. Not to mention that it doesn't cost as much as expected for the quality it brings to the table (the internals are quite similar to a Tokyo Marui M3 shotgun)!
The shotgun comes equipped with 3 replica shotgun shells (30 BBs in each), which makes the loading simpler (you don't have to deal with a magazine). It's easy to keep the shells ready in your pocket and simply pop the empty ones out and replace. The loading is done using the shell location, guarded by a door that's easy to open; you simply pull a lever and the door will pop open releasing the empty shell. The shells are housed directly underneath the outer barrel, which simplifies the process.
I love the pistol grip, which makes holding the gun quite easy even after several hours of gameplay, but I also enjoyed the fact that you can wear it on a sling (the mounts are durable and you don't have to be too careful with them).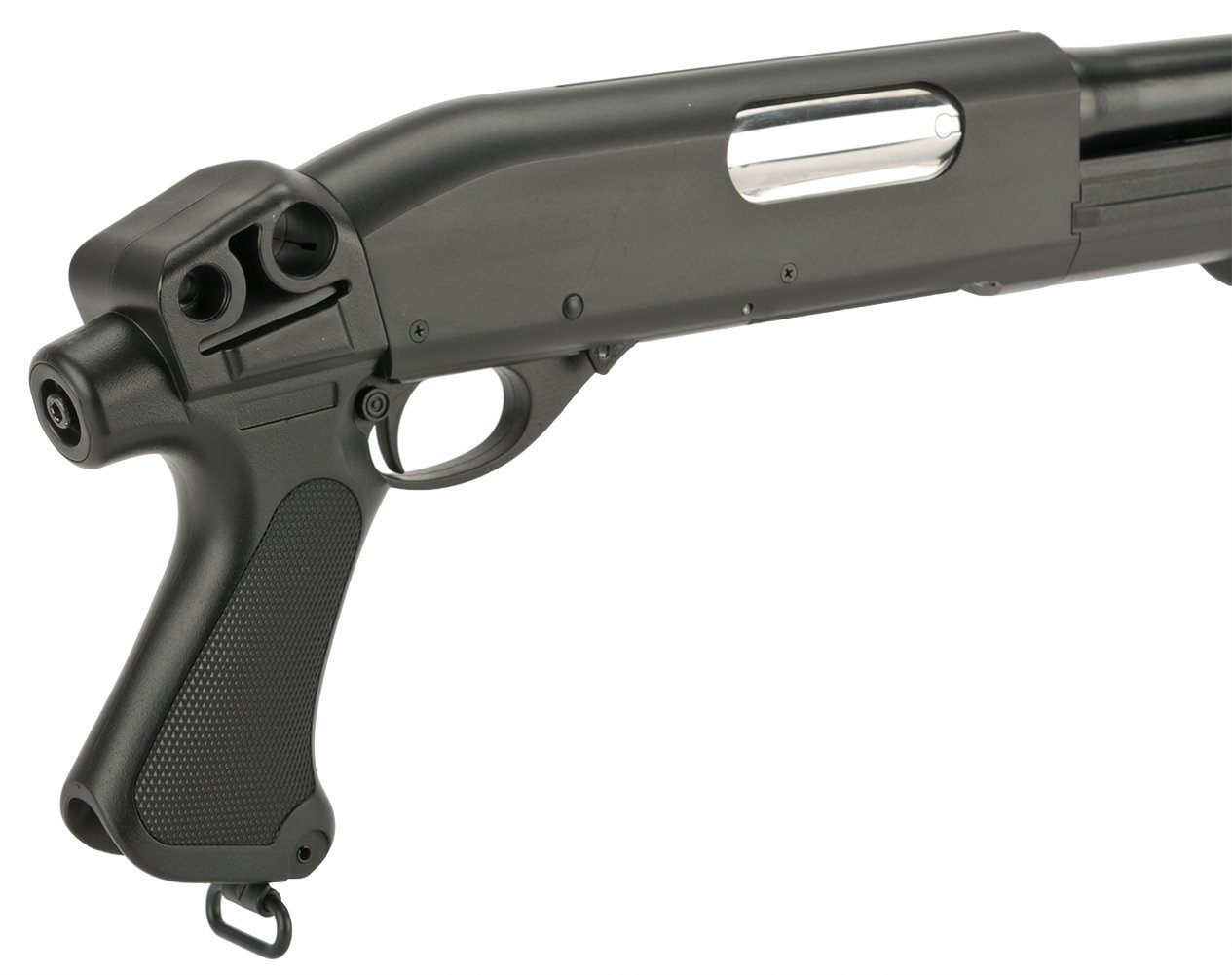 Another aspect that made me decide on this design as being the best overall, is the range. Considering the price and type of weapon, I managed to take accurate shots at about 30m, which is quite nice!
The only disadvantage is represented by the lack of sights, but I don't really think that shotguns need sights. Furthermore, this gun is capable of shooting three BBs at once, so you're bound to hit something anyway!
Overall, the CYMA CM351 is my first choice when it comes to choosing a shotgun that will work amazingly in a CQB situation.
CA870 Review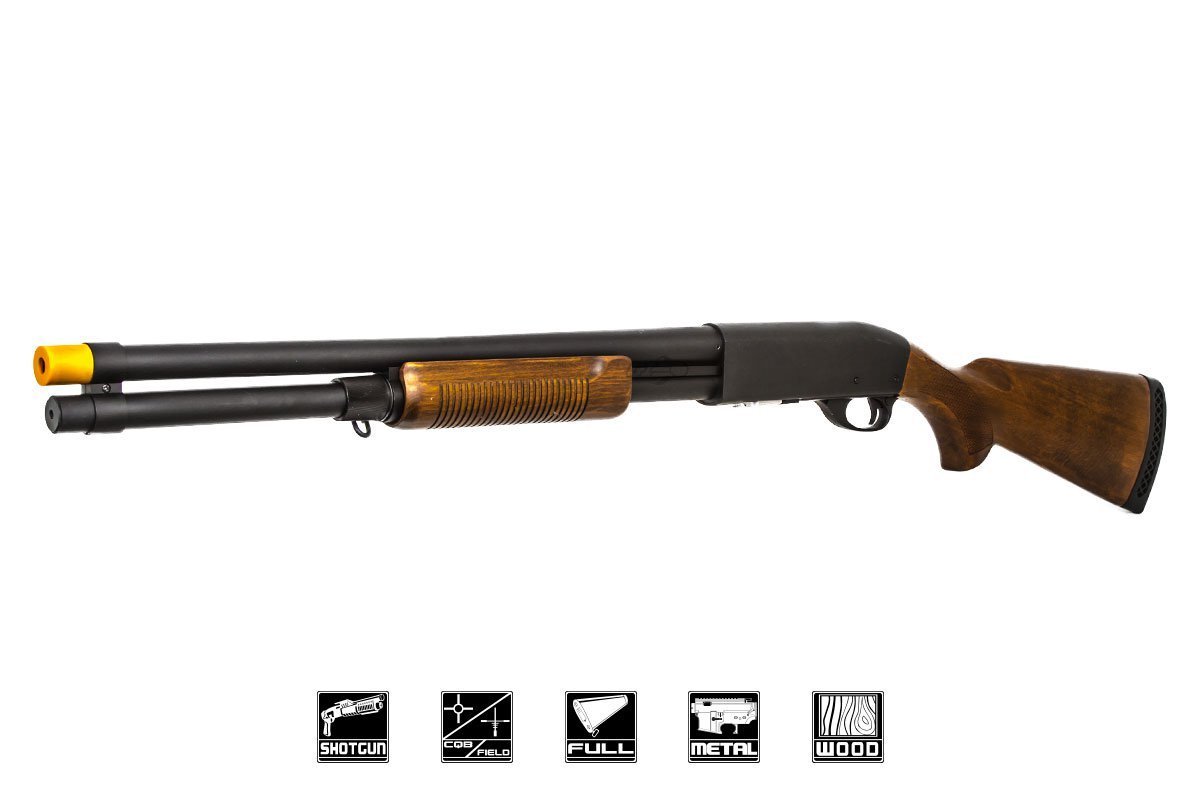 Honestly, I think the only reason I placed the Classic Army CA870 as the second best is the single shot action (still a spring pump gun). Otherwise the almost full metal body and wonderful design would have definitely placed it in the first place!
This shotgun looks and feel real and comes equipped with a 20-round magazine, which makes reloading something you won't do very often while in the field (provided you use your shots responsibly). The magazine itself is kind of small, but it can be speed-loaded, and it is well-placed to avoid dislodging it during pumping.
I love the fact that besides the metal parts (body, trigger, magazine and magazine tube, barrel, and trigger guard) everything else is polymer. This is why, when you hold it for the first time, you get the impression you're holding a real piece of weaponry.
Side note: There is also a version of the CA870 that is a bit bigger, and features real wood for the hand grip and stock (the parts that are polymer in the version I reviewed).
Furthermore, the solid build makes the operation of the gun smooth as butter. Nothing rattles and there are no creeks (specific to ABS plastic guns), proving this is a shotgun that will stick with you for years to come!
Another cool thing about the CA870 is the range – the high speed and accuracy make it a better fit for a sniper (it is equipped with adjustable hop up). Sadly, this also means that it won't be as effective in CQB situations and you may not be allowed to use on certain airsoft fields. However, the good news is that you can turn it up and down by simply replacing the spring.
Overall, the shotgun is really nice to use, but it is quite big and heavy, so you should be careful with it if you're a beginner. It does come equipped with a rubber butt pad that allows you to secure the shotgun on your shoulder when you're aiming, which is nice. But it can be difficult to maneuver during long rounds if you have no upper body strength.
At the end of the day, the CA870 from Cyma is a beautiful shotgun, with amazing features and a fantastic shooting experience. On the downside, the hop up is quite sensitive so it may be difficult to adjust it in the field, but you can easily fix this with a bit of glue.
Tokyo Marui M870 Review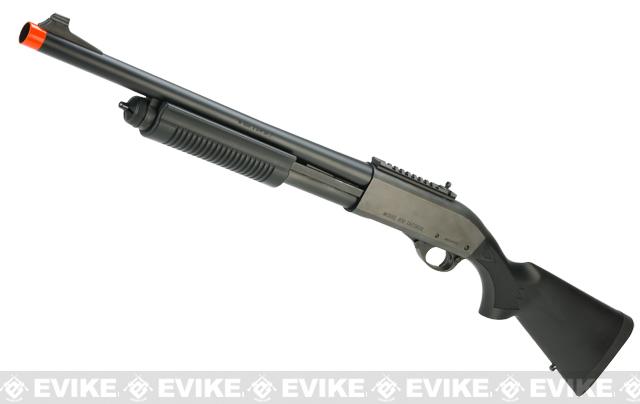 If your budget is a bit bigger and you'd like something more powerful and that features a solid build, the M870 from Tokyo Marui may be a fantastic choice.
The body is zinc (for the receiver), aluminum (for the barrel), and durable ABS plastic (for the stock and the grip) with a rubber butt plate finish. Overall, the build is solid, feels extremely nice in your hands, and has a nice, healthy weight.
I like that the adjustable hop up allows you to shoot at different ranges (between 8 and 25 meters) without losing accuracy. Also, this one has sights installed on the top rail and mounting places for a scope or other accessories. Furthermore, the shotgun has two different shot settings: tree and six; which means you can simply destroy your enemies if you have enough ammo. To switch between the two modes, you have to pull the guard down which releases the fire selector.
The M870 accepts a 30-round shell that fits snug in a shell chamber, situated right in front of the trigger guard. To access it, all you have to do is activate a leaver, and the shell door will pop open. However, to me (and many other players) the fact that the M870 only takes one shell per charge it seems a bit of a downside. After all, if you are in the 6 shots setting, you only get to take 5 shots before you need to reload!  
This shotgun is gas-operated, so you'll have to make sure you have enough fuel before going into battle. The gas tank is housed in the buttstock and it's easy to reach it by removing the rubberized plate. To load it, you'll need a pressurized gas can and, once loaded, one charge can fire up to 100 shots.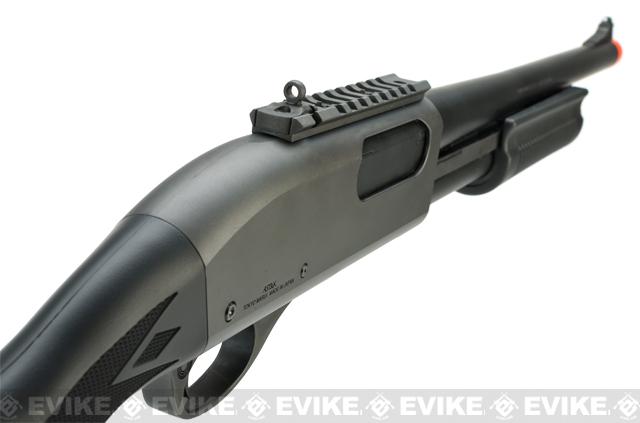 I honestly love this gun because it is powerful, fast, and sounds amazing! Still, the other two I mentioned before the Tokyo Marui will give you the same satisfaction in the field if your budget can't stretch that much.
Low-cost Options
A shotgun is amazing in a CQB situation, but not everyone can afford the luxury of buying the top-of-the-line products. This is why I thought it best to add a couple of low-cost options for those on a small budget and beginners. After all, if you're just buying the gun to fulfill a fantasy, a cheap one will do just fine.
BBTac BT-M47 Review

This is a single shot, pump action shotgun with a sawed-off barrel that shoots at about 300+FPS. However, if you pump really fast, you may get the chance to shoot multiple BBs at once.
The gun is lightweight but the build is solid and it doesn't use shells. The magazine can hold up 20 BBs at once, and the action is really smooth for the price. Of course, the body is ABS but the barrel is aluminum for accurate shots and increased durability.
When it comes to accuracy and range, the BT-M47 behaves nicely but it is faster with 0.12g BBs. You should also know that it may jam if you use heavier BBs, but this is to be expected.
UTG Remington 870 Review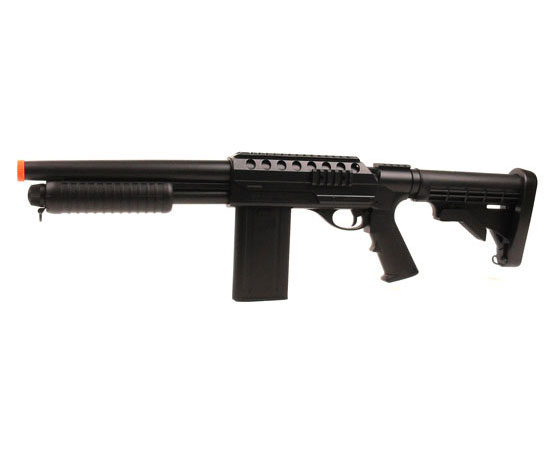 If you're looking for something a bit classier, UTG made a fantastic replica of the famous Remington 870 which was used by law enforcement agencies. It is a spring pump action (meaning it must be cocked after each shot) and only shoots one BB at a time, but the feeling is fantastic!
This shotgun works great in any CQB situation due to the 6-position stock and the rubberized butt pad that allows you to use your shoulder for a better position. The magazine is capable of holding 20 rounds of BBs, but you may find the model that is delivered with a hi-cap as well (about 100+ rounds). If not, I honestly recommend you buy it separately – it will save you a lot of trouble in the field!
The adjustable hop up allows you to shoot accurately at about 110 – 130 feet. The shotgun is powerful (330 FPS with .20g BBs) and the pistol grip works great with the hand guard system for ease of use.
Not to mention, the 870 is equipped with compact spring powered loading tool for quick reloading in the field. If you feel the shotgun is not enough, the rail system (4 rails in total) allows you to add a series of accessories from laser dot to flashlight and scope.
The only not-so-cool aspect I need to mention is that the magazine will release a few BBs when you take it out (if it's not completely empty already).
Conclusion
I hope I managed to offer a wide range of options, for both beginner and advanced players, but in most cases, the shotgun is more of a fantasy weapon. After all, who doesn't want to do the legendary move where you cock your gun while you hold it vertically, with just one hand?
All I want to say, in the end, is to first make sure why you want a shotgun, and only then decide how much you want to invest in it.
Photo credit for lead image: Photo by Lukas from Pexels