7 Most Realistic Airsoft Guns
Realistic airsoft guns are one of the main reasons why so many people get interested in the game. I mean, unlike watching a movie or playing a game, you get to hold a replica gun while partaking in the action with other real-life players. Plus, despite the realism of it all, you know that everyone will be safe and have fun (except for the occasional bruise).
Most realistic airsoft guns are replicas of real-steel weapons, but not all will feel and behave like one. In all fairness, no airsoft replica has the power to provide a full-on shooting experience. However, there are several designs out there that go above and beyond to create replicas that look and function as close to their real steel counterparts as possible.
And today, I'm going to show you a few of these designs and teach you how to find a replica that's a little bit closer to a real weapon.
Why You Should Trust Me
I have over a decade of experience with airsoft as a game and a community. I have my own team of trustworthy companions, but I also like to change things up and accept invites and challenges from other teams. This way, I got to meet and connect with lots of players from all around the world, which allowed me to learn from different game styles and discover new and cool-looking airsoft weapons. Plus, I like to participate in events, which are a whole different experience than your regular gameplay.
All these have given me a well-rounded perspective on different strategies, techniques, and gear. But my involvement in airsoft goes beyond just playing. I have also spent a significant amount of time engaging with the online airsoft community, participating in forums and discussions, and keeping up with the latest developments and trends in the game. This has allowed me to stay up-to-date with the newest gear and technology, as well as to connect with other airsoft enthusiasts.
How I Selected and Tested the Airsoft Guns
The main criterion I used for selecting the airsoft guns for today's list was realism.
However, this is an umbrella term that encompasses several features, such as:
Power – yes, a high FPS means your replica will feel a bit more like a real steel weapon
Design – the license, the build, and the overall aspect of the replica must be as close as possible to the real design
Feel – a real steel weapon is heavy and feels solid in your hand
Recoil – real steel weapons have some serious blowback action
Loading system – most airsoft replicas are a lot easier to load than real steel designs
The replicas that encompass most of these features are Gas blowback airsoft guns (GBBs). However, if you're looking for airsoft guns that will feel close to real ones, I recommend looking for a GBB rifle or pistol with shell-ejecting rounds. These are a bit more finicky than a regular AEG or GBB, but they bring more realism to the situation. 
To use a replica with shell-ejecting rounds, you'll first have to load the BBs into the cartridge, which will be loaded into the magazine, which will then be inserted into the gun. This way, whenever you press the trigger, the shells will also be ejected, creating a more realistic shooting experience. 
Y
ou can also use a shotgun with shells to get a similar outcome. In this case, the BBs go into the shell, which is loaded directly into the shotgun. The shotgun needs to be racked, so when you pull the trigger, the BB is propelled out of the barrel. But the spent shell will be ejected with the next rack. 
If you're interested in shotguns, I have a great article on the
best airsoft shotguns
, so make sure to go check it out!
However, both airsoft shotguns and airsoft guns with shell-ejecting rounds are not very efficient on the field. The low-capacity magazines and the fact that you have to pick up the cartridges make it difficult to play at ease. So, in my opinion, really realistic airsoft guns (and yes, shotguns, too) are mostly for show. 
Most Realistic GBB Pistols
If you want to get as close as possible to the real shooting experience, here are a few highly realistic airsoft guns to try on:
GBB pistols are among the most realistic airsoft guns out there because you actually get to feel the recoil, and the sound is quite loud. Now, the Hi-Cappa 5.1 from Tokyo Marui is one of the most reliable and easy-to-upgrade pistols on the market. It has a high round count and you can find it in both full-auto and semi-versions. As a result, most competitive shooters have at least one version of the pistol, with or without upgrades. 
Moreover, it's easy to find affordable parts, so you can make it your own without investing too much in customizations. For instance, this version can be made fully metallic, which gives it a nice heft in your hand. However, you can also use it out-of-the-box and the experience will be quite realistic as well. 
Overall, even if it doesn't spit out shells, this airsoft pistol is one of the best in terms of recoil, gas efficiency, and accuracy. 
Pros
Lots of aftermarket parts

Large gas reservoir

Efficiency doesn't drop with temperature changes

Works with both HFC134a and Green Gas

Easy-to-use & accurate hop-up system
Cons
The pistol grip is quite large (not for small hands)

It doesn't come in a full metal build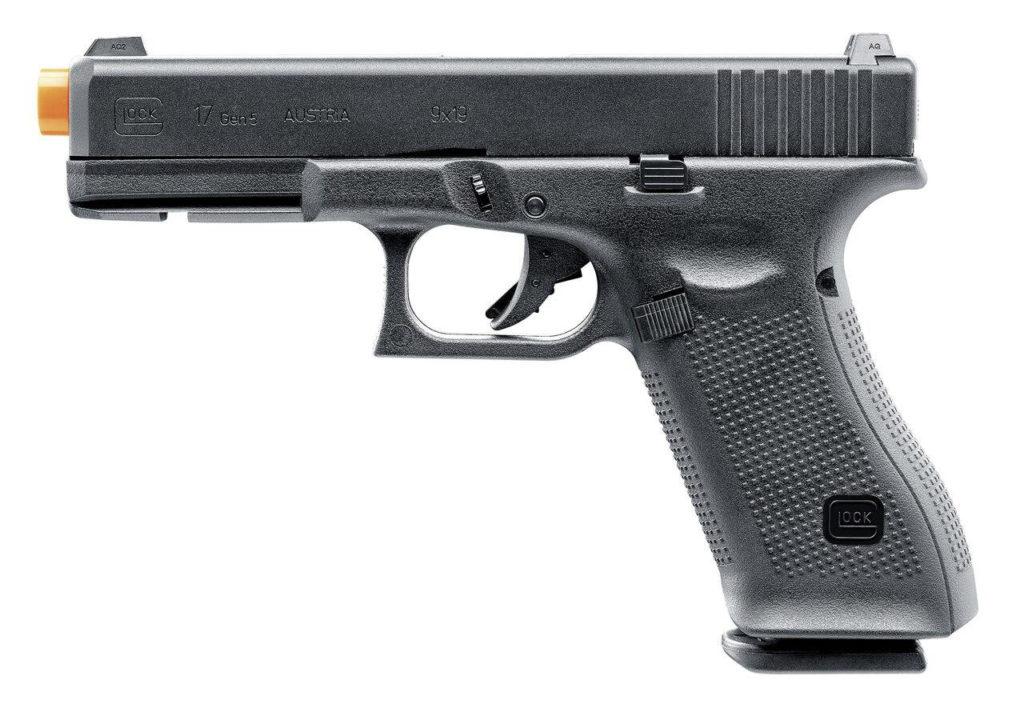 Glock GBB pistols are reliable and solidly built, so players get the full experience out of them. Moreover, the Glock 17 Gen 5 comes with a few extra features that make it perform better than earlier versions (Gen 4 and Gen 3). 
For instance, both right-handed and left-handed users can now play with this pistol due to ambidextrous controls. Also, the blowback unit is improved, so you get to feel a bit of a kick with every squeeze of the trigger (to get that realistic feeling). Additionally, the Gen 5 is more gas efficient, which is good news for avid players who still want the real experience but don't want to bother with reloading every few shots. Lastly, the Gen 5 comes with a flared Magwell on the pistol grip to make reloads easier. 
Pros
Fully licensed by Glock

Integrated flared magwell on the pistol grip

Ambidextrous controls

Metallic slide for extra effect

Improved internals for smoother trigger control

Improved hop-up design
Cons
No aftermarket pieces (due to the redesigned blowback housing)

The larger catch/ release on the magazine (for some players)
When it comes to airsoft, the revolver is one of the most realistic guns on the market. Revolvers are even better than shell-ejecting models because they respect real-steel models' action without adding extra features to bring the experience closer to reality. 
Moreover, whenever you hold a revolver like the Dan Wesson 715, your inner cowboy starts to wake up, and you feel ready for a duel. After all, there's nothing more real than reloading a single-action wheel gun and thinking about your favourite Western movies!
This revolver, in particular, is massive and rugged. It has a 6-inch barrel, you can attach a scope to it, and it has a solid recoil action. Additionally, the double-action trigger is light, which makes it perfect for quick shooting. 
This Dan Wesson design is equipped with an interchangeable barrel system to make it more accurate and a forward crane latch keeps the cylinder and barrel in proper alignment during firing (fewer jams). Lastly, the cylinder rotates clockwise, reducing the stress put on the crane and making the entire design more durable. 
So, next time when you want a realistic airsoft gun, try a Dan Wesson revolver – it feels amazing in the hand and the long barrel and silver housing make it quite an intimidating pistol!
Pros
It has the Dan Wesson license

Full metal build 

It comes with a speed loader

High power recoil

Realistic metal shell loading
Cons
Only works with CO2 

You can only remove the gas capsule after it's been emptied

It only holds six shells per reload
There's nothing more thrilling than buying an airsoft gun designed after a gun used in an action movie! In this case, we have the Taran Tactical Innovation (TTI) 2011 Combat Master, which was built following the specifications of the pistol used in the John Wick franchise (mostly featured in the third movie). 
The pistol is licensed (of course) and looks a bit like a Tokyo Marui Hi-Capa due to the rugged pistol grip and metallic slider. I also love the gold outer barrel and the skeleton trigger. Plus, the gas reservoir is large and it has a flared mag, which makes reloading a breeze. This feature allows you to quickly grip and remove spent magazines.
Overall, the pistol feels heavy in your hands (due to the metallic build) and has a solid recoil action; plus, it's quite noisy. In short, if you want an impressive pistol with well-designed internals and a solid build, this one should be on your list!
Pros
It makes you feel like John Wick

The visuals are incredible

Metallic slide

Large gas reservoir

Flared mag
Cons
Not the same spec as Tokyo Marui Hi-Capa

Depending on the climate, the slide cycle can get sluggish

Inaccurate grip texture, barrel colour, and slide length
The FNS-9 is a great 1:1 scale green gas replica sidearm with a strong blowback action that fits most hand sizes (it comes with adjustable backstraps).
The pistol has a two-stage safety trigger and a drop-free green gas magazine, which holds around 22 BBs. This way, when you're out of BBs, you can just release the magazine and load a new one in one smooth move. I like that it can shoot at about 300 FPS (20g BBs) and that it has an adjustable hop-up unit.
Lastly, the 20mm accessory rail is great for attaching lights and lasers, which is a great way to make your sidearm look even cooler.
Pros
Solid blowback action

Two-stage safety trigger

Works with green gas

Large gas reservoir

Fits all hand sizes

Licensed
Cons
The trigger travel is a bit long
Shell-Ejecting Rifles
Now, you may wonder why, in an article about the most realistic airsoft guns, I left the ones that offer the real-deal experience for the end of the list. Well, the answer is simple – shell-ejecting rifles are a niche product, and only airsofters who want the truly realistic experience actually buy them. The main problem with these types of rifles is the fallen shells (which you have to pick up) and the low-capacity mag. 
Additionally, this type of rifle is used for military training and simulation to get participants used to the real gun without the risk of injury. 
Therefore, most players will have a bit of fun with this type of rifle and then move on to more efficient models built for actual simulated battles. 
#6: XR25-EC Shell Ejecting GBB
This full-steel CO2 rifle has a solid blowback action and comes with two 15-round magazines and 30 shells. It has quad rails (for accessories) and a monolithic upper rail with flippable front and rear sights. It also has an adjustable hop-up unit placed in front of the receiver. However, the positioning is not that fortunate since the hop-up will be difficult to reach if you install a scope that sits low on the rail.    
Overall, the rifle delivers according to its promise – it has a solid recoil and it ejects a shell with each shot. It only shoots in semi-auto mode and it even jams from time to time (which is perfectly fine since real steel weapons also jam). Lastly, the rifle is gas efficient (it works with CO2) – one gas container should last for about 40 shots (about two magazines) before you run out. 
Pros
It's a sell-ejecting rifle

The blowback action is powerful

The gas container is large

It has a hop-up unit

Lots of room for accessories
Cons
It jams at times

You have to gather the spent shells
#7: APS APM50
I have to say that I love the idea of a shell-ejecting sniper rifle! In this case, your movements on the field are not hindered by the falling shells, and the entire experience of loading the shell by hand is mesmerizing. Once you take the shot, all you have to do is pull back the bolt and allow the spent shell to jump out. Next, you load another shell and repeat the steps above. 
This single-shot rifle truly makes you feel like a badass sniper, like the ones you admire in movies and video games! 
The APS APM50 works with two 12g CO2 cartridges, has a 6mm caliber, and can shoot up to 500 FPS. Moreover, the rifle maintains its rate of fire all throughout the gas container's life (it doesn't drop as the gas goes low). This is due to the small gap between the chamber and the cartridge, which helps prevent power loss. 
Overall, the rifle does feel like a real steel design due to the metallic barrel and bolt assembly. Additionally, it comes with a built-in scope rail and a Harris-style bipod mountain point. The bolt can be detached easily due to the quick-release chamber system and you can use the buttstock for storage. 
Pros
High power (500 FPS)

Easy to use

Shell-ejecting action

Gas efficient

Metallic barrel & bolt assembly

Quick release chamber
Cons
It can be rather heavy

Mag capacity is low (6 rounds)
Wrap Up
In the end, I have to agree that shell-ejecting airsoft guns can be a lot of fun. However, they are not as efficient as AEGs or standard GBBs, which is why you don't see them a lot in a real airsoft battle. So, if you're looking for a realistic airsoft weapon that's also great on the field, I recommend you have a look at my best gas-powered airsoft guns guide.