G&G Armament: The Airsoft Brand with Lots to Offer
A brand that caters to both beginners and veterans, G&G (Guay & Guay) is a company from Taiwan that creates beautiful airsoft guns. As one of the features users love, I'd like to mention that most of their products are of high-quality and can be used right out of the box. Their guns are great for new players who want a taste of the action without blowing their budget on a high-end airsoft gun.

On the downside, some people point out that their internals are not as reliable as they used to be. Still, when you compare the performance and the price, G&G Armament remains a great brand for anyone with a lower budget.
Short History of G&G's Airsoft Guns
The story of G&G starts in 1986, in Taipei, Taiwan. Unlike many popular airsoft brands, the company started as a dealer of airsoft guns, military equipment, and action figures addressed to airsoft enthusiasts.
They continued to deal other producer's airsoft weapons up until 2001 when they launched their own brand, G&G Armament. The launch was a success and G&G guns became popular all over the world rather fast.
To get more control over the production process, in 2007, G&G managed to launch their own pneumatic blowback system. As a result, the demand for their product grew so much that, in 2008, they opened a second factory.
In 2013, G&G became the first airsoft manufacturer to pass the ISO 9001 requirements, which proves their products are designed following a specific quality management and production system.
Fast forward to 2017, G&G launched their first proprietary gas blowback GPM92 pistol. Furthermore, the second G&G World Cup Extreme Shooting Competition was held in Taipei, with 60 participants from 25 countries!
Features that Made Them Famous
G&G is a brand set to innovate and discover new ways of making better airsoft guns. But the feature that made them famous is their gun's reliability in the field and the fact that you don't need to invest extra once you buy an airsoft gun from them.
Key Features
Reliable AEGs for players on a budget
Affordable airsoft weapons
Great externals
One of the most reliable blowback systems for budget weapons
Specialties
G&G works mostly with AEG rifles and they have two main lines of airsoft weapons: Combat Machines and Top Tech. The first line is for players on a budget while the latter can measure up with the big names in terms of internals' quality.
Pricing Point
Depending on the type of G&G airsoft gun you want to purchase, the price can vary from $130+ and up to $500. Still, most designs are somewhere in between $250 and $400.
Trending G&G Products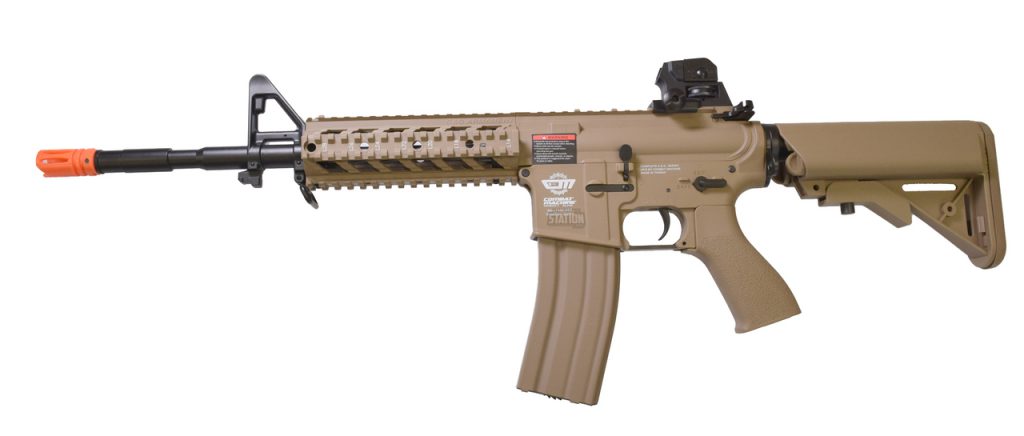 Designed for CQB situations, this M4 AEG is a fantastic weapon for anyone on a budget. Due to its ABS body, the rifle is lightweight, but I also like the Weaver and Picatinny rails that allow you to add accessories.
The stock is adjustable (6 positions), and the high-cap magazine can hold up to 450 BBs in one round. Combine that with a rifle that shoots at 330 FPS and 700 – 800 RPM, and you got yourself a fantastic skirmish airsoft weapon!
The G&G CM16 features both semi and fully automatic modes, and the high torque motor is supported by a stick style battery. Finally, the rifle is equipped with a metal gearbox (for increased durability and performance) and adjustable hop-up.

As part of the Combat Machines Series, the CM18 MOD1 may be seen as a beginner's rifle. Still, the front and rear adjustable and removable flip sights, adjustable stock (6 positions), and an adjustable hop-up make the AEG perfect for anyone looking to get out of a tough CQB situation.
The ABS body makes the rifle durable and lightweight, and the extended rail system allows for plenty of accessories. Also, the rifle uses stick batteries (the standard is 8.4v, but if you want more power, I recommend the 9.6v) to power up a Hi-torque Long Axis Motor that runs at 16000 RPM. The battery is housed in the crane stock.
The CM18 MOD1 shoots at 350 FPS and packs a fully metallic V2 gearbox with 8mm bearings. The rifle shoots on both semi and full auto modes and the 120 rounds magazine comes in handy on the field.
GC16 PREDATOR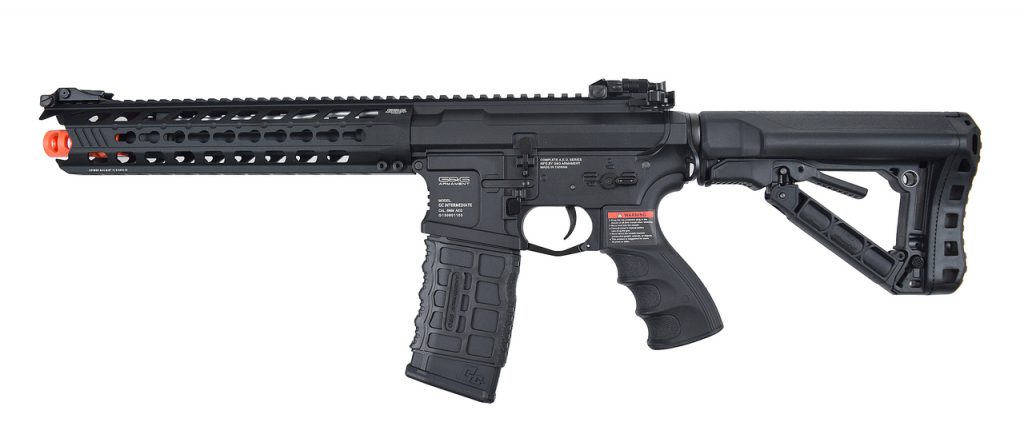 The first thing players notice when they see the GC16 Predator is the Keymod modular rail system that's also being used as a handguard. This system allows you to mount any type of accessories and set them with perfect precision to your needs.
This rifle is equipped with aluminum upper and lower receivers, to reinforce the frame and offer a model that's solid under any circumstances. Furthermore, the crane stock is collapsible and can be set in several different positions (it's also the storage place of a 7.4v-11.1v Lithium Polymer stick battery).
Predator is also one of the designs where G&G used high-end electronics such as an in-line MOSFET that boosts the engine's performance. This means the Predator reacts faster to the trigger being pulled and that you'll shoot more BBs in between two charges.
Overall, the CM16 Predator is a beautifully-crafted AEG with impressive features and high-end internals.
PDW15 CQB M4

This M4 version from G&G is a full-metal design, with long-lasting internals and a gorgeous external aspect. Not to mention, the 25K high torque motor, powered by 7.4/11.1v LiPo stick style batteries that fit in the retractable stock, allows the shooter to reach 300- 350 FPS with 0.20g BBs!
The rifle also features an upgradeable Version 2 gearbox with 8mm bushings and full metal tooth piston, so you don't have to worry about durability.
The rail system is perfect for adding accessories such as optics, flashlights, or red dots, but removable metal flip front and rear sights may be enough for your needs. Furthermore, with a 300 round hi-cap magazine, you may not need that much accuracy anyways!
Finally, I like the mock suppressor and the fact that it features ambidextrous fire selector and mag release.
GR14 HBA SHORT M14 EBR

The GR14 HBA short M14 EBR is part of the Top Tech Series, so you can imagine G&G poured their knowledge into making both the internals and the externals. The design is stunning, with an aluminum body, metal gearbox, and metal gears that speak about durability and performance.
Now, due to all the metallic parts, the rifle is a bit heavy but feels amazing in your hands (almost like a real steal weapon). It's also powerful (400 FPS) and packs a 470 rounds M14 style magazine. Since it's an AEG, you'll need stick style batteries to power up the 16000rpm Hi-torque Short Axis motor.
Finally, the rifle is compact, with a retractable stock and plenty of rails to add as many accessories as you want. In the end, while this is one of the most expensive products on G&G's list, it's also a masterpiece in terms of accuracy and overall performance.