Lancer Tactical: The Airsoft Brand that Reinvented Itself
Lancer Tactical used to be considered one of the less gracious members of the airsoft family. However, with the release of their Gen 2 series, things started to change. Their airsoft guns became the very definition of sturdiness and durability, which is why so many players love them.
Best Gen-2 Rifle

Best Warlord Rifle

Best Tactical Gear

INTERCEPTOR SRP GEN 2
WARLORD 10.5″ TYPE B CARBINE
LT SAFETY GOGGLES

x

x

x

x

x

x

x

x

x

x

x

x

x

x

x
Nowadays, a Lancer Tactical airsoft gun is still considered a budget option, but in the higher-end section. Basically, if you're not ready to purchase a true performance model, from brands such as a Tokyo Marui or ICS, Lancer Tactical is one of the best options.
Another aspect that makes them quite desirable, is their location. Lancer Tactical is based out of California, which means it's easier to get in touch with them.
Short History of Lancer Tactical's Airsoft Guns
The company is rather young (it started in 2012) compared to other established brands, but they are catching up. They produce several lines of AEGs, but the most famous (and most recent) are the ProLine Gen 2 and the Warlord series.
Sadly, the Lancer Tactical history has some bad moments, but with new leadership, the company is slowly changing. I honestly admire them for taking all the negative reviews and working through them to improve their products. This shows a lot of character.
Features that Made Them Famous
Key Features
Sturdy build
Durable body
Good quality internals
Several high-quality AEG series
High-end tactical and protective gear
Specialties
Lancer Tactical produces a wide range of airsoft weapons such as a full line of AEG rifles (M4s, AKs, heavy machine guns, and even bolt action springs) and several pistol models. Besides this, they also offer a complete selection of protective and tactical gear.
Still, their specialty is AEG rifles.
Pricing Point
They are in a similar price lane as G&G, with prices starting at $100+ and going as high a $300+. Still, most of their products are affordable, given that their main target customers are beginner players.
Trending Lancer Tactical Products
Given they are mostly known for their AEG line of products, I will first discuss some of their most wanted rifles. But they're also known for their tactical and protective gear, so I'll also mention some of their best products in this line.

The AK-47 is a classic model and shouldn't be missing from any airsofter's collection! The model offered by Lancer Tactical features a fully metallic body, which makes the gun a bit heavier but also more durable. Furthermore, the extra weight brings the experience closer to the idea of using a real-steel AK-47!
Moreover, this design is paired with a foldable ABS stock (from CYMA) so it is compact and easy to use in most CQB cases. The price is perfect for anyone on a budget, but if you're not satisfied with the quality of the internals, you can always switch with Tokyo Marui pieces.
Besides the stock, the grip is also ABS plastic to help you grab hold of it with more ease. There is also a front grip mounted on the lower RIS rail (there's an upper one as well), which comes in handy during those 'shoot and pray' moments.
Evidently, the rifle supports three fire modes (semi-auto, Auto, and Safe) and comes with a hi-cap magazine (600 rounds). While it may sound like a lot of BBs, if you practice the aforementioned shooting technique, you'll only last about one minute (rate of fire is 660 rounds per minute).

As part of the Gen-2 series, the MK18 is a great entry-level AEG! This is actually an upgrade, where both the internals and externals were improved. First, the gearbox received a quick-change spring system which makes changing the FPS of the rifle a lot easier (you no longer need to disassemble the gearbox). The standard FPS is 370 to 390 with 0.20g BBs.
Furthermore, Lancer Tactical worked on the rifle's accuracy by including a 6.01mm precision bore barrel and an adjustable rotary-style hop-up. Finally, the battery was boosted from an 8.4v to a 9.6v NiMH to increase the rate of fire.
The body is durable ABS, to maintain the rifle's lightweight design. Also, the Picatinny/Weaver Quad Rail system, the grip, stock, and handguard are ABS. Now, the rifle is highly accurate, so if you don't want to use any optics, the fixed front flip-up rear sights will come in handy.
As a result, the Gen-2 version of this rifle is a durable, rock-solid weapon you can use in any CQB situation!

As one of the most recent additions to the M4 line from Lancer Tactical, this carbine features a 10.5-inches rail. The design is aggressive and modern, and it will intimidate most players on the field, so you should consider getting one.
No, it's not a full metal design, but they used durable nylon fiber. This means the rifle is lightweight and you shouldn't worry too much about scratches. The good news is it offers a lot of space for accessories; the even better news is that you don't need to add optics if you don't want to. The removable flip-up front and rear sights do a great job and the adjustable hop-up is great for improving that backspin.
The feature I love the most is the electric blowback system – it may not be much, but it gives the old AEG a bit of a kick. Next, the M4 crane stock can be adjusted to six different positions, which makes this carbine extremely useful in tight spaces. As you probably guessed, the stock houses the battery, so it's easy to change it. Finally, the pistol grip is a bit wider than the standard M4 grip, which makes it easier to hold.
On the inside, the rifle features a high precision reinforced V2 with 8mm bearings. Put in plainly, the insides are just as durable as the outsides.

One of Lancer Tactical's newest designs, the Interceptor SRP is a high-quality M4 AEG rifle. The design is aggressive and the finish on its ABS body makes you think this is a full-metal design. However, the polymer body is more durable and resistant to scratches. Also, the rifle remains lightweight with a compact design (due to the adjustable stock) for the perfect skirmish.
The full-length M-LOK rail unit with Picatinny rails allows plenty of space for accessories and the flip-up rear and front sights can be easily removed. The rifle is powerful (350 FPS), accurate (there is an adjustable hop-up) and works with 8.4v nun-chuck batteries. Finally, the magazine supports 300rounds, which comes in handy when in full-auto fire mode.
On the inside, the rifle features a Version 2 gearbox with 8mm ball bearing rings (for longer life) and a 6.03mm tight bore barrel. Overall, the unit can be easily upgraded and offers a lot of room for customization!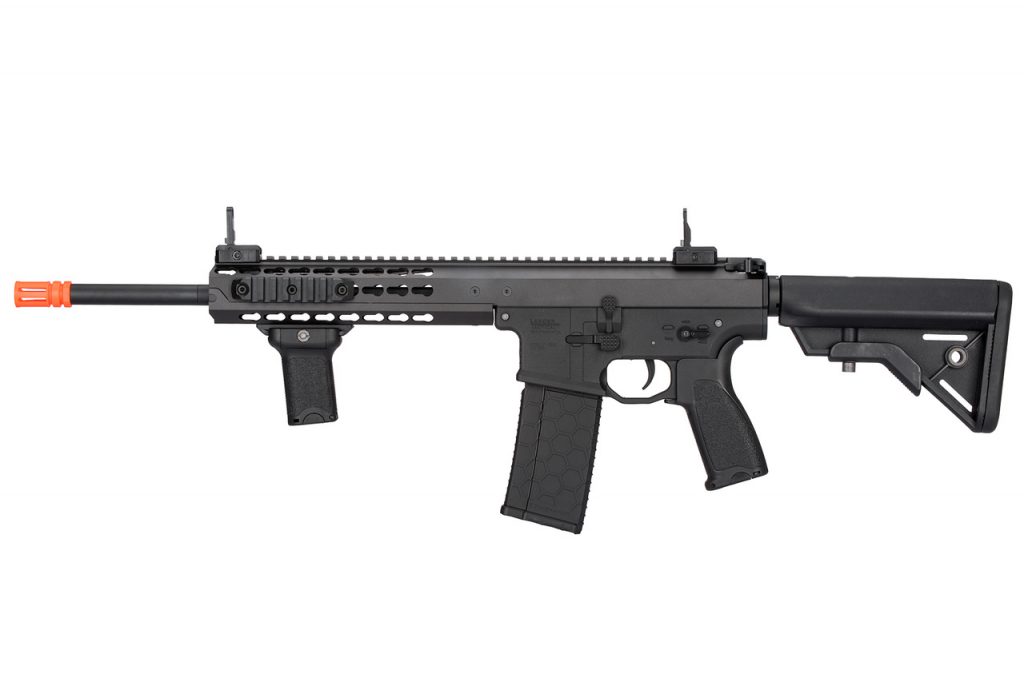 The Warlord series is one of the most advanced ever released by Lancer Tactical, so it's natural to have high expectations from it. First, the body is a combination of ABS and metallic parts (the receivers) and, due to the fully monolithic rail with keymod slots, it's easy to customize it as needed.
The controls, magazine catch, and bolt release are ambidextrous, so you don't have to worry about this.  Furthermore, the grip is specially designed to reduce fatigue during long sessions. Also, the adjustable front and rear iron sights are great for increasing the accuracy.
On the inside, this Warlord rifle is equipped with a metallic 2nd generation Version 2 gearbox which can be upgraded if you want more form your AEG rifle. The motor features 8mm ball bearings, for increased life and efficiency, and there is an adjustable hop-up for increased accuracy.
Finally, the rifle is powerful (390 FPS with 0.20g BBs), comes with an integrated Quick Spring Change system and features low resistance wiring for a smoother electrical flow.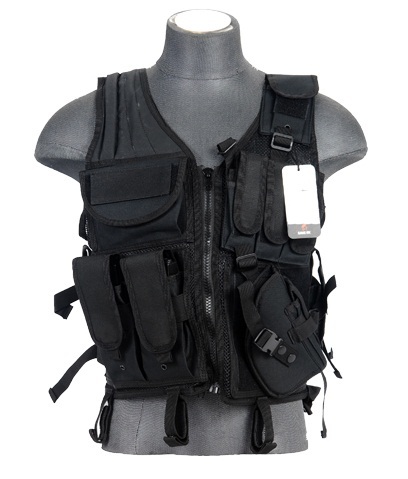 As promised, I'll go over some of their most popular gear products, and this tactical vest is one of them. The combination of a great price and useful features makes it quite trendy. First, it has plenty of pouches for extra AK, AR, or pistol magazines. Second, it has a cross draw holster built on the left side and there is some MOLLE webbing to add more pouches should you want.
Overall, the vest is durable (600D polyester) and comes with a tactical belt.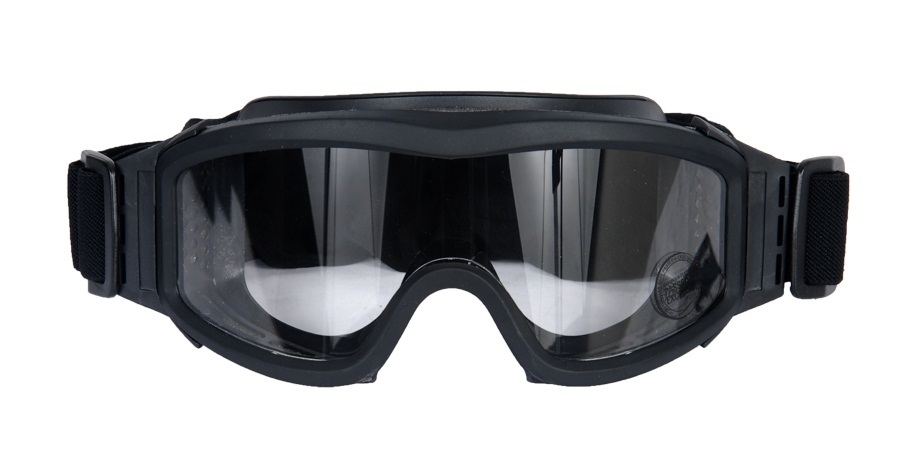 You should never step on an airsoft field without safety goggles! I would recommend them even for plinking because you never know when a BB can bounce back and hit you in the eye.
The ones offered by Lancer Tactical are comfortable to wear and can fit any head size due to the elastic strap. They're also lined with polyurethane foam, so you can wear them for several hours without feeling uncomfortable.

If you don't want to use a tactical vest, maybe a plate carrier will be more up your alley. This product is lightweight and doesn't have any straps (besides the adjustable ones needed for the fit) that could inconvenience you on the field. Furthermore, it has some MOLLE webbing, if you need to add more storage room to your gear.
The vest is durable (600D nylon Cordura) and features a breathable mesh so you can wear it even when it's hot outside. Not to mention, it has Velcro webbing on the front and rear for accessories and Velcro hydration carrier tube retention straps.