ASG Airsoft: Brand Overview
ActionSportsGames, also known as ASG is a global leader in replica firearms and accessories manufacturing. These include Airsoft guns, Airguns, CO2 guns, and firearm replicas. ASG operates from its headquarters in Espergaerde, Denmark as well as it's subsidiaries in the US, UK, France, and neighboring Sweden.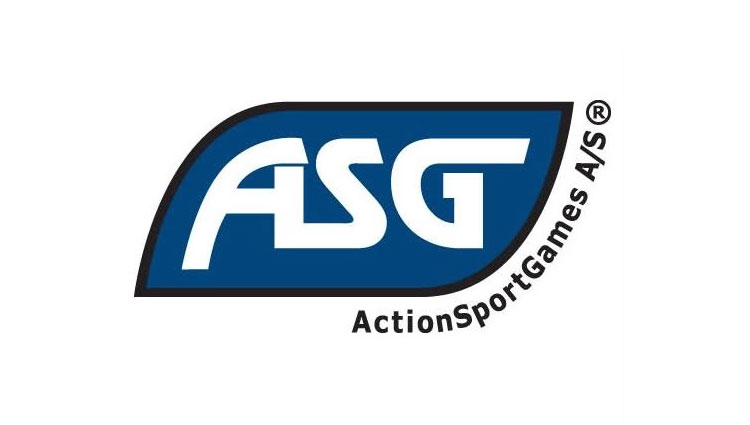 ASG Background
Like several other Airsoft companies, ASG (ActionSportsGames) Airsoft has signed worldwide exclusive license agreements with may famous original firearms and accessories manufacturers to replicate their firearms, components and even accessories. This means that when you purchase an MP5 submachine gun from ASG Airsoft, you're getting the exact 1:1 scale of the real steel from Brügger & Thomet AG!
ASG has signed more than 15 worldwide license agreements with historic firearm companies, and these include Steyr Mannlicher, Zastava Firearms, Dan Wesson Firearms, B&T AG, and many more! Most of these companies have manufactured firearms for wars, giving you that realistic battlefield gameplay.
ASG Airsoft isn't just about exclusive worldwide deals, though. ASG has developed have developed many independent brands that have made headlines in the community. Some examples you may have heard of include Strike Systems, Gold Fire BB's, Devil AEGs, the Discoveryline, Sportline, and Proline concepts.
ASG prioritizes exceptional quality over everything, and the proof is in the Evo 3 A1. Their partnership with CZ has allowed the launch of the CZ Scorpion Evo 3A1. Developed and manufactured in Denmark, the Scorpion EVO 3A1 has been well received by the Airsoft community and stands as one of the toughest Airsoft guns around.
In this article, I'll review some of the best ASG guns you can get so that you don't have to do the hard work!
Rifles
For rifles, we have the ordinary, and we have the extraordinary. The Steyr AUG crosses my mind as one of those rifles that are rich in history and uniqueness. Unlike your typical rifles, the AUG is a bullpup rifle.
The action is located behind the trigger, which allows the design of the rifle to have an overall shorter length, despite having the same barrel length of a conventional rifle. The real steel was adopted by the Austrian Army in 1978 as the StG 77 (Sturmgewerh 77). For a rifle of its era, it was ahead of its time.
The Airsoft version looks and feels exactly like the real deal. There are several variations of the Airsoft AUG, but the A3 we're looking here weighs 8.5lbs, as compared to the real steel variation at 8.4lbs. Right off the bat, you'll notice the gun has plenty of rails for you to install upgrades. It is the perfect gun for close quarter battle (cqb) and fires at a consistent 350 fps (though it advertises firing at 394fps!). For this gun, you're looking at a price tag of $200. Would recommend to those that aren't looking for something too expensive and remain loyal to this for a long time!
You will need to invest in a sighting system such as a red dot or iron sights as the gun doesn't come with any. Unfortunately, as far as my research goes, it doesn't come with a battery. The magazines are interchangeable with other compatible AUG Airsoft AEG magazines.
Specifications
Length: 770mm
Inner Barrel: 509mm
Magazine Capacity: 330rd Hi-Capacity. Works with Tokyo Marui, Matrix and other compatible AUG Series Airsoft AEG Magazines
Muzzle Velocity: 330~360 FPS (Measured with 0.20g BBs)
Thread Direction: 14mm Negative
Gearbox: Ver 3, Full Metal
Motor: Short Type
Fire Modes: Semi/Full-Auto, Safety
Package Includes: Gun, Magazine
Battery: 7.4v 1000mAh LiPo Small Type
Hopup: Yes, Adjustable
ASG's Armalite M15 is one of the most popular rifles to date, and the reason is simple: You're getting huge value for a cheaper gun. The Airsoft community considers this as the M4 on a budget. The Pro-line series is slightly more expensive than the Sportsline variation, but there are noticeable upgrades.
Just from the feel, you'll notice more metal parts. Even on the plastic, they're made of high-quality nylon reinforced plastic. Judging from how it feels in the hand, you'll know this one can handle a huge beating! With the battery and magazine, this gun weighs about 7.2lbs- feels solid and sturdy in the hands.
We can't talk about the Armalite M15 without mentioning the rail system, which is uncommon in guns nowadays. The wideness of the rails allows you to insert large batteries, up to 12V in certain configurations. And if you love using full face masks, you'll appreciate the additional inch of clearance the rail provides so your mask isn't knocking against the stock. From the chrono test, you're looking at velocities of 380-390fps (with .20g BBs)
One issue I have with this gun is that the magazines are hard to get a hold of. Be careful when choosing mags, because an M4's magazine may not fit! Just to add, the mag release on some models can be very sensitive.
Specifications
Length: 790mm-870mm, Adjustable
Inner Barrel: 363mm
Magazine Capacity: 360rd Hi-Capacity
Thread Direction: 14mm Negative
Gearbox: Ver 2, Full Metal
Motor: Long Type
Fire Modes: Semi/Full-Auto, Safety
Package Includes: Gun, Magazine, Foregrip
Battery: 9.6v Butterfly Type recommended (Battery not included. Wired to the rear with a Small Tamiya connector)
Hopup: Yes, Adjustable
Pistols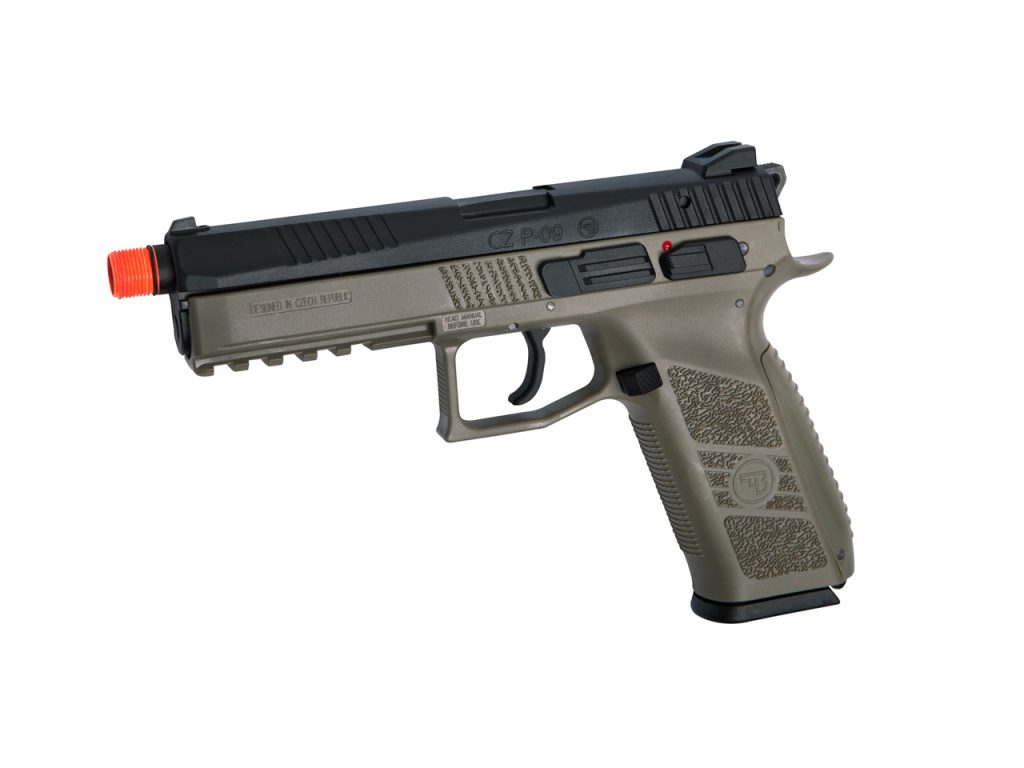 This officially licensed CZ P-09 airsoft pistol is a full-sized tactical pistol with a metallic slide that brings the shooting experience closer to reality. The blowback action is quite strong, so beginners should be aware of this fact.
Overall, the pistol is easy to use (due to the polymer frame and texturized grip), comes with a rail system placed under the barrel, and has iron sights for improved accuracy. Users also have access to the hop up unit, in case they want the adjust the trajectory of the BBs.
Specifications:
Metallic slide with polymer frame
Rail system for accessories
25 rd CO2 magazine
Realistic blowback action
328 FPS (0.20g BBs)
Adjustable hop up
3-dot sight system
Here's another one licensed by Steyr. The M9-A1 CO2 non-blowback is a reliable handgun any Airsoft enthusiast should have in his arsenal. As this gun is a non-blowback, meaning it can shoot at a very high fps, and you won't be giving away your position that easily.
In fact, if you're planning on bringing this into the field, do check with the limitations because this gun can shoot at a max velocity of 480 fps! As far as I'm concerned, it has good accuracy at 20 feet. For $40, this is one of ASG's most sought after pistols, because you can't really go wrong with it!
There are a few minor issues I have with this gun, however. The trigger on some models can be quite heavy, and for others, it can be soft. There's no consistent pattern in trigger sensitivity, and it's basically down to luck. The sights on the gun, too, are a bit of a bummer. They're not adjustable and aren't the same as the ones that come with the real steel.
Specifications
Length: 186mm
Weight: 820g (1.8lb)
Magazine Capacity: 15 rds
Muzzle Velocity: 440-480 FPS (2.1 Joule)
Fire Modes: Semi-Auto
Package Contents: Gun, Magazine, Manual
Power: Co2 Powered
Unlike the M9-A1, this pistol features a gas blowback function that gives the user a much more realistic shooting experience. Speaking of realistic, this gun also features a full metal body! If you're not wearing gloves, this pistol's rubberized grip will ensure it won't start slipping when your hands start to sweat. The red fiber-optic sights on this gun is a great addition as it allows you to line up your targets fast and accurate.
For $139.00, there is no doubt that this pistol is on the more expensive sight, but I highly recommend it. You'll notice that the magazine is slightly larger, and that helps make mag changes easier. Unlike a lot of pistols, this gun has a rail at the bottom that allows you to install lights or lasers. The CZ SP-01 shoots at a consistent 300fps. You can use CO2 mags, however, and that will ramp the velocity of the shooting to about 330fps.
For a gun of this quality and price, you really can't go wrong. I haven't found a review anywhere that highlights any major dissatisfaction towards this gun.
Specifications
Dimensions: 212mm x 150mm
Muzzle Velocity: 300~330 FPS (Measured w/ 0.20g BBs and Green Gas)
Magazine: 30+1 rounds. Compatible with KJW/ASG CZ75 magazines
Gas Type: Green Gas, Red Gas, Propane
Firing Mode: Semi-Automatic, Safety
System: Gas Blowback
Hopup: Yes, Adjustable
Package Includes: Gun, Magazine, and Manual
Sniper Rifles
It's not every day you bump into reviews of Airsoft sniper rifles, but at Airsoftpals we like to keep things interesting. Unlike regular rifles, sniper rifles are designed to shoot targets from incredibly long distances. The M40A3 McMillan Sniper Rifle is only $80 (does not include the scope and bipod), and for the price you pay, it's one of the best sniper rifles out there.  
It sports an aluminum barrel and receiver, and the stock is made of high-strength polymer. It's not the best quality plastic, but it's nothing to fret about. One thing I noticed is how realistic the bolt stroke functions and sounds. This sniper shoots with velocities north of 400fps with 0.2g BBs, and you can get accurate shots as far as 150 feet out. The M40A3 supports 0.3g BBs as well. Even if you're a beginner in sniping, this is one of the best sniper rifles you can get your hands on!
Despite the plastic, this gun feels extremely sturdy in the hands, but it is on the heavier side, which can be a pro depending on your preference. You also don't need to worry about finding the right scope, because this gun is compatible with almost anything.
Specifications
Length: 1130mm
Inner Barrel: 475mm
Weight: 3400g
Magazine Capacity: 20rds
Muzzle Velocity: 410-420 (Measured with 0.20g BBs)
Fire Modes: Single shot, safety
System: High power spring
Package Includes: Gun, Magazine, Manual
Hopup: Yes, Adjustable
Quick tip: If you're looking for a high-end version of this weapn, we recommend trying this improved MCMILLAN M40A3, which comes with similar features but a fully metallic body.