Guide to Airsoft Accessories: Must-Have Products
In airsoft, just like in real-life warfare or law & order activities, accessories play an important role. Starting with magazines and ammo and ending with scopes and accessories that improve the grip, every item is designed to make the activity more realistic.
Of course, there are also accessories focused on a player's safety and ease of use, such as protective gear and speed loaders, but the list of airsoft accessories is way longer than that.
So, today I'll walk you through all the accessories that make airsoft such a fun and exciting activity.
Magazines & Accessories
A good magazine, with the right capacity, can make the difference between victory and defeat!
Their purpose is to hold the ammo and feed it to the gun's barrel when it's time to shoot. While it may not seem like a big deal, some magazines are better than others. For instance, if the magazine releases two BBs at the same time, the barrel could jam, which is not something you want to happen when you're in the middle of a CQB situation!
Moreover, it's important to know the type of magazine you need as they are designed differently for pistols, rifles, and sniper rifles.
For instance, pistol magazines are designed to fit in the grip and are usually small in size. They can hold about 20 to 30 BBs (depending on the size) and hold the CO2 container, for gas airsoft pistols. Some magazines even come equipped with a spring lock mechanism, so you won't have to carry a speed loader.
Product Recommendations
Magazine for Tactical Force 6xp Co2 Pistol
Specifications:
14 BB magazine, compatible with Tactical Force 6XP CO2 Airsoft Pistol
Drop-free design
Integrated spring-lock so you don't need a speed loader
---
Metal M4 300 Round High Capacity Magazine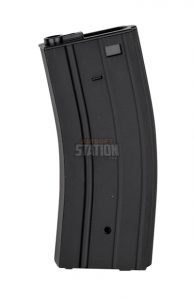 Specifications:
300-round high capacity magazine
Metallic body
Works with M4/M16 Metal Gearbox AEGs
Compatible with most brands
---
Magazine for Well L96 Sniper Rifles
Specifications:
Designed for TSD SD96 and SD97, Well L96 and UTG Type 96 Sniper Rifles
Up to 23 rounds
---
Magazine Accessories
Since most players buy extra magazines, to have them ready to install on the gun and start shooting, there are also accessories designed to help you carry them on the field. Items like speed loaders, belt clips,  holster adapters and so on are considered to be accessories for magazines.
Ammunition
From .12g BBs to shotgun shells the ammunition is crucial on the field! Now, depending on the type of airsoft gun you want to use and your skills as a shooter, you may want to stick with cheap BBs that can be bought in bulk. Of course, a good shooter may want to invest in better quality ammo, which is why I invite you to read our detailed guide on airsoft BBs.
Power Source
Airsoft guns can be spring powered (no need for an external power source), AEGs (on battery), and powered by gas (CO2 or green gas).
AEGs use various types of batteries, but the most common types are Nunchuck, stick or brick designs. The size and shape are important when it comes to fitting inside the battery compartment on each weapon. Also, each battery features a certain voltage and level of power, which is directly proportional to your gun's performance.
Finally, AEGs also need an external charger, so power up the batteries.
Product Recommendations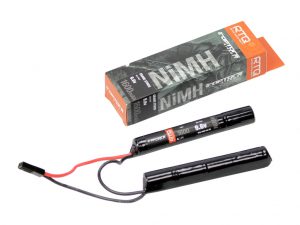 Specifications:
NIMH crane stock design
1600 mAh at 9.6V
8 cells
---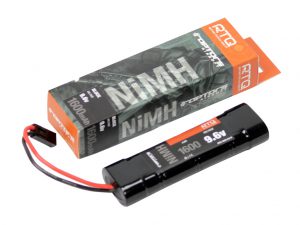 Specifications:
NIMH block design
1600 mAh at 9.6V
8 cells
---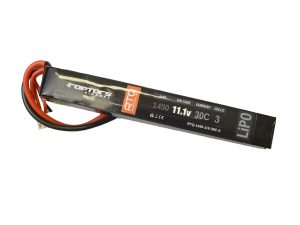 Specifications:
LiPo design
Goes into the stock or buffer tube of most AEGs
1450 mAh at 11.1V
3 cells
---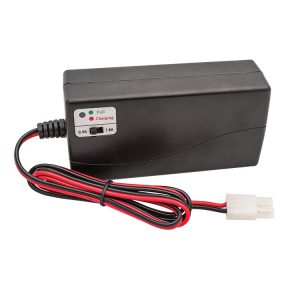 Specifications:
Works with 7.2V-12V NiCad & NIMH batteries
Light indicator to show the battery is charging
Large & Small Tamiya Adaptor
Two output levels (0.9A and 1.8A)
Auto Trickle charge function
---
Gas-powered weapons are usually more powerful and feature some sort of recoil that makes the experience more realistic. However, a fill of gas doesn't allow you to go around shooting all day, so you need to know how many trigger-pulls you get per tank.
This means that you'll either have to carry CO2 cartridges or you'll need a spray can of gas to refill the reservoir once the gas starts running thin.
Products Recommendations
Swiss Arms 12g Co2 Cartridges, 20 Pack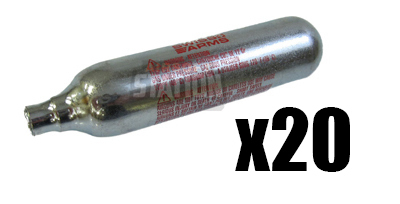 Specifications:
A pack of 20 x 12g CO2 cartridges
Works with all airsoft guns that use a 12g CO2 cartridge
---
Elite Force Fuel, Green Gas for Airsoft Guns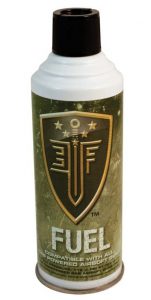 Specifications:
8oz can
Great for prolonging the lifespan of gas-operated airsoft weapons
---
External Accessories
These are accessories that go on the body of the weapon to either improve the grip and performance or make the gun look cooler. As such, there are several categories of accessories:
Foregrips
These act as a second grip that improves the gun's stability in your hands, especially if you're dealing with a long barrel. Even more, foregrips help with maneuverability and accuracy and come in a wide array of shapes, sizes, and materials (mostly plastic and rubberized designs).
Most players install them on rifles and sniper rifles, but you may also install one on a big pistol. All you need is a Picatinny or Weaver rail system.
Flash Hiders, Barrel Extensions & Silencers
From the orange tip that's required in the USA for airsoft weapon to sound amplifiers and thread converters, flash hiders are considered barrel accessories. Their role is mostly decorative, but some also have a special function in the system of an airsoft weapon.
On the other hand, barrel extensions and mock silencers are purely decorative as the US law doesn't allow any sound reduction functionality in airsoft weapons.
So, if you want your rifle to look badass and intimidate everyone in the field through its size and design, this is the category of accessories you may want to dig into.
Mounts, Rings & Rails
If you ever want to add a scope or a flashlight to your airsoft gun (regardless of type), you'll need rails, mounts, and rings. These go over or under the barrel and serve as support for various accessories.
Product Recommendations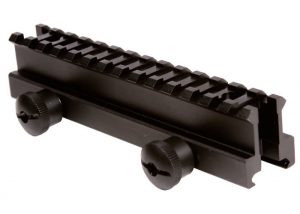 Specifications:
1" saddle height
For rifles with Picatinny/Weaver rails
13 slots
7" in length
large retention thumb nuts
made from aircraft grade aluminum
Ideal for when wearing a mask or face guard
---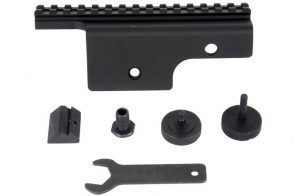 Specifications:
metallic build
works with compatible M14 AEGs
adds a Picatinny/Weaver rail
---
Now, if you don't plan on using all the space on your rail you may want to get a rail cover. These are used to protect the unused space in rail systems and to improve grip. Not to mention, some will significantly improve the look of your rifle!
Accessories for Accuracy
Accuracy is important, which is why, if you can do anything about it, you should consider improving it. The good news is that there is a wide range of accessories designed to help shooters with balance, zeroing in on the target, and practice.
For instance, bipods and scopes are extremely helpful for snipers, because they need to observe their target from afar and adapt to current weather conditions before pulling the trigger.
On the other hand, a CQB player will enjoy high-quality sights, lasers, and flashlights that can improve accuracy in a situation where speed is important.
Finally, the best way to work on your accuracy is to practice, which is why you may want to have a look at some practice targets.
Product Recommendations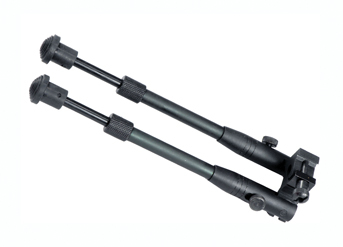 Specifications:
fits all guns with a weaver/picatinny bipod rail
metallic build
Picatinny mount
legs are extendable and foldable
---
LANCER TACTICAL Red/Green Dot Sight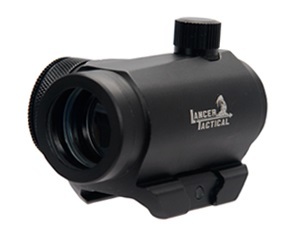 Specifications:
metallic build and multi-coated optics
1x magnification
22mm aperture and unlimited wye relief
Exit pupil: 62 mm
50 degrees FOV
5 levels of brightness
---
WALTHER FLR 650 Flashlight/Laser Combo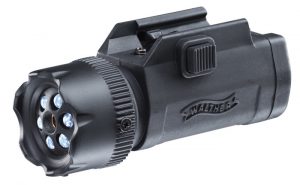 Specifications:
Fits RIS or Weaver/Picatinny rails
Flashlight and laser can be used together or separately
6 white LEDs
Adjustable for windage and elevation
---
Protective Gear
If you're serious about airsoft, it's important to piece together a reliable set of protective gear. I already wrote on this topic and created some highly-detailed guides for you to check out:
Other Accessories
Form this point forward, the list of accessories can stretch for as long as you want. From grenades & launchers (check out my guide) to chronographs (to accurately measure the muzzle velocity of your airsoft guns), there are lots of cool things that can make the experience more exciting.
Finally, to make sure your beloved airsoft weapons will keep performing well in the field, I  recommend using high-quality lubricants and other maintenance products. This also increases the gun's durability and protects your investment on the long-term.