Classic Army: One of the Titan Brands in the Airsoft Industry
Classic Army is one of the few brands who thought about using full metal bodies for they AEGs (back in the days). Their goal was to create affordable, high-end AEG systems with the best possible metal bodies. I have to say, they did a pretty great job!
Best Budget Rifle

Best Scarab Rifle

Best Nemesis Rife

CA M4 CQB
CA SCARAB SAR AEG RIFLE
CA NEMESIS LX-13 XTREME M4

x

x

x

x

x

x

x

x

x

x

x

x

x

x

x
While nowadays it doesn't seem like a big deal, about a decade ago, even Tokyo Marui rifles featured mostly plastic bodies. But everything changed when Classic Army started focusing more on the externals of the rifles they produced.
Overall, they are well-known in the market for their high-quality (but affordable) rifles. Their products are durable, look amazing, and offer a more realistic war game experience.
Short History of Classic Army's Airsoft Guns
The company is based in China, Hong Kong and got in the airsoft niche about two decades ago (1999). Nowadays they have sales branches all over the world, and most recently, the LA branch took over Classic Army global sales and marketing (except a few countries).
Their very first models were a bit pricey, but they featured rock solid designs and internals that were TM compatible. Just like they advertised (and still do) their rifles were easy to use and did a fantastic job on the skirmish field. So, you can see why the brand quickly grew in popularity.
They specialize in creating cool-looking replicas of real steel weapons, which attracted more and more players. Furthermore, they are the first airsoft brand to produce M4 and MP5 AEGs in full-metal version. They were also the first to introduce a high-end SCAR AEG.
Nowadays they still maintain the classics, but also have two new lines of AEGs: the SCARAB and the NEMESIS. Finally, they diversified their collection of products to include (besides AEGs) spring and gas guns, sniper rifles, tactical gear, upgrade parts, and accessories.
Features that Made Them Famous
Key Features
Full-metal bodies
Well-built replicas of real steel rifles
Licensed products
Sturdy build
High-quality internals compatible with TM
Diverse offer
Specialties
Their main type of product is the AEG rifle with a full metal body, but nowadays the Classic Army offering is rather diverse. Still, they employ the same quality checkup for each product they make.
Pricing Point
The Classic Army products are considered to be similar in price and quality to the ones produced by G&G. This means that their price point starts at around $150 and can go as high as $500+ depending on the line of product and level of features.
Trending Classic Army Products
Given that their most popular products are AEGs, I'll only mention some of the most popular designs. But keep in mind that the company has a varied collection of products.

The perfect choice for someone who is testing the waters in the role of a sniper! The M24 spring rifle comes with a nylon fiber ABS body, which makes it lightweight and durable, even in outdoor conditions. However, the rifle also comes with a full metal trigger box and full metal fluted barrel, which creates the perfect weight balance for a sniper.
Furthermore, the trigger box is equipped with an adjustable trigger so players can set their own preferences. Not to mention, the trigger action is clean and crisp, without any room for doubt. Finally, the full metal bolt system gives you that realistic cocking sound that we all love and want.
The top RIS rail allows the player to add optics (such as sights and scopes) and you get an additional mount, so to install the rifle on a bipod. When it comes to accuracy, the rifle manages to do a fantastic job. However, sniping is a task of finesse, which is why the adjustable hop-up will come in handy.
Overall, this is a powerful sniper rifle (450 FPS!) that's perfect for beginners (it packs a whole lot of features at an acceptable price).

This is a perfect CQB rifle for beginners and players on a budget. With a durable nylon fiber body and a retractable stock (that houses the battery), the Delta 12 rifle is compact and durable.
It also features a metallic rail with ergonomic finger grooves on the sides for perfect grip and comfort. There's also a keymod rail with Picatinny rail sections on the sides, so you can add as many accessories as you want. Not to mention, the rifle features ambidextrous controls!
In terms of accuracy, the rifle is spot-on from the box, but it's also equipped with adjustable flip-up front and rear iron sights.  Also, the rotary hop-up system is extremely useful in accounting for windage and target range.
On the inside, you'll find an upgraded Version 2 metallic gearbox equipped with 9mm bushings for smooth action. There's also an integrated Quick Change Spring System so you can modify the rifle's power and rate of fire. From the box, the rifle shoots at 370 FPS with 0.20g BBs.
The trigger can be programmed into a 3 or 5 round burst due to the ECS Mosfet unit system inside the rifle. Finally, the Delta 12 comes with a 9.6v LIPO battery, but you can use any other type of battery that fits.
In summary, the Delta 12 rifle is a beautiful piece of airsoft weaponry, with amazing features, durable body, and well-designed internals.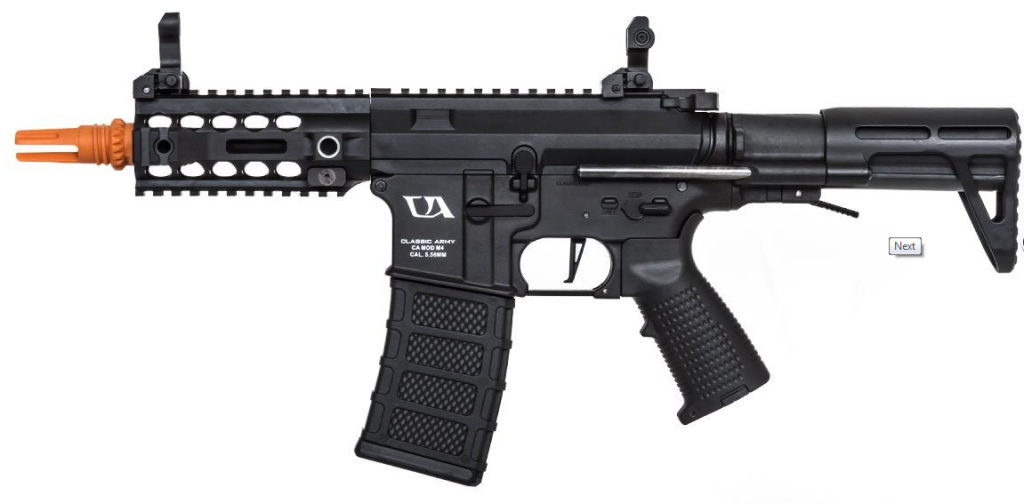 With a highly compact design, the AR4 SBR from Classic Army is a fully packed mean machine. It is easily customizable due to the 5-inch URX top rail and handguard MLOK section. It's also lightweight, due to the nylon fiber body, and easy to maneuver.
Other features I love at this rifle are the ambidextrous fire selector and magazine release, the stock that can be adjusted as needed, the flip-up High Visibility front and rear iron sights, and the adjustable hop-up.
On the inside, you'll find a Version 2 metallic gearbox, a torque motor, and 9mm bearing & bushing. The gearbox is fitted with a programmable MOSFET unit that allows players to program the trigger bursts.
Finally, I love the low battery warning, which lets you know when the 9.6v nun-chuck battery (the recommended type) is about to give in. Overall, the AR4 SBR is quite a powerful rifle (300 FPS) with lots of cool features!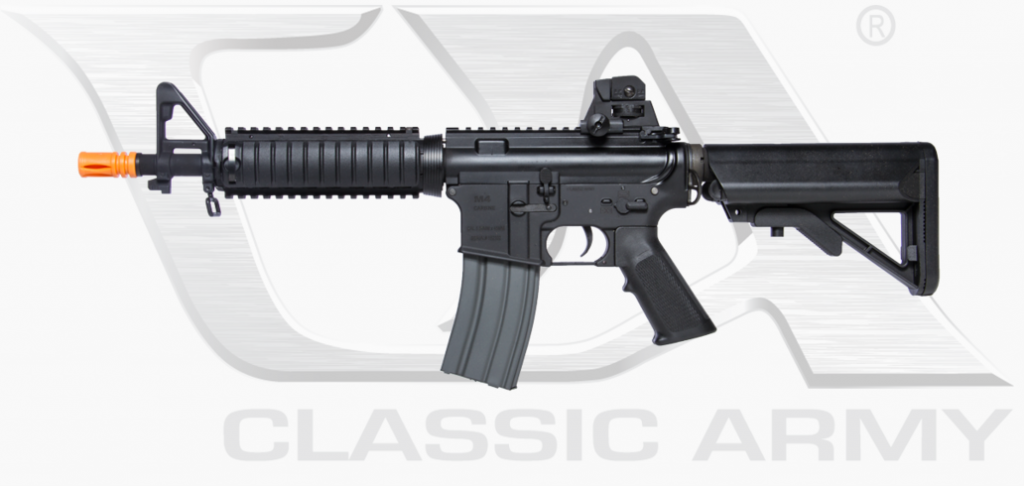 With this M4 we enter the middle-level category of AEG rifles from Classic Army. With a full metal body, a retractable stock, and a detachable forward vertical grip, this is a perfect rifle for close quarters skirmishes. Of course, the metal body takes its toll so, the rifle weighs 6.4 lbs without any other accessories.
The M4 style pistol grip and handguard improve the maneuverability while the quad rail system allows each player to customize the rifle as they wish. Also, the quick-change spring system makes this operation a breeze. Out of the box, the rifle shoots at 400 FPS and has an adjustable hop-up.
The rifle is LIPO ready out of the box (7.4v LIPO battery included) and it is delivered with a 300 rounds Hi-cap magazine. On the inside, you'll find a 9mm bearing metal gearbox and a cylinder head aluminum bore-up for increased durability and smooth functionality.

This is one of the most popular rifles in the SCARB line of products from Classic Army. Designed with a compact, fully metallic body and an adjustable 3-point PDW style stock, this rifle is perfect in CQB situations. Not to mention it packs features that focus on improved performance and usability.
Built in the style of an M4 rifle, the SCARAB SAR is ambidextrous and can be easily customized due to the upper and lower Picatinny rails and the keymod slots on the sides of the handguard. Even more, the charging handle is ambidextrous as well.
The detachable flip-up iron sights are perfect for zeroing in on your target and the adjustable rotary hop-up is perfect for adjusting the hop you want on your BBs. The rifle supports three firing modes (semi, full auto, and safety).
Classic Army designed this weapon to be effective even during long sessions, which is why the grip is designed with ventilation holes at the bottom. These allow the air to flow and keep the motor cool so make sure not to cover them.
The internals are wonderfully crafted so each element fits perfectly with its neighbors. Furthermore, the electronic system is designed to work perfectly under any circumstances. For instance, you'll find a MOSFET unit designed to protect the trigger components. Also, the ECU system lets you program the trigger into 3 or 5 round bursts.
Finally, the rifle is equipped with a 9mm bearing bushing full metal gearbox and a quick-change spring system. I'm sure you'll also appreciate the 350 rounds high-cap metallic magazine and the 400 FPS default power setting.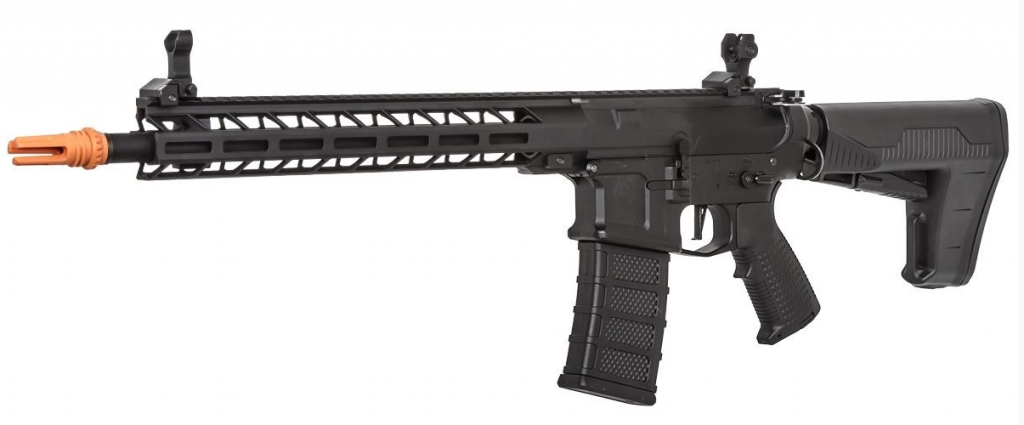 The Nemesis is the other new line from Classic Army. The rifle is built on the M4 platform, which is why the design is compact and sturdy. The 3-point PDW style stock is collapsible, the barrel is of medium length and the grip is perfect for comfortable long-term use. Not to mention, the 13-inch MLOK handguard is gorgeous while the Picatinny rail system offers plenty of room for customizations.
As you can imagine, a rifle that advanced features a full-metallic body and weighs 7.04 lbs. Other features I find interesting are the detachable flip up Iron sights, the longer upper receiver, the ambidextrous fire switch and magazine release, and the full metal Version 2 gearbox.
While the rifle is accurate out of the box, it stills has a rotary style hop up to put that extra spin on your BBs when needed. Also, I can't forget about the Electronic Trigger Unit that lets you program the round burst. Overall, the NEMESIS LX-13 XTREME is a gorgeous AEG with impressive features that can lay waste on any field.