Best Battle Belts: 4 Options to Consider
Good gear is mandatory for good play! After all, you can't hit a long-range target with a cheap rifle, and you can't move fast without the right tactical gear to help your efforts.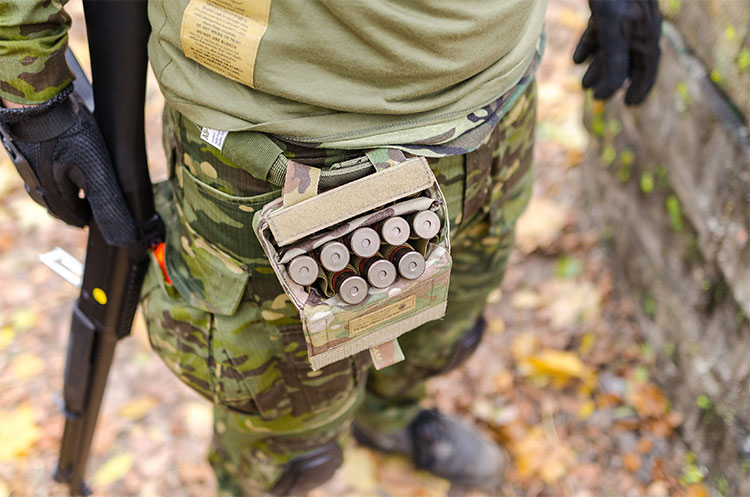 ---
Now, we've already talked about the best tactical vests and tactical boots, but you can't be truly effective without the right tactical belt (aka battle belts). They ensure you have a spare mag handy, grenades at the ready, and any other essential equipment stashed in easily accessible pouches.
Features to Consider
Durability
Since I'm sure you want to use your battle belt for as long as possible, it's important to choose one that was designed with durability in mind.
Nowadays, the best airsoft battle belts are made using Cordura with strengths from 500D to 1000D.
Retention
This feature makes reference to how the belt retains the installed pouches, holsters, and loops. For instance, if you install a holster, you want it to stay in place when you remove or re-holster the pistol.
Of course, this feature also includes the holster/pouch being attached to the belt, so make sure you match them as needed. For example, a simple belt will go great with pouches that use belt loops or MOLLE webbing, instead of Velcro.
Moreover, the belt needs to remain in position (not go up as you pull the tool/gun) when you remove something from a pouch or holster.
Freedom of movement
A tactical belt shouldn't prevent you from moving in any way. This means that, when you wear it, you should be able to crouch, rotate, move the arms around the body, and make any other moves without feeling a restriction from the belt.
Freedom of movement is directly affected by the size of the belt, and it may be a bit of a problem with padded ones (especially if you have wide hips).
Portability
There will be situations when you want to add a vest or a jacket over the belt. Also, check the release system – it should be simple and easy to trigger, but not by accident.
Basically, battle belts should be easy to put on, remove, and conceal under larger clothes. Furthermore, I recommend a belt that can be removed with all the attachments on it (some require to remove the pouches and holsters before removing the belt).
Attaching Capability
I like a tactical belt that features different types of attachments from MOLLE webbing to Velcro. This way, you have more options when it comes to the type of tools you want to carry around your waist.
However, make sure you watch the weight placed around the waist! You don't want the belt to be heavier on one side, and you definitely don't want the belt holding you down when you crouch!
Some belts are wider and bulkier in order to help distribute the weight on a broader area. Moreover, some go as far as featuring plastic inserts, so the belt will support a heavier load. However, the bulkier the belt, the less freedom of movement you'll have, so you must compromise.
Top Products
---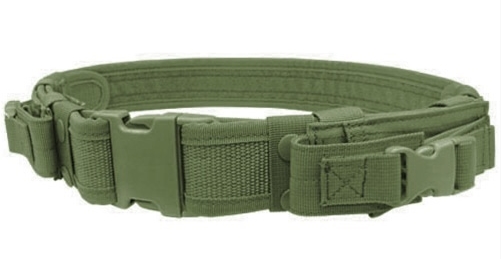 Pros
Durable material & lightweight
Easy-to-activate buckle
Accepts extra pouches
Easy to integrate with other gear equipment
Comes with pistol mag pouches
Cons
A bit small
Can't be removed with extra pouches on
This is a simple threaded belt that goes through your pant's belt loops (so you have maximum retention) and can be fitted with pouches and holsters with MOLLE or belt looping systems. However, since it is 2-inch wide, it won't fit with regular pants.
It comes with 2 pistol magazine pouches and it fits any tactical gear due to its OD green color. I also like the release buckle that can be easily activated with just one hand, but you won't be able to remove it without losing the extra pouches.
Overall, this is a simple belt, with good attachment potential that's easy to conceal under a jacket and provides good freedom of movement.
---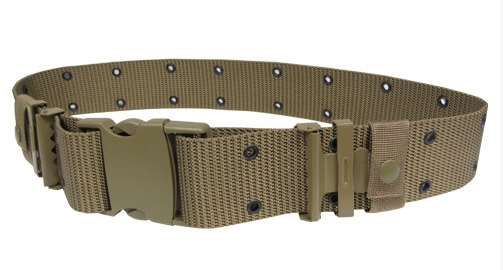 Pros
Durable material
Metallic inserts
Heavy duty buckle
Fits MOLLE pouches
Good retention
Cons
You need to purchase pouches
Doesn't fit regular pants
As the name states, this is a pistol belt, so you can't expect it to support a heavy load. Still, it can be used with MOLLE webbing pouches and features a plastic buckle that's easy to activate with one hand.
The belt can be adjusted up to 46 inches in length and the material feels thick and durable. However, the metal tab system does not increase its strength (as I was expected to do). Also, since it is 2-inch wide, it may not fit regular pants (and it's not long enough to be worn over a jacket).
---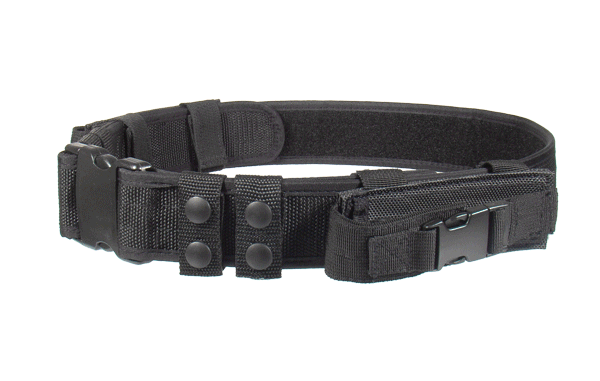 Pros
Durable build & materials
Velcro system to adjust the length
Can be fitted to a regular belt
Works with MOLLE extra pouches
Comes with 2 mag pouches
Cons
The adjustment system is a bit stiff
Designed with durable materials and sewn with reinforced threads, this type of battle belt us used by law enforcement troops and elite force.
Since it is 2-inch wide, it won't fit your pants' belt loops, but it is equipped with detachable belt keepers, to attach it to your regular belt for better retention. It also has a sturdy Velcro adjustment system (it gets at about 50 inches long), but it's a bit stiff in the beginning.
The belt is double-edge stitched and features two horizontal magazine pouches right from the box. I also like the quick release buckle system, that can be worked with just one hand.
---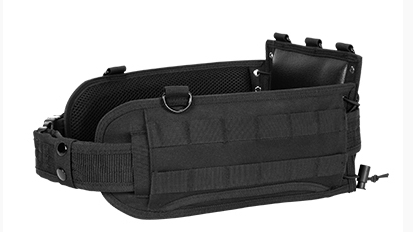 Pros
Comfortable padding
Lots of space for accessories
Durable materials
Easy to adjust
D-rings to combine it with a harness
Quick release buckle
Cons
Could use a bit more stitching
The padding heats up your hips
This is a battle belt designed to hold multiple mooches, holsters, and other equipment pieces. It is wide and padded with foam, to avoid any discomfort for the player.
The belt features 2 rows of PALS webbing on the side panels and 3 rows on the back. This gives you complete power over how to arrange the gear. Moreover, the inside of the side panels allows installing a drop leg holster for a pistol.
Finally, the belt has adjustable elastic cords, so it fits a wider range of players, and 5 metal D-rings for suspenders, plate carriers, or LBE webbing.
Wrap Up
I have to admit that I really like tactical belts! They give you a lot of freedom and easy access to accessories without the need to wear a vest (which can be uncomfortable during hot summer days). Moreover, you can wear a belt over your jacket without feeling too bulked up.
Overall, I consider them an essential piece of equipment and I recommend everyone to try one at least once!