This article offers a list along with a detailed description of the best World War Two Airsoft guns available.
WW2 airsoft guns look pretty and all, but looks can be deceiving. There is a lot more than meets the eye when it comes to these replicas of classic firearms from the 30's and 40's. If you have ever been interested in picking up a WW2 airsoft gun, take the time to read our list of the 6 Best WW2 Airsoft Guns to help you make your decision a little easier.
World War 2 airsoft guns can be a difficult niche to break into, because the vast number of guns out there is staggering! World War 2 guns are often advertised misleadingly, only highlighting the positives in the guns while down playing the negative aspects of those guns. Many times, the classic shapes of these guns means that sometimes manufacturers need to make concessions to ensure the replicas work well. This can lead to issues with upgrade parts, or lack thereof, and the effectiveness of some replicas on the battlefield plain cool.
WW2 Replica Guns Reviewed
Overall though, World War 2 replicas are unique, solid in your hand, and just plain cool. Even if you can't afford the top of the line, you can still have a lot of fun with these airsoft guns. If you can find wold war 2 airsoft clubs in your area, you might find yourself better matched against similar replicas than if you were to try to skirmish at your local airsoft field. Luckily, World War 2 airsoft is gaining popularity, so manufacturers are starting to pay more attention to the wants and needs of these unique airsofters and putting out better replicas.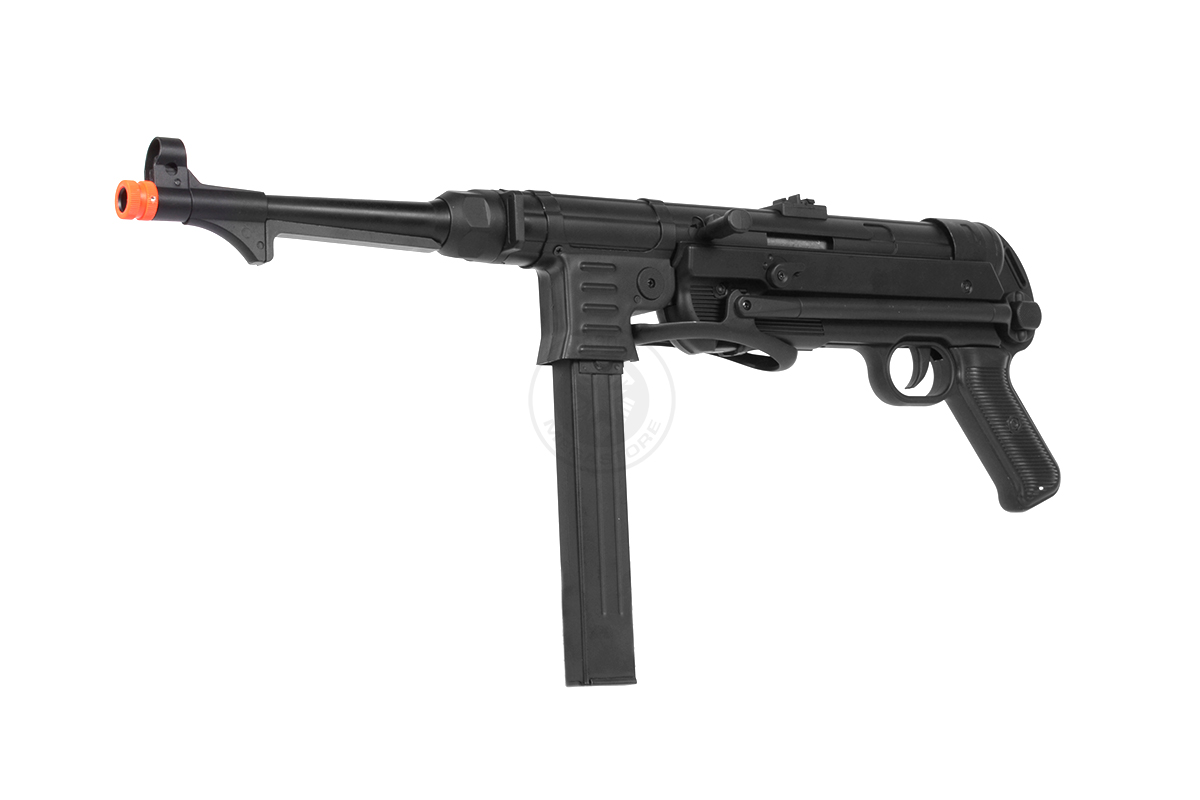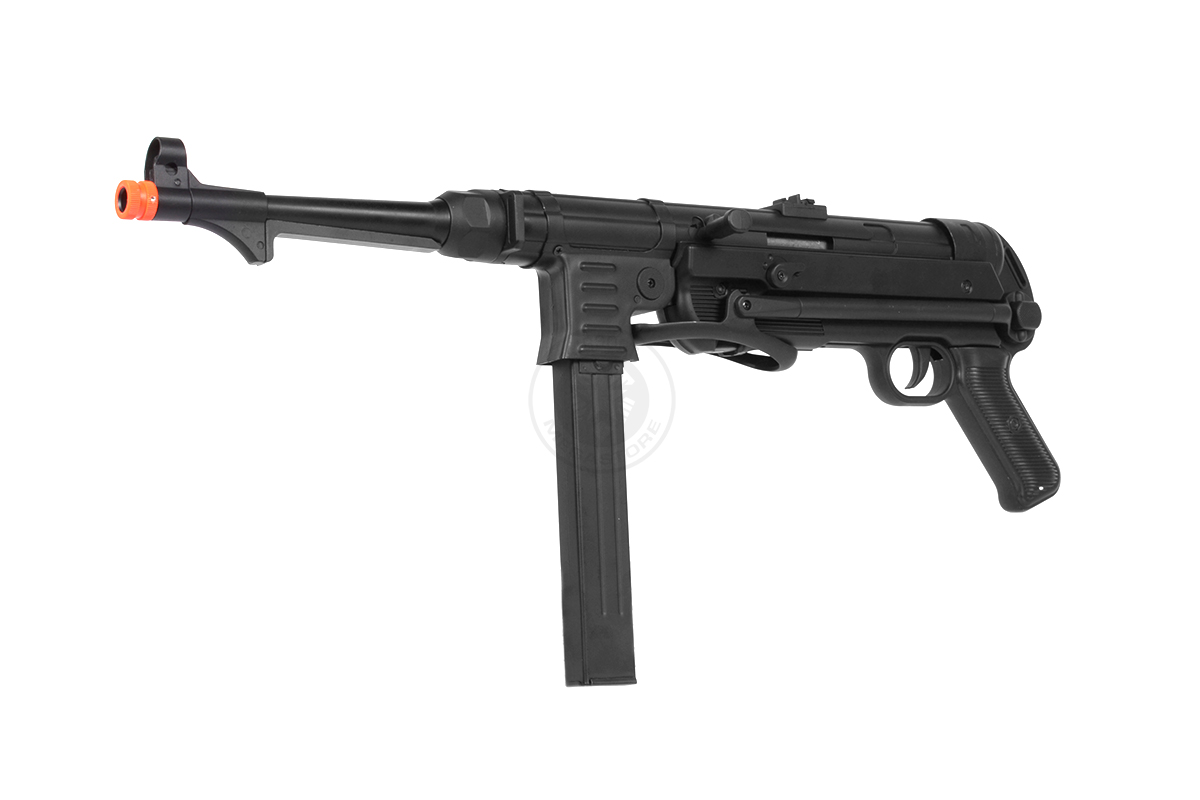 The AGM MP40 is a great example of an all-around good airsoft gun and a solid option for an entry-level ww2 airsoft gun. It is styled after the Maschinepistole 40 which was developed for the German Army in 1938, refined, and issued in 1904. It was a 9mm submachine gun that was issued to squad leaders and officers, among others. The real-steel version was full-auto only.
AGM's version is select fire, and features an electric safety on the bottom of the pistol grip. It is metal and plastic and comes in 2 color options, all-black and a black and Bakelite brown that is more historically accurate. The stock is wire under-folding that comes up and over the magazine. The stock is held together by small pins that can work themselves loose with use in the field, so you should superglue these over to prevent that from happening.
Performance wise, it is OK but not amazing with the NiMH battery it comes with. I suspect that if you were to toss in a LiPo, you would get much better trigger response and ROF. The FPS is consistent at 350 fps, which makes it good for closer engagements but still somewhat usable on the open field. Don't expect to make shots at 300 feet, though. This airsoft gun really is not eligible for any upgrades, so what you get is pretty much what you get. The vast majority of parts are proprietary and aftermarket parts are unlikely to work.
The magazines are advertised as 40 round midcaps, but most of the time people report it holding about 50 or so. The nice thing about the magazines are they are cheap, so it is not painful to buy 4-8 of them to keep yourself in the fight. The magazines are also made of metal, which increases the realism and the feel of the gun. A nice feature of this gun, that is totally unintentional, is that you can use the magazine well as almost a vertical foregrip.
Pros
Inexpensive
Reliable
Cheap Magazines (midcaps)
Looks similar to the original
Mostly 5-star reviews
Cons
Not compatible with upgrade parts
Will be outperformed by modern guns
Stock can fall apart if pins are not glued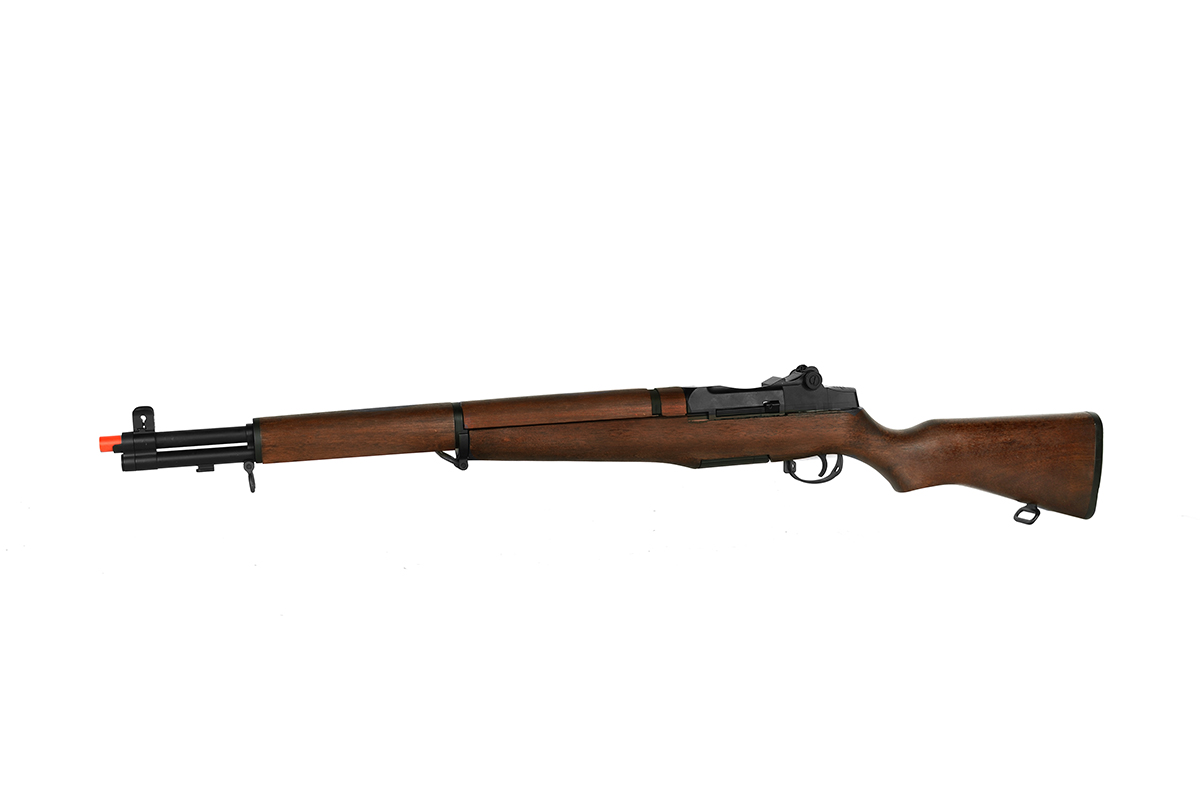 ICS is a great manufacturer of airsoft guns, and their ww2 offerings are no exception. The ICS M1 Garand is by far the most budget friendly option for M1s on the market today. This AEG version features CNC machined metal pieces and a real wood stock. A MOSFET is preinstalled to help your trigger contacts stay in shape, as well as support the semi-auto only firing more. This thing is built like a tank inside and out, and is highly realistic to boot.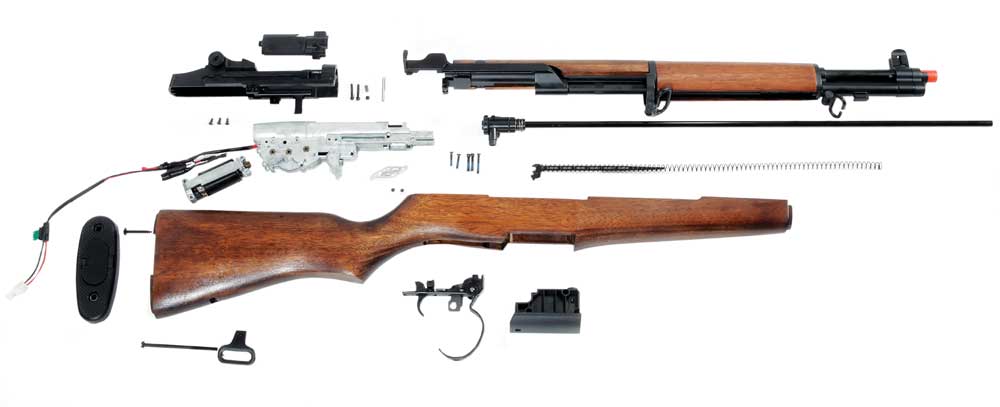 One few places that real steel accuracy is not included is with the magazine. Because the M1 uses the enbloc clips to feel 8 rounds at a time into the gun, and because an 8-round magazine is not very practical for an airsoft rifle, ICS implemented a drop free 42 round magazine. They even include 2 with the rifle when you purchase it. A second and smaller piece of inaccuracy is the trigger group, which is for an M14 and not the M1. Most players probably will not notice, as the M1 is the direct predecessor of the M14, however it bears mentioning.
Internally, the ICS M1 offers a lot of exciting potential for upgrades. The Version 7 gearbox (the same for ICS M14s) is slightly modified to fit in the M1 body, but ICS upgrade and replacement parts will be available. Because it is made well, you are unlikely to actually need any upgrade parts, and you can expect to hit FPS readings with .20 BBs in the 410 range. Accuracy is good and with the proper weight BBS and hop adjustment you can expect to hit targets in the 150-160' range pretty consistently.
Pros
Real wood and Solid Steel construction
MOSFET preinstalled
Mostly Historically accurate
Good range and FPS
Cons
Bolt Catch does not always operate as intended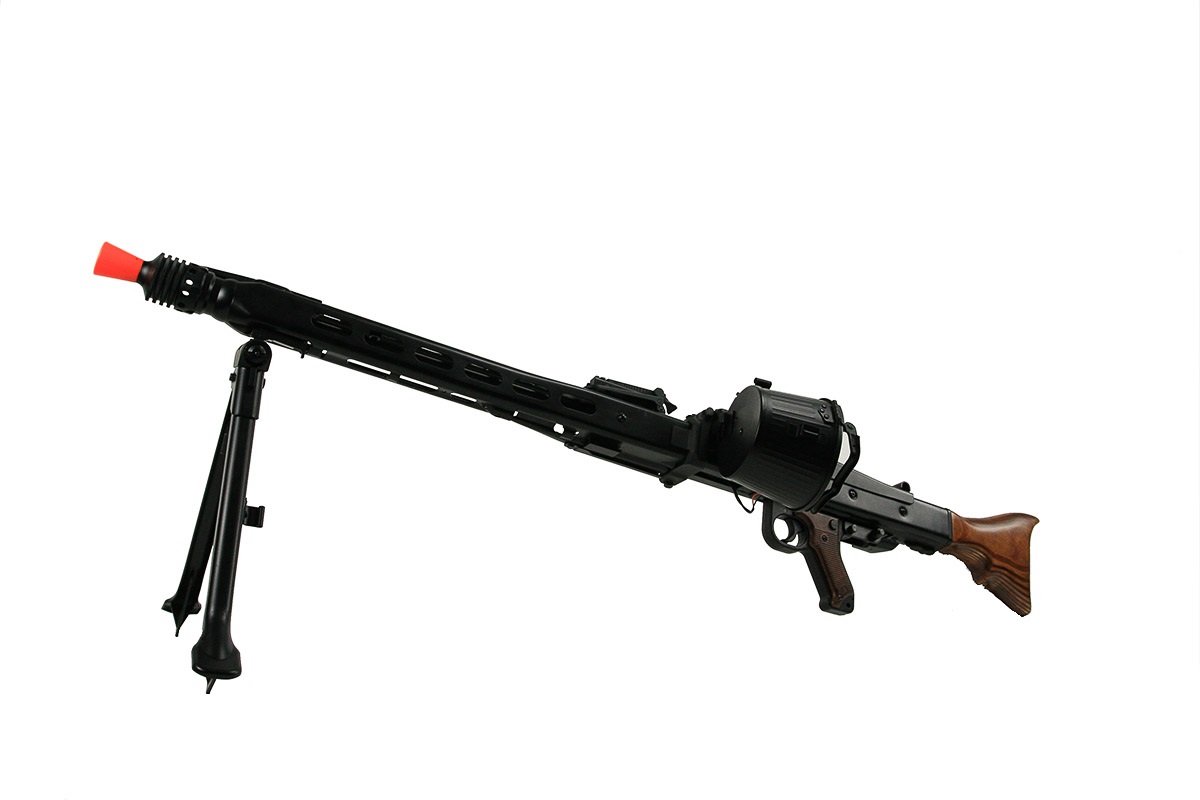 This is the airsoft gun you've always wanted but didn't know it. The AGM MG42 is a relatively affordable replica of that famous WW2 German GPMG known as "Hitler's Buzzsaw" by our GIs. The real steel MG42 was known to shoot 1,200 rounds per minute, and the AGM MG42 comes pretty close to that. Keep in mind this means that you will burn through a lot of ammo. Weighing in around 16lbs, this is not the gun for the faint of heart or those who lack strength of arm. The best way to describe this replica is, quite simply, stunning. At right about $500, it is pricey, but you get so much gun for your money that it will feel like money well spent.
There are very few plastic pieces on this MG42 – everything is stamped steel with the exception of the buttstock – which is real laminated wood – and the pistol grip which is plastic. It ships with a 2,000 round drum magazine that is powered by 4 AA batteries and auto-winds. While the drum magazine might not be the best quality, they are available from retailers for a reasonable amount of money if it breaks.
AGM put a lot of work into making this a budget friendly version that was also of good quality. They implemented a split gearbox design to allow for quick spring changes to compensate for the power this gun puts out. This will help with fields that might have strict Minimum Engagement Distances. The gearbox is a Version 2, so it provides a lot of customization and upgrade potential.
Performance is absolutely outstanding. Expect to be able to hit targets out to 150' +/- and keep them pinned down. Part of the reason for the accuracy on this MG is the 655mm inner barrel, which is one of the longest available on the airsoft market. Swap that out for a precision inner barrel, and you could drive nails at even farther ranges. With a LiPo battery, you can easily approach 20 Rounds per Second, so anyone in your field of fire is either going down or staying pinned. FPS should settle into the 375-430 range depending on BBs used and a number of other factors.
Pros
Decently Historically accurate
Heavy and sturdy
Steel and Wood
Large Capacity Magazine
Insane rate of fire
Solid rate of fire
Ability to reach out and touch
Cons
Hop up can be finicky and fall out of allignment
Drum Mag can over wind and cause issues
Drum Mag wires can become caught on things in the field
World War 2 was primarily fought with bolt action rifles. Think about it: The Germans, Brits, and Soviets all primarily issued Bolt Action rifles to their troops – even right up until the end of the war. The Americans were the only Army to switch to an auto-loading or semi-automatic rifle in the early 1940's. Before that, US troops were issues this beast, the M1903A3. Based on its name, you can guess that this rifle was adopted in 1903 and served through WW1. In fact, it was in service until Vietnam with certain troops like Snipers.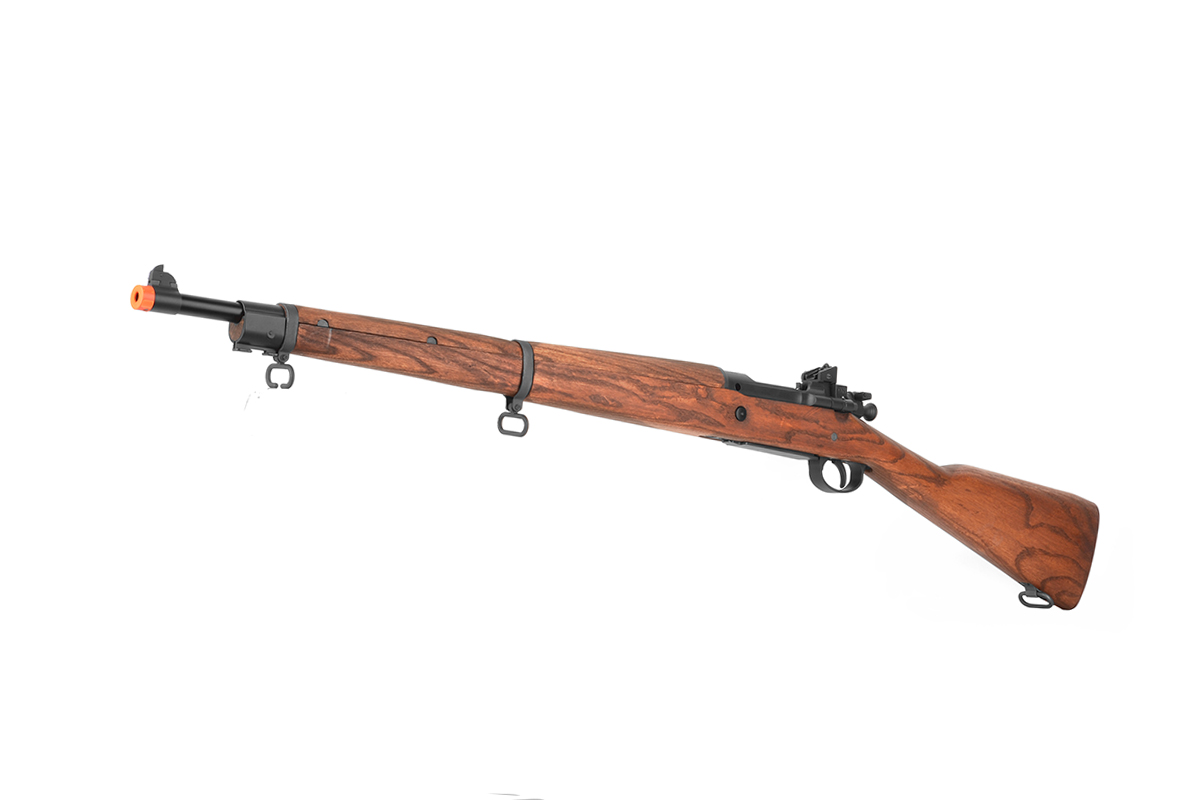 The G&G version is an example in craftsmanship. With solid real wood and aluminum/steel metal parts, this rifle is long and sturdy. As an added bonus, each rifle features a unique serial number on each rifle with the rest of the G&G trades. The bolt action produces an extremely satisfying sound when worked, and the gas system is powerful and loud.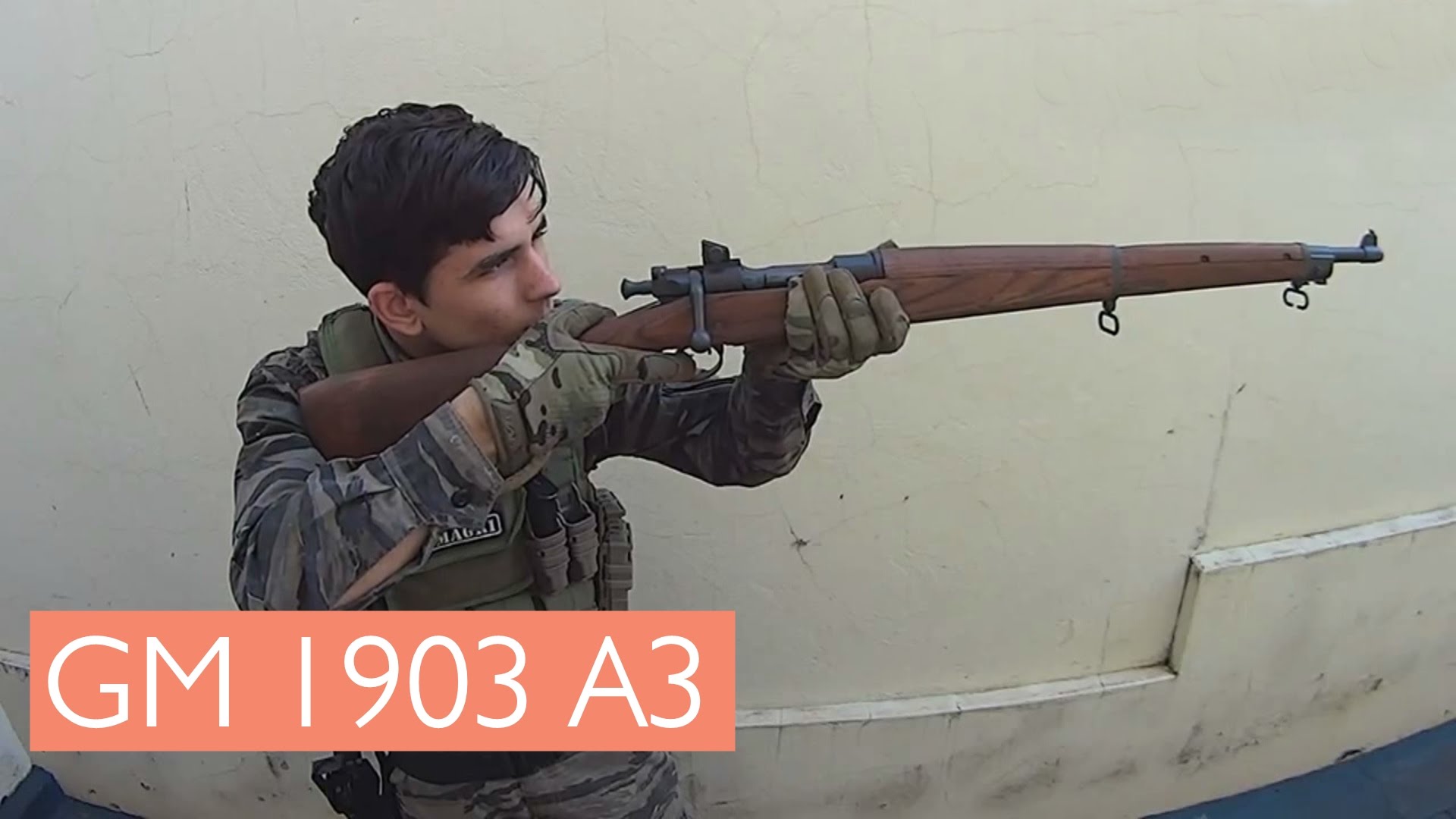 This rifle is valuable if you are a WW2 reenactor for a few reasons: It is accurate across all theaters of the war and all branches of service. It is powerful and accurate enough that it will allow you to compete very well with other players, especially those using modern replicas. It also comes with two hidden features: It can be powered by both green gas and CO2 AND the magazines are shared across the M1903A3 and the G&G G980 – G&Gs version of the K98k. This means that players interested in both allied and axis weapons can purchase a standard-issue service rifle for both factions, and be able to save a little on magazines.
As far as performance goes, it can be hard to nail down specifications on a shared gas system because the rifle can perform at different levels with different gasses at different temperatures and BB weight. Expect this to be used in more of a long-range capacity as it will likely shoot in the upper 400 FPS range – maybe around 460 FPS or so. At that power, you can expect to hit players through brush that most AEGs will not penetrate. Long Range accuracy can be expected to about 160-180' or more if you are a good shot.
Pros
Very Solid wood and metal construction – very little plastic on this gun
Very Accurate
Ability to use Green Gas and CO2
Can share magazines with G980
Historically accurate across a large period of time
Cons
Magazine only holds 9 rounds
Can be difficult to compete if not sniping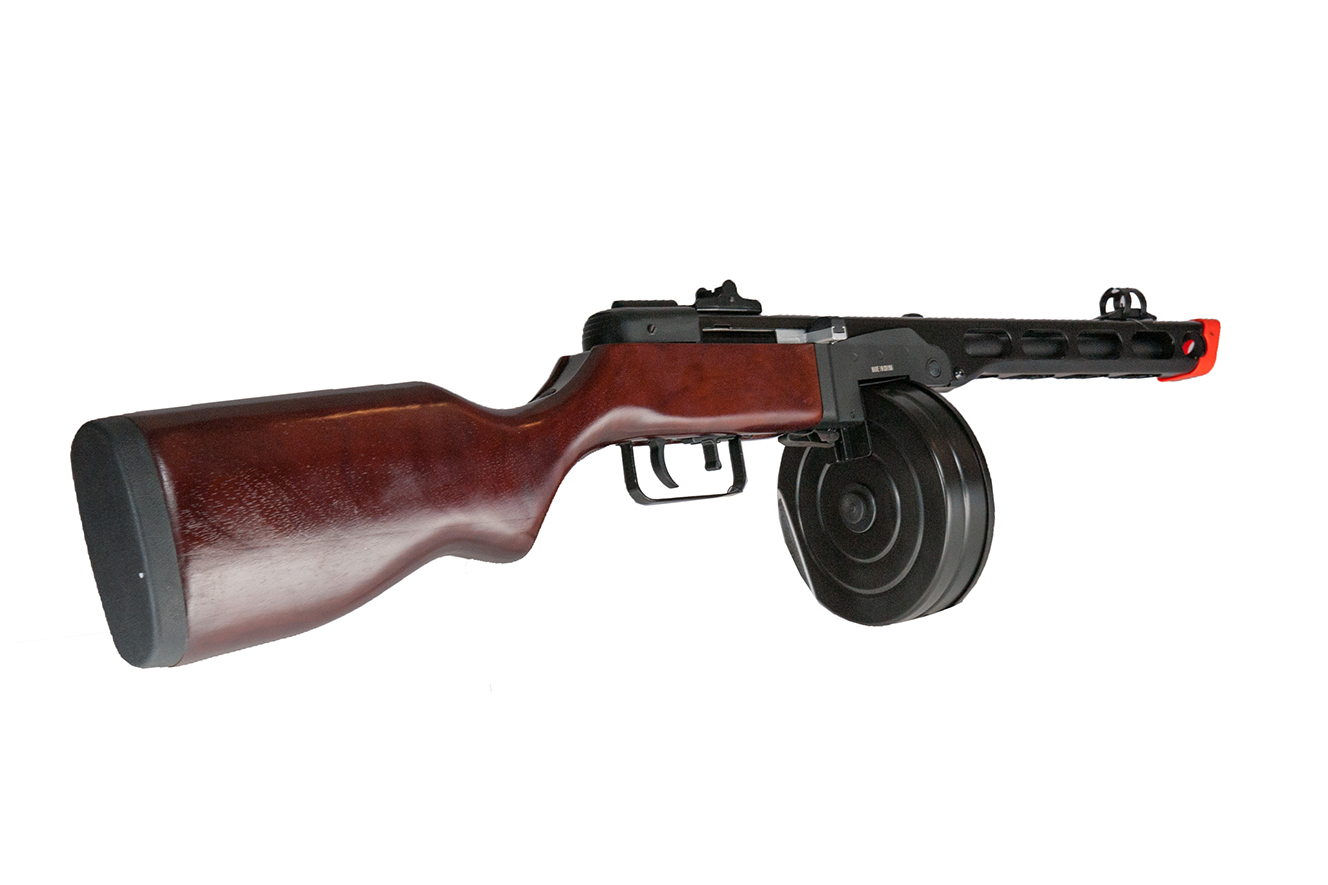 Lancer Tactical and S&T have pretty good reputations in the airsoft world for making decently priced airsoft guns that perform well. Their PPSH-41 is no different. Featuring Electric Blowback, this steel and wood monster will strike fear into the hearts of your enemies. The real steel PPSH was dubbed the "Burp Gun" by the Germans because of the Soviet's use of short burst fire. The great ROF of the gun made it deadly at close range. Germans at Stalingrad used captured weapons as their own due to its effectiveness.
The look of this gun can't be understated. The real PPSh is hastily and cheaply produced, somewhat crude, but simple, effective and reliable. These same qualities are expressed in the S&T/LT version. It possesses a simple beauty with the solid wood stock and the great quality of the metal.
There are a lot of perks to this gun, including the included drum magazine. Other PPSH replicas ship with a hicap stick magazine. The LT ships with a 1,400 round drum magazine, which is far more iconic for this gun. The Magazine is not auto-winding, so you will need to be mindful of ammo usage, but the capacity alone should make it so that you don't need to purchase a second mag right off the bat. Lancer Tactical is known for their use of flash mags, and the Magazine features both the Flash Mag style as well as the hand winding system for keeping the magazine topped off.
With all this talk of beauty, you might be expecting a lack of performance. Not so with this PPSH. Expect over 350 FPS with a NiMh battery. More if you add a LiPo or a precision inner barrel. The electric blowback is crisp, loud, and satisfying. Internally, it is an elongated gearbox so it isn't comparable to a Version 2 or 3, but is comparable with some aftermarket upgrade parts. Rate of fire can be anywhere from the teens to almost the 20s depending on the battery.
A unique feature of this gun lies in one of the only plastic pieces on this gun. There is a plastic plate where the steel meets the wood for the stock. Pushing this forward allows the user to break the gun open, double barrel shotgun style. This is handy for cleaning the barrel in game, removing jams, etc.
Pros
Super solid construction
Sexy wood and metal construction
Unique break open ability
Very solid performance
Historically accurate and useful Magazine
Cons
Some parts may not be compatable
Other magazines may not work
In Band of Brothers, George Luz can be seen doing an impression of Gen. Eisenhower: "…Tonight is the night of nights…" Well, the KA M1 Carbine is the Gun of Guns in the WW2 space. This thing is beautiful, highly anticipated, reasonably priced, and performs like a champ. There is almost no better marriage than King Arms and WW2 airsoft. They have been putting out very good airsoft guns for a while, and their entry into ww2 space is great for players and ww2 enthusiasts alike.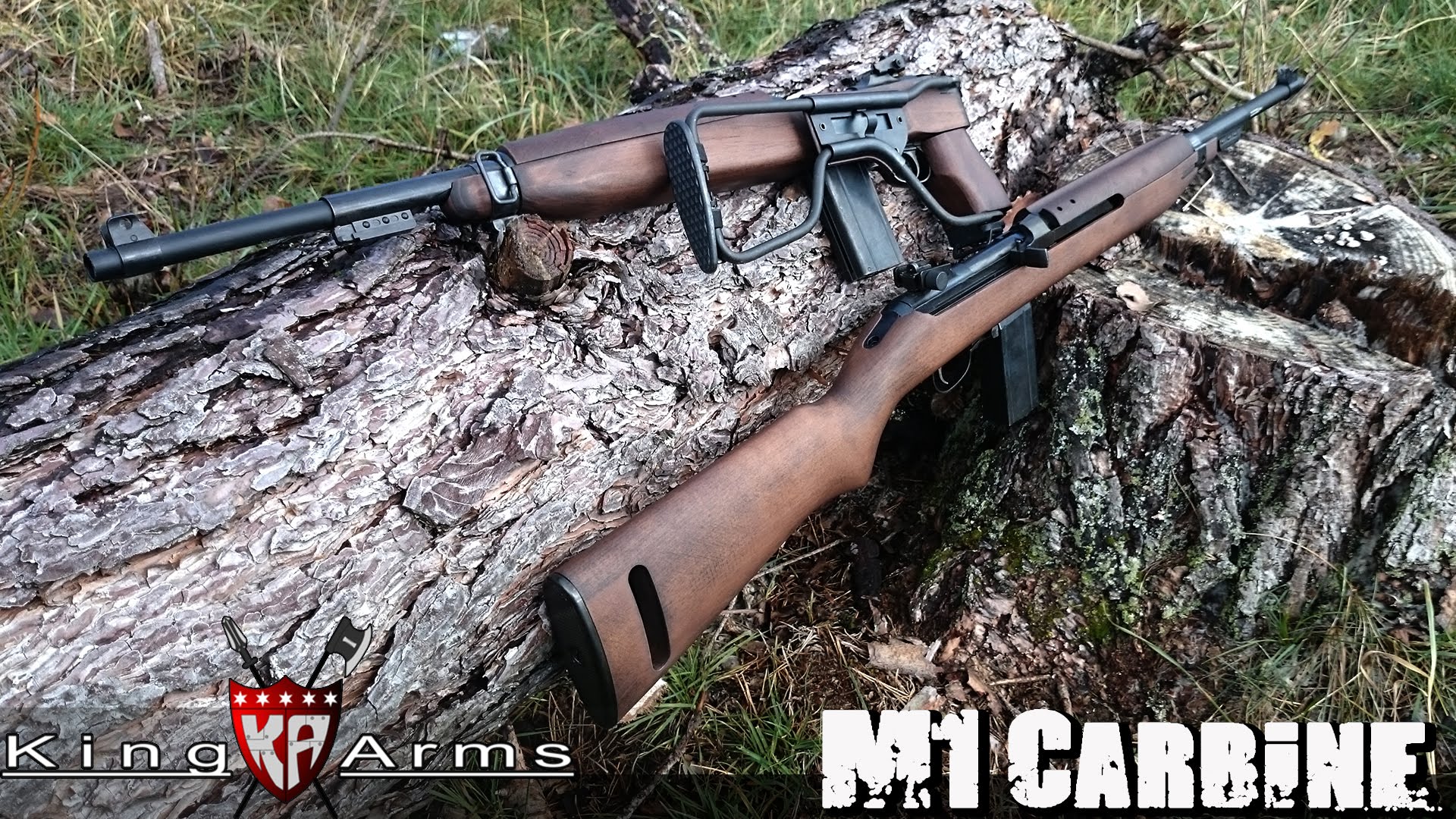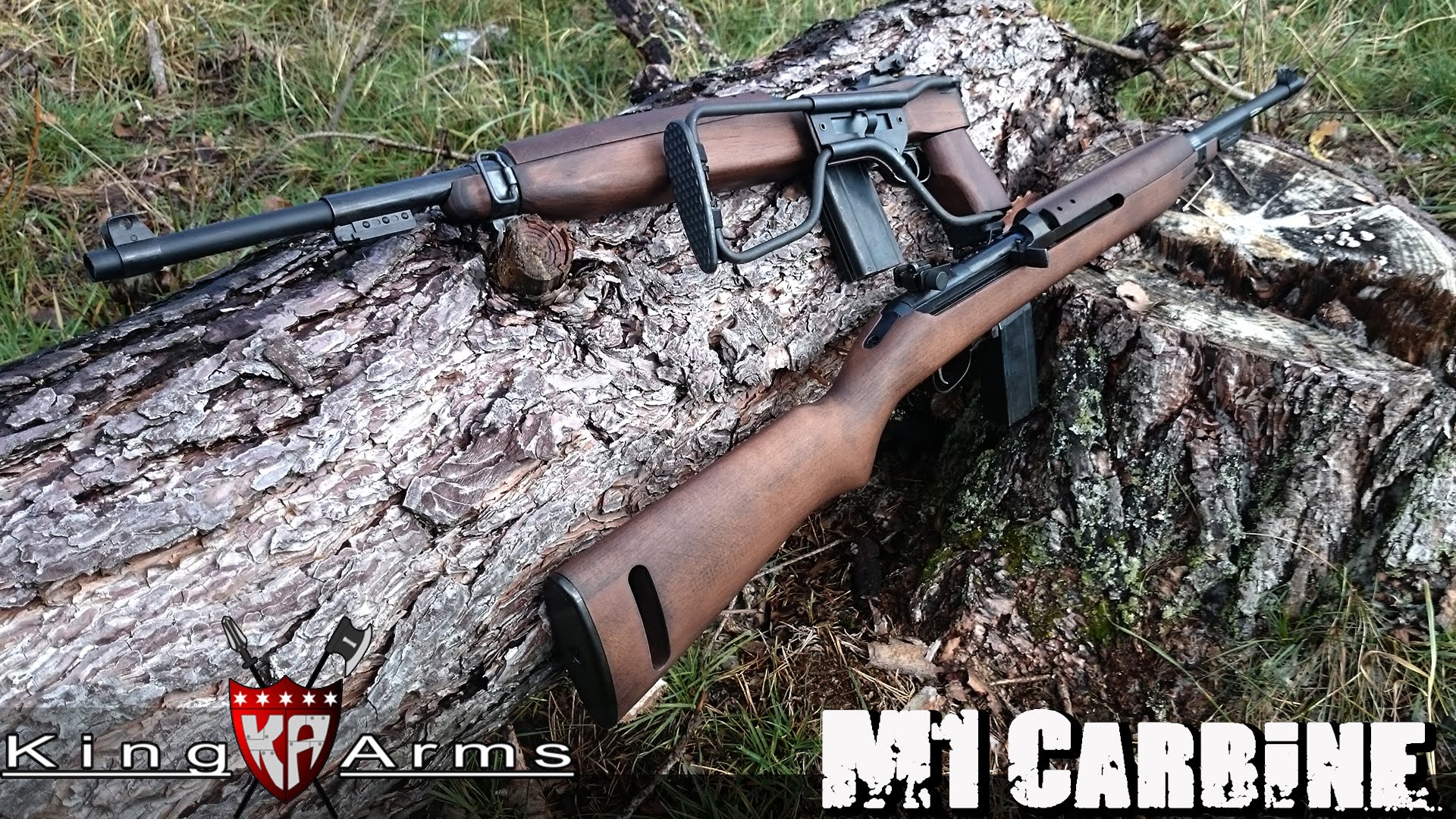 Externally, this replica is not accurate through the entire war. Certain modifications need to be done if you are looking for early to mid war M1 Carbine accuracy: The Bayonet Lug, the Handguard vents, and the rear sight are the commonly listed offenders. These are all easy fixes, and there is even a kit that RA-Tech (they make a lot of kits for gas guns) makes for the rear sight (It does need modification to fit this version as it was made for another gun). If you aren't a stickler for accuracy, or you want to use this for Korea or Vietnam (heck, there are reports of M3 grease guns and M1 Carbines being used into Desert Storm) go right ahead and play.
Internally, this is a straight C02 gun. Expect pretty high FPS, 450+ on a full cartridge to be exact, and excellent accuracy. Reviews of this gun put it as shooting 450+ FPS with .30s out to 150′ easily. Don't expect to be able to play CQB with this carbine at all. Some sites list it as a sniper. I don't agree that this is a sniper rifle, but maybe you should use it more in a support or Marksman role. Keep your distance and have a sidearm ready in case you find yourself in a close quarters situation.
Magazines are pricey, but function well. They use 12 gram C02 cartridges which are widely available. Additionally, they are compatible with the Marushin M1 Carbine CO2 magazines, which is a plus. The Full stock version seems to be out of stock on many websites, but the Paratrooper version is available. Magazines are hard to come by, and because they hold 15 rounds maximum, you will need more. Hopefully they come back in stock soon, but you should do your research and find someone stocking them if you intend to use this in the field.
The King Arms M1 Carbine is a gun that anyone can use to great effect. It has the ability to be used as a DMR and has the power to back that up. There really aren't any cons to this gun other than the difficulty in locating magazines. The pros far outweigh the cons, so we're going to list them again: Solid wood and metal, CO2 blowback, accurate, cost effective, and great looking!
Conclusion & Research
Well, that about wraps up the list of the six best world war 2 airsoft guns on the market today. This list is obviously not all encompassing, but tries to strike a balance between price, quality, ease of use and play-a-bility as far as airsofting is concerned. Airsoft is always evolving and changing, and there is really no telling what this year will bring when it comes to world war 2 guns. The best thing you can do is research your gun before you buy it to make sure you are getting the gun you want. WW2 airsoft guns tend to be a special niche and aren't always as user friendly as more modern replicas. All of the guns on this list should provide you with hours of enjoyable play, though.
There really is no right or wrong answer in this space. If you like the way a gun looks or performs, go ahead and pick it up. The collectability and uniqueness of these guns means that anything you spend will be an investment in your future as an airsofter. Overall, World War 2 guns are some of the nicest airsoft guns out there today.
Rating