Best Airsoft War Videos Of All Time
An airsoft war is a game of airsoft where two or more teams try to get each other out of the game by shooting down their opponents (with BBs, of course). The game is intense, tons of fun, and very well organized and only the best professional players are invited.
Due to the wonders of modern technology, there's an incredible amount of footage on YouTube, and we wanted to compile the very best war videos on the internet. In this article I'll walk you through the top 10 best wars I have ever seen, and I'll talk about tactics and how to apply them with your own airsoft team.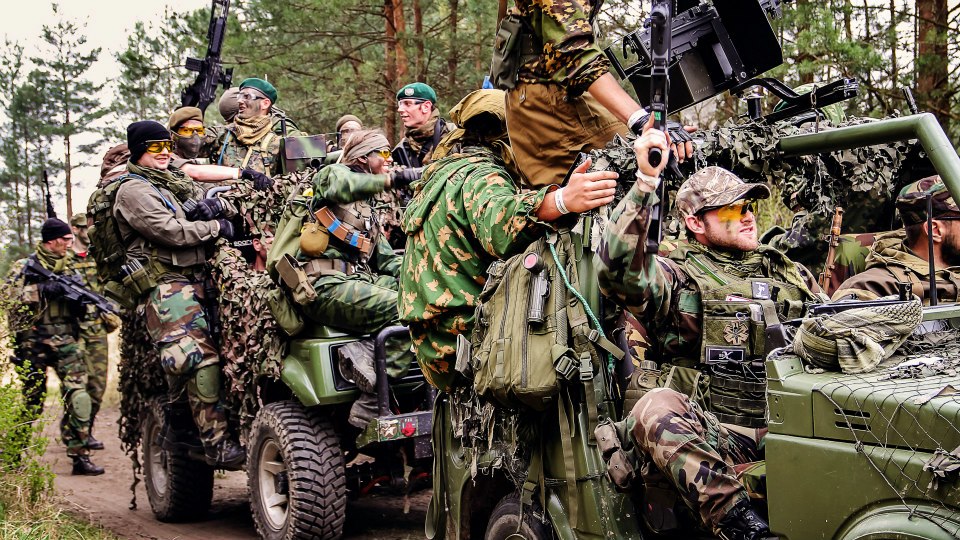 Here's the criteria we used to include the airsoft wars:
(we trawled through hundreds of videos)
Originality – there's some very original scenarios in here
Creativity – the use of props and alternative vehicles, and a variety of different guns
Action & footage – of course, for the purpose of viewing pleasure it's important the camera people are good at filming!
Scale – some of these are massive, planned operations with an incredible level of detail and organisation
1. Armored War VIII
If you really want to taste the airsoft adventure, you must take a trip to Russia and partake in their biggest even (Armored War WIII). The Russians are not kidding around when it comes to airsoft, so you'll get to see everything from amazing guns, to active tanks, APCs, and other armored vehicles you can only see in wars.
The event in this video gathered about 3,200 people and took place somewhere near Moscow. Since it's a worldwide competition, besides Russians, people also came from Netherlands, Israel, Estonia, France, and more.
The event lasts for 24 hours and you can join later in the game. As you can see, the terrain is definitely not friendly and there is a large distance to cover (which is why they used transportation). Each team had a mission to do.
At the end of the day, this event offers one of the most genuine airsoft experiences in the world and every enthusiast and pro player should try it at least once! The action is epic and nothing can prepare you for the fun!
2. Border War 9, 2017
Border War is an annual MilSim event / airsoft war, and in 2017 it was the 9th edition. If you want to register for participation, you have to buy a ticket and travel to Prague (the game area is near the city, in a former military area).
The event is open to any beginner or professional airsoft player and involves tactical airsoft MilSim with some LARP components. Last year, players from about 31 countries joined forces in a one epic 50 hours event and the result is amazing (as you can see from the video).
The terrain is challenging and you can expect to see some pretty advanced weapons. Overall, the atmosphere is definitely worth the money and travel, but you can also make new friends and enjoy yourself on the field!
3. The Ultra Mega BB Battle
Have you ever seen an Airsoft LAN party? If not, this is your chance! Over 2000 players gathered together in the ultimate airsoft war, and had tons of fun at a wonderfully well-organized event.
In the video, you can see that the guys are well-equipped and they even have a strategic map of the field so they can discuss strategy on zones. From the map, you notice the field is situated in a forest, which makes the game more challenging and interesting to watch. You can also see the cool army-gear, the protective full-face masks and helmets, and the amazing weapons!
Each team has a flag and wears hand bands to recognize each other on the field. They are also heavy-loaded with ammunition and most of them have high-quality AEGs. Of course, everyone is wearing backup pistols, grenades, and you can see a lot of cool accessories on the guns.
Overall, the action is interesting and everyone looks like they are having fun. I am not a fan of huge airsoft games because the game can get laggy, but it seems that these guys managed to organize a pretty fun airsoft-filled afternoon!
4. Operation: Common Ground (Ep. 2)
These guys are highly passionate about airsoft and this operation has several cool video episodes – each telling the story of this mission. Operation Common Ground, episode 2 is one of the most popular airsoft wars of all times, which is why it's on my list, but if you like them, I invite you to watch the entire series.
As you can see from the video, their objective is to defend the base and retrieve a box of medic ropes from a crashed plane. They were not given the exact location of the plane and the team only had 10 medic ropes (this is the respawn system used).
I love the terrain because it makes amazing use of the natural environment and makes you feel like you're in a real combat situation. Not to mention the camp, that looks exactly like an active military camp, with surveillance towers, armored cars, and protective walls made of sandbags.
The airsoft guns are advanced and you can hear the rapid fire of several AEGs. You also can notice the fact that the guys are well-equipped with both equipment and protective gear. The cool thing is that this was an extensive action, with several teams – each with a different mission (as you can see when the video is done, they rush to help another team).
I liked the level of organization, the amazing airsoft field, and the fact that they faced real challenges.
5. Desert Fox Field
This game was hosted by the famous 777 Airsoft team and it featured the Disposable Heroes and 3SAS.The action took place in a sandy area, with rough terrain and organized obstacles, and it involved roughly 50 people. As you can see before the action started, the guys were equipped with AEG rifles, CQB weapons, pistols, grenades, an AT4 rocket launcher, and lots of other cool stuff. To make the situation more realistic, there were also suicide bombers and civilians (people trained for this role).
They're also using high-quality protection gear, communication gear, and well-established army tactics to defuse the situation and win the game. Finally, I definitely loved the army-looking gear, which blended perfectly with the background, and the general atmosphere of the game!
You can see how they implement cover tactics and each guy wears at least a secondary weapon to use as a backup. Of course, the protective gear helps with carrying extra ammunition, which they definitely needed for those rapid fires. Finally, they made full use of medic ropes and I liked the fact that everyone played fair.
Overall, the action is intense and the game is well-organized with pro players doing a fantastic job! I loved the weapons, the rocket launcher, and the suicide bombers – they added a bit of kick to the action and made you feel like you're watching actual war footage. Great game, guys!
6. (EXTREMELY INTENSE) Airsoft Fight
This video is taken from the perspective of the player (not the bystander) and I love the camera angles! You can clearly see the trajectory of the BBs and if they hit their target or not. It's also clear that the guys are professionals and I like the field placement and organization (between hills, with abandoned cars and even a tank in sight).
As you can hear (and see at some point) the guns are AEGs (long-range and some CQBs), and most of the guys are equipped with heavy protective gear (from full-face masks, to helmets, goggles, and vests).
The action is pretty intense and you get to see the end of the game, which is a nice touch.
7. Island Airsoft Sniper Gameplay
This MilSim takes place on an island in Croatia (which has plenty of hardcore Airsoft sites), so players have plenty of space to move around. Each team has a specific mission, and you get to see the action from a sniper's point of view (not really happy with the narration though).
As you can see, all players are well-equipped with both protective gear and high-quality sniper rifles, and everyone knows its role in the game. It's cool that you can see how a backup weapon (like a pistol) can save your life in the game, even as a sniper.
The action is quite interesting and I really dig the idea of having an entire island at your disposal.
8. Airsoft War – Gang Turf War
This video is edited to look like a real-life version of the GTA 5 – Gang Turf action, and the result is amazing! The guys have a lot of fun moving through their town and taking over their enemy's territory. It may not be a big action airsoft war, but it's fun and entertaining!
9. Airsoft WW1 Style Trench! Operation Blood Diamond
This was a MilSim operation with over 100 participants that tried to revive the atmosphere of a WW1 battle situation. The action happened in a forest, sandbags trenches, cool-looking protective gear, and some really bad-ass weapons (lots of powerful AEGs out there and that AK47 replica is absolutely great!).
The teams competing against each other had to collect diamonds that they could later use as currency. As you can see, they use the medic ropes respawn system, but the game is fun because everyone involved is in character.
If you like part 1 (this video), I recommend checking part 2 as well – it is pretty funny to watch the battle until the end!
10. Sniper Team in the Hills VS EVERYONE (Long Range)
If you want to see how it looks to be the sniper in an airsoft war, this is the perfect video for you. The game takes place somewhere in Austria, and the terrain is absolutely amazing! I love how you can see everything from the sniper's point of view and how he explains the objective and strategy he used.
I also love the ghillie suit, the full-face armor, and of course, the long-range rifle (which is super-accurate). If you're careful, you can even see how he disguised the barrel of his rifle, to avoid being spotted easily (which is a very clever idea).
If you have any more suggestions for Airsoft wars you've been associated with that we've missed, then please do get in touch and we'll gladly consider extending the list to feature your war.