Whether you're an airsoft newbie, a mom or dad looking to buy an awesome airsoft sniper for your kid, or a veteran trying to learn more about snipers; you've found the #1 best airsoft sniper buyers guide on the interwebs!
Verdict:
The best airsoft sniper is the
UTG MK96 Shadow Ops Sniper
. By a whisker, it delivers the best performance, build quality and accuracy.
My name is Liam & I've been playing airsoft for over a decade. Let me share my expertise and save you hundreds of dollars, many headaches and hours of your time!
Buying an awesome airsoft sniper shouldn't be a regretful experience, ending with buyers remorse. Check out my recommendations below and join the ranks of an airsoft expert!
Best Airsoft Sniper
In a Hurry? Check out my top 3 airsoft snipers in the table below. Continue reading if you're looking for in-depth reviews!
Well
SR-2

UTG
MK96

Well
L96

Runner up
Best Airsoft Sniper
Best All-rounder
475FPS
480 FPS
430FPS
200ft Range
260ft Range
170ft Range
All Plastic w/ Metal Parts
All Plastic w/ Metal Parts
All Plastic w/ Metal Parts
5.3 lbs
7.4 lbs
5.5 lbs
27rds Magazine Capacity
30rds Magazine Capacity
25rds Magazine Capacity

Buy Now

Buy Now

Buy Now
UTG MK96 Review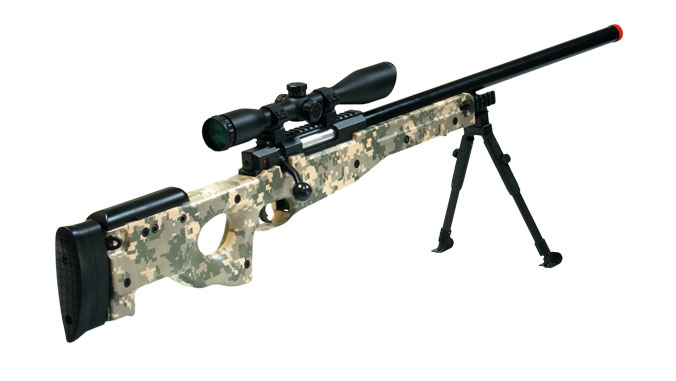 The UTG Shadow Ops sniper is the real deal. It's based on the L96 7.62mm sniper, used by the British Army from 1985 and built to deal with treacherous weather conditions. UTG have done a great job in ensuring that it looks and feels like the real thing, and I think it's the best airsoft sniper on the market for under $200. 
This is a full powered spring action airsoft gun, allowing you to fire at up to 480 FPS. This sniper is a great performer, getting all the fundamentals right. It has a 32.5in barrel and combines power, accuracy and quality.
The Shadow Ops has the potential to live up to the performance of a much more expensive airsoft sniper. After set-up, the sniper fires cleanly and accurately, hitting up to 260ft away. There's certainly potential for a skilled sniper to hit some crack shots over 250 feet, with 0.20g or 0.28g BBs. The UTG sniper receives consistently good reviews from fellow airsoft fans and is generally seen to be a great gun.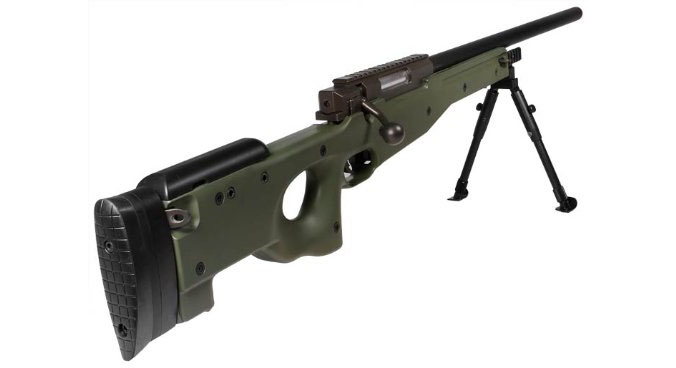 The rifle comes in three colors; camo, green and black, with the latter two NOT including a scope. This is perfect if you already have a scope or are buying an upgraded one outright.
The body is constructed from weatherproof ABS (a composite plastic) but all the important parts are metal, including the barrel, trigger, bolt, bolt handle, magazine release, bipod and sling mounts. A one-piece precision brass barrel is not just more durable, but will also improve the accuracy of your marksmanship. The included stock hop-up is sturdy and adjustable. This is a big help in increasing the precision of your shots with different weights of BB. The two included magazines are also pure metal, reinforcing the quality feel of the sniper.
The large, tactical frame also minimizes recoil. At around 7.4lbs, this is sniper is heavy enough to feel extremely solid and sturdy in your hands but not too heavy for teenagers and young adults.
A bolt action spring powered ('springer') sniper comes with several advantages. Springers react better to different weather conditions and are quieter, perfect if you're lying low in the rough. They also better mimic the feeling of a real steel effect.
If you believe that you might be playing airsoft in sub-optimal conditions, a springer will be a reliable choice. Springers don't suffer adverse effects in the same way that an electrical might freeze up or a gas piston may start leaking. You also won't have to worry about charging batteries or bringing spare batteries to the field.
The downside is that the bolt-action cocking mechanism means that you must manually cock your gun each and every time you want to fire a shot but, as a sniper, this is a limited downside. The first few shots will be pretty loud but this sniper really begins to quieten after the first dozen shots.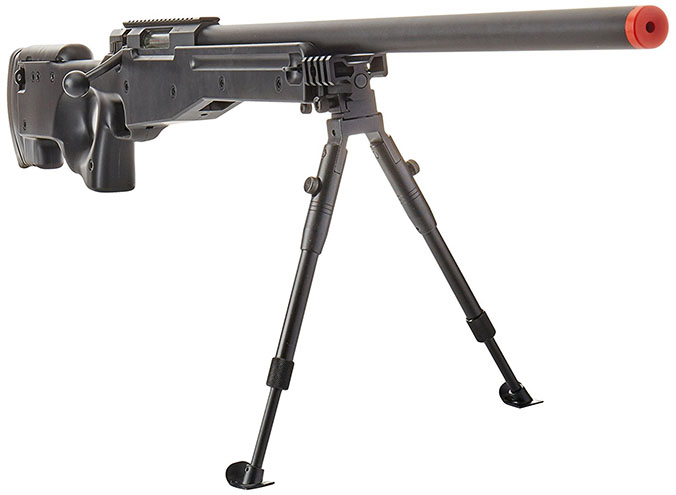 The camo sniper package includes a scope and an adjustable bipod. It also includes a speed loader, which should help alleviate the problem of manually cocking the gun.
Since there's a standard picatinny mounting rail system, the sniper has a strong level of customizability for attaching your choice of optics. We'd recommend that you may want to upgrade the scope as you start to polish your sniping skills, but it's perfectly fine as a starter option.
The same goes for the bipod; perfectly fine as a starting option but easily upgradeable. Some people have reported minor issues with the mount, but this is a pretty basic fix with inventive use of tape.
There are a couple of very minor problems with this sniper, but the positives far outweigh the negatives. First, the sniper only comes with a 30-day limited warranty. That's short if you run into any technical problems, but these are rare and UTG has a reasonable reputation for reliability. Second, the barrel has a black matte finish that is prone to scratching. This may not bother you or you may want to pick up a sleek camo wrap to protect it.
If you're in the market for a sniper rifle, the UTG is my number one choice. The UTG Shadow Ops sniper looks and feels fantastic and you're not going to get a much better combination of quality, looks and performance at the $200 mark. Most importantly, the Shadow Ops will consistently deliver clean, accurate shots.
This is a sniper that offers pro performance for a SUPER reasonable price.
Well SR-2 Review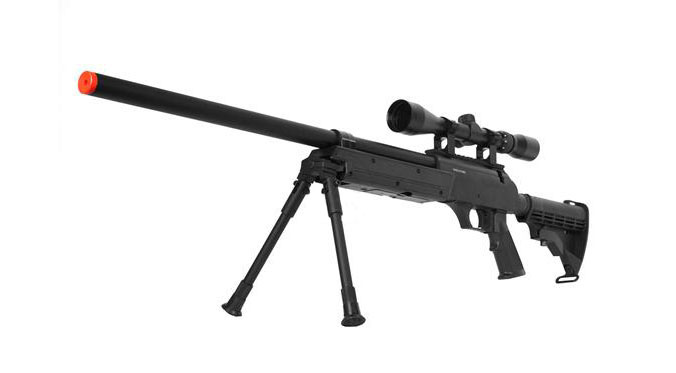 The Well SR-2 sniper is a beauty. It has a sleek, all black matte weatherproof design, crafted precision metal barrel and feels just right. It's capable of 475 FPS and an effective range of up to 200 feet. I believe that if you're an expert sniper who takes the time to zero in, you could push the SR-2 to nearly 250 feet, similar to the UTG M96.
The SR-2 resembles an assault rifle and sniper rifle mash up. One of the major selling points of the Well SR-2 sniper rifle is that it has a much smaller and lighter profile than many of the other sniper rifles on the market. This gives you more flexibility out in the field to move around and reposition. At just 4.4lbs (unloaded) or around 5.3lbs with scope and bipod, that's light enough to chuck it in a pack and get on the move.
In terms of the look and feel of the gun, the Well SR-2 delivers. The retractable LE style stock, pistol grip and trigger are all AR-15 style. If you're usually an assault rifle kind of person, the familiar pistol grip is a helpful step to improving your sniping skills. There's also an adjustable hop up, allowing you to fiddle with the amount of backspin of your BB and therefore adjust the trajectory of your shots; a standard & useful feature.
The SR-2 also ticks all the boxes with customizability. It's available to buy with a sturdy bipod and scope, mounted on a picatinny rail mount. This means that there's room to upgrade your optics in the future so you're not limiting your sniper progression. If you're interested in future custom upgrades, the SR-2 uses APS / Type 96 systems meaning there's good compatibility for future customization.
As you'd expect with a quality airsoft sniper rifle, the main internals are metal. The barrel is a tuned, precision aluminium. If you're investing in a sniper, it's well worth paying the extra for a metal barrel as it can make a lot of difference to the accuracy of your shots. It's a far more important consideration than barrel length.
But don't let the SR-2's lightness deceive you. This sniper still packs a serious punch, at an average of 475FPS and the kind of accuracy you'd expect from a more expensive airsoft sniper. It shoots hard, it shoots accurately, and it shoots quietly. The lightness means that it is a little more sensitive to the weight of ammo; .20g or .28g should do the trick.
The scope here is a 3-9×32 zooming tool, and is surprisingly good for an included scope. It's constructed from high quality glass and metal, but lacks anything to focus with. They also throw in a speed reloader.
Again, the Well sniper is a fully spring loaded machine. That means all the benefits mentioned above; reliability and versatility in different weather conditions.  The SR-2's bolt action is nice and smooth, minimizing disruption in between shots.
The MB06 SR-2 is a very solid sniper rifle which looks and feels amazing. For me, the reason it comes second best is that it suffers from some slight reliability issues with the magazines. This, of course, is easily alleviated by picking up a spare mag to go with the sniper.
Best All-rounder Sniper
Well L96 Review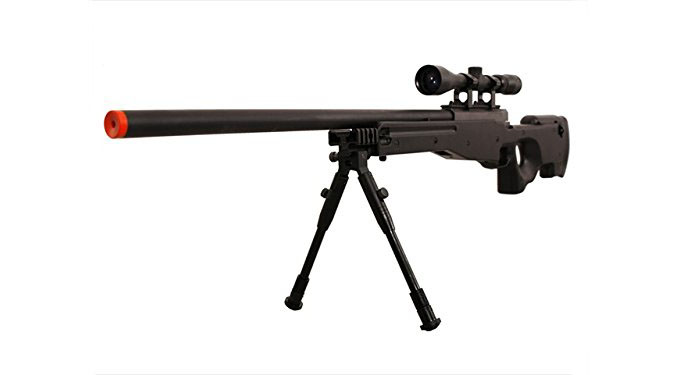 The Well MB01 L96 is an extremely solid sniper choice, and one that is on the lower end of the pricing spectrum. Well have done a great job with combining a sturdy ABS body with a powerful, precise metal barrel.
As yet another L96 replica, Well have successfully mimicked the weight and feel of a real Arctic Warfare Police sniper. The Well L96 weighs in at a manageable 5.5 lbs.
You may recognize the distinctive design from Counter Strike or Call of Duty but the L96 actually has a fascinating history. It was designed for snipers who would have to wait for days in harsh Arctic conditions. It was important that the sniper rifle could withstand the conditions and did not freeze at the all-important moment. The sniper was specially adapted for marksmen wearing thick gloves and had heavy-duty internal mechanisms.
There are a couple of noticeable cost compromises in the build of the MB01. The ABS body is solid, but slightly shiny, lacking the matte-black finish of its competitors. Another thing I would change is having a metal trigger unit, not a plastic one. However, the shape and actual feel of the sniper in your hands trumps any disappointment with the slightly "meh" finish.
It comes with all the bells and whistles that you would expect from any good quality sniper rifle. The cheek rest and butt plates are fully adjustable, and it also features an adjustable hop-up. The pistol grip is comfortable and a good fit for lefties, and the rubberised butt plates are also noticeably secure.
The impressive metal magazine holds 25 rounds, and feeding issues are rare. The package also includes a speed loader, which is slightly flimsy but ultimately effective.
Although it ticks all the physical boxes, the Well L96 unfortunately does not quite manage to replicate the polished, immaculate look of a higher-level model.
In terms of performance, this is a very good sniper with an effective 430 FPS rate. Testing of effective range shows it to max out at around the 170-200 feet region. The sniper rifle benefits a lot from diligent set-up, but it won't be long before you reach an impressive performance level with .28g BBs.
The brass barrel is nice and tight, improving accuracy. The bolt action pull is nice and smooth and the MB01 fires cleanly and consistently.
The sniper also comes with a starter scope and bipod. These are in a similar vein to competitors; fine for a stock unit but ripe for an upgrade.  
The Well L96 also really shines with customizability. Once you catch the sniper bug and consider the options for upgrading your sniper, you'll be pleased with the options available. The Well L96 has a lot of potential to get even better. It may not be as polished as the UTG Shadow Ops or the Well SR-2, but is still an extremely capable sniper rifle.
Buying a sniper is an awesome opportunity to get the chance to try a different role in your airsoft team. Again, we'll repeat the caveat that you shouldn't buy a sniper as a beginner's first gun, but an airsoft sniper rifle is a fascinating addition to any experienced player's arsenal. It will help you to develop your marksmanship and think more carefully about game and team strategy.
Make sure you check our detailed sniper section of our comprehensive airsoft guide for more information about airsoft snipers.
Psst!
Looking for the optimal airsoft assault rifle for a day on the fields? Check out my comprehensive guide on the
best airsoft gun
now!
With that in mind, any of these guns are great buys. However, I encourage you to splash out on the UTG. It's a borderline pro-level sniper at a very intermediate price. With plenty of room for customizability, the UTG will blossom into a one of a kind awesome sniper rifle!
Further Readings